This post was updated on February 3, 2022 . Updates include the following: expanded introduction with explanation of feng shui; some links were added, removed, or changed; text added or updated; images updated. You can find the original post here.
We've all felt it. Stepping into a room and feeling oppressive odd angles and ill-placed objects dragging down the "vibe" of the space. Humans are creatures of order and balance, and that's why the idea of feng shui is as relevant now as it was hundreds of years ago. Even if your interior decorating could use a little *ahem* work, that intangible feeling of imbalance can usually be solved with a little reorganizing. To course-correct your space, here's a room-by-room guide on how to feng shui your home.
HOW DO YOU APPLY FENG SHUI TO A HOUSE?
Let's talk a little bit about the term and what it really means. Chances are, the term "feng shui" isn't new to you. You know it has something to do with a room layout and positive vibes, but what is feng shui, exactly, and how do you apply it to a house?
Trying to explain feng shui can be a little complicated, but we'll try to hit the high notes. Feng shui is an ancient Chinese practice rooted in the belief that humans and the environment are made up of different types of energies, and, when those energies are in harmony, their currents sync up to create prosperity and promote well-being.
So how does this work in a home? Put simply, feng shui is the art of balance. It's about aligning your energies with the energies in your home.
WHAT ARE BASIC FENG SHUI RULES FOR A HOUSE?
Feng shui suggests that the spaces in your home need proper balance of five key elements to achieve optimal results. Think of feng shui elements as instruments that work together to make beautiful music. If one element is lacking, try incorporating it into the room to get that perfect harmony.
| | | | | | |
| --- | --- | --- | --- | --- | --- |
| | Water | Fire | Metal | Earth | Wood |
| What it means | Wisdom and serenity | Energy and passion | Logic and intelligence | Stability and balance | Growth and creativity |
| Colors | Black and blue | Red, orange, and yellow | White, pastels, and metallic shades | Brown and yellow | Green and teal |
| How to incorporate it in your home | Mirrors, water, crystal | Candles, fire, electronics | Metal objects | Ceramics, potterty | Flowers, greenery, paintings of nature |
HOW DO I KNOW IF MY HOUSE HAS GOOD FENG SHUI?
Before we get into the room-by-room breakdown, let's tackle a more general question to sum up our feng shui lesson. How do you know if your home has good feng shui? First, tap into your feelings. If the rooms feel as good as they look, chances are you're on the right track. Ask yourself if your body feels at peace and your mind is relaxed.
More tangible things to look for are a balanced use of natural and artificial lighting, paint color choices, materials, and decor elements. It's using these elements in tandem rather than relying too heavily on one thing.
Now, let's get into our floorplan.
LIVING ROOM FENG SHUI
Words to live by: Leave some room!
Here's a general rule of thumb: Furniture size and placement is key to making any space — big or small — feel totally functional and breathable.
When arranging furniture in a living room, don't crowd the area. A good start if you want to feng shui your home is to measure your furniture and create a rough sketch on paper. This will help you visualize your new placement and see what fits before you start the heavy lifting. Consider selling extra, over-large furniture items or putting them in storage.
Decide on a focal point to help you with space planning, such as a fireplace or TV. Once you have this set, let the furniture naturally fall into place around it. What feels right to you? What creates not only aesthetic but more importantly energetic symmetry between objects? If your focal point is your TV, remember to leave 8 to 12 feet for prime viewing distance if possible.
Also, make sure to leave room for foot traffic so you and your guests aren't bumping into furniture when you move around, messing up that oh-so-important energy. Aim to provide at least 3.5 to 10 feet between seating options. Consider the walking paths you most often take in this space. Plan for the greatest efficiency and you'll be closer to the greatest balance. Place seating furniture like chairs and couches across from each other to ensure face-to-face conversations, and center the space in between with a rug.
KITCHEN FENG SHUI
You already know that your kitchen is a popular spot. Sure, it's where meals are prepared and enjoyed, but it's also a spot where everyone gathers to enjoy each other's company. It generates a lot of energy; that's why it's especially important to get the flow right in this room. Here are some key tips:
The stove represents fire and needs to be in a commanding position. This means you need to be able to see the kitchen door (and the people coming through it) when standing at the stove. If you can't move your stove, add a mirror that allows you to better see the door.
Avoid fire colors. The kitchen already has fire elements; you don't want to overdo things with your paint color choice. Opt for a yellow or beige hue instead, as these are representative of the earth element.
If you have open space above your cabinets, try to fill it with plants or decorative items. Negative energy – and dust – can get trapped up there, preventing the good chi from flowing.
Declutter your kitchen. A messy kitchen creates negative energy. Regularly deep clean appliances, clean countertops, and clear cabinets and pantry space to keep on top of things. Purging your home is a huge part of feng shui. Get advice on this topic on the PODS blog.
Insider Tip: If you're finding you simply have too much "stuff" to properly feng shui your house, consider having a PODS storage container delivered right to your driveway. Use it as a space to temporarily store furniture, boxes, and other excess items while you determine the best arrangement for each room. Once you have everything the way you like it, you can throw away or donate anything that didn't make the cut or (if you just can't part with some things) leave them in the container and PODS will pick it up and store it in our secure storage center until you need it again.
BEDROOM FENG SHUI
Bedroom feng shui is a must. After all, you'll be spending at least a third of your life there, right? Still, bedrooms can be tricky. Window placement and odd corners can often dictate your functional space, especially in smaller spaces.
The focal point of the bedroom is always your bed. If it isn't, we're guessing it feels cramped in there. The standard is to place it in the middle of the main wall of your bedroom, but sometimes you have to get creative. The key again is not just what feels right to you but also what you'll enjoy.
Insider Tip: If you're prone to sleepless nights, avoid placing your bed facing toward a window or near any electronics.
Apart from your bed, try to use only essential furniture. Limiting the bigger pieces will make the room feel more spacious without sacrificing too much storage space or functionality. Think bookshelves and dressers, and maybe forego that bulky chaise lounge. Toss those bulky babies into storage or consider letting them go.
It's okay to break some of the design rules, like putting your bed at an angle or in front of a window. Try to maximize as much space as possible while still making your bedroom comfortable. And while you're at it, get inspired by some of our storage hacks for small spaces.
BATHROOM FENG SHUI
To feng shui your bathroom, you need to make organization a priority. Most bathrooms are smaller and don't allow much furniture, so eliminating clutter is essential for an optimal bathroom space. Anything ancient or not being used (looking at you, unopened tissue box) should be thrown out or donated. Score some brownie points by giving away any unused makeup and spa products to friends and family.
There's a lot of under-utilized storage in our bathrooms. Use command strips and hanging baskets in cupboards and behind doors for hanging towels, hair dryers, and straighteners.
Place magnet strips in your medicine cabinet and even behind the medicine cabinet door. This is great for tweezers, clippers, hair clips, and more.
Use boxes to place in your drawers to organize your things. You can use gift boxes or the tops of shoe boxes, or you can purchase drawer organizers from any home goods store.
All of this to say: You need to clear out and organize everything you can because cleanliness is especially important to the feng shui of your bathroom.
CLOSET FENG SHUI
Yes, our closets need some feng shui work, too. It's easy to let such a personal space get disorganized. Once you start thinking about your home in broader terms of feng shui, however, meaning how each room balances with the others, you'll see the value of brightening a spot normally hidden away.
Whether you have a walk-in closet or classic one, you can always find ways to organize it and make more room.
First, it's important to get rid of clothes you never wear.
Go ahead and also install a second bar if you don't have one, so you can hang more items and open up more floor storage.
Don't forget underutilized space, either. You can hang shoe racks or hooks on the back of your door and even install corner shelves in the closet. You'll definitely want to check out our closet storage hacks for some more creative ideas.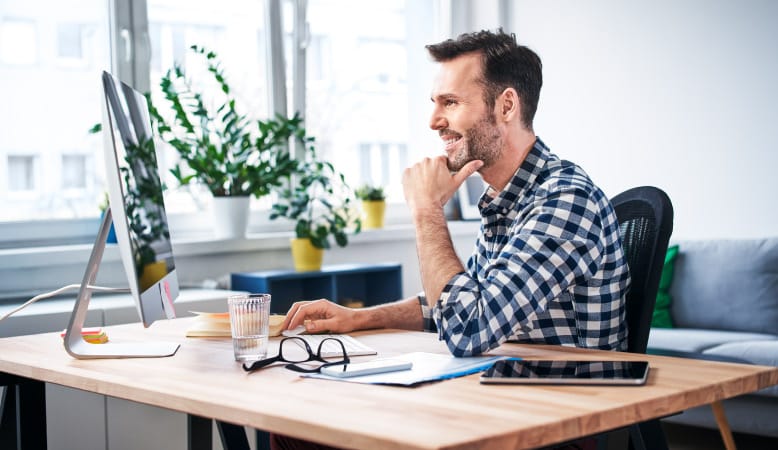 HOME OFFICE FENG SHUI
Now more than ever, the home office is getting a lot of attention. There's never been a better time to give your productivity a boost by optimizing the feng shui in this space.
Have a desk and make sure it's in a commanding spot. Like the stove, this means you can see people as they enter the room rather than having your back to the door. You'll miss an opportunity if you're not facing it.
We're going to touch on the decluttering and organization thing again. Get rid of the stacks of paper and files mounting on your desk. Put away what you don't need and implement a file system for archival.
Focus on function. If you do a lot of sitting, invest in a quality chair. If you need a creative outlet, incorporate a plant or painting for inspiration.
Make mindful color and material choices. A wood desk brings natural elements into the space. Strong color choices like blue or green are good for technical minds, while fire colors are great for kicking the energy up a notch.
YOU'VE GOT THIS
Once you've cleaned up, rearranged, organized, and balanced each room in your house, you'll immediately begin to feel the calming effects of that feng shui energy. Who knows? Maybe starting with your personal space can lead you down a path to balance out your car, feng shui at the office, and beyond!
---
This article was updated by LB Gabriel, a frequent PODS blog contributor, she's a sucker for any tip she can find on downsizing, cutting clutter, or minimalist living. When she's not on a deadline, you can find her on a tennis court or golf course.
Get a Quote
Choose the service you need
Comments
Leave a Comment
Your email address will not be published. Required fields are marked *