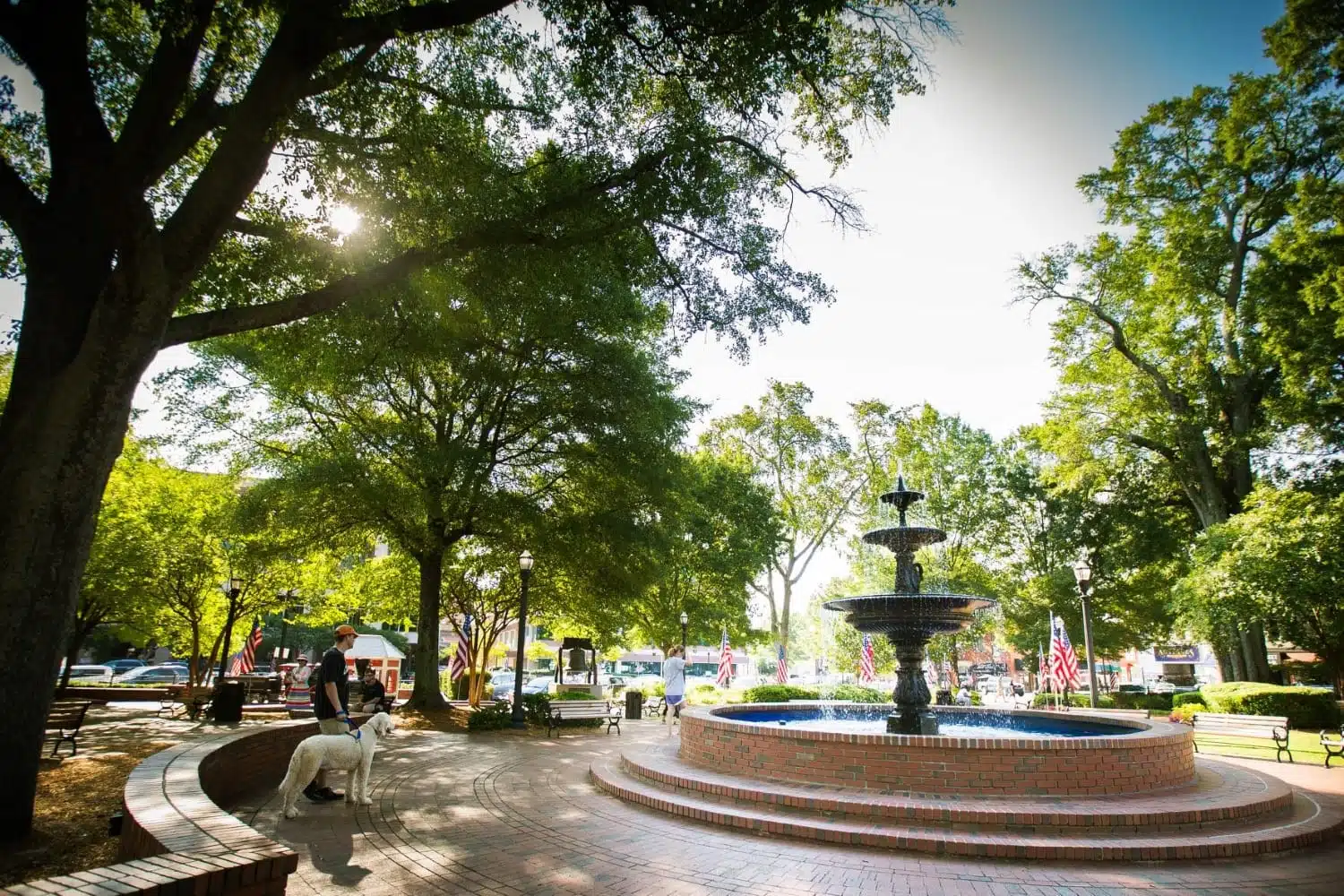 Insider's Guide to Marietta, GA: Top Realtor Talks Neighborhoods, Schools & Finding Your Next Home
Want to live in a charming, wooded town with a fascinating history and promising future? If you're thinking of moving to the Atlanta area, you should definitely consider living in Marietta, GA.
It offers tranquil vibes, great schools, and close proximity to downtown ATL. All that, and it's still more affordable than other nearby neighborhoods, like Sandy Springs.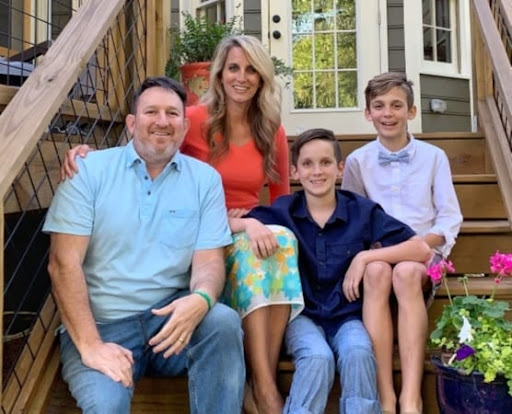 As we take a deep dive into everything you need to know about Marietta, we've enlisted the help of Lindsey Ramsey, a true expert on this community at the center of Cobb County, GA. A Realtor at Harry Norman, Ramsey has lived and worked in Marietta for over two decades. She shared her insight into the history, culture, and of course, the beautiful homes that make Marietta special.
Here's what she had to say.
1. What's it like living in Marietta, GA?
In Ramsey's words, Marietta is perfect for those moving to Atlanta who "want to be out of the fray while still being close by." Beautiful antebellum homes and old downtown streets give historic flair to everyday life here. And with affordable homes, solid schools, thousands of acres of parks and protected land, and plenty of lively restaurants and shops, Marietta attracts all kinds of people — from families and history buffs to artists and urban farmers.
In fact, all these characteristics landed Marietta on the 2020 list of "Top 10 Affordable U.S. Suburbs With a City Feel," released by Zillow and Yelp.
Q: Is Marietta, Georgia, a nice place to live?
A: Residents really do love living in Marietta. They appreciate the friendly sense of community, top-tier education, lots of green space, and access to everyday amenities and upscale and unique shopping and dining options. The residents also have plenty of things to do in Marietta, GA, from community programming at local libraries to a packed calendar of events at the locals' beloved Marietta Square. And don't forget about after-school activities — especially when high school football season kicks off. Go, Blue Devils!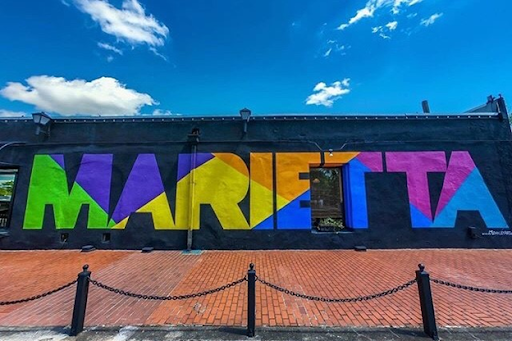 2. What is the cost of living like?
At nearly $447,000, Marietta's average home value is higher than in Atlanta proper, where the average home value is about $384,400. Still, homes in Marietta are significantly cheaper than in nearby areas like Sandy Springs, where the average home value is close to $623,800. For reference, the cost of living is much closer to the suburbs outside Dallas than those near San Francisco.
Here's the cost of living in Marietta by the numbers.
Cost of Living in Marietta, GA
In short, you can live whatever kind of life you want in Marietta, whether it's upscale, with a historic mansion and fancy French cuisine, or more down-to-earth with a cozy bungalow and affordable groceries. "Whether you're looking for a million-dollar luxury home or a fixer-upper, you can find it here," says Ramsey.
Q: Is Marietta an expensive place to live?
A: Marietta is an affordable city, especially considering the vast amount of high-quality-of-life factors like good schools, dining, and shopping. But if you love data points, RentCafe says, "The cost of living in Marietta, GA, is 4% higher than the state average and 7% lower than the national average." Keep in mind that, depending on the neighborhood, homes are more and less expensive compared to nearby cities. You can find various properties throughout Cobb County that range from $200,000 to several million.
3. Where are the best homes for sale in Marietta, GA?
Ask any good real estate agent this question, and they'll probably respond: "It depends on what you want." Because there are several different sections of Marietta, and each one has its own distinct character. Ramsey shares these pointers to help you figure out which part of Marietta may be best for you.
East Cobb, GA
A family-oriented suburb northwest of Atlanta, East Cobb is known for its high-quality schools and close-knit neighborhoods where residents often share activities and holidays together.
"East Cobb is full of gorgeous homes, and property values tend to be higher, since you get closer to Roswell, Sandy Springs, and Fulton County," said Ramsey. Many homeowners think it's one of the best neighborhoods in Marietta, GA.
While you can still find 3-bedroom ranch homes, stately traditional homes are more common in East Cobb. There are also plenty of gorgeous mini-mansions on sprawling estates.
Most commercial development in East Cobb centers around two beautiful mixed-use shopping projects — the open-air Merchant's Walk and the pedestrian-friendly Paper Mill Village, which hosts an awesome food truck night every month.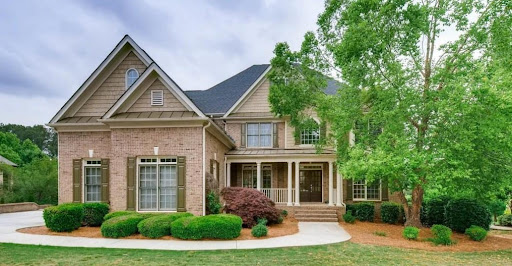 West Cobb, GA
"West Cobb is where you tend to get a lot of home for your money," says Ramsey. You can find many 3- to 4-bedroom, traditional-style brick homes with modern upgrades without breaking the bank.
But you won't be stuck with the existing housing stock in this Marietta, GA, neighborhood. With more available land in West Cobb than in nearby areas, you can still find a beautiful plot where you can build your own home from the ground up, according to Ramsey.
Residents of West Cobb enjoy tons of shopping at destinations such as The Avenue and tasty dining at local joints like the West Cobb Diner. Cobb County's fantastic school system also serves those who live in the area.
Historic Marietta
If you're looking for character and charm, historic Marietta may be the place for you.
"Historic Marietta is the heart of the county. It contains a lot of the city's historic homes, Kennesaw Mountain and National Battlefield, and the historic Marietta Square, which is a thriving destination full of restaurants, entertainment, and shops," says Ramsey.
You can nab a smaller, Craftsman-style home, or you can purchase an enormous Colonial-style mansion built in the 1800s. But it's not just the houses that are old here.
"In this community, you will find a legacy of families that have lived here for generations," she says.
This neighborhood is served by Marietta City Schools. That includes Marietta High School, home to the 2019 Georgia state 7A football champions.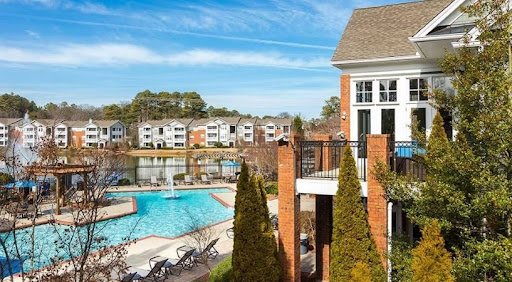 4. Where can you find apartments in Marietta, GA?
While most residents of Marietta are homeowners, there are some apartments and home rentals available. However, Ramsey warns, "as soon as they hit the market, they are gone."
Rentals are a hot commodity because so many people want to move to Marietta for its great schools and beautiful atmosphere. Still, if you're able to scale down a bit, you can likely find a cozy rental for under $1,500 a month.
Average rent in Marietta, GA (one-bedroom): $1,625
Now that we've touched on the high points, let's take a closer look at everything Marietta has to offer residents, starting with great schools...
5. What are the Marietta schools like?
Those of you who have kids (or are expecting some), might be wondering what Marietta, GA, schools are like. The short answer: They're good. But you probably want more than that, so we've got the details on the city's two school districts right here.
According to Greatschools.org, 43% of schools in the Cobb County School District that serve Marietta score above average for the state. That's an impressive statistic. Meanwhile, 64% of schools in the Marietta City School District meet the state average, which isn't half-bad either. Many of the city's schools have a 10/10 rating on the site.
Niche.com gives Cobb County Schools a solid A grade. It gives Marietta City Schools an A-.
But before you jump to any conclusions about schools, you might want to dig a bit deeper. "My suggestion to anyone looking in this area is to call the schools, talk to the PTA, get a tour of the building, and meet with the teachers," says Ramsey. "You can't always find accurate information online. The best thing to do is get a feel for the school yourself."
And if you're looking for a private school in Marietta, you're in luck. There are tons of options — both religious and secular — for private K-12 education, including over a dozen private high schools.
Q: Is Marietta, GA, safe?
A: All in all, Marietta is relatively safe and family-friendly, but it's best to dig into the numbers yourself to see how you would rate the area. Remember, Marietta is a close neighbor of Atlanta, so given its proximity to big-city activity, you should expect crime and safety statistics to reflect typical suburbs of large cities. Start with the Marietta Police. You can request an email detailing the neighborhoods you're considering. Then, search websites like NeighborhoodScout and SafeHome.org if you want fast information. They'll help you form a well-rounded opinion.
6. How far is Marietta from Atlanta?
The driving distance from Marietta, GA, to Atlanta, GA, is only about 20 miles, but depending on the time of day and traffic, you're looking at a 20- to 40-minute ride.
Those who are
moving to Atlanta for a job
should have no problem driving downtown from Marietta every day — if that's where your work is located. While the city is more than just an Atlanta suburb, you won't be alone in your daily commute.
For those without a car, you can take the CobbLinc busses and transfer to Atlanta's MARTA transit system. It won't be as fast as driving, but it works.
Marietta is "outside the perimeter" (OTP), which means it's on the other side of the loop made by Interstate 285 around Atlanta's downtown area. Despite that detail, it's still considered an "inner-ring suburb" because it touches Fulton County, where Atlanta is located, compared to more far-flung areas like Alpharetta and Serenbe.
7.
What stands out in Marietta's history?
If you really want to know the history of Marietta, it's best that you sit down and talk with one of the many "old Marietta folks" — as Ramsey calls them — who still live in the city. But even if you can't get the oral history directly, there are plenty of other educational opportunities.
The
Marietta History Center
is a fantastic resource for those who want to learn about the town's first days, beginning in the early 1800s, up through the Civil War and reconstruction. Marietta was home to several pivotal events in the war, including the Great Locomotive Chase (yes, that's what it's called — look it up!) and the Battle of Kennesaw Mountain.
But perhaps the best way to experience the living history of Marietta is through the architecture. Important landmarks — like the Old Zion Baptist Church, Archibald Howell House, and Kolb Farm — dot the city. Beautiful antebellum homes and old downtown streets give a historic flair to everyday life.
All of this important history means that there is lots of pristine and protected land in Marietta, which brings us to our next section of focus . . .
8.

What are some outdoor activities to do in Marietta?
One of the advantages of being out of the fray in Marietta is that there are tons of beautiful, undeveloped green spaces to explore. The Sope Creek Trail is an oasis for bikers and runners. East Cobb Park has activities for the whole family, from playing on the jungle gym to grilling by a gazebo. And local ecology and community events draw people to McFarlane Nature Park.
If you have a bit more time on your hands, Marietta is just "a short drive to the North Georgia Mountains, if you need to get away from it all," says Ramsey.
The outdoor opportunities are practically endless (and you couldn't ask for better adventuring weather). But don't worry. There's plenty to do in Marietta for those who prefer staying indoors.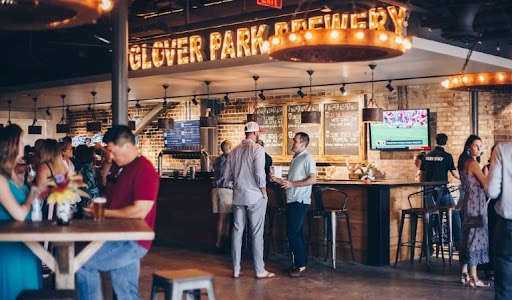 9.

Where are some places to shop and dine?
Start with historic
Marietta Square
in the heart of the city, with over 30 restaurants. You're sure to find something to satisfy your tastebuds, whether you're in the mood for American, Thai, Greek, Southern BBQ, Italian, Colombian, or pretty much any other kind of cuisine.
Shoppers can enjoy an array of antique malls, boutique clothing stores, vintage shops, bakeries, art galleries, and more. And the historic
Strand Theatre
offers residents an eclectic bill of events, from old movies to concerts to live theater productions.
Between the great outdoors, delicious dining, exquisite shopping, and other attractions — like the
Six Flags White Water
amusement park and the Gone With the Wind Museum — there's really no shortage of things to do living in Marietta, GA.
10.

What is the weather in Marietta, GA, like?
Newcomers often list the weather as one of the reasons they move to Georgia, especially if their golf game is a top priority. Winters are mild, typically with highs in the 50s and 60s (with the occasional ice storm to keep things interesting), the spring is warm and delightful, and the fall is short but heavenly. Now, the summers, on the other hand — whew, you'll need time to adjust to the temps and humidity if you're not from another part of The South. You're looking at hot temperatures from May well into September, plus humidity levels that often sit in the 90% range
Editor's note: Marietta sounds amazing, right? But what if there was an even better Georgia city you've yet to uncover? On the PODS Blog, you can read about 11 of the Best Places to Live in Georgia. It just may deliver the inspiration you're looking for.
Moving to Marietta, GA
When you're ready to start shopping for a new home in Marietta or the Atlanta area, give Lindsey Ramsey a shout. But while you're looking, it's a good idea to start planning how you're going to make your move. If you're short on time, check out these tips from an Atlanta mom, whose home went from listing to closing in just 24 days. And if you think you might rather be closer to all the big-city action, our guide to Intown Atlanta neighborhoods features some of the best places to look.
Wherever you land in the Atlanta area, we're sure you'll find a big, southern-style welcome to town!

Easton Smith works as a freelance writer and researcher, reviewing technology trends and the moving industry.
(Source for photo featured at top: Visit Marietta, GA via Facebook)
Editor's note: For ease of reading, monthly rental prices were rounded to the nearest $25, home values were rounded to the nearest $100, and median household income was rounded to the nearest $1,000.
Get a Quote
Choose the service you need
Related Articles
Luxury Atlanta Apartments: 7 Midtown, Downtown, and Buckhead High-Rise Apartments That Will Dazzle You
Read more
Comments
Leave a Comment
Your email address will not be published. Required fields are marked *