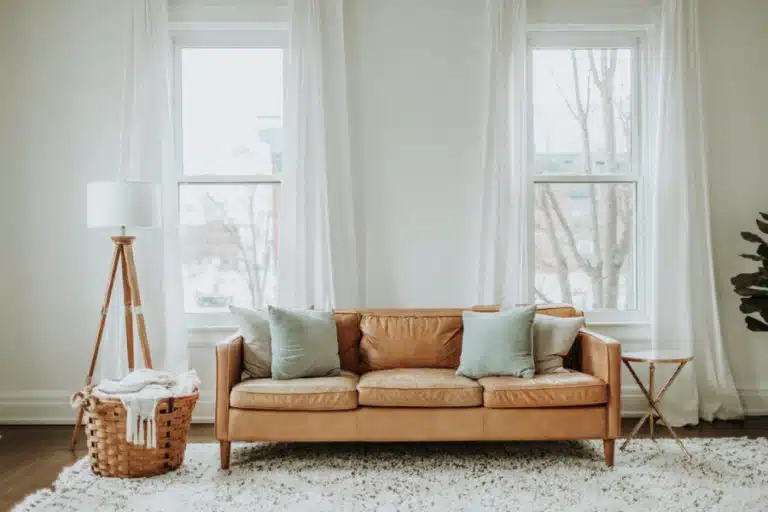 Living Minimally: How to Be Minimalist Without Getting Rid of Everything
Learning how to be a minimalist can seem overwhelming — especially if you have a difficult time throwing anything away. Living minimally is far from all or nothing, though. You don't need to save everything, but you don't have to get rid of everything either.
Think of it this way: Whatever takes up space in your home translates to the space in your mind. When you declutter your home, you also declutter your mind. Owning more things doesn't make people happier. Instead, people who live a minimalist lifestyle understand that less is more.
"Getting rid of stuff sets us free [...] and gives us a sense of well-being," Kristin Hanes, who downsized her home to live on a sailboat, wrote for the PODS Blog.
Like anything that takes time, getting rid of items in your house can be done at your own pace. And you'll gradually come to realize that you don't miss those items that used to clutter your space.
Ahead, learn more about how to live a minimalist lifestyle and the benefits of decluttering your space to make room for the things that matter most — both physically and mentally.
A Brief History of Minimalism
The term "living minimally" sounds like a new phenomenon, but minimalism is actually a movement that began in the '50s and '60s. It showed up in art, fashion, and architectural designs. People were throwing things away because they served no purpose or had no use in their homes.
Through the years, with the rise of "reduce, reuse, recycle," people began adopting the minimalist mindset. People have also become more conscious about fast fashion and sustainability, which limits the number of purchases and clothes in their homes.
The Benefits of Living Minimally
Living in a minimalist house can mean decorating minimalist, organizing minimalist wardrobes (or capsule wardrobes), keeping a minimalist bathroom, or all of the above. You can also come up with minimalist living room ideas, like storing items in boxes under the couch or opting for a light coffee table instead of a bulky one.
However, the choices you make to live minimally can vary, depending on your goals. If your goal is to get rid of household items that you don't use anymore but still take up space, then you can expect a home with less clutter. Here are other benefits you can enjoy:
Save money by only buying the essentials
Feel less stressed because your home is more organized
Give back to the environment by consuming less
Make room for things that matter most to you
Find things that have been missing
Throw out stuff from the past to live in the present
Enjoy a home that's easier to maintain and keep tidy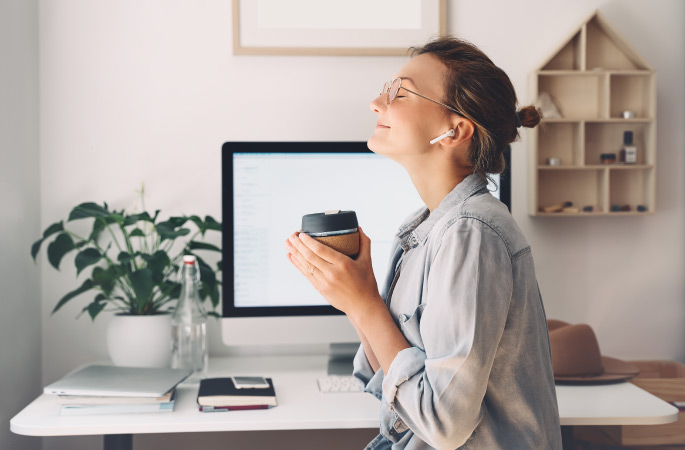 How to Be Minimalist: Know the Types
Some of those benefits can translate into your overarching goals. Think of it as a championship tournament. If you're joining a national soccer team to compete in the World Cup, you know your end goal. Every day, before you take the field, you can picture yourself holding up that trophy, right? Each player has their position, and they know how they're contributing. The same concept applies here. You're actively moving toward your end goal with each item you get rid of.

But it's hard to keep going when you don't actually know where you're going. Defining your goal is only going to make things easier for you throughout the entire process. Let's go through a few of the main minimalist types, so you can start defining your goals.
Aesthetic Minimalist
If you're an aesthetic minimalist, your main goal is visuals. If you've ever seen the words "Scandinavian interior design," you know exactly what we're talking about. These minimalists know how to make the most with as little as possible, and it's perfect if you like white walls, natural lighting, and crisp lines throughout your space.

This type of minimalism is less about owning fewer things and more about removing visual clutter from your home. Instead of hanging art and placing knick knacks around the space, you might opt for unique furniture pieces and plants to add color.

Essential Minimalist
Essential minimalism is also called "essentialism." This is probably what comes to mind when you think of minimalism, as it's all about making do with the essentials. It can take a lot of trial and error to get things right, but if you want to push your limits, produce less waste, and focus on quality over quantity, you'll likely find that essentialism is great for you.
Nomad Minimalist
This is similar to essentialism, but there's a larger focus placed on travel. With being a nomadic minimalist, you'll be ready to pack your bags at the drop of a hat. You can live for a week out of just your backpack, and you're not likely to stay in one place for more than a few months at a time.

This can also translate to living in a tiny home or camper. This is a popular approach with digital nomads who can work from anywhere in the world. If you recently became a remote worker and feel like seeing the world or hitting the road, living this lifestyle might be your end goal.

Mindful Minimalist
Finally, there's the mindful minimalist. Whether you want to "
Marie Kondo
" your life to spark more joy or you just want to become more intentional with your belongings, mindful minimalism is great.
The great thing about this approach is that you're not starting with elimination. You're likely to choose the things you'd like to keep first and then move from there. It's often the easiest for people to ease themselves into minimalism with, as it makes the entire process a happier one.
With mindful minimalism, you'll have an easier time remaining present, as you won't constantly be looking at things and thinking about what you want to get rid of.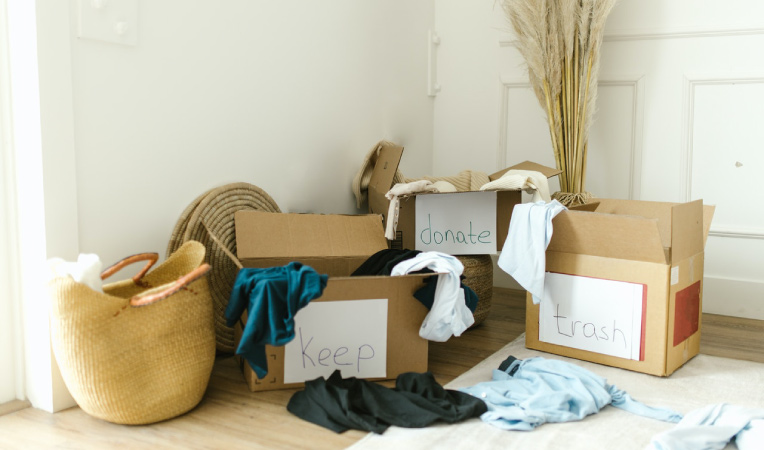 (Source: RODNAE Productions via Pexels)
Remain Mindful
Obviously, you don't have to get rid of everything to live like a minimalist. Start off by throwing away or donating stuff you can live without. Keep the stuff you must have and can't live without. Then, move on to the possessions that you're on the fence about.
If you're not sure about what to do with certain memorabilia, furniture, clothing, or anything else, store it away for several months to see what it's like to live without them. This is an easy way to transition into a minimalist lifestyle and to determine what you really need and what can be discarded or donated.
Minimalism is about mindfulness, and that's how you should approach this process.
What Are Your Non-Negotiables?
One of the biggest minimalist lifestyle tips you can learn? Set boundaries and figure out your non-negotiables. By boundaries, we mean that it's OK to live with "impractical" belongings and to keep your hobbies.

If you love crocheting, getting rid of your entire yarn stock and giving up all your tools isn't going to make you happy. If you have kids, throwing out their beloved plushie collection is definitely not going to bode well. Maybe you have a stock of vintage records you love hearing on vinyl or rare finds that you can't see yourself without.

All of that is completely fine to keep. Set your boundaries with those belongings, and then find other places to cut back or trim away altogether.
Have a Plan
Once you have your goals and you know where you're not cutting back, you can start putting your plan together. It's easy to get creative here, and remember, you can go as big or start as small as you'd like.
If you're feeling overwhelmed, it can be best to start with one aspect. Maybe you want to pack up the kitchen. Maybe your closet is overflowing and you're looking to make more space. You can even start in a non-physical sense by cutting out toxic relationships or cleaning up your phone. Minimalism is great for being applied in your home, but it's important to pick the easiest thing to get started with and then build from there.
If you're ready to clear your home, but you're not quite ready to part with anything, you always have other options.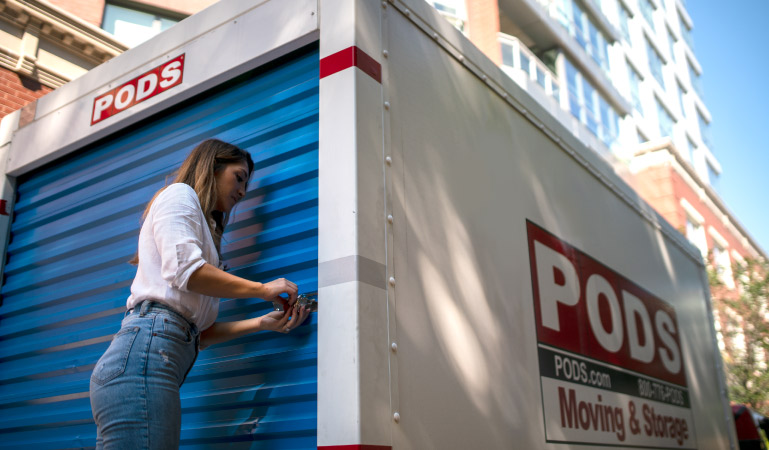 Storing "Maybe" Items
Of course, making the decision to toss something may not come easily. Instead, take your time deciding by taking advantage of a PODS portable storage container delivered right to your driveway to jump into the minimalist life without the dread of getting rid of things you might actually need or want later. Simply store away everything you're on the fence about in the container and either keep it on your property or a secure PODS Storage Center. See what life is like without them for a few months. If you find yourself pining after certain items, you can always pull them out of storage. However, if you find that life without all the extra stuff is freeing and just plain wonderful, grab everything from the container, and donate or discard your excess belongings once and for all.
Quality vs. Quantity
Throughout this process, you might get excited about all the new space you've uncovered. It can be tempting to buy a bunch of inexpensive pieces of clothing or household items, but they don't always last long, and you'll likely need to replace them shortly after. Instead, investing in something that will last for years can ensure that you're not constantly storing items that don't work anymore. You'll find it easier to live a minimalist lifestyle by keeping things that are needed and functional in the long run.
Frequently Asked Questions About Minimalism
Q: What does it mean to live minimally?
A: Minimalism is based on living with fewer possessions and placing focus on the things you need or enjoy. Most people make the switch if they're feeling overwhelmed with clutter or just want fewer distractions in their home. Often, it can help people feel more mindful and grounded in their homes, which is great if you're a remote worker or live in a small space. Living minimally can look however you need it to look, though. What matters most is that you're happier in the end.

Q: Is it good to live minimalist?
A: There are several advantages to living minimally. Whether you're wanting to spend less, consume less, or just own less, adopting this lifestyle can make a big impact on your overall well-being, and you might be surprised with the end results. It sounds cheesy, but living surrounded by the things that spark joy really does make a difference on your mindset in the long run.

Q: Are minimalists happier?
A: Studies have shown that, yes, minimalists are happier. In fact, a review on 23 studies found that more than 85 percent found a link between "voluntary simplicity and well-being," according to Psychology Today. They did note that minimalism can be more impactful for some more than others (just like any lifestyle choice) — particularly for low-income and older participants.

That isn't to say it can't make a difference for anyone, though. We can't promise that it's going to make you happier, but we can give you the steps to get started and help along the way with storage suggestions and helpful tips and tricks.

Q: How can I live very minimally?
A: Throw away or donate things that you don't use anymore or — as the queen of minimalism, Marie Kondo, says — that don't spark joy anymore.
Q: How do you purge and live minimally?
A: Think of yourself as a guest in your own home. When you walk inside, which items do you immediately notice that are unnecessary or excessive? Build momentum by allocating just a few minutes every day to decluttering, or choose one item every day to get rid of.
Q: How do you train yourself to live with fewer things?
A: You need and can live with less than you think! Start by putting things away in storage and notice how you feel in a few months. Ask yourself: Do you still want to keep these items? Did you miss them at all? Do you even remember what you stored away?
Q: How do you declutter for minimalist living?
A: Start by creating a decluttering checklist of every household category, and go through them one by one at whatever speed you'd like. There's no time frame that this needs to be completed in. In fact, decluttering will likely be an ongoing thing, once you get into the habit.
Now, be warned: You may fear that living with less will cause you to wake up one day and think "What have I done?" or "What if I need that item down the line?" But, instead, you'll likely feel a huge weight lifted and wake up thinking "I'm living a meaningful life with only things that matter most to me."
Focusing on only one item or household category at a time can really help you ease into minimalism. Even just creating a minimalist office or minimalist kitchen may inspire you to minimize your entire household. As the old advertising slogan goes, "once you pop, you just can't stop."

Bonnie Azoulay Elmann is an NYC-based freelance writer and frequent contributor to the PODS Blog. Her work has appeared in Glamour, Health, and Parents, among others. She is an extremely driven digital storyteller who may or may not have a slight obsession with fanny packs.
(Credit for image featured at top: Leah Kelley via Pexels)
Get a Quote
Choose the service you need
Related Articles
Decluttering Left You With Piles Of Unwanted Stuff? Become The Master Of Junk Removal With These Easy Solutions!
Read more
Comments
Leave a Comment
Your email address will not be published. Required fields are marked *