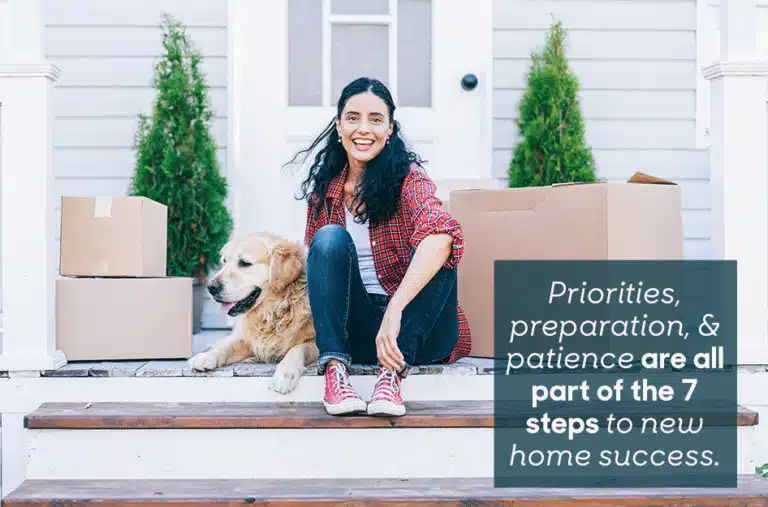 Where to Move and How to Do It: 7 Steps for Finding Your New Home
There's nothing quite as exciting as the promise of a new home. Whether you're seeking more spacious pastures for a growing family, downsizing as new empty nesters, or are simply looking for a fresh start in a new neighborhood, there's a lot to look forward to when moving to a new house.
Of course, there's also a lot to do, and it can be tricky to figure out exactly where to begin in the process. If that's where you find yourself now, stress no more. Here are some steps to take when you first decide to pursue a new home.
Step 1: Determine why you want to move
Assuming this is a move driven by desire rather than necessity, it's good to have a clear idea of why you want to move, so you can stay aligned with that motive throughout the process. If, for example, you're relocating to be closer to family, you'll want to remember that when choosing between potential homes. Ask yourself questions like:
What is influencing this move?
Who do I need to consider in this move?
What do I hope to gain from this move?
What makes me excited about this move?
Step 2: Make a list of priorities
Now that you're clear on what's driving this move, it's time to get into the nitty gritty. Create a "Moving to a New Home Checklist" by dividing your priorities into two sections: Must-haves and nice-to-haves. Think about what your new home absolutely must have (like a backyard big enough for the dogs and kids to run around in) and what would be nice but isn't a deal-breaker (like an in-ground pool for those hot summer days). These will be dependent on your lifestyle, but here are some considerations to get you started:
Types of homes that interest you (Condo? Single-family? Apartment?)
Size/square footage
Number of bedrooms and bathrooms
Guest room/space to entertain
Kitchen size/amenities (a small galley kitchen may suffice if you're cooking for one or eating out often, while someone who cooks all the time may be looking for more of a chef's kitchen)
Parking/garage space
Outdoor space (maybe a fenced-in yard for young children is a must-have, or maybe a small balcony in the city is just a nice-to-have)
If a nice-to-have on your list is a basement to practice playing the drums, then an apartment complex may not be ideal. But if the nearly perfect home (that is, the one that meets all your must-haves) lacks a soundproof space, you could see if there is a studio to rent out nearby. Knowing from the start — before even being wooed by potential homes — what you can sacrifice and what you can't will save you time and energy in the long run.
Q: How do I start looking for a new home?
A: As tempting (and exciting) as it is to jump into Zillow and start clicking through a stream of dream homes, as mentioned earlier, there are a few questions you'll want to ask yourself first. Start by making a list of why you are looking for a new home, what you need in a new home, and what you would like to have. From there, figure out your comfortable budget and desired location (more on that below). Then — drumroll — it's Zillow time!
Step 3: Determine your budget
Budget, along with location, is one of the most important factors to figure out before diving into home hunting in earnest. And if your location is flexible, then this is arguably the most critical step. Having a sense of what type of home you're looking for is a good starting point, so you can know whether your costs will include rent, mortgage payments, or condo fees. Then, a general rule of thumb is to spend no more than 30% of your monthly gross income on your housing costs. However, you can meet with a mortgage advisor or use an online calculator to get a more exact sense of how much house you can afford.
Step 4: Pin down your location
Wondering how to figure out where to live? Unfortunately, it isn't quite as easy as closing your eyes and simply pointing to the perfect spot on a map. But working out the earlier steps on this list is a useful starting point. Take your budget, for instance. It will afford you different living situations, depending on where you go. In San Francisco in 2021, for example, the median home sale price was $1,360,000. In all of Ohio in that same year, the median home price was $145,700. That's why knowing how much you have to spend is a smart place to start when considering location — but if you already have a place in mind, you'll still want to zoom in a bit on the exact towns, neighborhoods, and streets that are of interest. Maybe you know you want to be in the center of it all, or maybe you want to be somewhere accessible to downtown but live in a quieter enclave. If you have kids in school, researching school districts will be a big part of your decision-making process. Other factors could include looking for a place with a sense of community, somewhere that is walkable or transit-oriented, or a place with a lot of green space. If you get lost on exactly what to look for in a location, just go back to those initial thoughts: Does this location meet your motive for moving and your must-haves?
Answering those questions for yourself will help home in on the right section of the map to focus your search. Ultimately, as much as you may fall for a home, you can change everything about it except the location — so you want to be sure you love that, too.
Q: How many houses do people look at before buying?
A: In 2021, the average buyer looked at eight homes before making a decision, according to data from the National Association of Realtors. That's the lowest it's been in recent years — from 2009 to 2012, people saw 12 homes on average. That being said, there is no magic number of homes you have to see before putting in an offer. Depending on inventory in your desired area, listings within your budget, or your ability to see the places in person, that number could be higher or lower. And, yes, it is possible to find your dream home on the first try! However, particularly for first-time home buyers, it's never a bad idea to see a few more options before making the final call.
Step 5: Find a good agent
Particularly if you're moving to a different part of the country, you'll want to find a real estate agent who is a local expert. Not only can they point you to areas that are compatible with your budget and location needs, but they often have first access to homes that may fit your must-haves — even before they pop up in your Zillow feed. If you have a friend living in your new zip code, asking them for a personal referral is a great way to find a trusted agent. If not, try asking around locally. Many national agencies have outposts in various states and cities, and a real estate agent in your current hometown may have someone in their network they can recommend for your new address.
Q: How do I find the right house for me?
A: The right home for you is the one that meets your needs — location, budget, amenities, and must-haves. Beyond that, the "right" house is the one that feels like home to you. Try touring multiple homes to compare how you feel in different spaces. 
Step 6: Figure out the timing
You've nailed down the why, what, and where. Now how about the when? If you're moving while working remotely, you may have a lot of flexibility when it comes to timing, but it's still a best practice to check in with your supervisor to plan for any time off and set expectations around working hours (in case a time zone shift is involved). Other factors to consider could include planning around the academic year — if you have young children in school. Letting them finish up the year and making the move during summertime may ease the transition.
And on that note, working with the seasons when moving can be beneficial, too. Moving to the northeast in the middle of the winter is not for the faint of heart (though it may be worth it to score slightly less expensive rent), and relocating to Florida in the height of its humid season may make for a sweatier than necessary moving day. Whatever you peg your timing to, try to give yourself eight weeks to plan, and use this moving checklist to schedule your move accordingly.
Step 7: Prepare for the move
Now, it's time to prep for the move itself! Moving out is the perfect chance to reevaluate what you want to keep enough to bring to your new home. Go through your digs and take careful inventory of what you'd like to pack for your new place and what you can part with, whether that means putting it in storage or donating it. Unsure where to start? Consult these expert tips on decluttering before a move from a professional organizer.
And finally, you'll need to pack up your things. If it's been a while since your last moving day, you may be a little rusty on the ins and outs of packing your life up into cardboard boxes. If that's the case, just check out this packing advice from the pros themselves as well as many other moving tips and tricks found on the PODS Blog.
Now that you've pictured your new, ideal home, it's time to officially start the hunt. There are sure to be bumps in the road, which is why PODS is so flexible. With storage options built into every move, though, whether you're moving two miles or 2,000, PODS has you covered so you can take all the time you need and handle whatever your move throws at you.
---
Sofia Rivera is a Boston-based lifestyle editor and frequent contributor to the PODS Blog. Her work has appeared in Boston magazine, Apartment Therapy, and more. You can most often find her redecorating her apartment, trying out a new recipe, or trekking all over the city.
Get a Quote
Choose the service you need
Comments
Leave a Comment
Your email address will not be published. Required fields are marked *