Commercial Moving to Melbourne, FL: Guide to Relocating a Company to the Space Coast
Melbourne is the next commercial moving hotspot in Florida. Yet, many people wouldn't be able to find the city on a map — even though it's in a prime location in the state.
Located 60 miles southeast of Orlando in Brevard County about halfway between Jacksonville and Miami on the east coast of Florida, Melbourne is a principal city of the Palm Bay–Melbourne–Titusville metropolitan area and part of Florida's Space Coast.
The city is also home to NASA's Kennedy Space Center and Cape Canaveral Space Force Station.
Melbourne is the second largest city within its country — Brevard County. With the Palm Bay–Melbourne area currently ranked at number three in growth among U.S. cities, a jump of 20 spots since 2020, the city is well-poised for major expansion in the coming years.
While Brevard County is known for being the home of NASA operations, many private companies have set up shop on the Space Coast over the past decade, turning the area into an "aerospace and manufacturing powerhouse," BizJournal reports.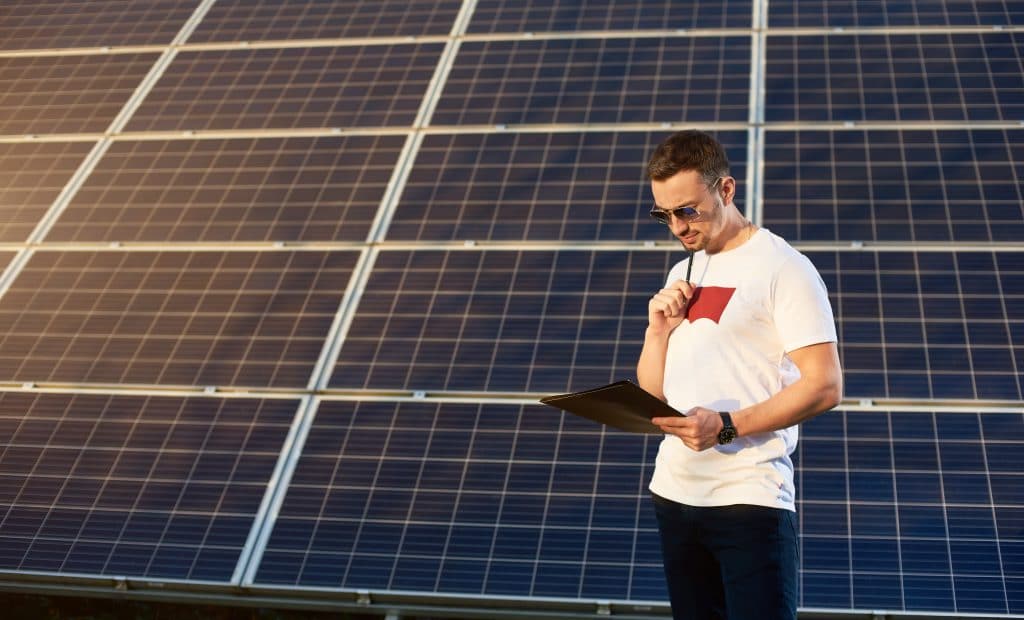 For instance, the headquarters for the Boeing Company's space and launch division are located in Titusville, and Merritt Island is home to Blue Origin LLC's 750,000-square-foot rocket manufacturing facility.
Here's a list of some of the best-known Melbourne, FL businesses:
Global aerospace and defense technology L3Harris
Supply chain workforce solutions provider Eclipse Advantage
Florida Institute of Technology
Space Coast Credit Union
Ron Jon Surf Shop
Avionics company Avidyne Corporation
It was also recently confirmed that a new business is coming to Melbourne, Florida: Space Florida.
Space Florida, the aerospace economic development agency of Florida, is bringing still-unnamed spacecraft manufacturing facility to the Melbourne Orlando International Airport — along with a $300 million investment and 2,100 jobs.
Is Melbourne, Florida a Good Place to Live?
Ranked number one on the U.S. News & World Report's Best Places to Live Near the Beach list, Melbourne isn't just a great place to do business.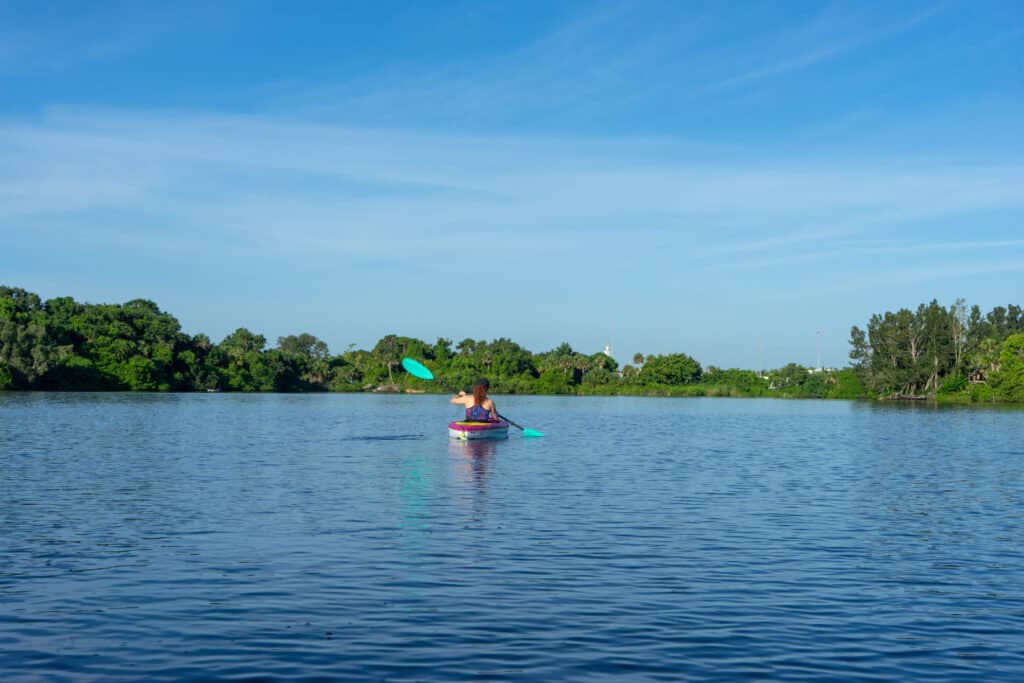 Nicknamed "the Harbor City," Melbourne offers a wide range of outdoor activities, year-round sunny weather, great schools, a charming downtown, affordable housing, and low traffic — all in addition to its strong economy.
Thinking About Relocating a Business to Melbourne, Florida?
If you're considering relocating your business, Melbourne is a great option. Keep reading to learn more about this rising technology hub and see if it's the right fit for you. We'll also let you know about your commercial moving options and share information to help you when you're ready to make your move to the Space Coast.
Moving a Company to Melbourne: Pros vs. Cons
What are the pros and cons of living in Melbourne, Florida? Here are some considerations to keep in mind as you decide whether or not to relocate your business to Florida's Space Coast.
Pros: Why Are People Moving to Melbourne, Florida?
Strong Economy
As reported by BestPlaces.net, Melbourne's economy is in great shape with an unemployment rate of 4.7% compared to the U.S. average of 6.0% and a job market increase of 1.9% over the past year.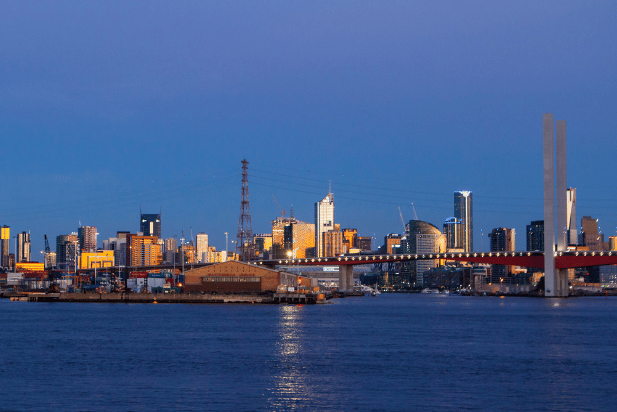 Additionally, job growth over the next ten years is predicted to be 40.7% – notably higher than the U.S. average of 33.5%.
Location
Melbourne is located next to a major interstate just a little over an hour south of the family-friendly resort city Orlando. Melbourne also boasts an international airport.
Great Weather
Melbourne residents get to enjoy mild winters with temperatures between 50 and 70 degrees Fahrenheit and an average of 242 sunny days annually.
Proximity to Higher Learning Institutions
Brevard County boasts several colleges and universities, including the Florida Institute of Technology, Eastern Florida State College, and a regional branch of the University of Central Florida.
Business-Friendly Climate
The gateway to Cape Canaveral, Melbourne is a major hub for high-tech and aerospace businesses, as evidenced by some of its recent accolades:
Most highly concentrated high-tech economy in Florida (Milken Institute, 2019)
Second highest performing large city in the U.S. (Milken Institute, 2021)
Third best wage growth in the U.S. (Milken Institute, 2021)
Top 10 Best Cities for STEM Jobs (Forbes.com)
Recreation and Amenities
Located in the heart of the Space Coast, Melbourne offers plenty of attractions for employees to enjoy outside the office. Residents can watch rocket launches from nearly any part of the city from the Kennedy Space Center located just a short drive away.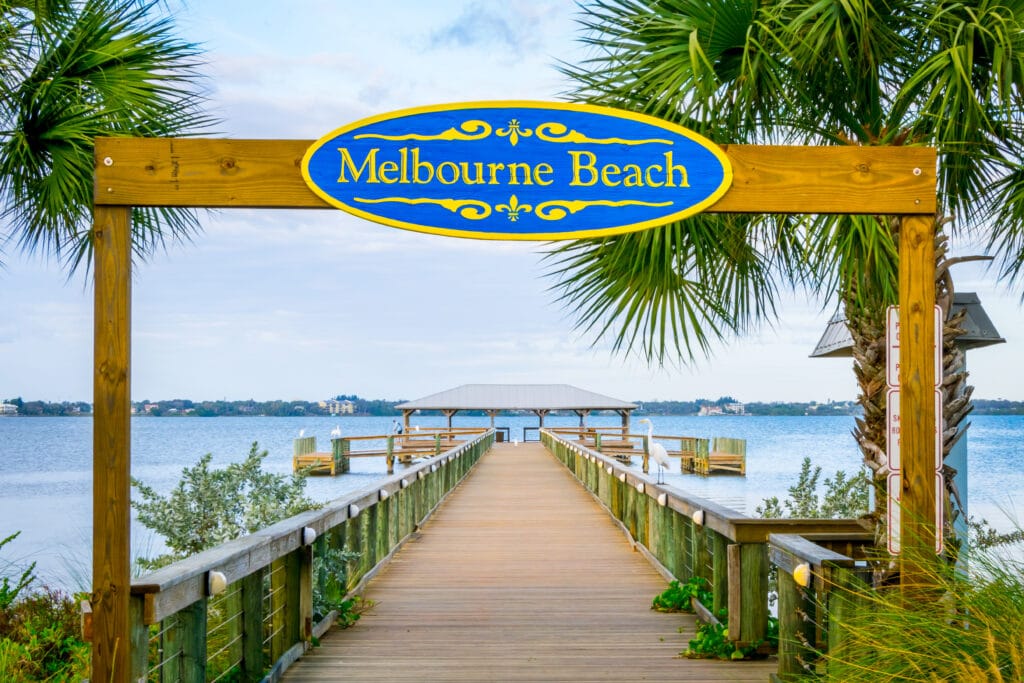 Opportunities for outdoor recreation abound including watersports and hiking. Other activities include zoos and museums as well as taking advantage of the area's thriving dining and shopping scene.
Melbourne also offers a rich arts and culture scene. In downtown Melbourne, residents can take in national and international performances at the King Performing Arts Center, and the Eau Gallie Arts District is home to a number of events.
Cons: Reasons to Not Move to Melbourne, Florida
While Melbourne has a lot to offer businesses, the city can have its drawbacks.
Not a Major Metropolitan Area
The Palm Bay–Melbourne–Titusville metro area is home to a fairly modest population when compared to big cities such as San Francisco, Dallas, and Seattle. And with poor walkability in most areas along with inadequate public transportation by metropolitan residents' standards, the area doesn't exactly have a big-city feel either.
Hurricane Season
While Melbourne, Florida offers year-long great weather, residents have to contend with hurricane season — which stretches from June 1 to November 30. During this time, Florida is at higher risk of hurricanes than any other state.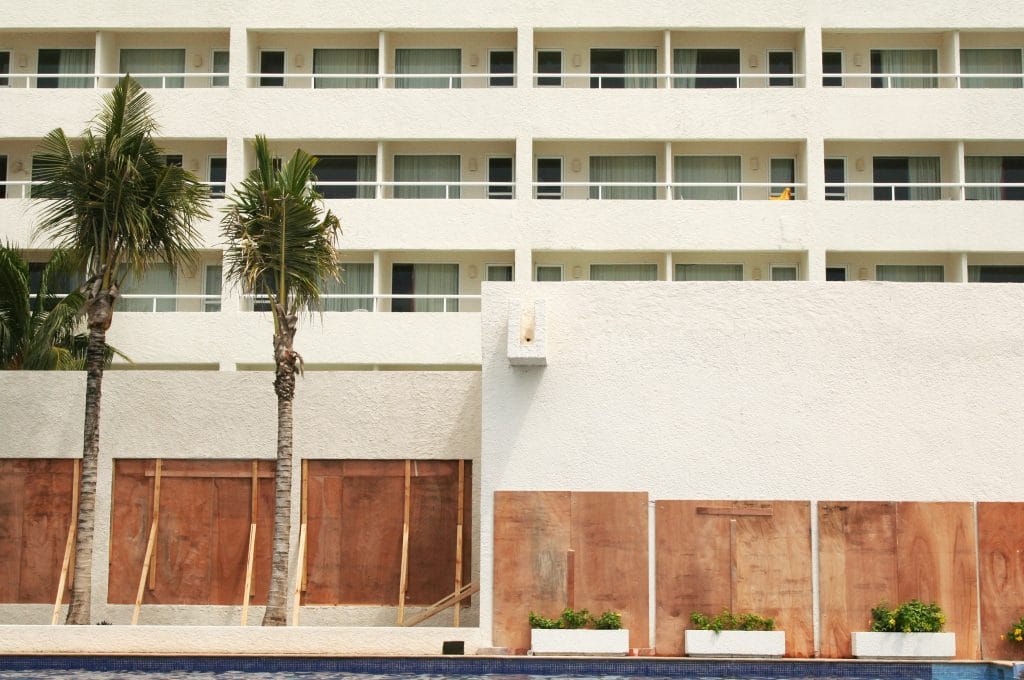 That being said, no major hurricane (category 3 or above) has hit Brevard County since 1850, when the climate record started. Most hurricanes downgrade to a tropical storm or depression before they make landfall in the area.
Older Population
As of 2022, an impressive 26% of Melbourne's population is made up of senior citizens — compared to a U.S. average of 16%, and the area is well known for its lack of millennials.
According to the Economic Development Council of Florida's Space Coast, as reported by Florida Today: "The largest age group in the county are 55- to 59-year-olds, and the fastest growing group since 2002 were those aged 85 and older. The 35- to-39-year-old bracket has shrunk by 17 percent, faster than the national average."
Still, Melbourne's 20- to 29-year-old bracket has grown faster than the rest of the country. While there aren't as many hipster hangouts as you'll find in a metropolitan city, Melbourne has plenty to offer a younger crowd including world-famous surfing beaches and a bustling downtown.
A Brief Overview of Melbourne, Florida and Nearby Cities
Wondering where to move your business in Melbourne? Here are some of the most popular Space Coast commercial areas to explore.
Downtown
Downtown Melbourne is a vibrant historic district known for its eclectic shopping, restaurants, and entertainment, and waterfront views to boot. With more than $70 million being invested in commercial and housing construction, the area is sure to see a major growth in the coming years.
Notable projects include a $42 million Tapestry Collection by Hilton boutique hotel, which is expected to bring $8.8 million into the area every year, and the $31 million luxury Highline apartment complex.
NASA Boulevard Commercial Area
Within minutes of downtown Melbourne lies a number of large commercial campuses and facilities that make up the heart of Melbourne's technology market. The area is conveniently located within minutes of the Melbourne Orlando International Airport, the Melbourne Square Mall (which boasts more than 125 retailers), and a number of popular chain restaurants.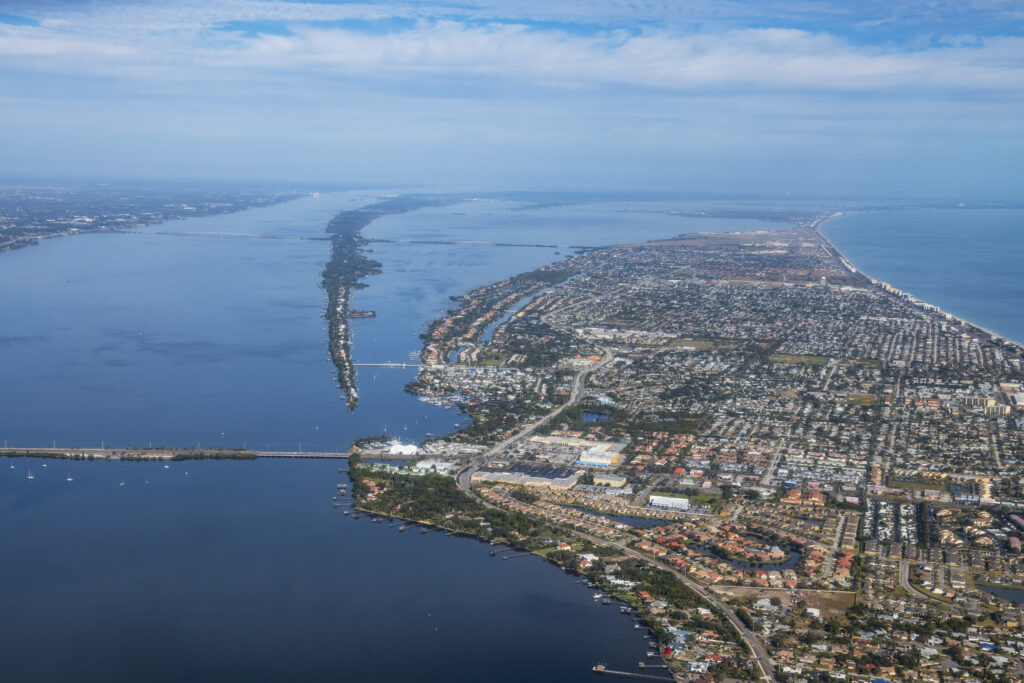 Businesses that call this area home include Northrop Grumman, GE, Extant Aerospace, Harris Corp, and Rockwell Collins.
Cocoa Beach
Located 30 minutes away from Melbourne, Cocoa Beach is just south of Cape Canaveral Air Force Station at the gateway to the Kennedy Space Center Visitor Complex. A popular beach-going and surfing spot, the area draws large numbers of tourists.
Restaurant and retail locations abound including the largest Ron Jon Surf Shop — the largest surf shop in the world. Other major businesses include Quantum Technology Sciences and CB Marketing Inc.
Palm Bay
Located just a few minutes south of Melbourne lies Palm Bay. With a population of 119,760 according to the 2020 United States Census, Palm Bay is the biggest city in Brevard County and the Palm Bay–Melbourne–Titusville metro area.
Palm Bay is home to a number of large businesses, including Harris Corp, which is headquartered in its $130 million, 464,000 square foot Technology Center opened in 2014.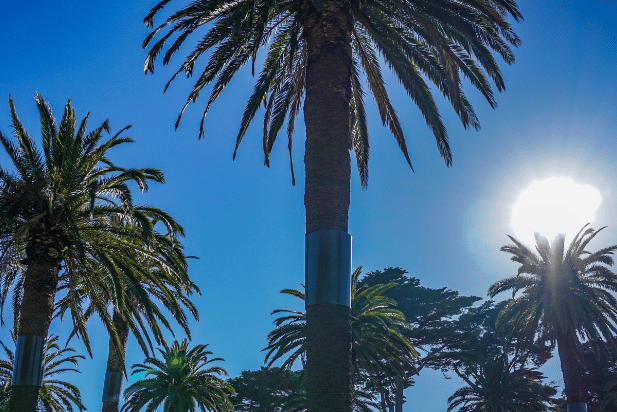 Commercial Moving & Relocation Services Costs to Consider
How much does it cost to relocate to Melbourne, Florida? Relocating a business involves a lot more than just moving expenses. Make sure your Melbourne moving budget includes all of these expenses below:
Cost of moving your business's furniture, inventory, and other assets to Melbourne, Florida (this can vary depending on your current location and how much you're moving)
Moving expenses for employees who will be moving with the company
Moving insurance for moving your business and employees
Deposits and leasing fees for a new Melbourne office space
Recruitment expenses involved in manning up your new Melbourne facilities
Marketing expenses involved in letting people know you've moved
Possible loss of revenue if productivity is impacted by the move
Costs involved in establishing the new office, such as cleaning, painting, new furniture, and IT setup costs
Moving to Melbourne, FL? Here Are Your Commercial Moving Options
Are you set on relocating your business to the Space Coast? Your next step is to weigh your commercial moving options to find the right fit. When relocating a company, you can use a full-service moving company, portable containers, or you can simply do the move yourself.
Keep reading for an in-depth look at each of these solutions.
Full-Service Movers
Hiring a full-service moving company to take care of your move requires the least amount of labor, time, and logistics management, making it attractive to bigger businesses. However, all that convenience comes at a cost.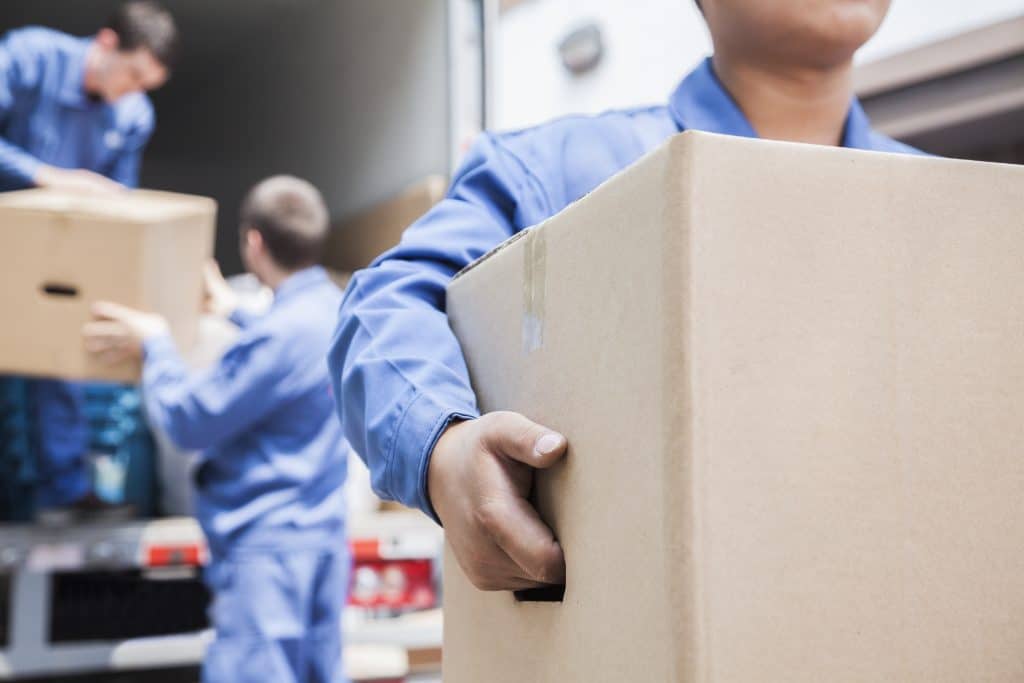 Full-service providers are usually the most expensive solution, and not all moving companies provide storage or corporate relocation services. Not to mention, full-service movers can be rigid in their processes and scheduling.
| PROS | CONS |
| --- | --- |
| Usually the fastest option | Usually the most expensive option |
| Low level of effort required | Scheduling can be rigid, making it hard to reschedule |
| Best for large companies | Usually no storage options |
| Pricing is variable | Often involves hidden or unexpected costs |
| Limited involve from service provider during the move | Limited or no employee relocation assistance services |
Manage the Move Yourself
What is it like to manage your business's move on your own? If you have a smaller business and adequate time and resources to devote to the move, this could be an appropriate solution for you.
Be mindful, however, that while this solution can be the least expensive it usually requires a lot of time and effort — which may result in indirect costs.
| PROS | CONS |
| --- | --- |
| Suited for smaller businesses with limited employees and physical property | Requires significant labor and time as well as independent logistics management resources |
| Usually the least expensive option | There could be unexpected costs |
| Gives businesses the most control over their move | No built-in storage options |
| No managing or working with a service provider | No employee relocation assistance services included |
Commercial Moving With Portable Storage Containers
A commercial moving and storage container company like PODS is a great middle ground between full-service movers and a DIY business relocation. It's also ideal for businesses that need storage as part of the moving process, help with relocating employees, as well as some flexibility.
PODS also helps by managing moving logistics every step of the way so you can focus on the important stuff — like your business.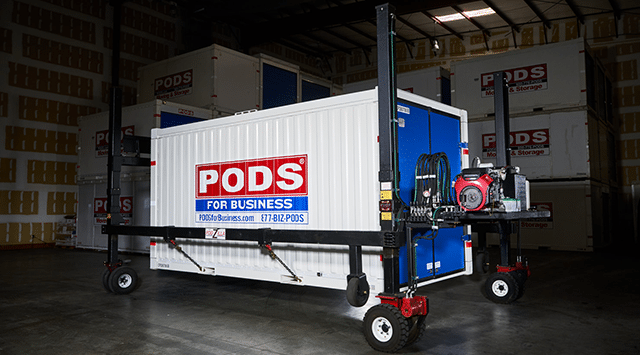 Some of the benefits of using PODS portable containers for relocating a company include:
Flexible scheduling and easy rescheduling
Cancellation capability
On-site and off-site storage options included
Containers remove the need to unload and reload your items multiple times
Lowest damage claim rate in the moving industry
Customizable solutions for most business sizes and budgets
Nationwide network and large trucking fleet
Customized employee relocation services available with decades of experience assisting with company relocations
Moving to Melbourne, Florida, with a portable container service provider like PODS can help you move on your terms with the flexibility you need — and with your own PODS logistics team to take care of the details. Learn more about the corporate relocation solutions PODS has to offer.
[maxbutton id="3"]
RELATED ARTICLE: Commercial Moving to Dallas: A Guide for Relocating a Business to the Dallas Area
Get a Quote
Choose the service you need
Comments
Leave a Comment
Your email address will not be published. Required fields are marked *