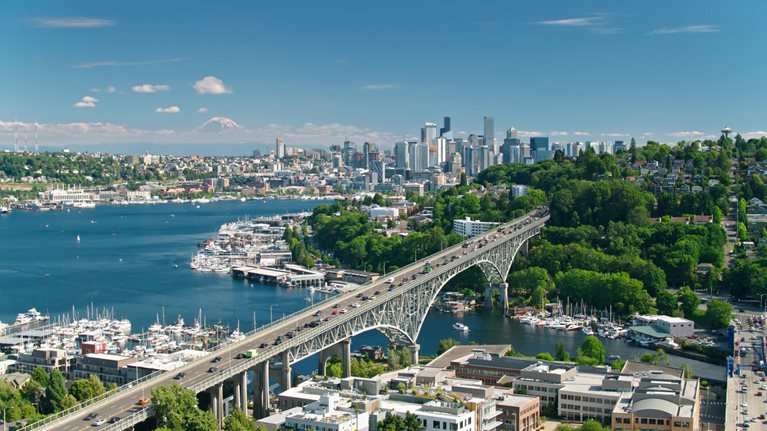 A Commercial Moving Guide for Seattle: How to Relocate a Company to the Emerald City
Are you thinking of relocating your business to Seattle and already looking for commercial moving options? You're not the only one.
With its top-tier talent pool, dynamic and diversified economy, and legendary reputation for innovation, the largest city in the Pacific Northwest remains one of the most attractive cities for businesses.
The Seattle Metropolitan area is well-known as the birthplace of a number of companies that have achieved near-mythic status for the way they have shaped the world as we know it — including Amazon, Microsoft, Starbucks, Costco, and Expedia.
Still to this day, the city continues to be a great place for doing business — a fact which has earned it the number-one spot on the Best Places for Business & Careers by Forbes.
As of December 2021, 10 Fortune 500 companies call the Seattle metropolitan area home:
Internet retailer Amazon (#2)
Costco Wholesale (#12)
Microsoft (#15)
Starbucks (#125),
Paccar (#159)
Nordstrom (#289)
Weyerhaeuser (#387)
Expeditors International (#299)
Alaska Airlines (#459)
Expedia (#500).
Consistently ranked as one of the best places to live in the U.S., Seattle offers a lot more than a vibrant business climate and metropolitan amenities.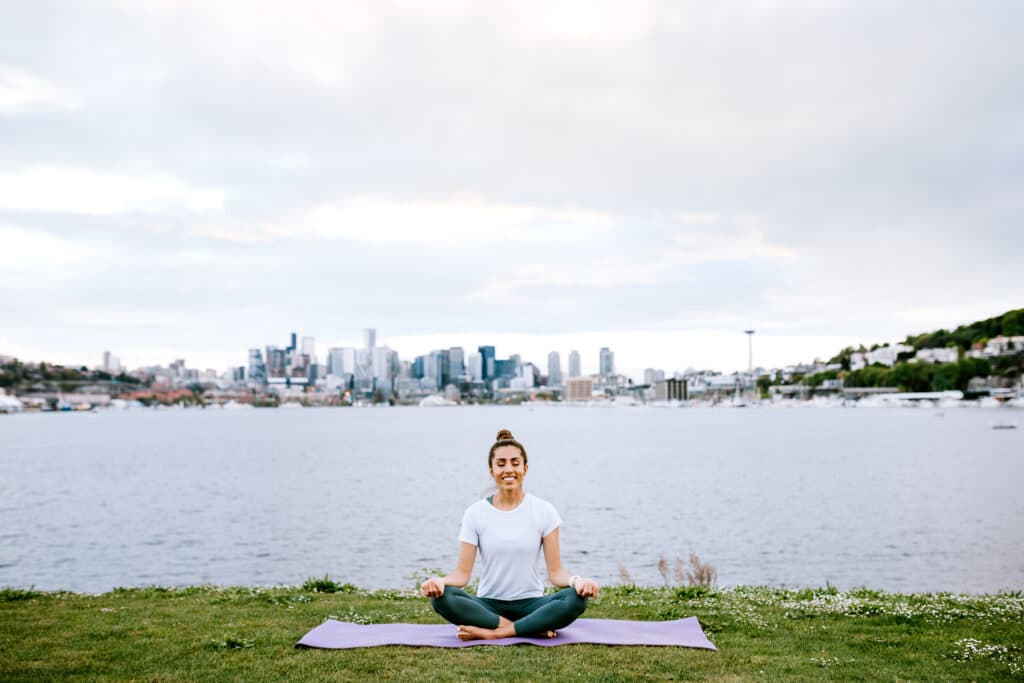 Nicknamed the Emerald City for its year-round greenery, the city is known for its breathtaking splendor and easy access to nature — it is surrounded by mountains and water on two sides.
It also offers serene, laid-back vibes and a family-friendly atmosphere — the perfect balance to its bustling commercial activity.
Thinking About Relocating a Business to Seattle?
If you're considering relocating your business, Seattle is a great city to put on your list. Keep reading to learn more about this globally recognized hub for innovation and see if it's the right fit for you.
We'll also let you know about your commercial moving options and share information to help you when you're ready to make your move to Seattle.
Moving a Company to Seattle: Pros vs. Cons
Here are some considerations to keep in mind as you decide whether or not to relocate your business to the Seattle metropolitan area.
Pros: Is Seattle Good for Business?
In the latter half of the twentieth century, companies like Starbucks and Microsoft put Seattle on the map as an incubator for innovation, but since that time dozens of leading companies have settled in Seattle, transforming it into one of the world's most notable tech hubs.
Why do companies move to Seattle? Keep reading for some of the perks of doing business in the Emerald City.
Highly Skilled and Educated Talent Pool
The Seattle metropolitan area, the major global business hub that it is, has attracted a highly sought-after and tech-savvy workforce.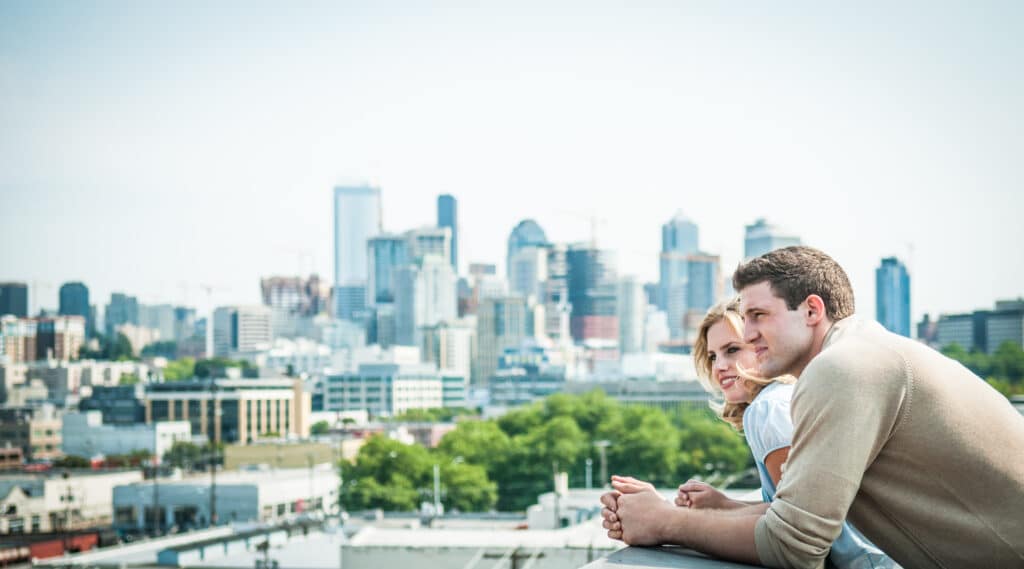 An impressive 53.8 percent of adults over the age of 25 hold a Bachelor's degree — nearly double the national average of 27.4 percent. A competitive environment for workers, the city attracts passionate people who are serious about their careers.
No Corporate Tax or Personal Income Tax
Washington State doesn't have a corporate tax or a personal income tax. However, there's a state Business & Occupation (B&O) tax, which is based on the value of products, gross sale proceeds, or gross income.
The retailing B&O tax rate is 0.471 percent (. 00471) of the business's gross receipts.
Business Tax Incentives
The state of Washington offers numerous tax incentives such as reduced B&O rates, exemptions, and credits. Check out The Department of Revenue website for a list of incentives categorized by industry.
Resources for Businesses
The City of Seattle offers vast resources as part of its commitment to helping businesses small and large grow and flourish.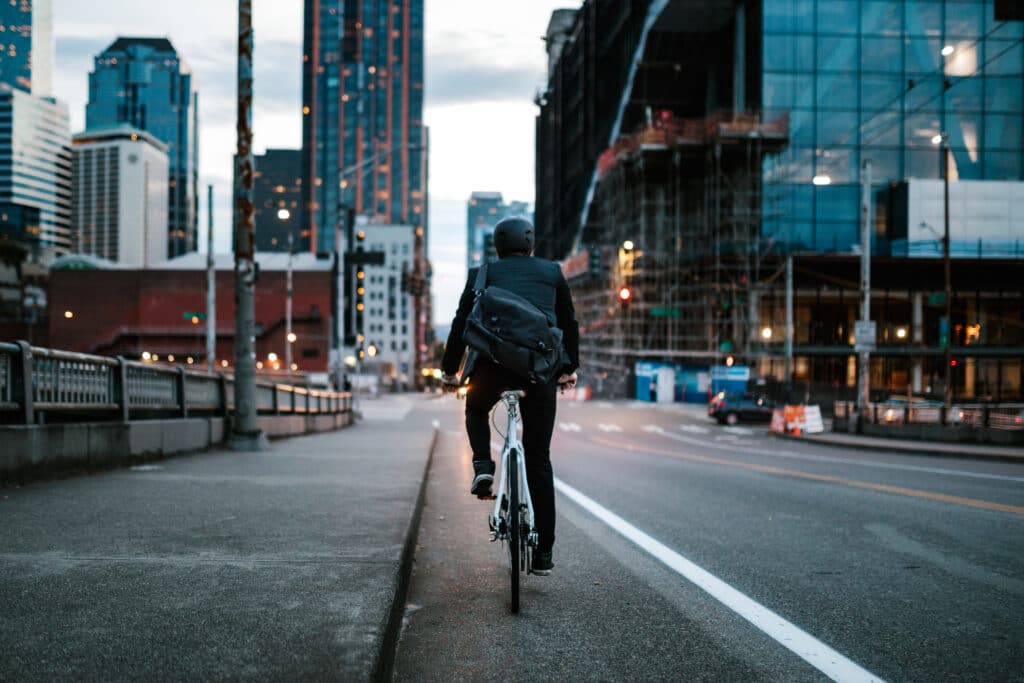 The City of Seattle's Office of Economic Development website provides an idea of what the city has to offer.
Resources include free accounting and finance consulting services for small businesses, free business tools for startups, assistance with site selection, workforce training referrals, links to more than 295 meet-ups in startups and tech, and access to financing.
Additionally, the state of Washington as well as the city of Seattle offers the ability to be recognized as a Minority and Women's Business Enterprise (OMWBE).
Access to Outdoor Recreation
Bordered by two stunning mountain ranges (the Cascades to the east and the Olympics to the west), located just two hours away from all three of Washington State's national parks, and boasting thousands of acres of parkland, Seattle is an outdoor lover's dream.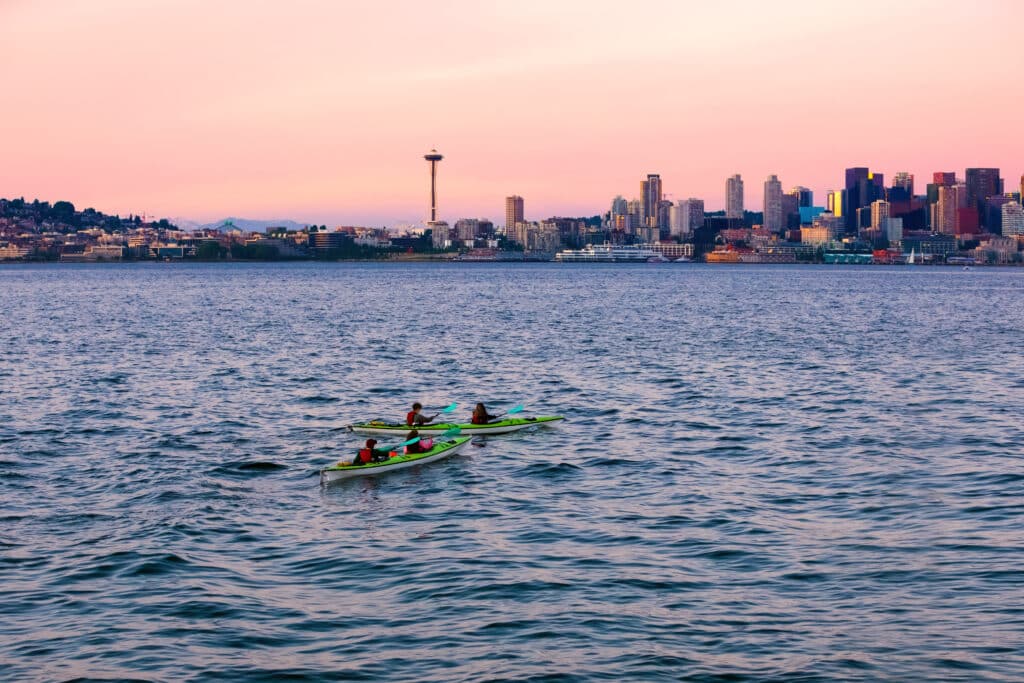 In the summers, hiking trails are packed as Seattle residents take advantage of the sunshine and mild temperatures. In the winter, Seattleites can hit the slopes at one of the area's surrounding world-class ski resorts.
World-Class Big City Amenities
In addition to superlative outdoor recreation, residents of Seattle enjoy all the perks of living in a big city.
The city's vibrant arts and culture community offer access to the Seattle Symphony, numerous museums and galleries, the Pacific Northwest Ballet, more than 80 theater companies, and celebrated events such as the Seattle International Film Festival.
Sports enthusiasts can cheer for the Seattle Seahawks, Seattle Mariners, the (4-time WNBA Champion-Winning) Seattle Storm, and the Seattle Sounders FC.
Cons: Reasons to Not Move to Seattle
While Seattle has a lot to offer businesses, the city does have its drawbacks.
High Cost of Living — And High Cost of Doing Business
While Seattle's median household income is much higher than the national average at an impressive $94,974, the cost of living makes up for it — Seattle is the sixth most expensive city in the U.S., tied with Boston.
Seattle also has a cost of living that's about 52% higher than average, according to a 2021 data report.
According to Zillow, the average home price is $932,382. These high living costs impact not only employees but also businesses relocating to the Seattle area who have to contend with the high leases and other elevated costs of doing business.
Public Transportation Could Be Better
While Seattle ranked as the number-one city for public transportation in 2019 by WalletHub, some Seattle residents respectfully disagree.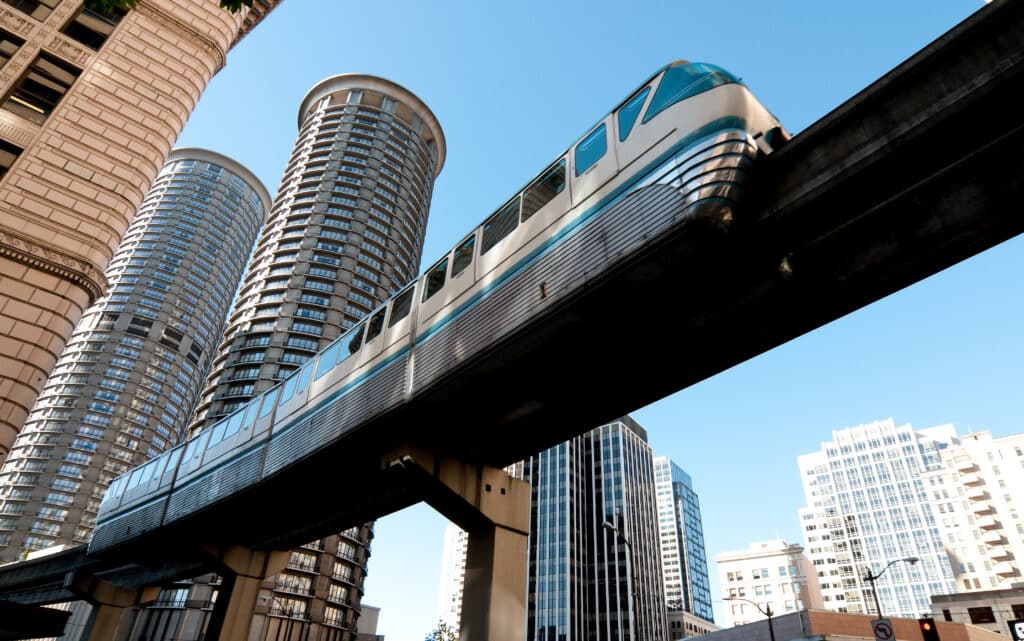 Popular complaints include service shortages, delays, and a general lack of reliability.
Gloomy Weather
Seattle may have a reputation for being a rainy city, but it's actually not as rainy as NYC or D.C. — it doesn't even make the top 10 list. It's the gray skies through most of the year that can take a toll on residents' moods.
Bad Traffic
Seattle is ranked the sixth worst city for traffic in the country, and in an Apartment Guide study, Seattleites lost 138 hours during the year due to traffic congestion. Without updates to its infrastructure, the traffic is likely to get worse as the city attracts more and more newcomers.
High Sales Tax
While Washington doesn't have a state income tax, the state does impose a sales tax of 6.5% compounded with a local tax rate, which for Seattle is 3.75%. This amounts to a sales tax of 10.25%, one of the highest tax rates in the country.
A Brief Overview of Seattle and Nearby Cities
Wondering where to move your business in Seattle? Here are some of the most popular commercial districts to explore.
Downtown
Downtown is Seattle's central business district and home to a number of top businesses including Amazon, Zillow, and Payscale. Compact but bustling, it is densely filled with skyscrapers, cafes, and eateries.
The downtown area is popular with tourists and boasts a number of popular attractions such as the iconic Pike Place Market, the Seattle Art Museum, the Central Waterfront with its giant 175-foot Ferris wheel, and the historic Paramount Theatre.
Pre-COVID-19, 350,000 people flocked to the Downtown area every day for work. While it's likely that not everyone will return to the office five days a week after the pandemic, the district is well-poised for a full recovery.
Belltown
Next door to Downtown lying along the waterfront, Belltown is a densely populated neighborhood that has transformed over the years.
The neighborhood went from a semi-industrial arts district to a sought-after locale filled with luxurious residential high rises and trendy eateries, boutiques, art galleries, and clubs, making it a great spot for retailers and restaurateurs.
Pioneer Square
Known as Seattle's first neighborhood, Pioneer Square is steeped in history and offers charming Renaissance Revival architecture and cobblestone streets.
In addition to being a great place for people to unwind after work with art galleries, cafes, restaurants, and bars, it's also a great place to do business.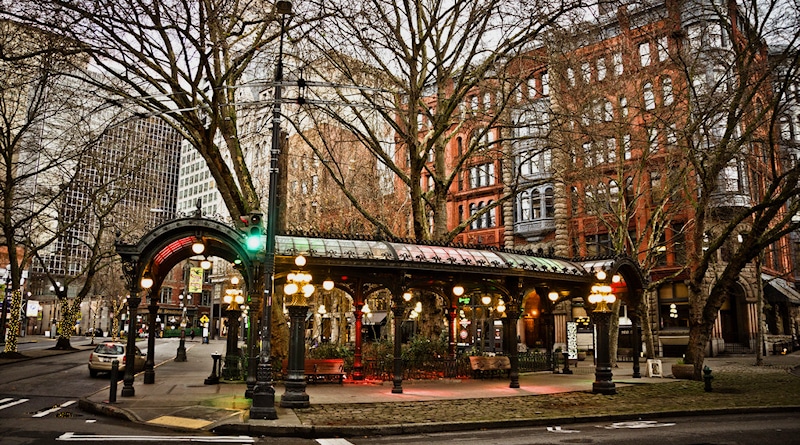 Ask the hundreds of businesses located in the neighborhood, which include law firms, tech companies, and creative agencies. Pioneer Square is also conveniently located, accessible from I-5, I-90, and Highway 99, and offers more modes of transportation than any other part of Seattle.
University District
Seattle's University District is home to 17,000 residents, 54,000 students, and 800 licensed businesses, reports the U District Partnership (UDP), a nonprofit group dedicated to serving "all who work in, live in, and visit Seattle's University District by fostering and sustaining a vibrant, diverse, and healthy neighborhood for the common good."
The UDP offers a number of resources and services to University District businesses and prospective businesses interested in relocating to the district.
Boasting some of the highest foot traffic counts in Seattle and called a "walker's paradise" by Redfin, the district is a dream location for retail business relocations. University District is also a well-serviced transportation hub with connections to Seattle's light rail network and Sea-Tac airport.
Bellevue
Located just a hop, skip, and jump away from Seattle across Lake Washington, Bellevue is often considered a suburb, satellite city, or a "boomburb" of the Emerald City.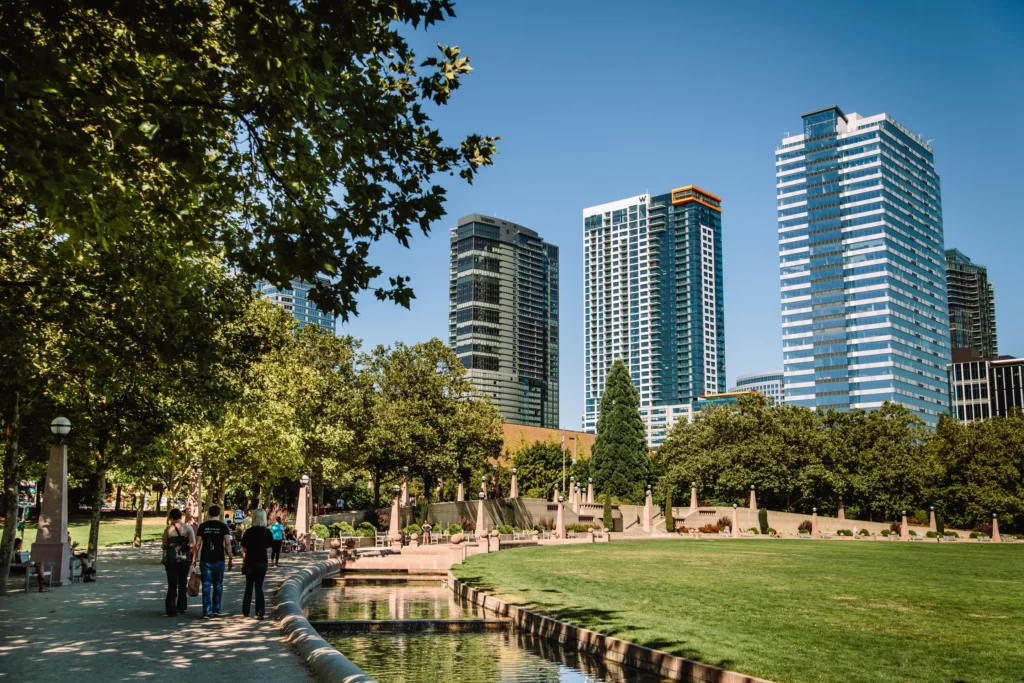 The third largest city in the Seattle-Tacoma-Bellevue metropolitan area and the second-largest city in Washington state, Bellevue is home to 1,300 businesses, 45,000 employees, and 10,200 residents, according to Wikipedia.
Local businesses include PACCAR Inc, T-Mobile, and Valve, but the area is probably best known for being the birthplace of Amazon.
Redmond
The city of Redmond, located 15 miles east of Seattle and within the Seattle metropolitan area, offers a mix of urban and suburban spots.
With A+ rated public schools, ample parkland, and lots of restaurants and coffee shops, it's a popular place for families as well as young professionals. Home to Boeing, Microsoft, and Nintendo of America, the area is a booming business center.
Fun fact: Redmond doesn't have a business and occupation tax on income. However, there's a business license fee of $107 per employee as a way of paying for road improvements.
Commercial Moving & Relocation Services Costs to Consider
Wondering how much relocating to Seattle will cost? Commercial moving involves a lot more than just moving expenses. Make sure your Seattle moving budget includes all of these costs below:
Cost of moving your business's furniture, inventory, and other assets to Seattle (this can vary depending on your current location and how much you're moving)
Moving expenses for employees who will be moving with the company
Moving insurance for moving your business and employees
Deposits and leasing fees for a new Seattle office space
Marketing expenses involved in letting people know you've moved
Costs involved in establishing the new office, such as cleaning, painting, new furniture, and IT setup costs
Possible loss of revenue if productivity is impacted by the move
What's it like to be a Seattle resident? Before deciding to call Seattle the new home for your business, check out this guide to learn everything you need to know about being a local: Deciding if Seattle Is Right for You
Moving to Seattle? Here Are Your Commercial Moving Options
Once you've settled on relocating your business to the Seattle area, you'll need to weigh your commercial moving options to find the best fit.
When relocating a company, you can use a full-service moving company or portable containers, or you can do the move yourself. Keep reading to learn more about each of these solutions.
Full-Service Movers
Hiring a full-service moving company to take care of your move requires the least amount of labor, time, and logistics management, making it attractive to bigger businesses.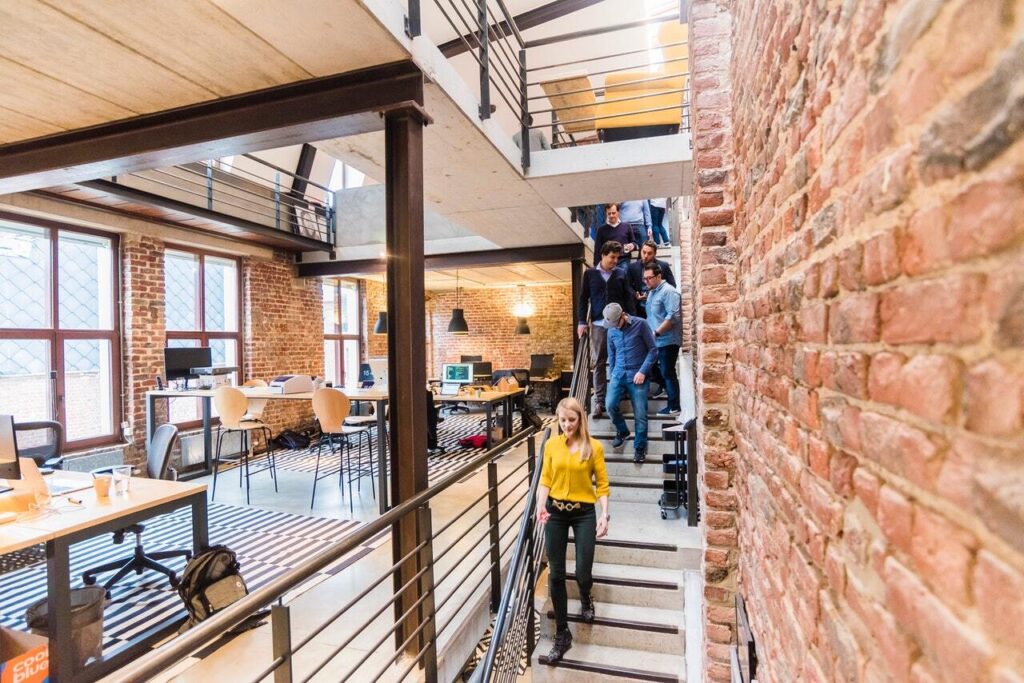 At the same time, it's often the most expensive solution, and not all moving companies provide storage or corporate relocation services.
Be mindful that even though this commercial moving solution can be the least expensive, it usually requires a lot of time and effort — which may result in indirect costs.
| PROS | CONS |
| --- | --- |
| Suited for smaller businesses with limited employees and physical property | Requires significant labor and time as well as independent logistics management resources |
| Usually the least expensive option | There could be unexpected costs |
| Gives businesses the most control over their move | No built-in storage options |
| No managing or working with a service provider | No employee relocation assistance services included |
Moving On Your Own
Considering handling your business's move on your own? This option could be right for you if you have a smaller business and adequate time and resources to devote to the move.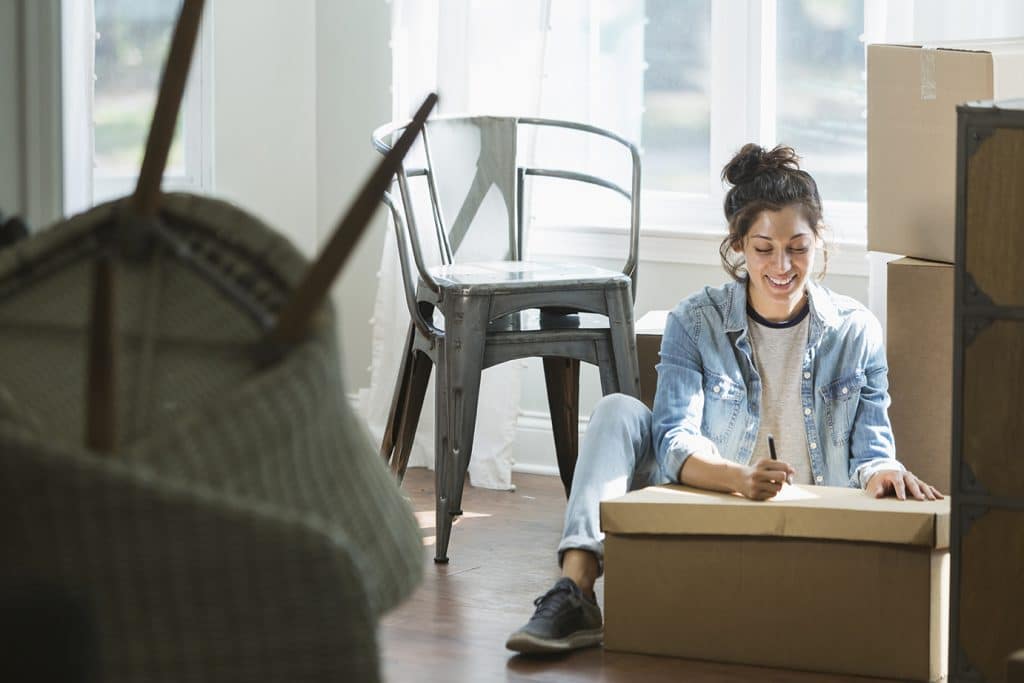 While this solution can be the least expensive one, it often requires a lot of time and effort, which can result in indirect costs.
Be mindful, however, that while this solution can be the least expensive it usually requires a lot of time and effort — which may result in indirect costs.
| PROS | CONS |
| --- | --- |
| Suited for smaller businesses with limited employees and physical property | Requires significant labor and time as well as independent logistics management resources |
| Usually the least expensive option | There could be unexpected costs |
| Gives businesses the most control over their move | No built-in storage options |
| No managing or working with a service provider | No employee relocation assistance services included |
Commercial Moving to Seattle With Portable Storage
A commercial moving and storage container company like PODS is a great middle ground between full-service movers and a do-it-yourself business relocation.
Better yet, PODS includes storage as part of your move, help with relocating employees, and some flexibility with scheduling. PODS also helps by managing moving logistics at each point of the relocation process so you have more time to focus on important matters — like your business.
Some of the benefits of using PODS commercial moving services and storage containers for relocating a company is the following:
Flexible scheduling, rescheduling, and cancellations
On-site and off-site storage options are available
Access to a nationwide trucking network
Container delivery and pickup included
Lowest damage rate in the moving industry
Customized employee relocation service available
Adaptable solutions for most business sizes and budgets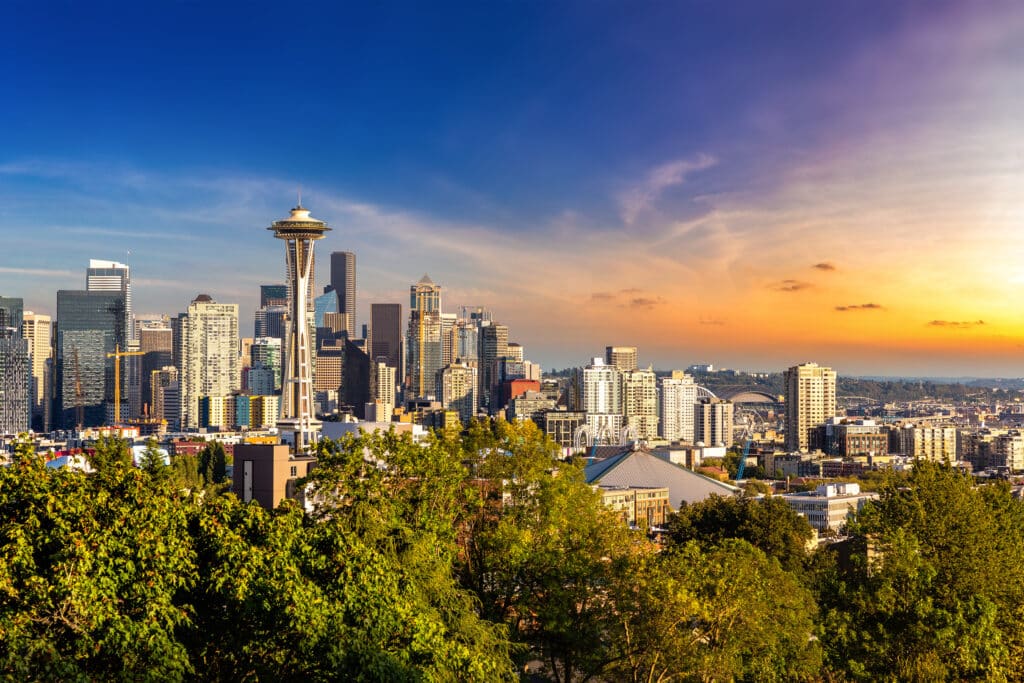 In short, moving to Seattle with a portable container service like PODS can help you move on your own terms with all the flexibility you need, with the support of your own PODS logistics team taking care of the details.
Learn more about the Seattle commercial moving solutions for businesses that we offer.
[maxbutton id="3"]
RELATED ARTICLE: ATL Relocation: A Guide for Moving Your Business to the Atlanta Area
Get a Quote
Choose the service you need
Comments
Leave a Comment
Your email address will not be published. Required fields are marked *