Compared to other commercial buildings, hotels are among the highest consumers of energy and water per square foot. Hotels account for about 1 percent of global emissions, and that number is expected to grow as the hospitality industry experiences growth and increased demand, according to the United Nations World Tourism Organization (UNWTO).
That may be changing, as going green is trending in the hospitality industry since staying at a sustainable hotel is a popular consumer interest, according to the American Hotel and Lodging Association's biennial Lodging Survey. And with the global coronavirus pandemic starting in 2020, more hotels will be expected to uphold new sanitary guidelines to ensure limited opportunities are available for viral transmission — which is another facet of sustainability.
Sustainability is defined by the UN World Commission on Environment and Development as "development that meets the needs of the present without compromising the ability of future generations to meet their own needs." From consuming less waste to stricter cleaning policies, sustainability for hotels encompasses many areas of hosting guests and travelers.
For hotel leaders that are committed to creating sustainable hotels that better serve our planet and communities, focusing on these five areas are good places to start.
1) Upgrade Energy Systems
Installing new energy systems or tweaking how your hotel uses energy can make a big impact. For instance, switching to long-lasting LED lights or installing energy-saving air conditioning units reduce electricity usage, saving energy and money.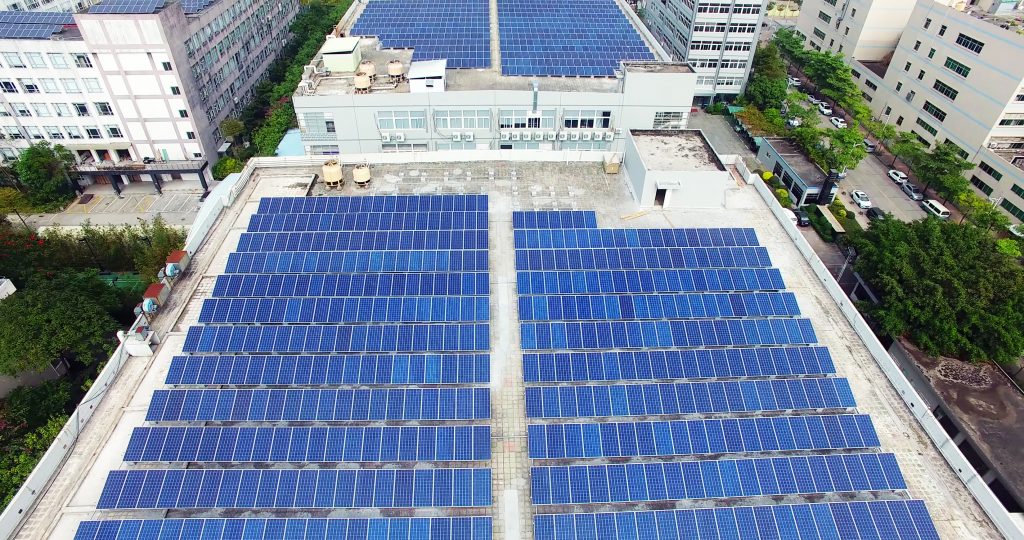 The Ambrose Hotel, in Santa Monica, Calif., installed LED lighting and guest room energy management systems (EMS) throughout the property, according to the ULI report. As a result, the hotel reduced its total electricity use by more than 25 percent, saving almost $30,000 annually.
Over the past four years, the Ambrose's parent company, Hersha Hospitality Trust, has implemented LED lighting and guest room EMS across its 48 properties, for a total annual savings of $1.5 million in energy costs.
2) Limit Water Waste
Hotels pools, laundry, landscaping and bathrooms consume a lot of water. Relatively straightforward changes can increase water efficiency and decrease waste.
While many hotels have installed low-flow toilets and automatic faucets to conserve water, staff education and mindset change are equally important in protecting this resource, according to hotel investment analyst Grant Behnke in Green Hotelier.
For instance, raise staffers' consciousness about the importance of limiting water waste so that housekeepers don't leave water running while cleaning, maintenance crews don't neglect leaky faucets, and banquet servers don't waste water and towels when filling glasses, wiping counters and cleaning dishes. Limiting use of towels and tablecloths means less water will be needed for laundering.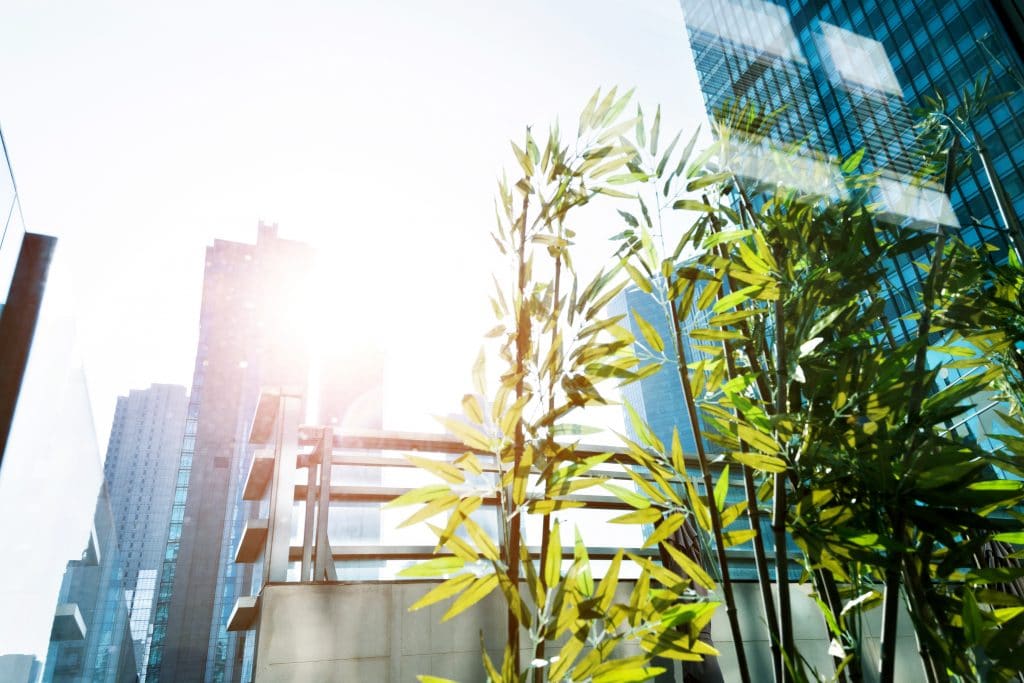 Other ways hotels can cut down on water usage include serving local, in-season foods; landscaping with native plants; and shutting off water features such as fountains during off-peak hours.
3) Ditch Unnecessary Disposables
Americans purchase 50 billion plastic bottles each year, and only 23 percent are recycled, according to EcoWatch. The rest end up in landfills (where they take 450 years to decompose naturally) or in the ocean: 8 million tons of plastic are discarded in the oceans each year, and millions of seabirds and sea creatures die annually from plastic pollution.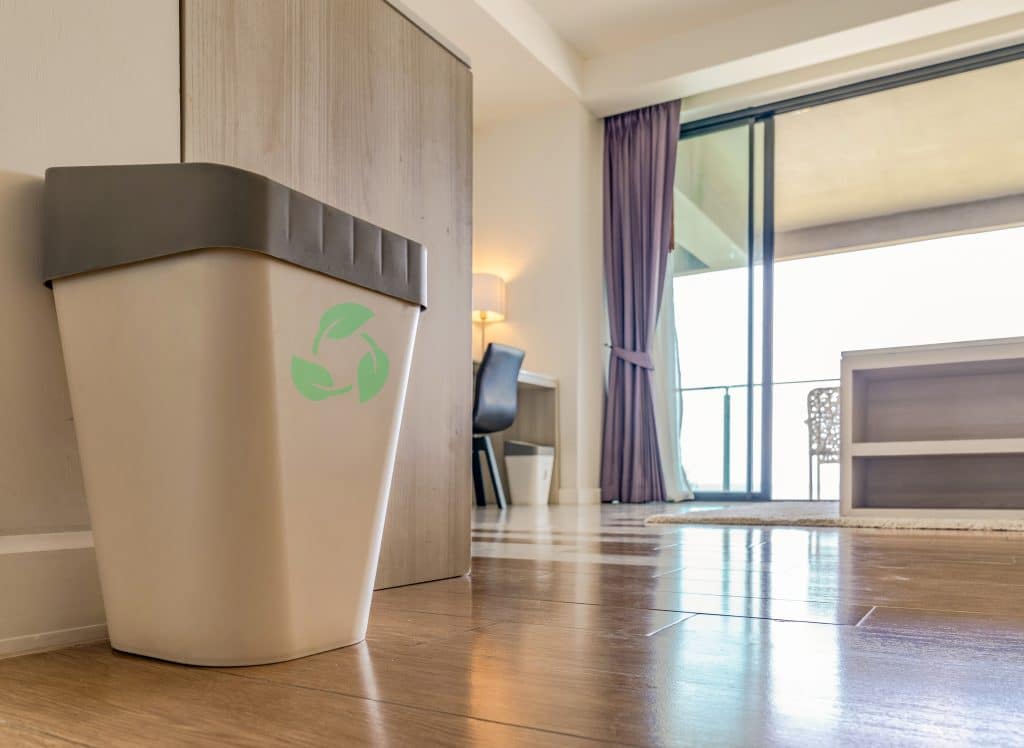 To become a sustainable hotel or resort, establishments can take strides in cutting out single-use plastic bottles and increasing recycling to improve the environment.
For instance, instead of providing in-room plastic bottles of shampoo, soap and lotion, switch to natural and organic toiletries in biodegradable or recyclable packaging. Or offer these items in bulk dispensers that can be refilled by housekeeping staff when needed.
Rather than providing plastic cups for coffee, use reusable glasses and mugs. For group events at your hotel, offer pitchers of water and glasses, or provide reusable water bottles and options for refilling them.
Transportation for recyclables is efficient can make a huge impact too. Instead of making multiple trips to have your items recycled, consider leaving a smaller carbon footprint by holding recyclables inside a mobile PODS shipping container so you can take larger quantities for processing.
4) Install Sustainable Fixtures and Accents
Many hotels regularly update their guest rooms and common areas, and choosing sustainable materials for those scheduled upgrades can contribute to a greener property.
Try adding a fireplace to a dining area can create ambiance, but wood-burning or gas fires can interfere with efficient energy usage and represent risk to guests. Electric flame technology, which produces no heat, creates atmosphere while maintaining high energy efficiency.
Hotels can also improve sustainability efforts by selecting furniture and decor made from reclaimed materials and in sustainable design factories.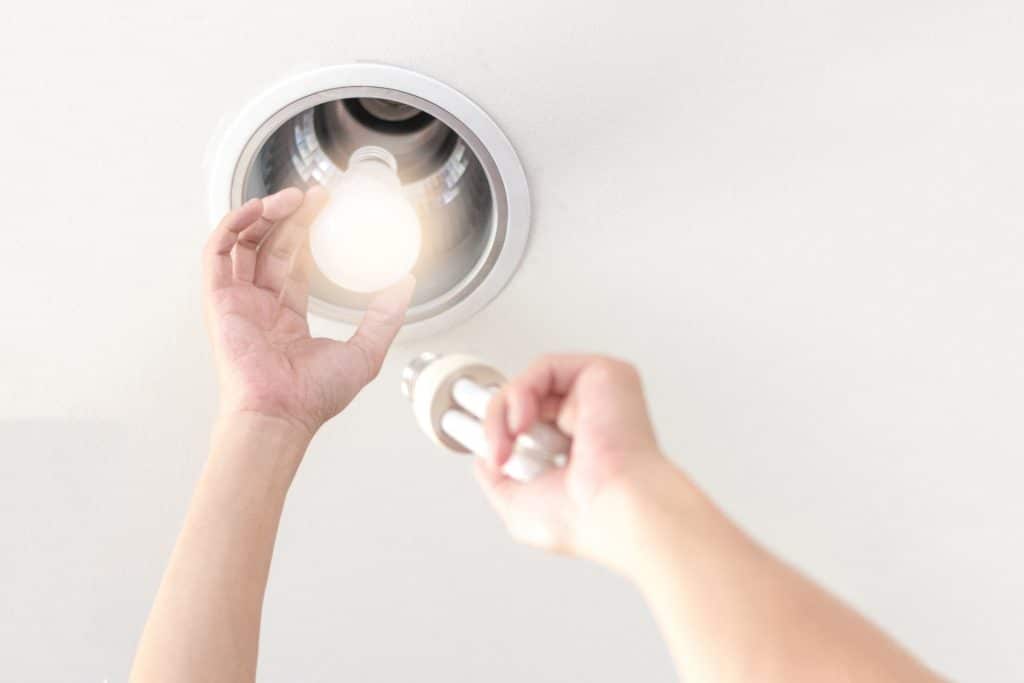 If your next renovation will include bathroom updates, consider environmentally conscious plumbing fixtures.
Over the past five years, Clarion Partners replaced bathroom fixtures throughout its 55 U.S. hotel properties. Its toilet replacements reduced water usage from as much as three gallons per flush to 0.8 gallons per flush, resulting in an average annual savings of $9,000 per hotel, according to Urban Land magazine.
The hotel chain also replaced showerheads to reduce water consumption from 2.5 gallons per minute to 1.75 gallons per minute, and added faucet aerators to reduce annual water consumption by more than 90,000 gallons, saving another $1,000 annually.
5) Uphold New Sanitation Guidelines
Since the global COVID-19 outbreak, the tourism industry has had to make adjustments for hosting guests to limit the transmission of the virus.
With hotels and resorts containing large groups of people continually, new policies have been set in place for hospitality facilities to operate safely. Both guests and employees have to adhere to guidelines such as physical distancing, deeper room disinfecting, and wearing personal protective equipment when necessary.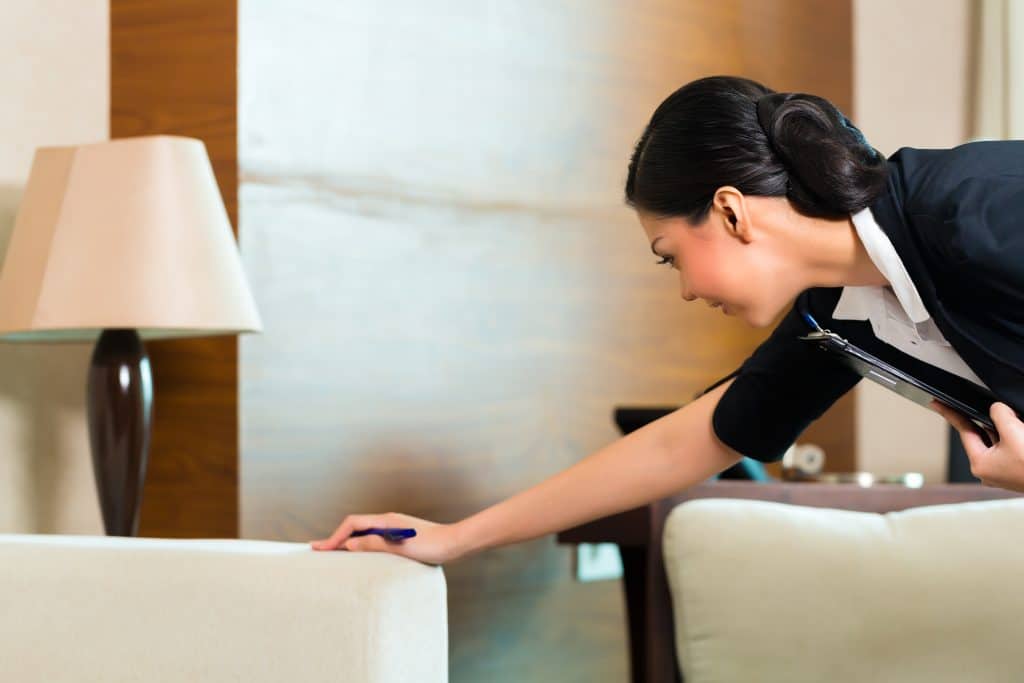 By maintaining sanitary properties, hotels can support the health and wellbeing of communities across the world. Keeping guests and travelers safe from infectious disease contributes to creating healthier communities -- whether it is locally or internationally.
Today's guests increasingly want sustainable travel experiences, so they will appreciate your efforts and be more forgiving of any inconveniences involved in additional processes for sanitary measures.
Other Sustainable Hotel Needs
Meeting the green expectations of today's travelers and conducting business in a more sustainable way may be challenging, but it's doable. Hotels that are ready to go greener can start with small steps, such as by using portable storage containers.
With portable containers, hotels can hold extra inventory without building additional facilities that consume energy. Storage containers can also help by holding deep cleaning supplies and sanitization equipment so they can maintain hygienic integrity between uses.
By following the advice and trends outlined in this article, any hotel can incorporate environmental consciousness into the decisions made in their normal course of business for your hotel.
[maxbutton id="1"]
Get a Quote
Choose the service you need
Comments
Leave a Comment
Your email address will not be published. Required fields are marked *