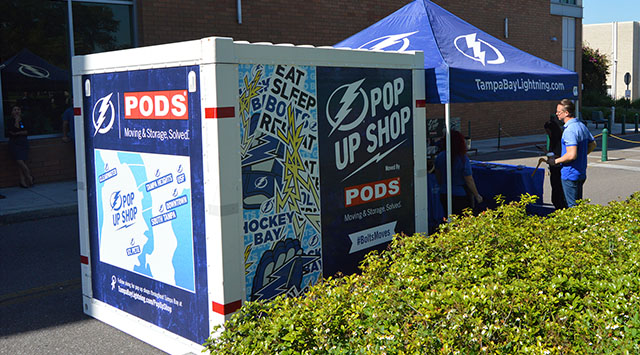 Ideas for Creating a Custom Shipping Container That Will Jumpstart Your Business
Shipping containers were once considered an eyesore when not in use for transit or storage. However, slowly but surely, shipping containers have become a hot commodity outside of the freight industry. From cutting-edge designers to business leaders, more and more industries are recognizing their potential. A shipping container can be used for a multitude of purposes, ranging between art galleries and healthcare facilities to restaurant dining rooms and even affordable housing.
Why Customize a Shipping Container?
Built strong and sturdy, shipping containers provide a reliable shell for small space needs. Their bare-bones industrial appearance also makes them an excellent blank canvas. Plus, they're ideal for any mobile concepts since they can be easily transported intact — or just rebuilt at different sites.
Better yet, the reusable nature of shipping containers makes them a more affordable and eco-friendly option than building out an entirely new and permanent space — not to mention avoiding the hassle and paperwork of building permits.
To put it another way, shipping containers are an affordable and easy solution for temporary needs, while also being strong and reliable enough if your business is looking for something a little more permanent. With so much going for them, perhaps the better question is why wouldn't you use a shipping container?
Different Ways to Utilize a Container
When it comes to repurposing storage containers, the possibilities are almost endless. Usually, the idea to use customized shipping containers comes when businesses or causes are faced with a challenge where they are working with a strict budget, or only want to utilize a small area for things like temporary event setups or expanding available space.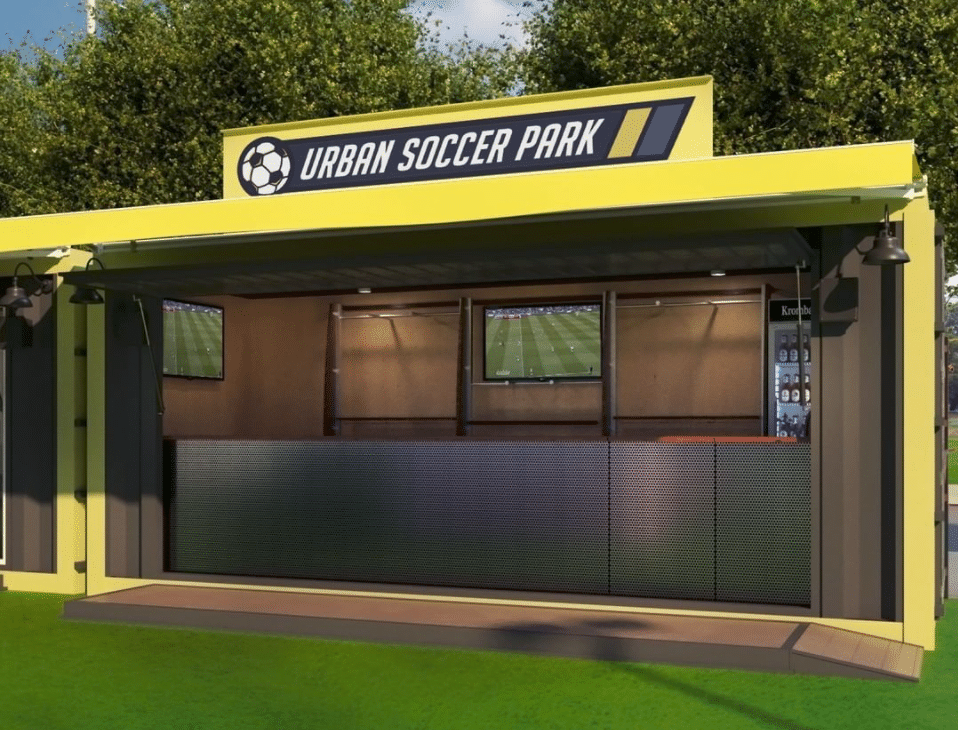 Seasonal needs are also big challenges, and using weather-resistant storage containers can help provide additional enclosed spaces that work for everything from catering, events, dining rooms, and retail inventory storage.
Here are a few other ways to use shipping container customizations so they can work for your business:
Branded events: Create a dedicated space to promote your brand or cause at an event
Seasonal retail shopping: Get extra sales with a holiday-themed pop-up shop
Mobile retail store: Introduce your brand and product to new markets
Pop-up food or beverage stand: Generate buzz about your restaurant or bar
Extra on-site office space: Manage capacity numbers by creating an additional work area
Curbside pickup or delivery programs: Keep things safe with a contactless drop area
Expand restaurant dining spaces: Create intimate and isolated dining rooms
Decontamination rooms: Use an isolated space to keep things clean
Wellness testing or screening area: Add additional on-site testing or screening areas
Patient treatment unit: Add additional on-site treatment areas
Event photoshoots: Customize an environment for photoshoots or branded selfies
Gallery or showroom space: Highlight products or artwork in an individual area
Student learning "pods:" Create extra classroom or learning spaces
Gift shops & merchandise distribution: Get products offline and in the hands of buyers
Temporary studio space: Create a workshop space for art production or creativity
Alternative workout area: Make a dedicated meditation, yoga, or workout room
Real-World Examples of Modified Containers in Action
Feeling inspired and itching to see some real-world applications across industries? Well, we've got a few favorites worth sharing that show exactly how versatile a shipping container can be. For a few weeks each year, Tampa, Florida's temporary Winter Village pops up in Curtis Hixon Park, providing promenaders with an outdoor ice rink, cozy coffee cafe, and a promenade of pop-up retail shops created inside shipping containers from PODS.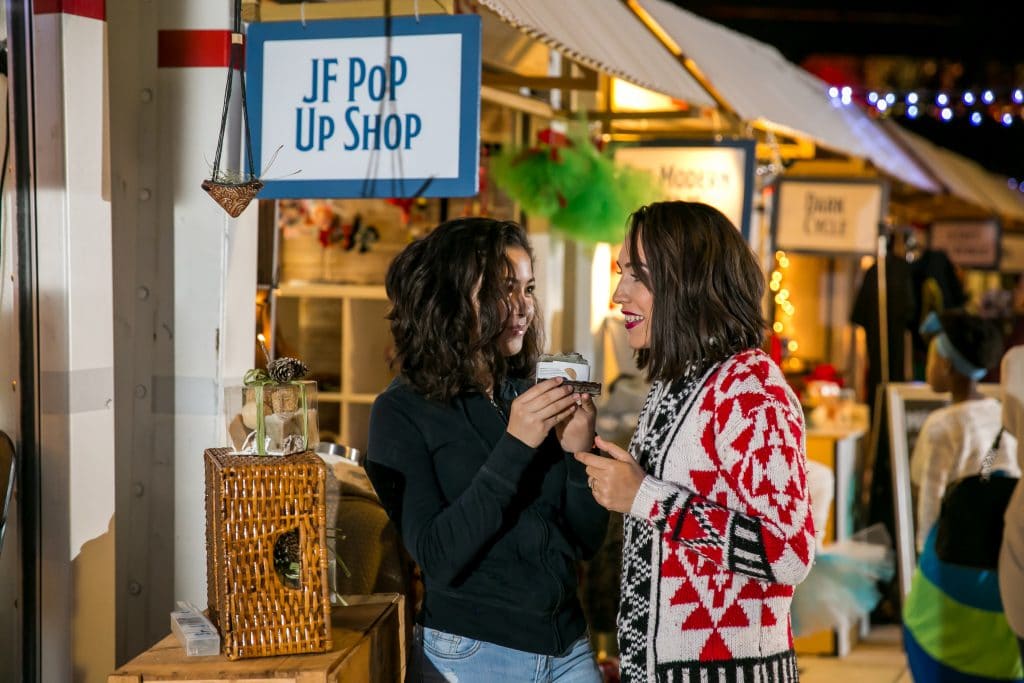 Since 2011, New York City's Photoville Festival has curated a collection of shipping containers that have been modified into gallery spaces along the DUMBO waterfront in Brooklyn to make art more accessible to the public. The idea of repurposing shipping containers as gallery space is what got the non-profit started — and it was a hit — prompting Photoville founders to give it a deeper purpose and highly-anticipated yearly appearance.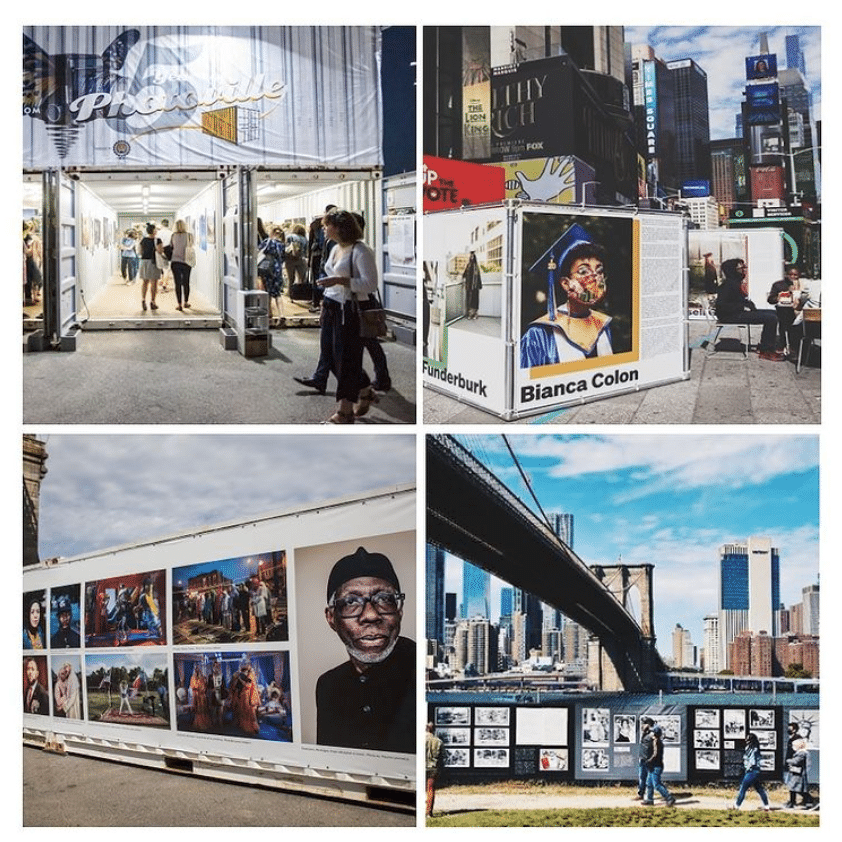 When faced with restrictions from the coronavirus pandemic, many restaurants and bars were forced to get creative with their dining room space. In Denver, after chasing down too many windswept canopy tents, Block Distilling Company turned to shipping containers as a safe and sturdy way to provide extra covers.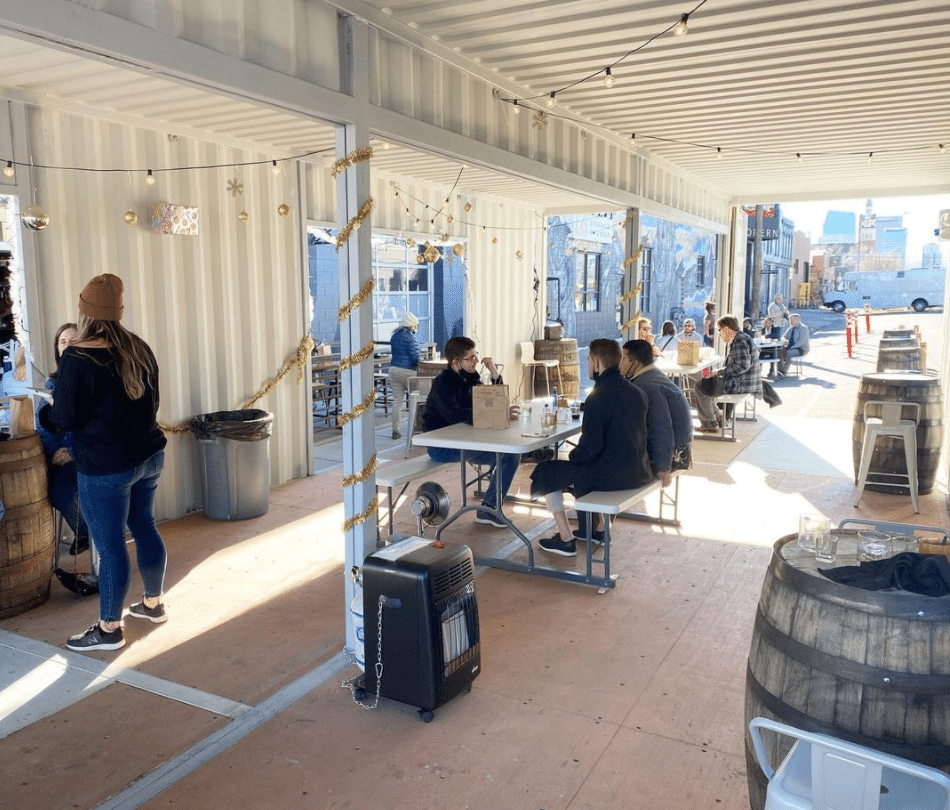 Fiamme Pizza in Naperville, Illinois, rose to the challenge by creating private dining "pods" that offered up a cozy, intimate, and COVID-safe experience for his patrons — right in the restaurant's parking lot.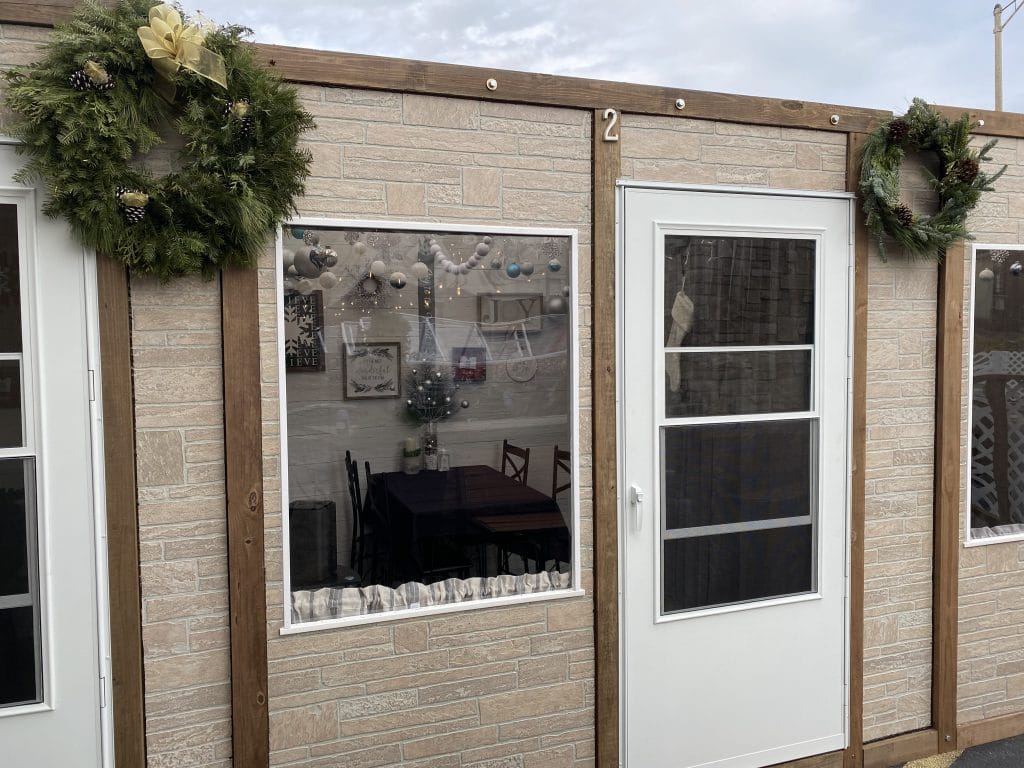 Speaking of the pandemic, healthcare facilities are taking advantage of custom shipping modifications to provide extra, isolated space for patient testing and treatment which is what some of our containers are being used over at UCLA. It's not a new concept, however, because back in 2005 the non-profit Hospitals for Hope began using shipping containers as standalone medical clinics in Haiti that they branded as Clinic in a Can. In Kenya, in response to a 2017 nurses strike, Doctors Without Borders created an entire medical village made out of shipping containers — and over 1,000 women gave birth in the facility in just the first month.
5 Ways to Transform a Shipping Container
Creating a customized, branded shipping container is easier and more affordable than you might think. Here are few easy and affordable ideas you use to transform your container to help you get started:
Apply removable wallpaper flooring to the interior
Wrap the exterior of a container with a branded decal
Set up battery-operated overhead lighting on the ceiling
Use adhesive wall hooks and mounts to hang decor inside
Place furniture, shelving, and plants inside the container
If you want to go even further, there are companies out there that specialize in shipping container modifications. They can also deliver prefabricated shipping containers, or full-on customizations and modifications.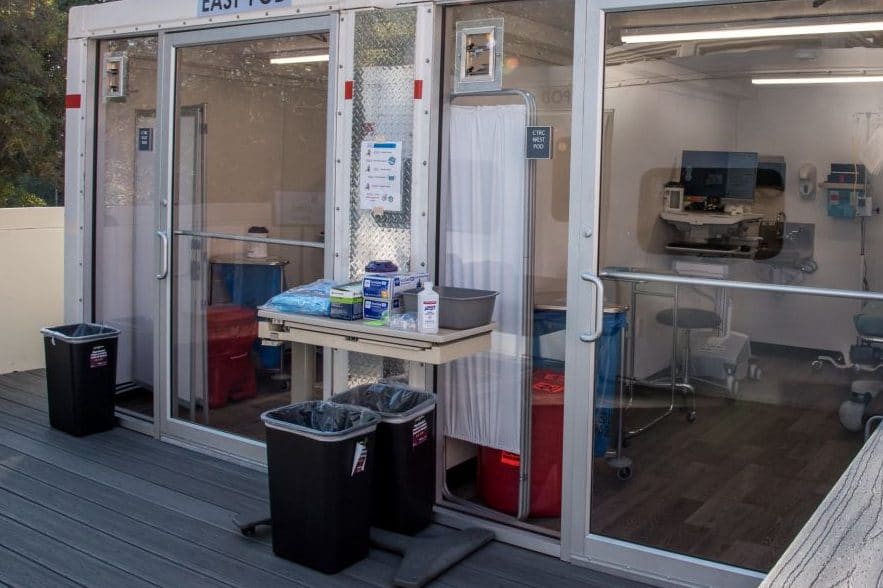 Picking the Best Shipping Container for the Job
Generally, there are two different types of containers: oversized all-steel containers originally used for freight, and smaller steel or heavy-duty containers that double as storage containers. While smaller containers are more versatile, larger steel containers can be as big as 40 feet, and they tend to be very heavy.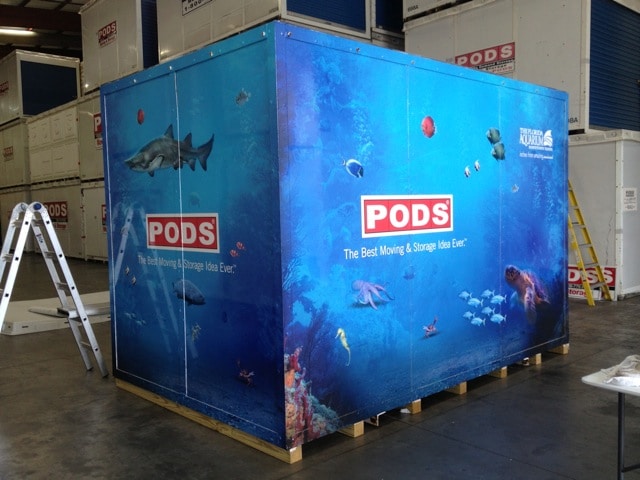 PODS storage containers come in three sizes and two different types, offering a wide range of unit pricing options and possibilities for customizations. Our weather-resistant containers are lighter and smaller than your typical shipping container. They are also designed to fit into a single parking space, making them ideal for temporary and mobile projects.
Ready to tailor a container? Find the right container for your needs by browsing the shipping container options we offer.
RELATED POST: Is it Time for a Pop-Up Shop? Learn How to Do a Pop-Up Shop in 5 Steps
[maxbutton id="1"]
Get a Quote
Choose the service you need
Comments
Leave a Comment
Your email address will not be published. Required fields are marked *