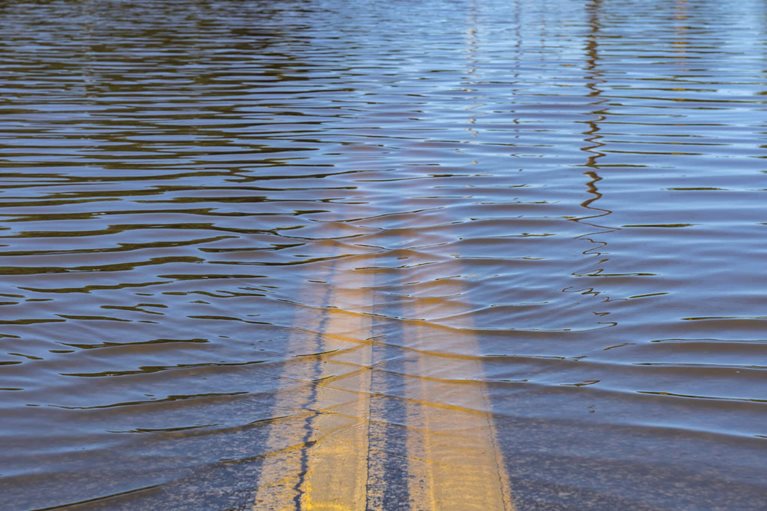 Flood Disaster Preparedness: Is Your Organization Ready?
Flood disaster preparedness is not a topic to be taken lightly. According to FEMA, flooding is one of the most frequent hazards in the U.S., with all 50 states at risk of flooding of some kind.
From property damage to loss of life, flood disasters can greatly impact businesses and organizations of all kinds. 
Take for instance the waist-high flooding in Honolulu which occurred after storms in December 2021 as well as the massive flooding caused by Hurricane Ida in August and September 2021, which killed over 40 people.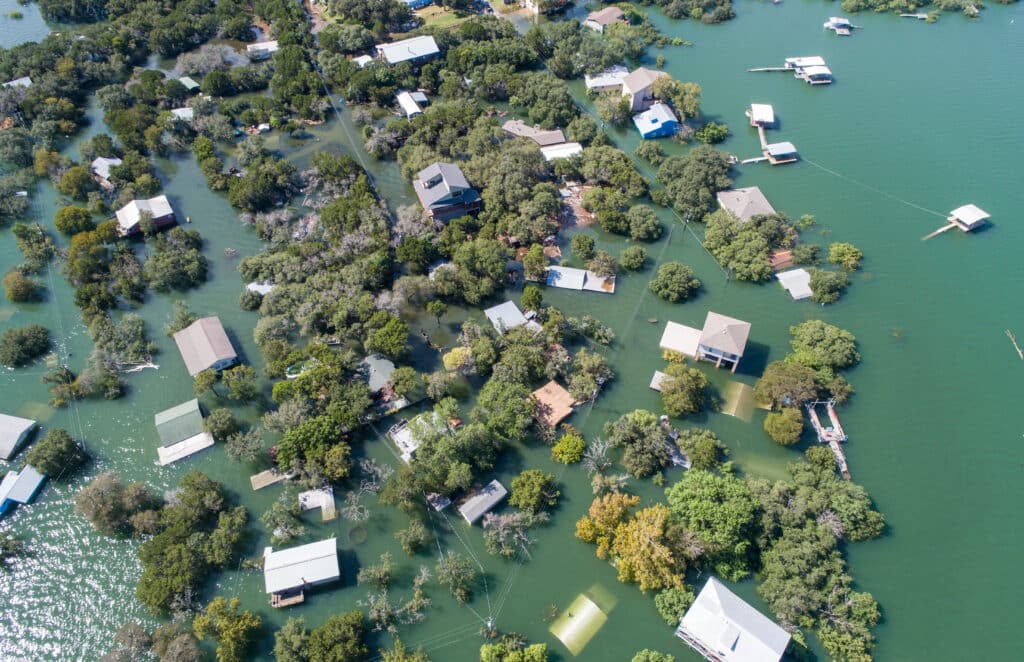 What's more, the annual cost of U.S. flood damage is projected to increase by 26.4% by 2050, from $32 billion currently to $40.6 billion.
Whether you're a federal or local government agency, a business, or a restoration company, this flood preparedness guide will help you get prepared for future floods and take action in case one strikes.
How do you prepare for a flood disaster? Dealing with a flood disaster starts well before the flooding begins. Use the flood preparedness checklist outlined below to guarantee you're ready.
What to Include in an Action Plan
Know the flood rick for your area and check with local authorities for emergency plans.
Learn the different flood warnings issued by the National Weather Service (continue reading this article for a breakdown).
Create a flood emergency plan for your organization and train managers/employees on your plan. 
Create an emergency preparedness kit and make sure it's easily accessible (continue reading this article to view a full list of recommended supplies).
Review your property insurance policies to make sure they include flood coverage (if not included, consider purchasing flood insurance).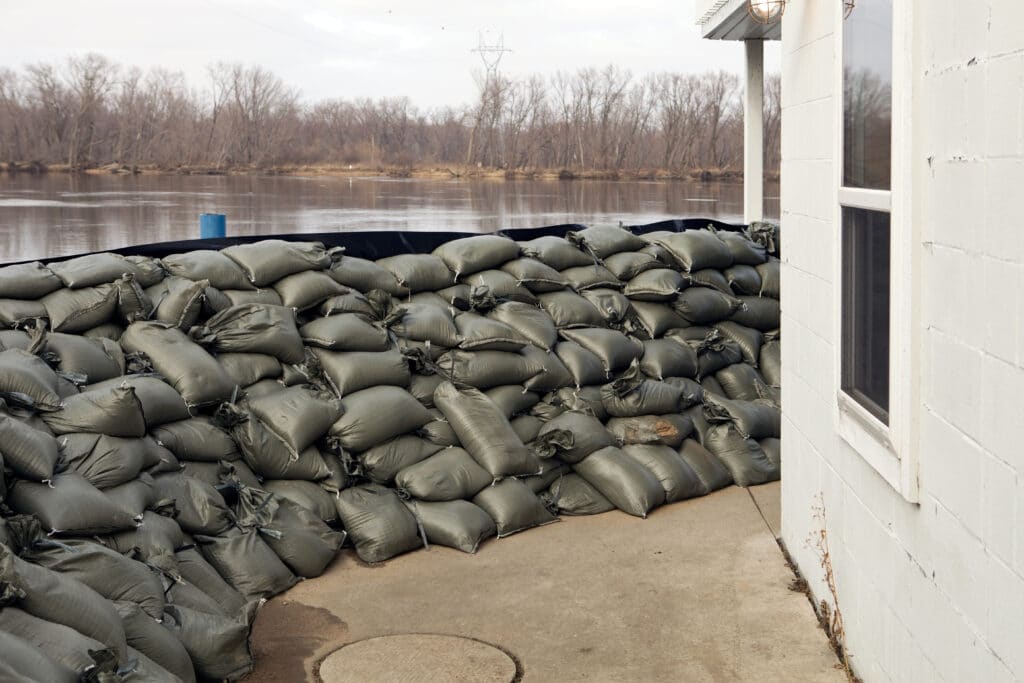 Find out where higher ground is and how to get there in the event of an evacuation.
Make updates that will make your facilities less vulnerable to flood damage. For example, raise electrical components, appliances, heating systems, and water heaters above the base flood elevation levels. Confirm that your plumbing has backup or backflow valves to prevent water from backing up as well as a sump pump system to drain water away from your home.
Warnings to Watch Out For
According to Weather.gov, there are four levels of flood warnings issued by the National Weather Service.
Flood Advisory (Be Aware): This is issued when flooding from an anticipated weather event may become a "nuisance" but isn't expected to be severe enough to warrant a warning. It could however cause "significant inconvenience," and if safety precautions aren't taken, threats to life and/or property could occur.
Flood Watch (Be Prepared): This is issued when conditions are favorable for flooding. It doesn't necessarily mean flooding will occur, but it's a possibility.
Flood Warning (Take Action!): This is issued when flooding is imminent or already occurring.
Flash Flood Warning (Take Action!): According to Weather.gov, "A flash flood is a sudden violent flood that can take from minutes to hours to develop." When a flash flood is about to occur or already happening, this warning will be issued. Just as with a flood warning, you must take action and immediately move to high ground.  Keep in mind that a flash flood can occur in areas that aren't receiving rain.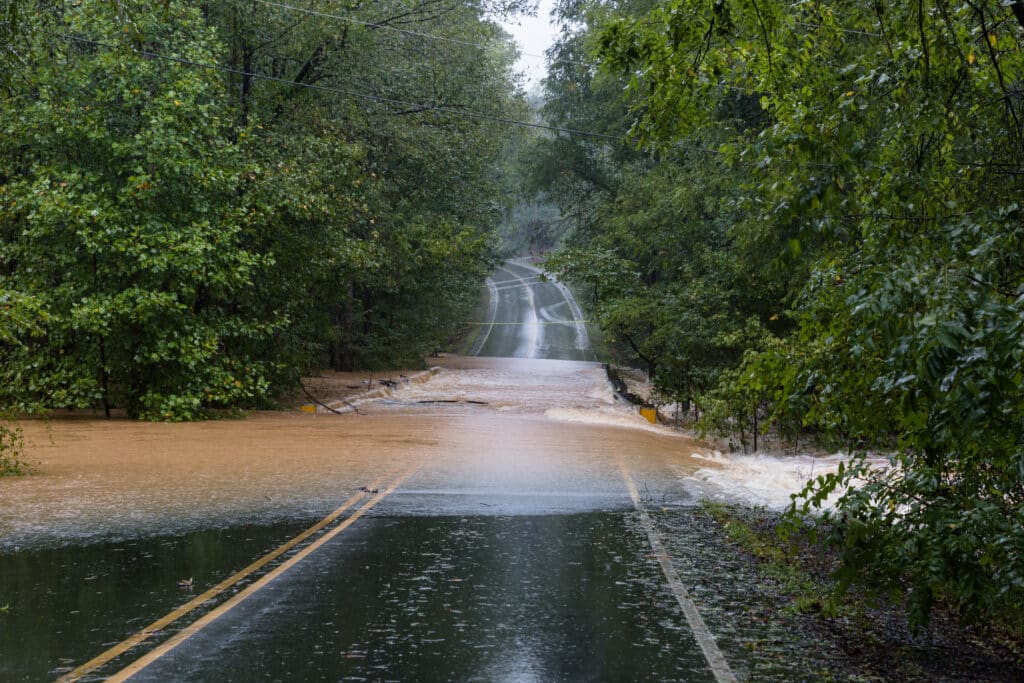 PRO INSIGHT: During a Flood Watch or Flood Warning, direct your staff to leave the premises or work remotely in another location where they will be safe.
Recommended Supplies
Wondering what items to include in your flood disaster preparedness kit? Here's a list of recommended supplies from the disaster planning experts at Ready.gov:
Water for drinking and sanitation (at least one gallon per person per day for several days)
At least a three-day supply of non-perishable foods 
Manual can opener
Battery-powered or hand crank radio and a NOAA Weather Radio featuring tone alert
Flashlights
First aid kit
Extra batteries
Fire extinguisher
Matches in a waterproof container
Masks, hand sanitizer, and disinfecting wipes
Paper towels, toilet paper, and moist towelettes
Garbage bags (for personal sanitation)
Wrench or pliers (for turning off utilities)
Local maps
Cell phone with chargers and a backup battery
Plastic sheeting and duct tape for makeshift shelters
Sleeping bag or thick blanket and pillow for each person
Extra sweaters
Feminine supplies
Disposable tableware including cutlery
Paper and pencils or pens
Whistle
Non-prescription medications such as pain relievers
Cash or traveler's checks
Important documents such as copies of insurance policies
Consider using a portable storage container for seasonal and overflow items to create more room for your supplies kit in your facility.
Alternatively, depending on the size of your organization, you can use a portable storage unit to store your emergency supplies. Keep your container on-site at your facility, such as an easily parking lot, during hurricane and flooding seasons.
If there's a chance of flooding but you're not officially under a Watch or Warning, take the following safety precautions for flood disaster preparedness best practice:
Gather any outdoor items that could be swept away in the event of a flood including trash cans, recycling bins, and outdoor furniture.
Make sure to monitor the radio, TV, and internet for weather updates.
Clear all the drains, gutters, and downspouts to make sure water runs away from your building facilities, preventing potential water damage.
Consider letting your personnel work remotely if possible.
If there's likely to be a flood in your area, take the following steps:
Listen for weather updates and evacuation orders.
Be prepared in the event of a flash flood to move your team to higher ground immediately. It's important to know that areas such as canyons and drainage channels can flood without warning — even if there's no rain.
Consider letting your personnel work remotely if possible.
Be prepared to move important and valuable items, such as files and computer equipment, to upper floors or removed from the premises in the event of an evacuation, if there's enough space in your vehicle.
Be ready to turn off utilities in case you're instructed to do so.
Make sure your team is prepared to evacuate.
In the event of a Flood or Flash Flood Warning, order staff to leave the premises as soon as possible.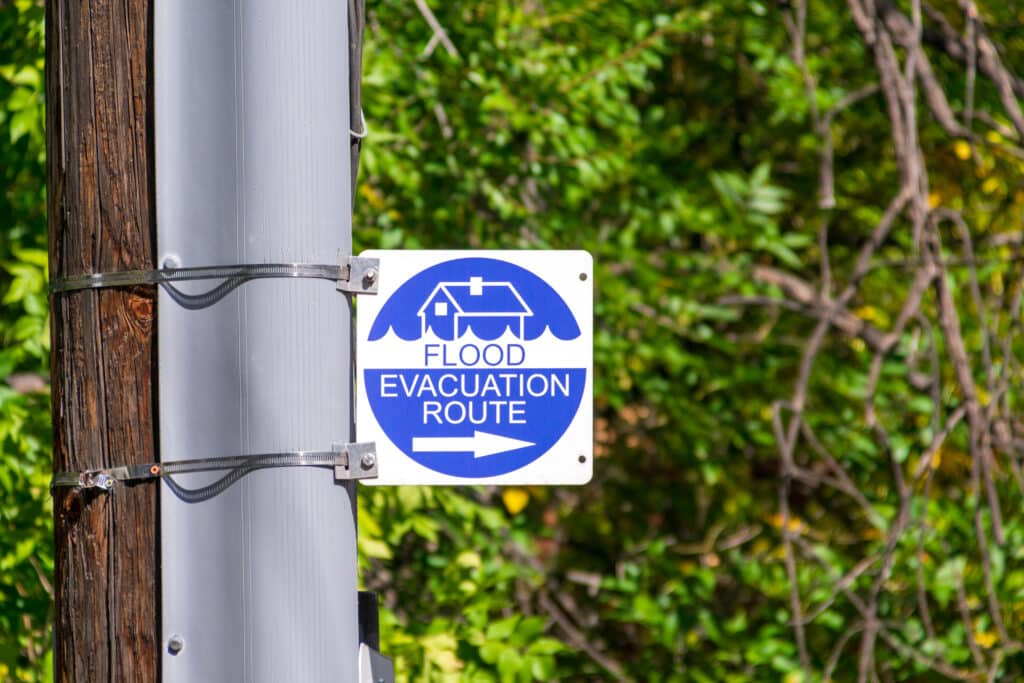 If evacuation is required, do the following:
Ensure everyone leaves the premises safely as soon as possible. Encourage your staff to bring their priceless or irreplaceable items. Instruct them to avoid fallen power lines and not to drive through flooded areas as vehicles can be swept away suddenly.
Secure your facilities. If there's time before the evacuation, bring outdoor items inside and move valuables to a higher-level floor where they will be clear of water levels.
Disconnect all the electrical appliances in your facilities, taking care not to touch electrical equipment if you're wet or standing in water. If required, shut off the building's utilities. 
In the event of flash flooding, immediately move to higher ground.
Flood disaster preparedness is important long after a storm passes. Even after floodwaters have decreased, there are still many potential hazards to watch out for.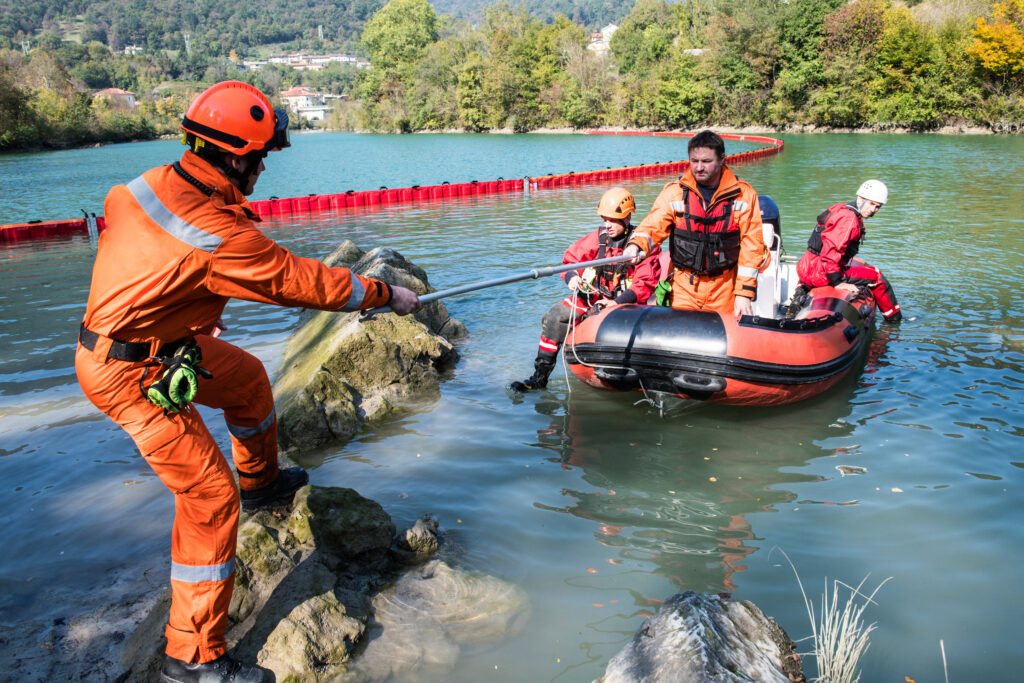 Take the following safety precautions after your organization has been impacted by flooding. 
If your team has evacuated, return to the office only after authorities have announced it is safe. 
Avoid moving as well as standing water, which may be electrically charged. 
Don't drive through any flooded areas. Roadways that have been flooded still have the risk of collapsing. 
Stay away from any buildings that are surrounded by floodwaters.
When entering your facilities, watch out for hidden damage and flood debris. Walk carefully as areas may be slippery
For insurance purposes, document damage to your facilities with photos.
For more tips check out Floodsmart.gov.
Disaster Recovery With Portable Storage
Looking for disaster response solutions after a flood? After a disaster, using a convenient logistics solution such as PODS portable storage containers can help you avoid adding more stress to an already emotionally taxing situation.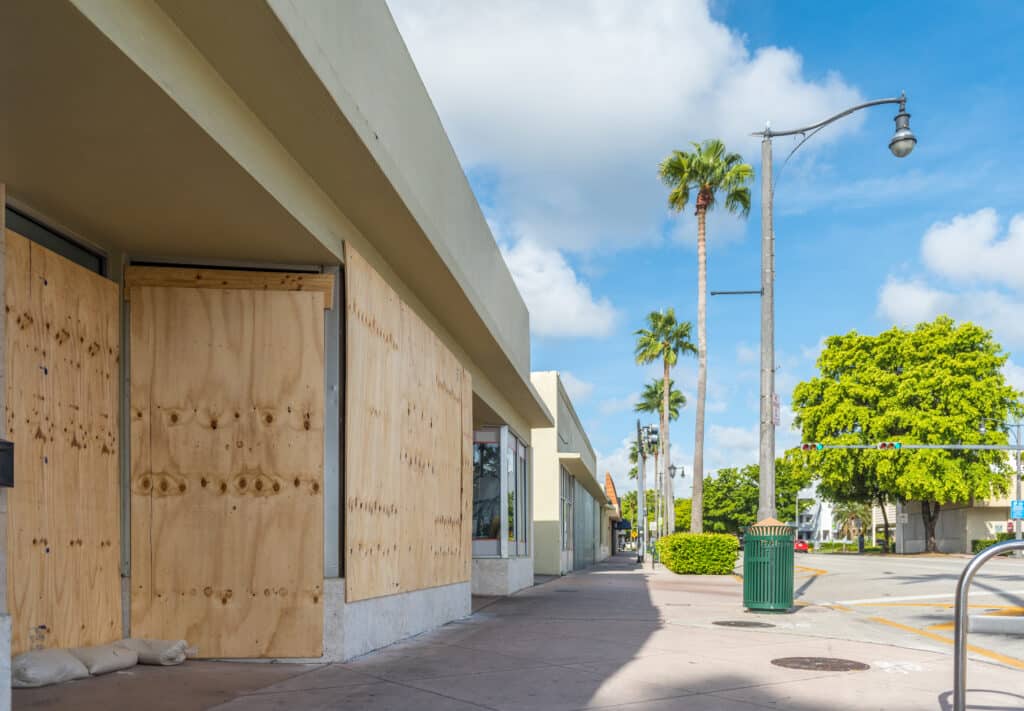 Using a portable storage unit offers the following advantages not only flood disaster preparedness. Here are a few applications for using containers during the disaster restoration process after a flood.
Disaster site delivery: With portable storage containers from PODS, transport is included in the service so you don't have to worry about renting a truck and hauling your restoration equipment.
Pre-packed restoration equipment: Store emergency supplies and disaster recovery equipment in a portable container in advance of extreme weather incidents to make disaster relief efforts faster.
Secure jobsite storage: For commercial restoration projects, keep tools and equipment out of the way and secure right on the jobsite. When the project is completed, simply have your container delivered fully loaded to a secure storage facility or your next jobsite.
Recycling materials and debris: A portable storage container is an ideal place to store the damaged materials and debris that need to be recycled or disposed of during disaster relief efforts. Have your containers transported wherever you need to dispose of your items. 
Solutions for Flood Disaster Preparedness
Looking for a partner for your disaster relief efforts? The PODS team has decades of experience assisting government agencies and commercial organizations with secure portable storage and logistics management during disaster recovery.
If you're a restoration company looking for a portable storage provider to serve as an extension of your team, reach out to PODS for Business. With one phone call, you can schedule sturdy, weather-resistant containers to be delivered where you need them — and fast.
[maxbutton id="1"]
RELATED ARTICLE: Top Restoration Industry Trends (and How to Keep Up)
Get a Quote
Choose the service you need
Comments
Leave a Comment
Your email address will not be published. Required fields are marked *