PODS knows events. In 2019, we helped throw one of the largest parties in the world when our storage containers provided solutions for none other than New York City's New Year's Eve Time Square Ball.
However, we don't have to tell you that times have changed since then. Hosting in-person events during a pandemic or making plans to start again after restrictions are lifted comes with its own set of unique challenges, but it's not impossible. It just requires a little extra planning and in some cases, a creative pivot.
Get Stocked With PPE & Supplies
Regardless of whether you're running concerts inside a stadium or hosting a small invite-only cocktail party, inventory management during a pandemic for any event requires lots of planning — and far in advance. The first step is to be prepared with all the PPE and supplies you need for the big day(s).
This means you need to source and stock up on essentials like masks or other face coverings, hand sanitizer (or hand sanitizing stations), portable sinks, and no-touch thermometers along with signage and ground markers that remind attendees to stay socially distanced within areas prone to crowding.
Event Health & Safety Protocols to Consider
Here are a few things you can do to help mitigate the spread and prevent the presence of the coronavirus from stepping foot inside your event. Ideally, these would all be used in tandem, but check with your local health department and the latest CDC guidelines to stay up to date.
• Move it outside. For events that don't require an indoor facility, move it outdoors. Keep it open-air or use tents since illnesses easily spread inside enclosed spaces.
• Temperature checks. No one with a temperature of 99.5 degrees Fahrenheit or above should be allowed to enter. (sometimes a secondary screening is can be performed)
• COVID-19 testing. Require either proof of a negative PCR test taken within at least 72 hours of the event, or offer rapid on-site tests to all attendees.
• Social distancing. Follow social distancing best practices by marking out and enforcing at least six feet of distance between attendees whenever possible.
• Mandatory face coverings. Ideally, face coverings should be required on all healthy attendees over the age of two years in all indoor and outdoor spaces at all times with the exception of when someone is eating or drinking.
• Go contactless when possible. Whatever aspects of your event that you can adapt to be contactless, embrace it. Fewer contact between people means fewer chances for the virus to spread.
• Set up several hygiene stations. If you want people to be extra clean, you've got to provide them the opportunity. Setting up hand washing and hand sanitizing stations will promote better hygiene among attendees.
• Contact tracing. In the case of a positive case at the event, making participation in mandatory contact tracing has proven useful in stopping the continued spread of SARS-CoV-2 (the virus that causes COVID-19). This can be done by alerting everyone who attended the event so they can properly quarantine and/or get tested.
• Establish rules. Be sure to be clear about the rules — and the consequences for noncompliance.
A Few COVID-Era Success Stories
The city of St. Petersburg, Florida implemented COVID-19 safety protocols for their annual Firestone Grand Prix. The 20,000-person event's new protocols included a "no mask no entry'' policy for both outdoor and indoor venues, social distancing, and a COVID-19 symptom self-assessment.
Platteville Music in the Park in Wisconsin, a weekly summer outdoor live music series, safely welcomed over 300 people each week with the help of the attendees who the city called upon to practice safe social distancing and wear masks.
On a larger, more visible scale, the 2020 American Music Awards in Los Angeles, California successfully took place as scheduled despite an uptick in local coronavirus cases. The Dick Clark Productions even not only followed local health and safety precautions but says they took them a step further to be extra safe. Some of their safety measures included COVID-19 testing, mandatory masks, and contact tracing.
How Pods Helps Throw Safes Event During a Pandemic
PODS moving services and storage containers are an easy solution for your event needs — and even more so during a pandemic.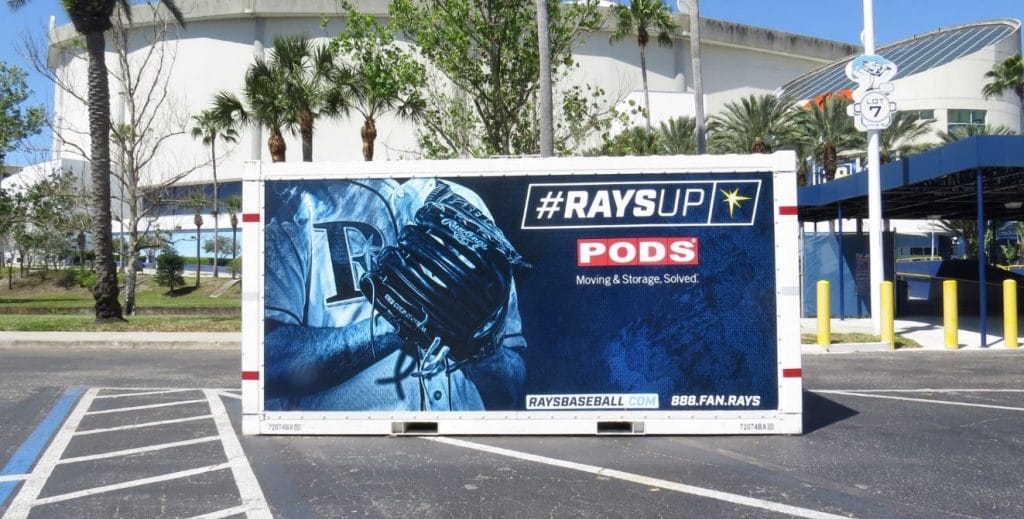 Here are a few pandemic-specific solutions that our portable storage containers can provide to make your event as safe and successful as possible.
On-site storage for event supplies. Get convenient on-site storage for all your necessary face masks/shields, gloves, and medical supplies so they are always accessible.
Health screening stations. Use PODS containers as spaces to isolate attendees as they participate in health screening entry requirements while still keeping the line running smoothly.
Contactless check-in stations. Create dedicated, contactless event check-in stations with PODS containers.
Hand sanitizing and handwashing stations. Set up dedicated handwashing and sanitizing areas inside PODS containers so they are easy to recognize and navigate throughout the event space.
Pop-up retail or concession stands. Create single-serve retail or food and drink spaces in PODS storage containers to help control foot traffic.
Isolated dining spaces. Swap out communal picnic tables for intimate and isolated single-party dining areas inside storage containers.
VIP zones. Design an entire VIP level of service by providing isolated and socially-distanced lounges, bars, food stalls, and even check-in stations with PODS containers.
Performance spaces. PODS containers can be used as isolated performance spaces for entertainers to safely plays, concerts, poetry readings, comedy shows, and more.
Even with the presence of a vaccine, it's likely going to be a while before events and event planning go back to normal — if ever. The reality is that the pandemic has changed the way we do business at every level. Even after a vaccine is readily available, the public is likely to remain cautious and hygiene standards will likely be permanently elevated.
No matter if you're planning an event for 15 people, 1,500 attendees, or a crowd of 15,000, PODS can help make it safer. Visit us online to see how partnering with PODS for your event can make all the difference during a pandemic — and long after reopening.
[maxbutton id="3"]
RELATED POST: Q&A: Choreographing the Great New York State Fair
Get a Quote
Choose the service you need
Comments
Leave a Comment
Your email address will not be published. Required fields are marked *