The Post-Pandemic Office Design: Ideas for Remodeling in 2022 & Beyond
Though experts believe the pandemic trends of remote work and working from home are here to stay, they also expect many employees to return to work — particularly the office workforce. However, standard office design will likely look a little different.
Keeping employees and clients safe and healthy will be a top priority, and many businesses are embracing the new era of the office with reconfigurations or total office renovations.
Read on to learn more about the latest best practices and office space renovation trends, and how leading organizations are optimizing offices for work in the current pandemic and (hopefully soon-to-be) post-pandemic world.
Why Is Office Design Changing?
One of the biggest ways the pandemic has changed how we work is by shifting where we work. During the pandemic, the number of employees working from home jumped from 17 percent to 44 percent.
Experts don't expect the current work-from-home trends to permanently replace working from physical offices in most cases, though they predict more companies offering employees the option to work remotely — even if only a few days a week.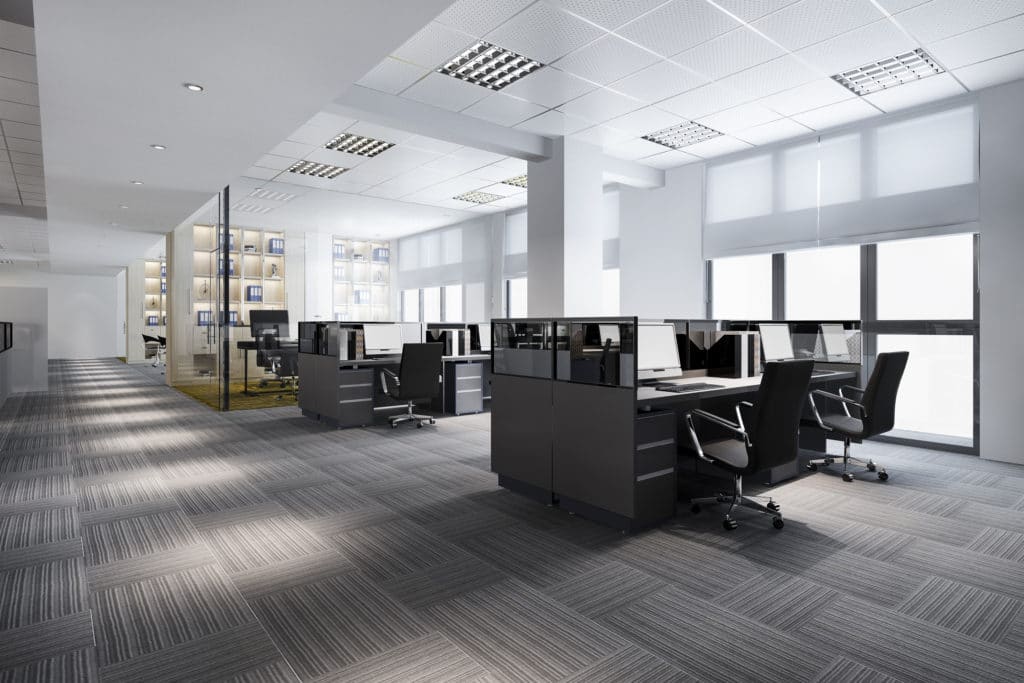 Additionally, the pandemic has caused companies to reevaluate physical office spaces.
Many organizations have been forced to rethink their office setup in terms of health and safety to not only reduce the risk of COVID-19, but to cater to employee mindset changes brought on by the pandemic.
Introducing the New Era of the Office
The evolution of the office didn't start with the COVID-19 pandemic. Over the last decade or so, open office layouts have become the norm.
The popularity of the communal office layout replaced high-walled cubicle setups and traditional layouts where employees have their own individual offices.
However, while the open-plan was popular with both companies and employees for its ability to increase collaboration, productivity, and density, the new pandemic-era physical distancing norms mean offices will need to rethink their open-concept layouts.
Other post COVID-19 office design features worth reconsidering or removing completely are things like conference rooms, communal kitchens, high-traffic areas, high-touch surfaces, and overall density.
Post Pandemic Office Design Ideas
Here are some of the biggest office design ideas we're seeing in the new era of the office — and real-world examples of how to implement them:
• Update air purification and HVAC systems. Several communicable viruses are airborne, so updating the air purification and/or filtration system will have benefits that last beyond the coronavirus pandemic.
• Converting to contactless features where possible. Implement the use of automatic doors via motion or keycards. Install motion-activated sinks, soap dispensers, and paper towel dispensers. Move all office scheduling online and get rid of whiteboards in favor of digital presentations.
• Use of antimicrobial materials. Use antimicrobial building materials such as copper and install UV lighting.
• Repurposing conference rooms. The virtual conference call is likely to outlive the pandemic — at least for the meantime. Consider repurposing conference rooms into dedicated spaces for delivery drops, meeting clients, pandemic inventory management, or additional employee break rooms.
• Introducing cubicles and hotdesking. Cubicles are making a comeback thanks to the divider aspect of their high walls. Also, consider removing personal desk space in favor of hotdesking and having employees pick an open workspace upon arrival. Workspaces can be adequately cleaned and sanitized between uses.
• Wider and/or one-way walkways. Avoid a face-to-face traffic flow by designating a one-way flow of traffic and widening walkways.
• Downsizing. Companies with multiple offices or large offices with multiple common areas or conference rooms may want to consider downsizing and switching to a work schedule where employees alternate days or work from home part-time.
• Redistributing communal spaces. Instead of having one large breakroom or communal kitchen, consider spreading these congregation areas throughout the office, making them smaller (perhaps individually assigned to teams that interact frequently) or dividing them up.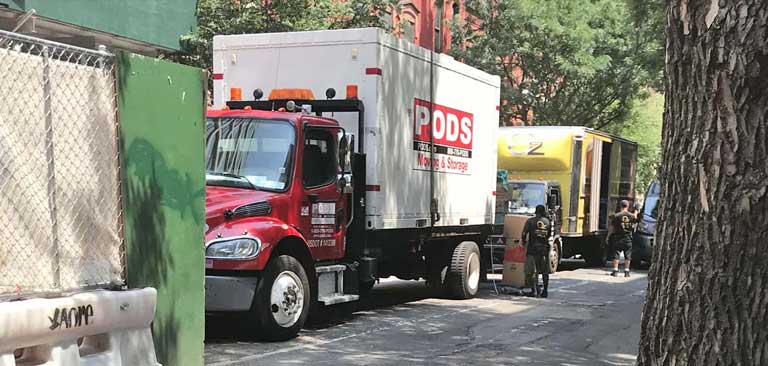 Opening an office in a new city? Whether you're moving operations entirely or opening a new location in a growing metropolis (like Atlanta), PODS has business relocations solutions to make the process easier. Get a quote to get started.
Office Remodeling vs. Renovation vs. Reconfiguration
Not sure how to get your office up to speed? Most construction update projects fall into the following three categories.
Determining which is best for your office will depend on the exact changes you intend to implement. Below is a look at the different types of projects and a general idea of what they entail.
| TYPE OF PROJECT | PROJECT SCOPE |
| --- | --- |
| Remodeling | Changing the structure of the space through demolition and brand new construction |
| Renovation | Updating the existing space with mostly cosmetic or minor changes |
| Reconfiguration | Changing the layout and purpose of the space, such as moving or buying new furniture, repurposing an area or room, etc. |
PODS Can Help Revamp Your Office Design
Whatever the challenge, PODS return-to-work solutions can help businesses quickly pivot. We are experts at discreetly assisting in remodels, renovations, and reconfigurations.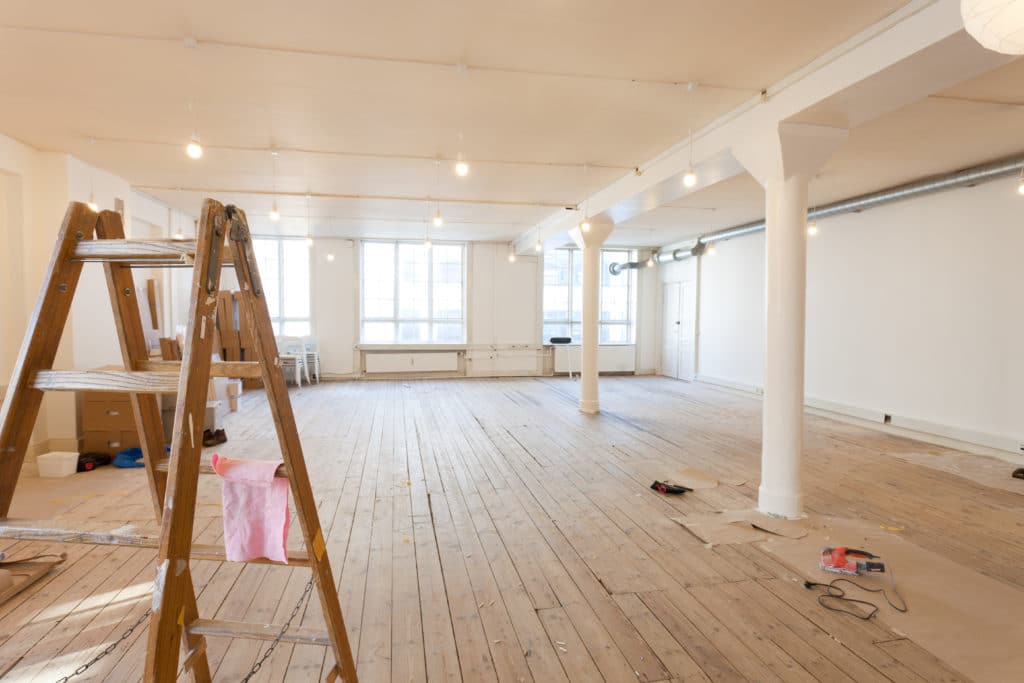 We even helped during renovations at the White House. During the West Wing renovation project, PODS provided high-security and reliable on-site storage with flexible scheduling to meet a tight turnaround.
Whether you're planning on reconfiguring, renovating, or completely remodeling to meet new pandemic and post-pandemic needs, we're here to keep things on track with minimum disruption.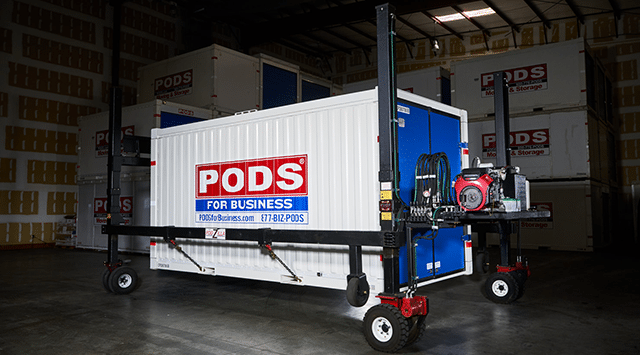 Our weather-resistant containers can be used during office renovations to store office furniture, building supplies, and construction materials for easy access.
Interested in how PODS can help you get your office facilities reopened as simply and safely as possible? Check out our enterprise moving and storage solutions.
[maxbutton id="3"]
RELATED ARTICLE: What Having A Sustainable Business Looks Like In 2021
Get a Quote
Choose the service you need
Comments
Leave a Comment
Your email address will not be published. Required fields are marked *