Looking for a little inspiration from the latest bar and restaurant design trends? After two years of quick pivots due to the COVID-19 pandemic, many restaurants and bars are finally able to look at a long road ahead.
Temporary adjustments restaurants made to adhere to COVID-19 protocols — such as taped social distancing markers, roping off tables, relying heavily on delivery and takeout, or even creating ghost kitchens with other restaurants — are now disappearing.
In this article, we'll provide a peek at how restaurants are leveraging the lessons learned from the pandemic and how they are now designing beautiful, functional, and memorable spaces that will thrive in our new normal.
Permanent Outdoor Dining Spaces
Early pandemic pivots resulted in many restaurants converting whatever outdoor area they had, such as sidewalks and even parking lot spots, into makeshift outdoor dining spaces.
Many restaurants even used PODS containers as individual dining zones, pick-up stations for to-go orders, and more.
Turns out that people love dining outdoors, and many restaurants are expanding their covers by making outdoor spaces a part of their permanent design plan. Several city ordinances have extended their temporary ordinances to make this possible going forward.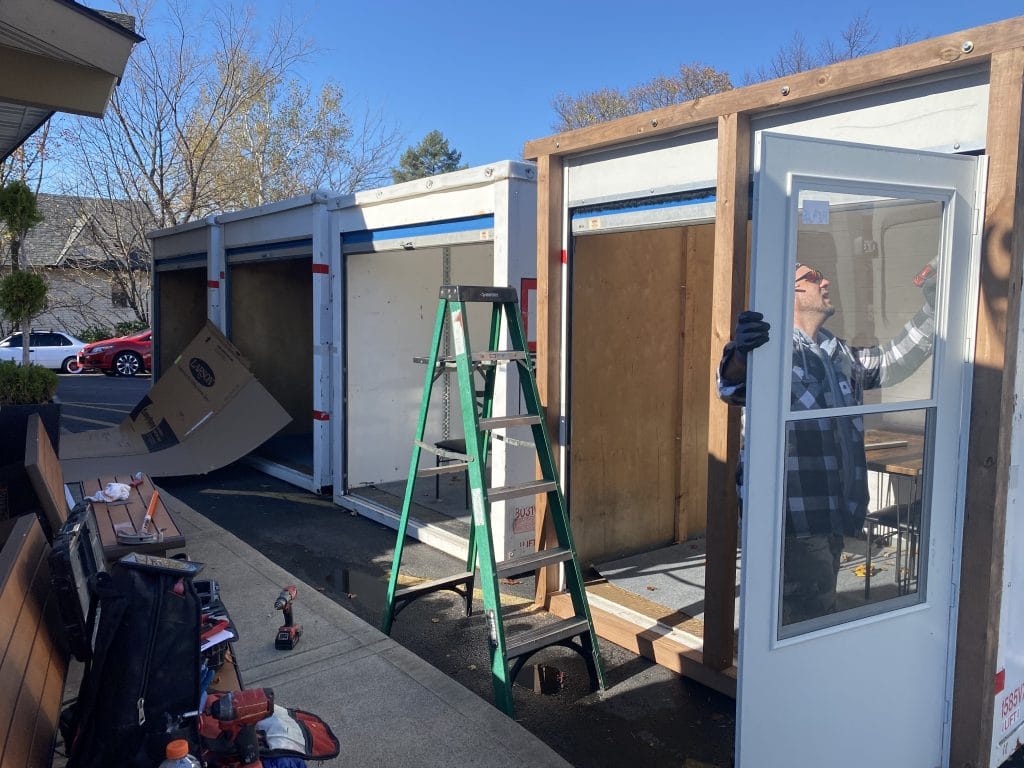 Luckily, creating permanent outdoor dining spaces doesn't have to be costly. Low-budget outdoor restaurant design ideas can be found all over the internet. Social media like Pinterest or TikTok are great places to find DIY budget hacks restaurants have had success with.
Integrating Technology Into the Workflow
Speaking of social media, specifically Instagram, online apps became the primary mode of communication between restaurants and patrons. Reaching users in real-time with menu, hours, service updates, and images of the space proved useful during uncertain times.
Restaurants also used social media to promote up pop-ups or collaborations in a targeted, fun, and visual way.
Using social media as a digital bulletin board for communication will continue to be a focus in the years to come. We can also expect to see QR codes continuing to replace paper menus, self-serve ordering kiosks, and creative ways to integrate contactless payment and ordering.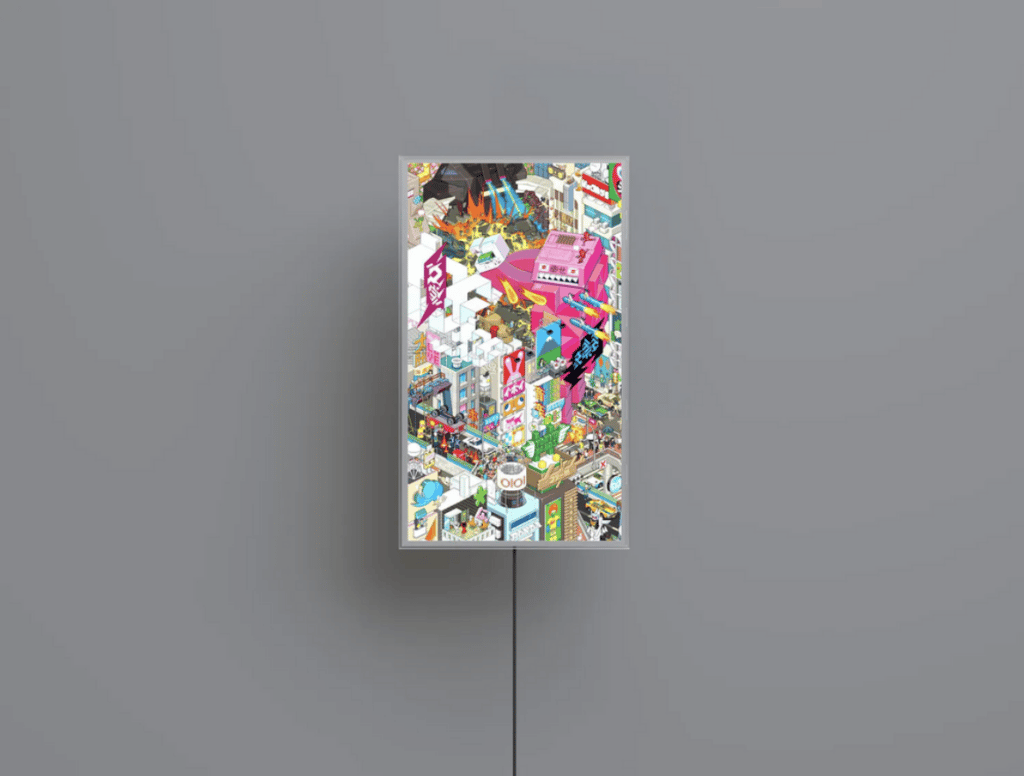 Notably, one interior design firm in Texas is going even further and having a little fun with technology by installing NFT crypto art in its client's restaurants.
Peek-A-Boo Kitchens Restaurant Designs
Open kitchens became a huge restaurant design trend in 2015. Open kitchen floor plans highlight the kitchen by placing it in a location visible to diners and removing one or more walls, giving diners a sightline into the kitchen during service.
Some restaurants, such as Vue de Monde in Australia, took this concept to the extreme with no-wall kitchens placed directly in the middle of the space.
But as restaurants with open kitchen floor plans reopened in the pandemic, many did so with protective plastic paneling surrounding the open kitchen area. Now, many restaurants are rethinking the open kitchen plan entirely in favor of peek-a-boo kitchen.
What is a peek-a-boo kitchen? A peek-a-boo kitchen is defined dining space that allows diners a literal window into the action behind the scenes while still maintaining a separated space for food preparation and plating.
Dedicated Areas for To-Go Orders
Increased levels of pick-up and delivery orders have become one of the most impactful behavioral changes during the pandemic — and it's a trend that's here to stay.
Designing your restaurant with a specific space for delivery or pick-up orders are often quite simple.
Popular design modifications include installing a dedicated pick-up window, labeling parking spots as a dedicated curbside pick-up zone, rerouting parking lot traffic, or even creating a room or area inside a restaurant for such orders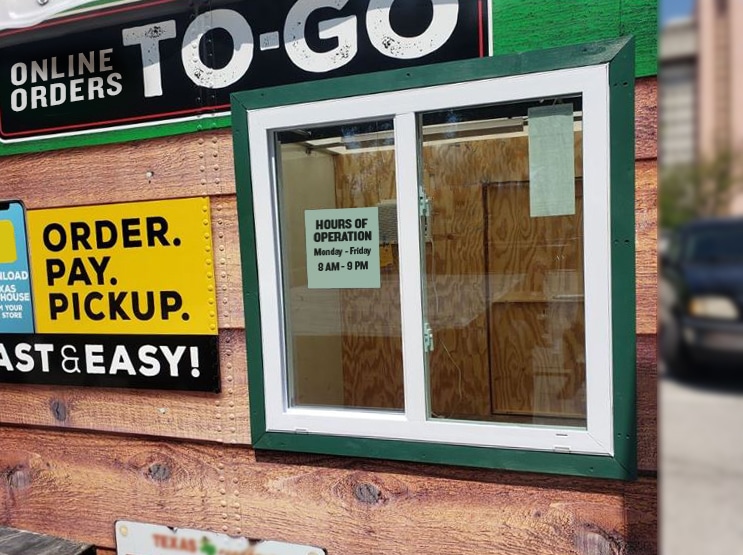 Many establishments are also completely transforming kitchen spaces or overall interior restaurant design so they can fulfill orders simultaneously from the main dining room along with pick-up and delivery orders seamlessly.
Investing in Designing an Experience
After being cooped up at home during quarantine, the role of restaurants and bars evolved to being even more of a place for gathering and socializing. Bar and restaurant design going forward will need to take into account the overall experience.
Modular design is trending with more focus on pop-ups and temporary experiences. Modular design can give restaurants and bars possible sets that can accommodate different events, live music, private parties, and more.
Other ways restaurants and bars are creating experiences is by installing Instagram walls or interactive photo areas.
Some eateries are incorporating social media opportunities by creating picture-worthy neon signs, handpainted wall murals, or by adding large-scale greenery plants and floor-to-ceiling plant walls.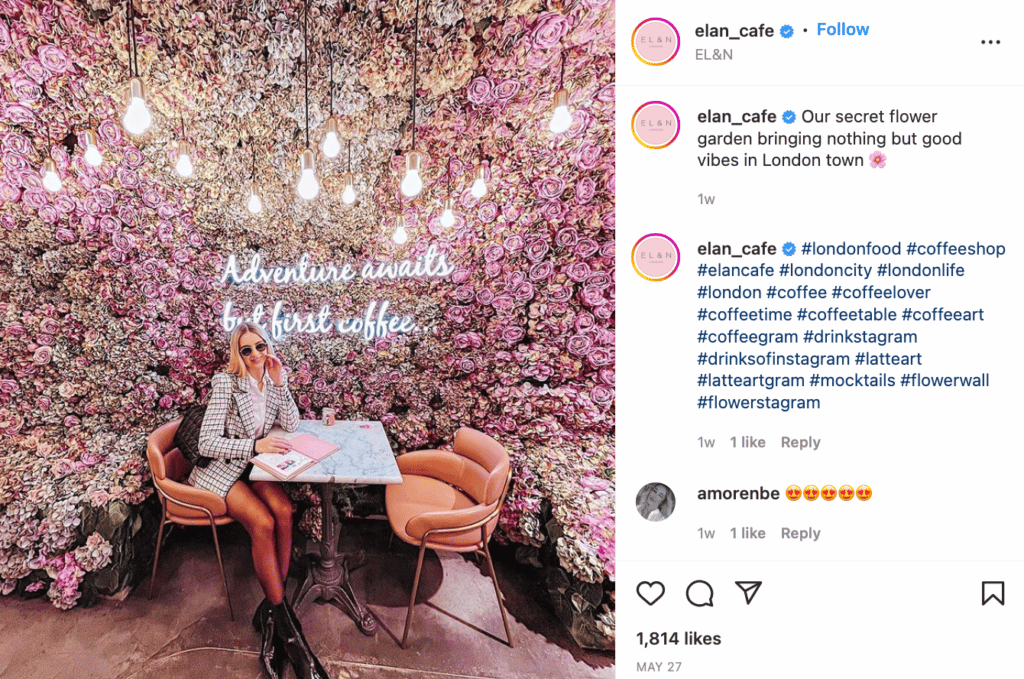 Regardless, health and safety will always remain paramount for guests.
New design trends are tackling this by using materials that are easy to frequently sanitize and clean without wearing down the materials (such as wood tile flooring instead of hardwood), and rethinking the overall design of furniture.
Feeling inspired to make some changes at your own restaurants? Find out how PODS can help your business realize its 2022 trend goals by visiting our restaurant solutions webpage now.
[maxbutton id="3"]
RELATED ARTICLE: How to Use Shipping Containers to Spice Up the Food Industry
Get a Quote
Choose the service you need
Comments
Leave a Comment
Your email address will not be published. Required fields are marked *