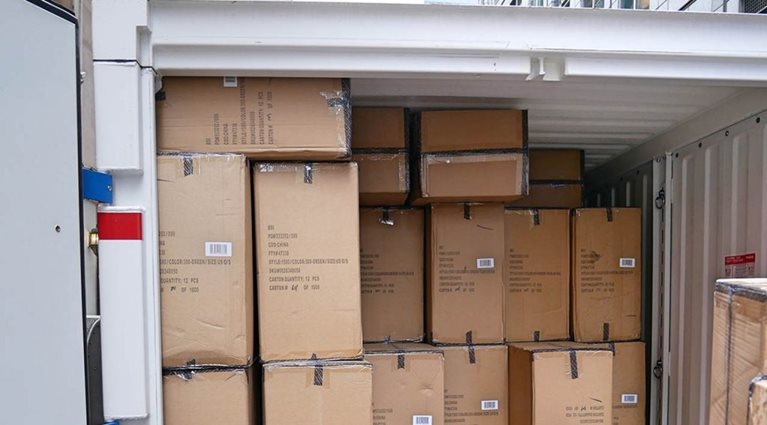 Shipping Container Storage Ideas: 10 Tips On How To Pack a Container For On-Site Storage
Searching for some shipping container storage ideas? Many businesses use containers on-site at their facilities as a way to keep office materials, furniture, files, excess inventory, workshop space, valuable equipment, and other everyday items in easy reach.
And if you're using items that are kept inside a storage container on a regular basis, it's worth giving your arrangement plenty of thought. The way you organize stored inventory can make or break your operational efficiency.
Read on to learn our top tips on how to pack a shipping container for on-site storage so you can get the most out of your extra space.
Shipping Container Storage Ideas to Try
When executing your shipping container storage ideas, it's best to think of the container as a blank canvas that can be easily customized for the unique needs of your company. Treat the container as an empty extra room (albeit one with no windows or electricity).
Here are ten helpful hacks that will help you transform a plain shipping container into a custom on-site storage solution for your business.
1. Make a plan before you start loading. Visualize how you plan on setting up your shipping container and then measure and map it out to make sure it can be successfully executed.
2. Leave a pathway. If you're going to frequently retrieve stored items, be sure to leave a pathway inside the container. It should be wide enough for two people, and it should easily provide access to all areas in the container. A simple method to making a central walkway is to only load your items against three walls.
3. Add shelving systems and racks. Installing shelving systems and/or racks is an easy way to transform and maximize the interior of your shipping container. Consider using freestanding shelving units secured to tie downs on the walls and pop-in racks. This temporary approach doesn't require any permanent damage to the unit and leaves your options open to reorganize as needed.
4. Use sturdy, clear plastic tubs. Clear plastic tubs are a good storage alternative to cardboard boxes which can degrade over time and after repeated handling. Plastic tubs are also easier to open and close, allow you to see what's inside, and offer more protection to anything stored inside.
5. Filing cabinets are your friend. Just like in the regular office, filing cabinets are a great way to organize any files stored inside your on-site shipping container. The best part? You can just load them into the container as is.
Need to ship a container? Our patented level-lifting machine, PODZILLA, prevents containers from shifting during loading, transport, and unloading — which greatly reduces the possibility of damage. In fact, at 2%, we've got the lowest damage rate in the business.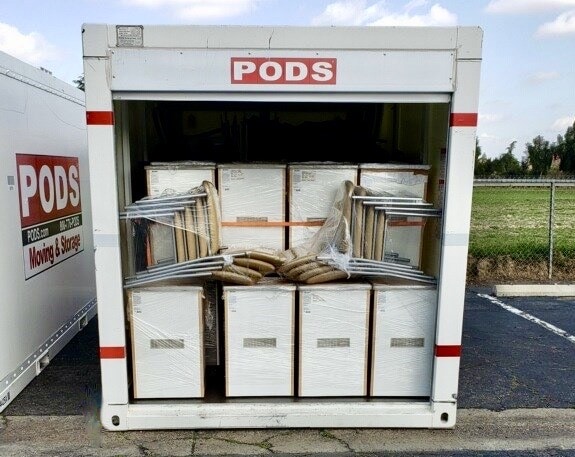 6. Make sure storage labels are visible. In order to find things quickly and efficiently, be sure to label all boxes, tubs, filings cabinet doors, and other items where you are storing things in a way that makes them visible, preferably on all sides. Creating a map of the container layout is also recommended and can help locate something before someone even steps inside the container to retrieve it.
7. Place frequently accessed items toward the front. Any items that need to be accessed on a regular basis should be placed toward the front of the container or in the front row of stored items. Avoid stacking too many things on top, especially anything that is heavy.
8. Heavier items on the bottom, lighter items on top. As with any packing and storage rules, keep heavy-lift items on the bottom of stacks to avoid any mishaps or injuries.
9. Consider any needed modifications. Customizing shipping containers can help make it your own and best maximize the space, though keep in mind that these modifications can be costly and may limit the flexibility you have to reorganize the interior of the container when needed. Consider modifications carefully as they often result in permanent changes to the container.
10. Keep a ladder and dolly inside. When you're planning out the space, remember to include a dedicated space for a ladder (to safely reach high items) and a dolly (to easily move heavy items).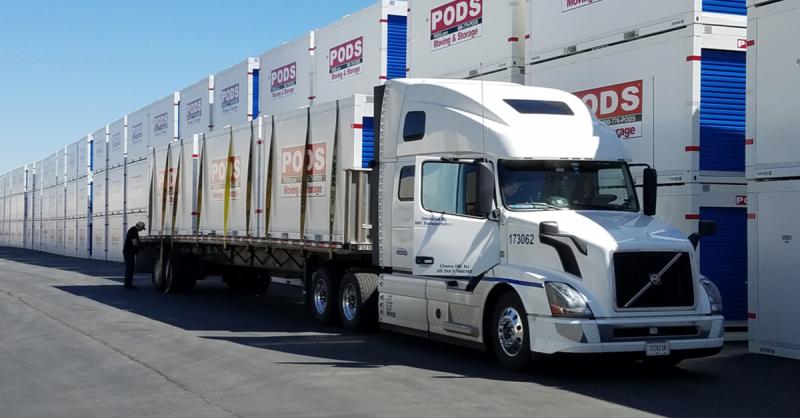 Inspired by these shipping container storage ideas? You might want to learn more about how PODS can help your business create custom on-site storage solutions. Check out the shipping container rentals we offer.
[maxbutton id="3"]
RELATED ARTICLE: Wood Crating vs Shipping Containers: Which Is the Best Option for Moving Freight?
Get a Quote
Choose the service you need
Comments
Leave a Comment
Your email address will not be published. Required fields are marked *