How to Use Shipping Containers to Enhance the Guest Experience: 5 Creative Ideas
After months of being put on hold, the travel industry is finally starting to get back on track thanks to widespread access to COVID-19 vaccinations.
If you're in the business of providing accommodations and hospitality services, now is the time to rethink and revamp your strategy. Traveler expectations are higher than ever, and hotels that provide superb experiences will be in a much better position to thrive.
Enter shipping containers.
While they're associated with logistics and transportation, shipping containers can also play an important role for hotels. From health and safety to creating a more memorable stay for guests, continue reading below to see why containers should be on your radar.
1) Increase Storage Capacity & Reduce Clutter
Hotel locations are always in flux. Between your guests, staff, fixtures, and equipment, hotel facilities are busy spaces.
Because of this, keeping your environment clutter-free can be challenging, especially when you have limited space or if the hotel is going through renovations and refurbishments.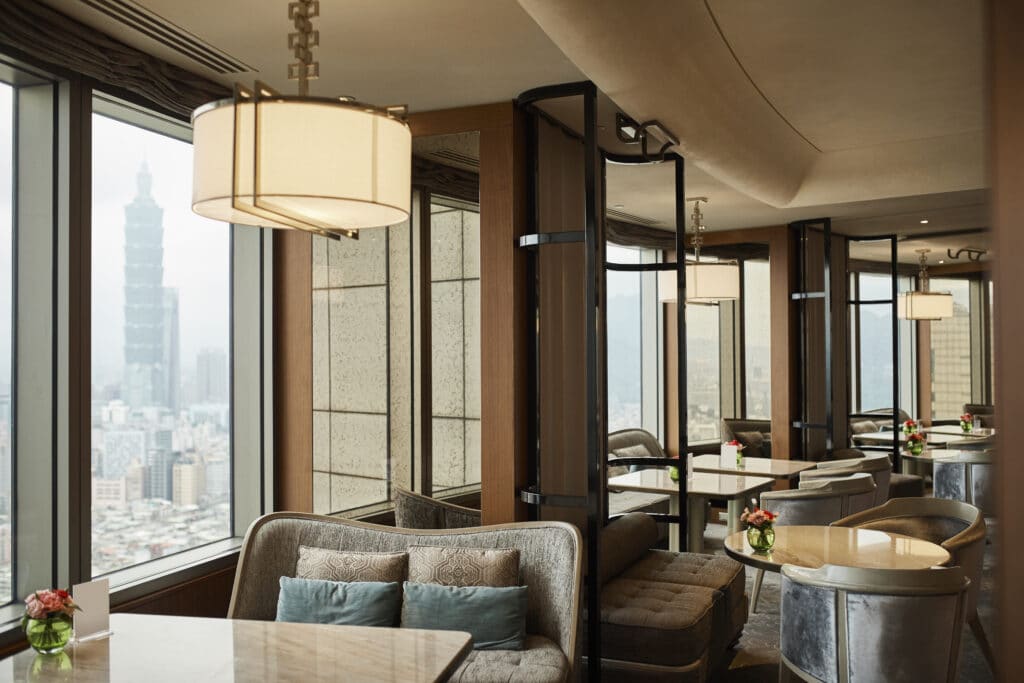 Shipping containers can alleviate these situations by providing extra storage space either on-site or at a local facility. Hotels can use them to store supplies, equipment, fixtures, and furniture in order to keep the location clutter-free.
Ultimately, containers can be a tidy solution for creating a more pleasant ambiance for guests.
2) Store Luggage & Make It Easy for Bellhops to Assist Guests
Is the bellhop's station getting a little too cramped? Utilize shipping containers to store people's luggage. This is particularly useful for travelers who arrive early or who need a place to keep their belongings while they roam the vicinity.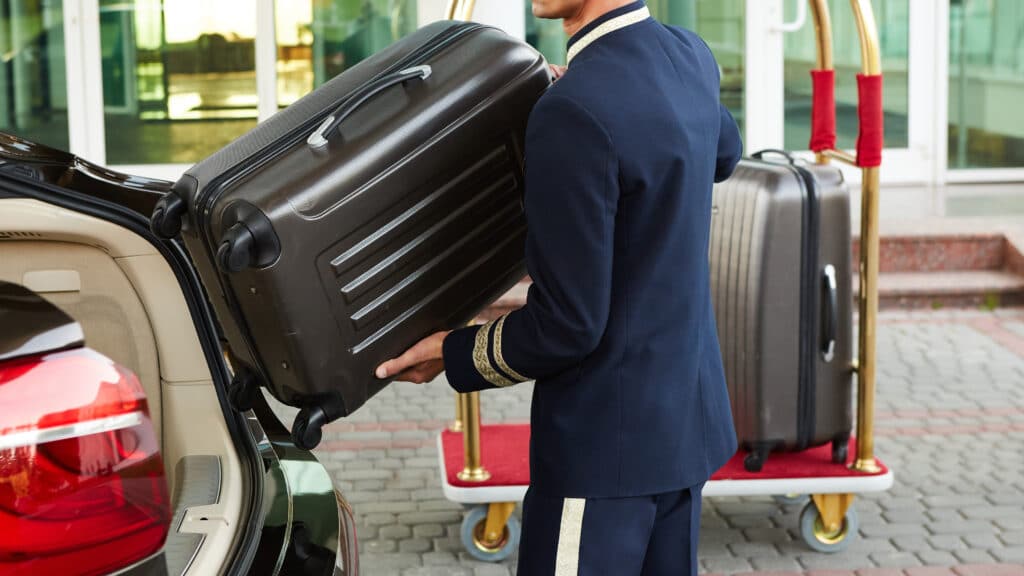 The good thing about shipping containers from storage providers such as PODS is that they can be kept close to your bellhops. Plus, PODS storage containers are weather-proof and high security — with far fewer damage claims compared to other providers.
With the support of shipping containers, your staff and guests can rest easy knowing that their belongings are safe and secure.
3) Create an Interesting Space for Guests
Shipping containers can be repurposed to accommodate guests and create interesting experiences.
The modular nature of container features can allow architects to design flexible and unique structures, so it's easy to mix and match containers when you need to expand the space and provide showstopping interior design.
You could even offer glamping experiences, where shipping containers are repurposed as sleeping areas.
Some vacation rental companies, for example, have set up shipping containers in the wilderness to offer guests comfortable accommodations as they explore nature.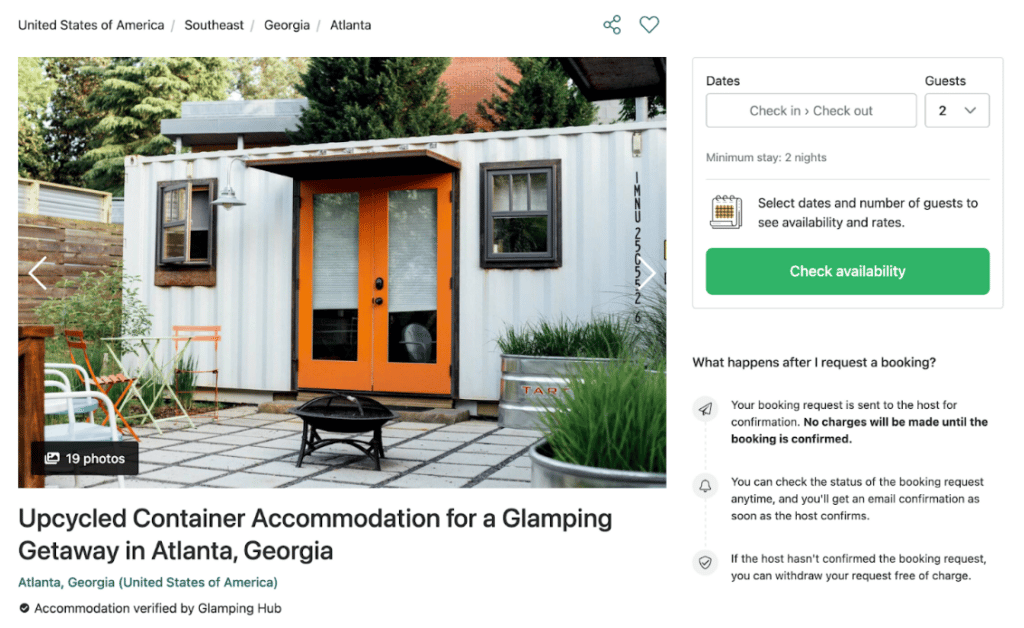 Consider implementing a similar project in your establishment. While you don't necessarily have to implement glamping, you could use these containers to set up interesting spaces where guests can rest and hang out.
4) Maximize Restaurant Space
Shipping containers also come in handy when your hotel has a restaurant on-site. You can use them to extend dining areas as well as promote social distancing.
Take for example Fiamme Pizza, a restaurant that transformed PODS storage containers into Christmas-themed private dining rooms.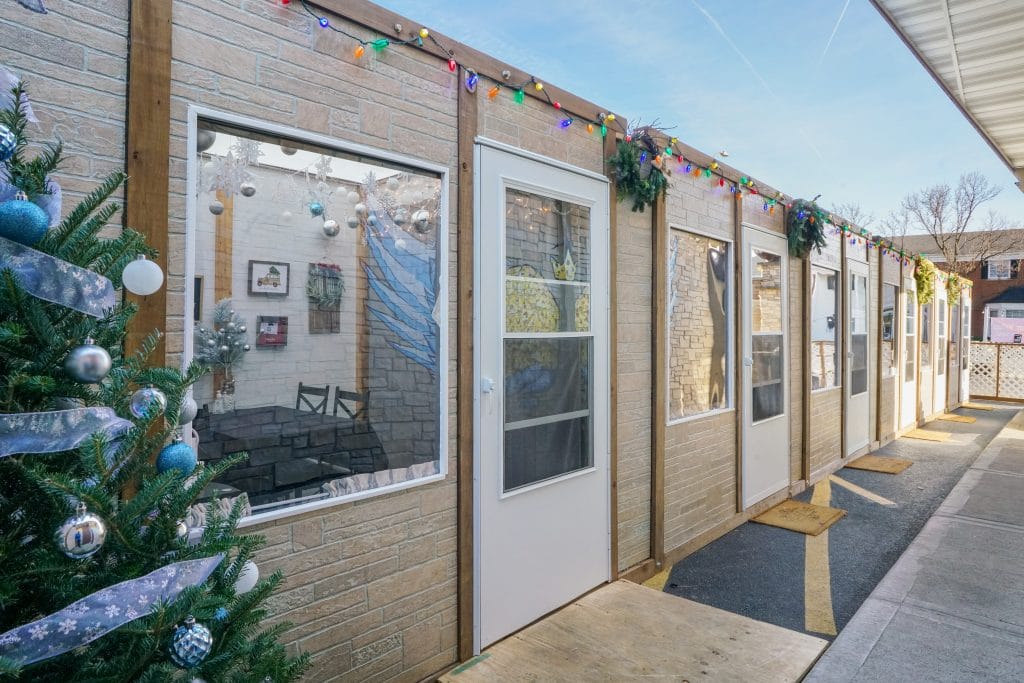 Additionally, containers can be utilized to store restaurant supplies and equipment. When implemented properly, this leads to better restaurant supply management, ensuring that your staff members always have what they need with easy access.
5) Launch Brand Concepts and Experiences
One of the best ways to be more memorable is to offer sights and experiences that guests won't find anywhere else.
Many establishments are finding success by launching art installations and murals. For example, in Australia, the artist Marcus Canning's crafted a rainbow art installation featuring shipping containers.
Another idea? Use shipping containers as pop-up stores or attractions that allows guests to immerse themselves in your brand. Customize the exterior of your containers using decals and banners to pique guests' interest.
You can also decorate the inside with branded decor and merchandise. Take a leaf out of the Tampa Bay Lightning's playbook. The professional hockey team used PODS shipping containers to create a branded pop-up shop.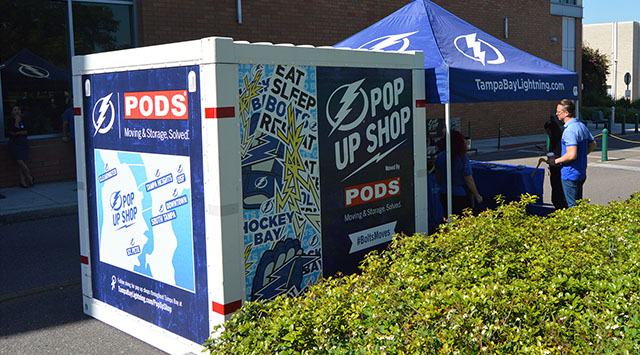 PODS helped the team customize the container by wrapping it with the Tampa Bay Lightning logo to promote team spirit. Meanwhile, the inside of the shop was filled with exclusive products, including branded mugs, apparel, accessories, and more.
Consider PODS Shipping Containers
Shipping containers aren't just for… well, shipping.
With a bit of practical and creative thinking, you can use them to improve the guest experience and keep your hotel running smoothly. Contact PODS today to learn more about how our storage containers can help improve your hotel operations.
[maxbutton id="1"]
RELATED ARTICLE: How to Create a More Sustainable Hotel
Get a Quote
Choose the service you need
Comments
Leave a Comment
Your email address will not be published. Required fields are marked *