The January U.S. government shutdown left more than 800,000 federal employees without paychecks. It was particularly hard on the Washington D.C. area, where more than 80,000 people were affected by the federal paralysis.
The shutdown came because political leaders couldn't agree on a federal funding bill, which authorized pay for federal workers, and no one knew when the work stoppages might end.
Local celebrity chef Jose Andres decided to dive in. Through his non-profit, World Central Kitchen, Andres helps people affected by disasters by leveraging area community networks. World Central Kitchen came into the spotlight for work in the wake of Hurricane Maria in Puerto Rico.
Andres, when not servicing disaster survivors, owns the storied Jaleo restaurant in the heart of the nation's capital, as well as eateries in Las Vegas, Los Angeles, Mexico City, and elsewhere. He decided to apply his World Central Kitchen model closer to home by feeding thousands of furloughed federal workers through a pop-up kitchen in Washington, D.C.
World Central Kitchen urged chefs around the country to join the cause via a social media tag, #ChefsforFeds. Restaurants around the country responded to the initiative and soon, Andres's one-city operation expanded, thanks to chefs in 33 locations in 20 states, Puerto Rico and D.C.
Feeding people affected by crises is a worthy cause in and of itself — a whopping 90 percent of consumers want businesses to support charitable issues. The business in turn receives tangible benefits, including increased customer loyalty and retention. The feel-good element associated with such events often garners a lot of earned media, which can be an invaluable boost to a restaurant's brand image.
But it's not just restaurateurs feeding the pop-up food service as charity movement. Other food services have created temporary options of their own. The federal shutdown serves as an example for those, as well.
The Atlanta Community Food Bank, for example, used pop-up pantries to distribute supplies to Transportation Security Administration employees, especially some TSA employees who were required to work, but still weren't getting paid. Such outreach helped the food bank deliver needed supplies more strategically, as CNN reports.
The logistics landmine
The pop-up model may seem like a simple idea — people need help, services come to them — but in reality, it can be challenging on multiple levels, especially with staffing and logistics. Restaurant owners must decide how much staff to call on, and when, and work through logistics such as food supply orders and inventory, and how to transport these and store them at the pop-up location.
There are ways of making the promotions work smoothly for everyone. Restaurateurs around the country who helped during the government shutdown shared some tips.
Pay attention to details
Wafi Dinari, the owner and general manager of Ouisie's Table Restaurant and Gardens in Houston, Texas, offered a free main course for lunch to furloughed workers.
"One challenge we had not considered was our servers' tips," he says — wait staff still has to work, even if the meal is free.
Some weren't prepared for the volume of free-meal takers. The Hwy 55 Burgers, Shakes and Fries in Elizabeth City, North Carolina, shares a town with the largest United States Coast Guard base, and many of its residents felt the effects from the government shutdown. In addition to the active duty U.S. Coast Guard members who did not receive paychecks, retired members were also at risk of not receiving their pension payments, as NBC News notes.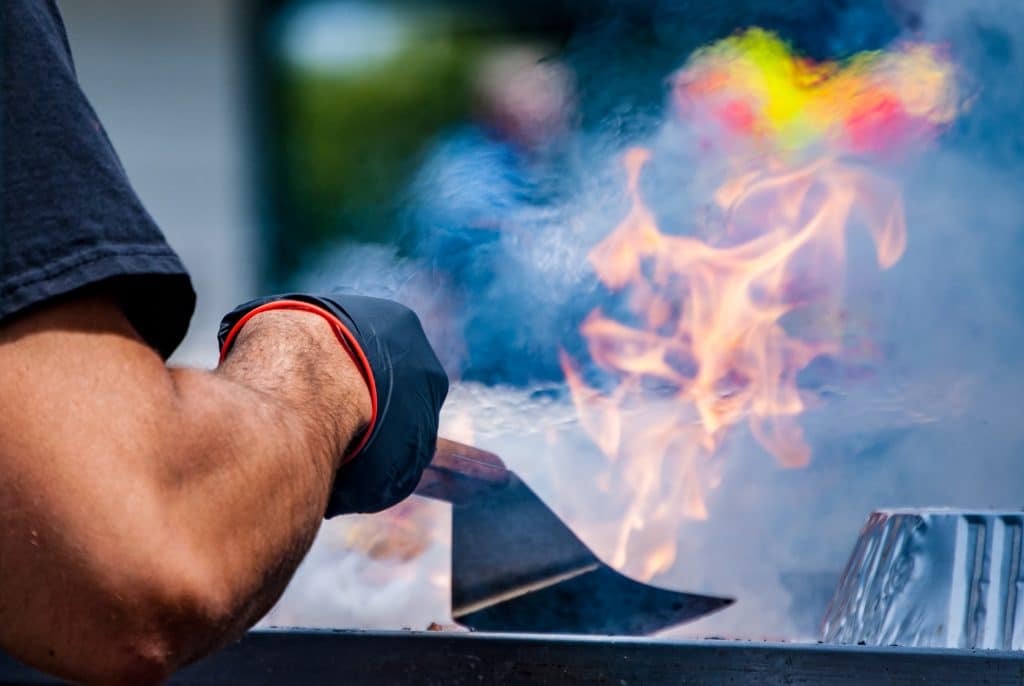 Hwy 55 management didn't expect to serve 500 people when it provided free meals for all active duty and retired members of the United States Coast Guard on January 21.
Limit the choices
Restaurants that offered a free meal limited choices to two or three menu staples. This helped them plan for raw materials, and line chefs were able to create the meals faster. JJ's in Kansas City, Missouri, for example, offered a complimentary tenderloin burger with fries for weekday lunch during the shutdown.
"We chose the tenderloin burger and fries not only because it is one of our customer favorites, but also because the prep work was minimal, so we were able to effectively execute the increased number of burgers during lunch," says owner, Jimmy Frantze.
World Central Kitchen's pop-up also offered a limited menu, and sometimes served food cafeteria-style, helping service flow more smoothly.
When restaurants respond to such emergencies as the shutdown or natural disasters, having a flexible and cost-effective storage solution like PODS is a critical asset. PODS containers can store dry goods, utensils and equipment needed to execute such pop-ups. Equally important, PODS Business Solution Specialists can schedule delivery of PODS containers at the right time and place so organizers can focus on other aspects of the promotion.
Setting up a pop-up model to serve food for charity events is not easy, especially since the "where" and the "how" can be challenging. But PODS can take care of the storage headaches of bringing restaurant-sized operations on the road. PODS lets restaurants focus on executing planned events smoothly so local businesses can make the most out of their goodwill efforts, shutdown or not.
[maxbutton id="1"]
Get a Quote
Choose the service you need
Comments
Leave a Comment
Your email address will not be published. Required fields are marked *