PODS Moving & Storage Pittsburgh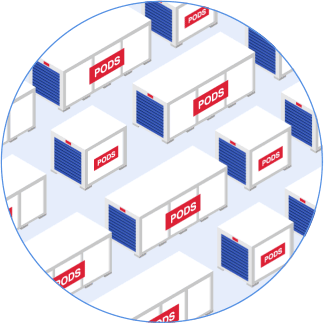 This may take up to 30 seconds.
We're searching over 200,000 containers to find you the best price.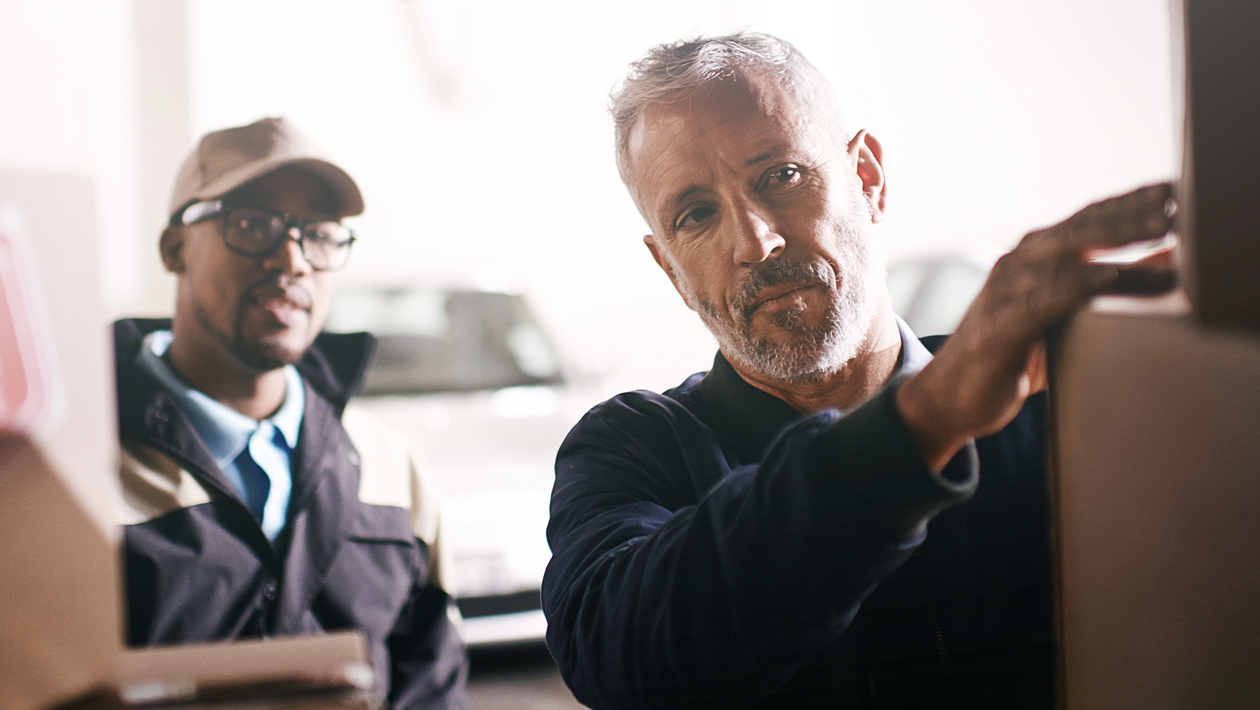 Pittsburgh Moving Solutions
Whether it's a short or long-distance move, PODS portable containers are the way to go. You decide how many and what size containers you need, and we'll drop them off. Load your stuff into the ground-level container at your leisure, then call us when it's ready to move. We'll transport your PODS container to your new home or one of our secure Storage Centers.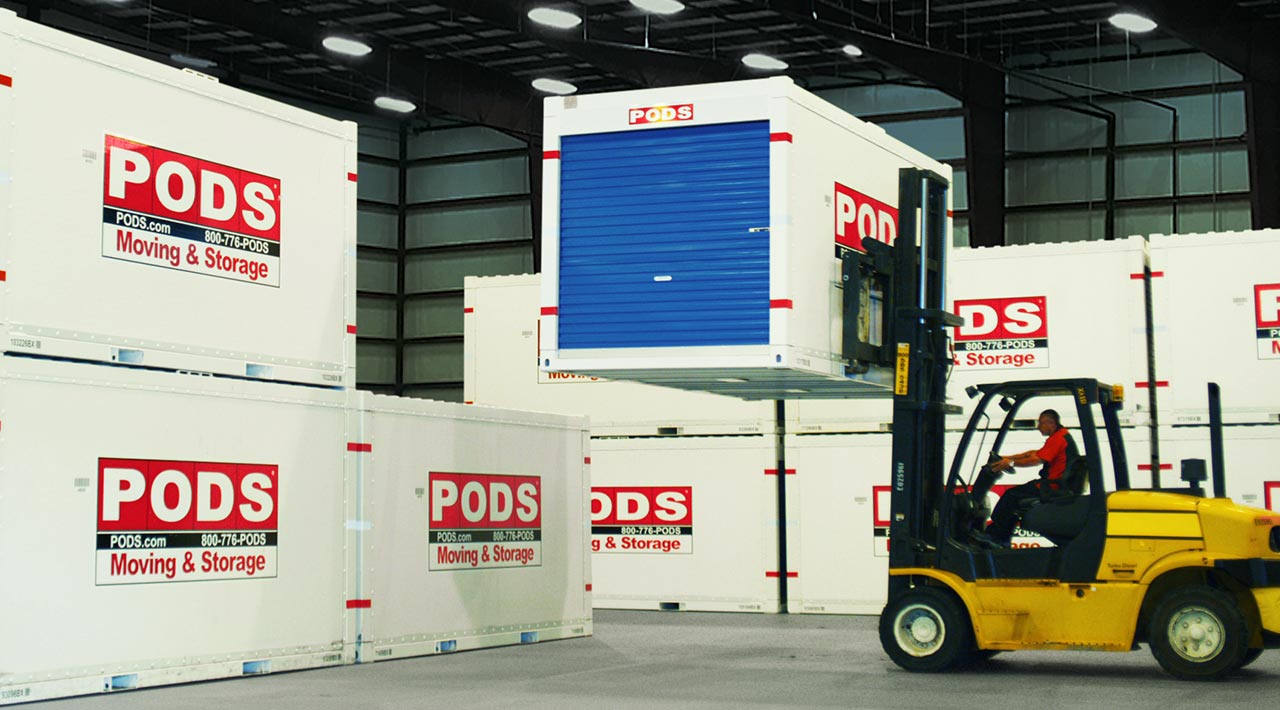 Pittsburgh Storage Solutions
With PODS storage containers, you get a moving solution and
flexible storage solution
in one. We can either bring the storage unit straight to your new home or apartment for
on-site storage
, or keep it at one of our local secure Storage Centers until you're ready to unload. PODS containers are rented by the month, so take as long as you need getting settled into your new home in Pittsburgh.
More about Pittsburgh@Model.Title.HeadingType>
Pittsburgh is a city in western Pennsylvania that is home to more than 300,000 people. When you include the surrounding area, that number balloons to over 2.3 million, making Pittsburgh the largest metropolitan area in both the Ohio Valley and Appalachia. If you're considering a move to Pittsburgh, read on to learn more about the moving and storage solutions available from PODS.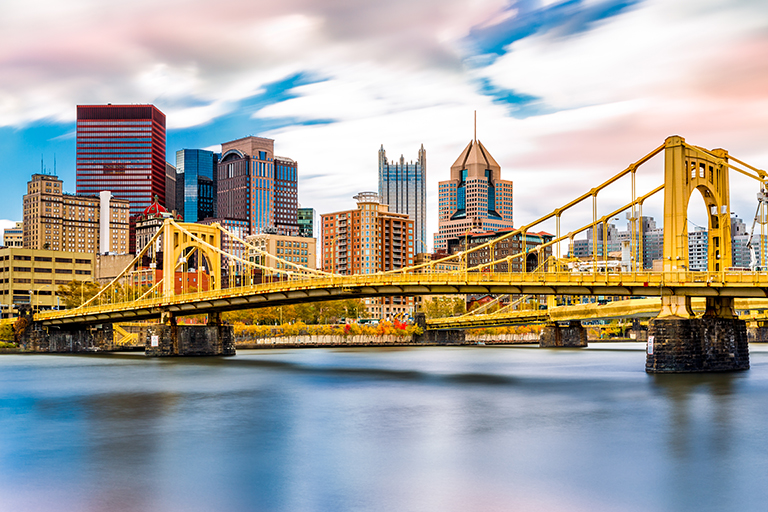 Moving to Pittsburgh
Pittsburgh straddles three rivers and has more bridges than any other city in the world — including Venice, Italy — with a whopping total of 446. The city's nicknames include "Steel City" and "City of Bridges," but locals often refer to it as simply "the Burgh." Sports fans, meanwhile, tout their hometown as the "City of Champions" in honor of the city's six Super Bowl victories, five Stanley Cups, and five World Series titles. Moviegoers might also recognize the city from Christopher Nolan's "Dark Knight" trilogy since many of the Gotham scenes were shot in Pittsburgh.
Housing in Pittsburgh is generally cheaper than in other major cities. Prices are slowly rising, though, as many parts of the city undergo gentrification. Among the top-ranked neighborhoods are Regent Square, Squirrel Hill North, Friendship, Point Breeze, Swisshelm Park, South Oakland, and Shadyside.
Rush-hour traffic can be very busy, with commute times averaging around 27 minutes. To help alleviate traffic, the Port Authority of Allegheny County offers both bus routes and a light rail system that serve downtown Pittsburgh and the county's suburbs. Bike rentals are also becoming more common throughout the city, and downtown is very walkable.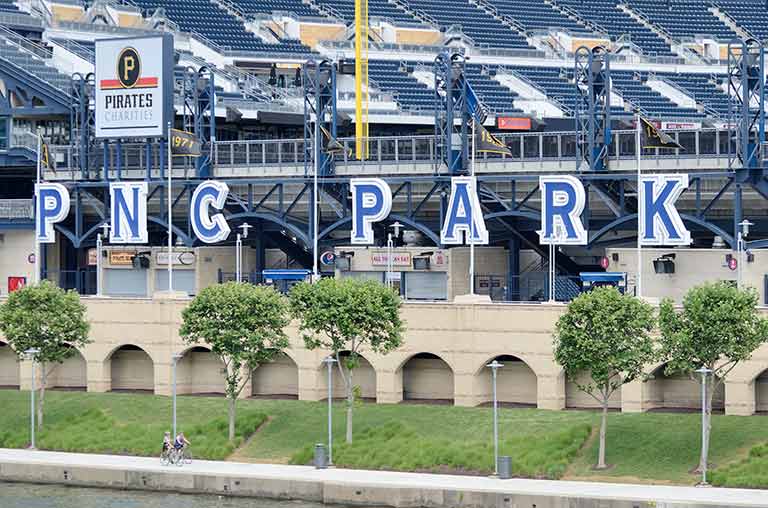 Things to Do and See in Pittsburgh
Among the most impressive attractions in Pittsburgh are the Carnegie museums. These include the Carnegie Museums of Art and Natural History, the Andy Warhol Museum, and the Carnegie Science Center, which is especially popular with children. Kids also enjoy the Children's Museum of Pittsburgh and the Pittsburgh Zoo. Kennywood, Sandcastle Water Park, Idlewild, and SoakZone are local amusement parks that call Pittsburgh home.
If you want to get to know the city better, several food tours, river tours, and other city tours are available. Take in a Pirates baseball game at PNC Park, or watch the Steelers play at Heinz Field. Visit Point State Park for a scenic waterfront view of where the Allegheny and Monongahela Rivers join to form the Ohio River. On any given week, you can find several concerts, performances, festivals, and other events to attend throughout the Pittsburgh area.
Whether you're new to Pittsburgh or a lifelong resident, PODS is here to help with all of your moving and storage needs. PODS containers can be used for both cross-country and local moves, and thanks to their portability, they make a sturdy and convenient alternative to the typical self-storage unit.
Serving the greater Pittsburgh area
Acme | Adah | Adamsburg | Aliquippa | Allegheny | Allenport | Allison | Allison Park | Alverton | Ambridge | Amity | Annandale | Apollo | Ardara | Armbrust | Arnold | Arona | Arsenal | Aspinwall | Atlasburg | Avalon | Avella | Avonmore | Baden | Bairdford | Bakerstown | Barking | Beallsville | Beaver | Beaver Falls | Belle Vernon | Bellevue | Ben Avon | Bentleyville | Bessemer | Bethel Park | Blairsville | Blawnox | Bloomfield | Bolivar | Boston | Bovard | Boyers | Brackenridge | Braddock | Bradenville | Bradfordwoods | Branchton | Brentwood | Bridgeville | Brier Hill | Brookline | Brownfield | Brownsville | Bruin | Buena Vista | Bulger | Bunola | Burgettstown | Butler | Butler | Cabot | California | Callery | Calumet | Canonsburg | Cardale | Carnegie | Carpolis | Carson | Castle Shannon | Cecil | Cedarhurst | Chalk Hill | Champion | Charleroi | Chester | Chestnut Ridge | Cheswick | Chicora | Clairton | Claridge | Claysville | Clinton | Coal Center | Cokeburg | Colliers | Connellsville | Connoquenessing | Conway | Coraopolis | Corliss | Coulters | Crabtree | Crafton | Cranberry Twp | Creighton | Crescent | Cuddy | Curtisville | Daisytown | Darlington | Darragh | Dawson | Delmont | Denbo | Derry | Dickerson Run | Donegal | Donora | Dravosburg | Dunbar | Dunlevy | Duquesne | East Butler | East Liberty | East Liverpool | East Mc Keesport | East Millsboro | East Palestine | East Pittsburgh | East Vandergrift | Eau Claire | Edgeworth | Edmon | Eighty Four | Elco | Eldersville | Elizabeth | Ellport | Ellsworth | Ellwood City | Elrama | Emsworth | Enon Valley | Erie | Etna | Evans City | Everson | Export | Fairbank | Fairchance | Fairoaks | Farmington | Farrell | Fayette City | Fenelton | Finleyville | Floreffe | Fombell | Forbes Road | Ford City | Forestville | Fredericktown | Freedom | Freeport | Gans | Gastonville | Georgetown | Gibbon Glade | Gibsonia | Glassport | Glenshaw | Glenwillard | Grapeville | Greenock | Greensburg | Greentree | Grindstone | Grove City | Hannastown | Harmony | Harrison City | Harrisville | Harwick | Hazlewood | Heidelberg | Hendersonville | Herman | Herminie | Hermitage | Hibbs | Hickory | Hiller | Hilliards | Homestead | Homewood | Hookstown | Hopwood | Hostetter | Houston | Hunker | Hutchinson | Hyde Park | Imperial | Indian Head | Indiana | Indianola | Industry | Ingomar | Irwin | Isabella | Jacobs Creek | Jamestown | Jeannette | Jefferson Hills | Joffre | Johnstown | Jones Mills | Karns City | Keisterville | Kilbuck | Koppel | La Belle | Lake Lynn | Lamberton | Langeloth | Large | Larimer | Latrobe | Laughlintown | Lawrence | Layton | Leckrone | Leetsdale | Leisenring | Lemont Furnace | Library | Ligonier | Lowber | Lower Burrell | Loyalhanna | Luxor | Lyndora | Macarthur | Madison | Mammoth | Manor | Marianna | Markleysburg | Mars | Martin | Marwood | Masontown | Mc Clellandtown | Mc Donald | Mc Kees Rocks | Mc Murray | McKeesport | McKnight | Meadow Lands | Meadville | Melcroft | Mercer | Meridian | Merrittstown | Midland | Midway | Mill Run | Millsboro | Millvale | Monaca | Monessen | Monongahela | Monroeville | Montour | Moon Township | Morgan | Mount Braddock | Mount Lebanon | Mount Oliver | Mount Pleasant | Mount Washington | Munhall | Murrysville | Muse | N Belle Vernon | N huntington | Natrona Heights | Negley | Neshannock | Neville Island | New Alexandria | New Brighton | New Castle | New Cumberland | New Derry | New Eagle | New Florence | New Galilee | New Geneva | New Kensington | New Salem | New Springfield | New Stanton | New Waterford | New Wilmington | Newell | Noblestown | Normalville | North Charleroi | North Irwin | North Versailles | North Washington | Norvelt | Oakdale | Oakland | Oakmont | Observatory | Ohiopyle | Oliver | Paris | Park | Parker | Parnassus | Patterson Heights | Penn | Penn Hill | Perryopolis | Petersburg | Petrolia | Pgh Int Arprt | Pitcairn | Pittsburgh | Pleasant Hills | Pleasant Unity | Plum | Point Marion | Portage | Portersville | Presto | Pricedale | Prospect | Prosperity | Racine | Rankin | Rea | Rector | Renfrew | Republic | Richeyville | Rillton | Rochester | Rogers | Ronco | Roscoe | Ruffs Dale | Rural Ridge | Russellton | Saint Clairsville | Salina | Sarver | Saxonburg | Scenery Hill | Scottdale | Seven Fields | Seward | Sewickley | Shadyside | Sharon | Sharpsburg | Sharpsville | Shippingport | Slickville | Slippery Rock | Slovan | Smithfield | Smithton | Smock | South Heights | South Hills | South Park | Southview | Southwest | Spraggs | Springdale | Squirrel Hill | Stahlstown | Star Junction | Steubenville | Stockdale | Strabane | Sturgeon | Sutersville | Swissvale | Tarentum | Tarrs | Taylorstown | Templeton | Toronto | Torrance | Trafford | Turtle Creek | Uledi | Uniontown | United | Upper St Clair | Valencia | Van Meter | Van Voorhis | Vanderbilt | Vandergrift | Vanport | Venetia | Verona | Vestaburg | Veterans Hospital | W Aliquippa | W Bridgewater | Wabash | Wall | Waltersburg | Wampum | Warrendale | Washington | Webster | Weirton | Wendel | West Alexander | West Elizabeth | West Finley | West Homestead | West Leisenring | West Middletown | West Mifflin | West Newton | West Sunbury | West View | Westland | Westmoreland City | Wexford | Whitaker | White | Whitney | Whitsett | Wickhaven | Wildwood | Wilkinsburg | Wilmerding | Wilpen | Wintersville | Wyano | Youngstown | Youngwood | Yukon | Zelienople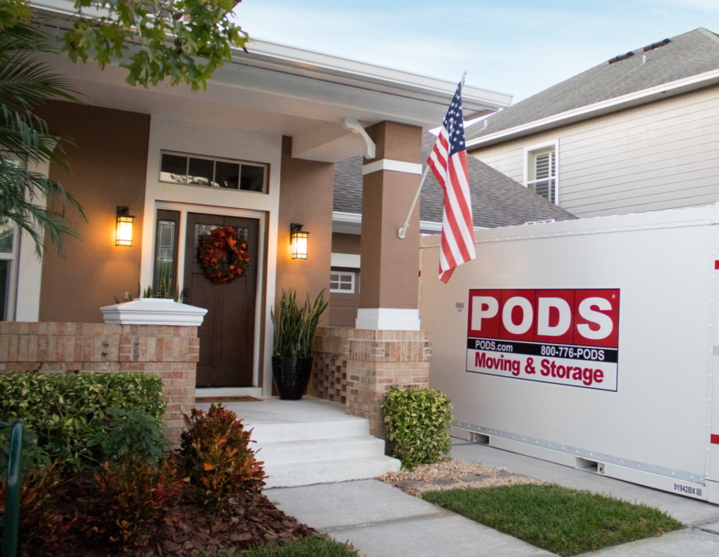 Pittsburgh Déménagement et entreposage
Storage Facilities Near Me
AusLeetsdale, PA
280 Leetsdale Industrial Dr
Leetsdale, PA 15056
Trafford Storage Center
9100 Commerce Circle
Trafford, PA 15085