PODS continue d'opérer dans ses zones de service normales (États-Unis et Canada) dans le cadre du secteur des systèmes de transport critique, sur la base des directives des autorités gouvernementales concernant COVID-19. Pour plus d'informations, notamment sur la façon dont nos chauffeurs suivent les règles de distanciation sociale et pour les mises à jour de service,
cliquez ici
.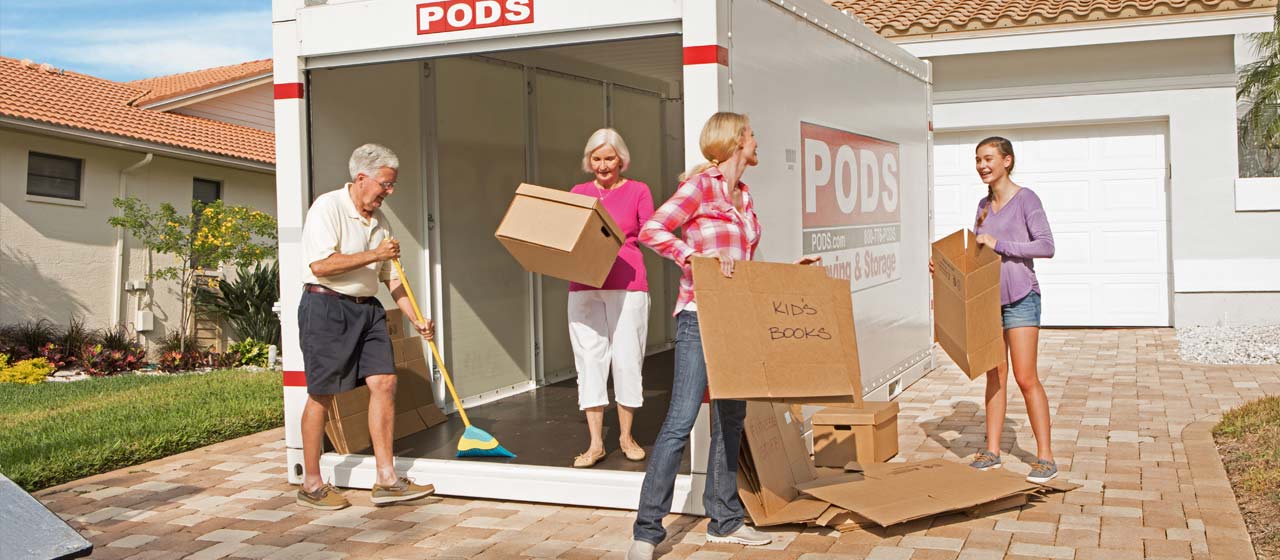 ESTIMEZ LES COÛTS DE VOTRE DÉMÉNAGEMENT AVEC PODS
La dernière chose qu'on veut pendant son déménagement, c'est une surprise coûteuse.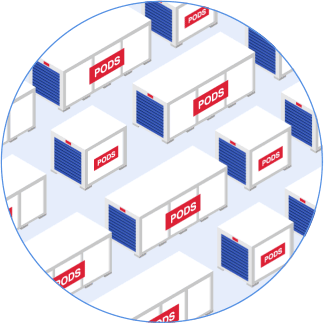 This may take up to 30 seconds.
We're searching over 200,000 containers to find you the best price.
$name
Les prix des PODS sont basés sur plusieurs facteurs, notamment le nombre et la taille de vos conteneurs, la distance, la période et la saison. Vous pouvez obtenir l'estimation la plus précise des coûts de déménagement de votre PODS en demandant un devis personnalisé.
* Prix moyens basés sur les tarifs de PODS publiés en septembre 2019. On estime qu'environ 20% des déménagement PODS se situent au-dessus ou au-dessous de la fourchette moyenne.
DEVIS DE DÉMÉNAGEMENT PERSONNALISÉ@Model.Title.HeadingType>
Découvrez combien vous coûtera un déménagement avec PODS.
How it works - moving costs
Using PODS for your local or long-distance move is a convenient alternative to hiring a traditional moving company.
First, call us for a quote and help with finding the portable containers that are best for your upcoming move (we offer 7-foot, 12-foot, and 16-foot moving containers). We'll also schedule a delivery date when one of our drivers can drop off the container at your home.
One of the major advantages of moving with PODS is time—we rent portable containers by the month, so you can pack and load at your convenience.
When moving day arrives, we'll pick up your loaded container and transport it to your destination. You can also choose to store your container at one of our Storage Centers until your new home is ready.
Finally, we'll drop off your container on the scheduled date, allowing you to take your time unpacking.
PODS Moving Container Sizes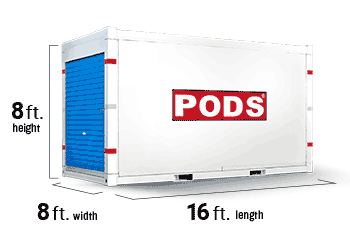 16-foot container
The largest PODS portable container measures 16 ft. x 8 ft. x 8 ft.—ideal for moving a home with 3 or 4 rooms. It can handle big moves with ease, offering plenty of space for your bulkiest items.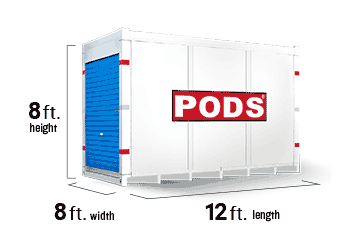 12-foot container
Our medium-sized container is well-suited for most moves, including apartments or houses with 2 or 3 rooms. The 12 ft. x 8 ft. x 8 ft. container offers the equivalent storage space of a 15-foot moving truck.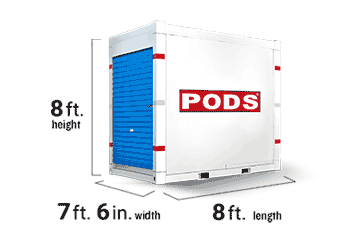 7-foot container
Don't be fooled by its size—our smallest portable container is perfect for moving a dorm room or one-bedroom apartment. Measuring
7 ft. x 7 ft. x 8 ft
., it can fit a refrigerator, two sofas, and two king mattresses with room to spare.
EXPLICATION DES FRAIS DE DÉMÉNAGEMENT PODS@Model.Title.HeadingType>
QUELS COÛTS SONT ASSOCIÉS À MON DÉMÉNAGEMENT?
Obtenir des estimations pour un déménagement est un bon début pour choisir une entreprise de déménagement. Lorsque vous comparez vos estimations, il est important de vous assurer que vous comparez des pommes avec des pommes. Alors que PODS vous donne le détail de tous les coûts impliqués dans votre projet de déménagement, d'autres compagnies de déménagement peuvent seulement fournir des estimations en omettant les coûts supplémentaires que les gens oublient souvent.
Voici quelques-uns des frais de déménagement à prendre en compte lors de la planification d'un déménagement :
Frais de location de camion

Des frais de kilométrage supplémentaires, selon la taille du camion et le lieu de la location, s'appliqueront (de 1,12 $ à 3,2 $ par km ou de 0,70 $ à 2,00 $ par mille supplémentaire).

Essence (en moyenne 0,64 $ par km ou 0,40 $ par mille*.)

Couverture d'assurance pour la location du camion

Temps de conduite du camion de location

Hébergement

Nourriture par jour

Remorquage de votre voiture

Entreposage

Frais de péage
Customer reviews
"No hidden charges, what I was quoted was what I was charged. Also, everything was on time. The pick-up, the delivery, the drivers were always between the window of time I was given. Great experience and much more affordable than hiring movers."
"We sold our house so our closing was the 13th and bought our next house in the same month and closed on the 30th. The cost to rent a truck for the two different days and a storage unit at that size would have been well over what I paid not to mention refilling the truck with gas. [Not having] to run back and forth to a storage unit was also a fantastic perk. Once we delivered the [PODS storage unit] to our new home we had the flexibility to leave it in our driveway and move things in at our leisure."
Patricia W., Sarasota, FL
"Very efficient and cost-effective way to move at our own pace! We were moving out of state to a rental property that was furnished and house hunting once we moved. We were able to store our belongings in a secure environment and waited to ship the [PODS portable container] after hurricane season to our new home! Your services and products were effortless on our part, thank you!"
"From start to finish our experience using PODS was fantastic. If we ever move again PODS will be the first company I call. It was easy and affordable! I would definitely recommend it to anyone moving."