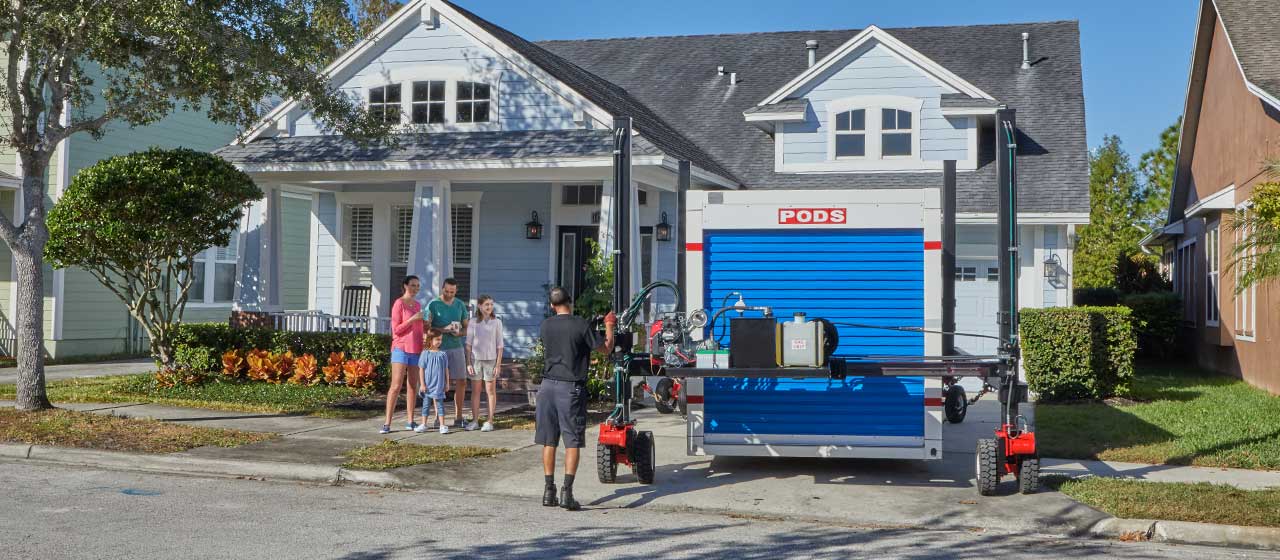 DES SOLUTIONS DE DÉMÉNAGEMENT LOCAL CONÇUES POUR VOUS
Oubliez le camion de location et les déménageurs traditionnels. Les conteneurs portables de PODS sont la solution flexible et pratique pour votre déménagement.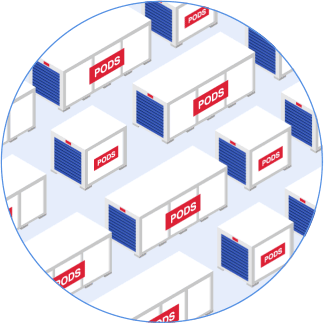 This may take up to 30 seconds.
This may take up to 30 seconds.
We're searching over 200,000 containers to find you the best price.
We're searching over 200,000 containers to find you the best price.
LES CONTENEURS D'ENTREPOSAGE PORTABLES FACILITENT LE DÉMÉNAGEMENT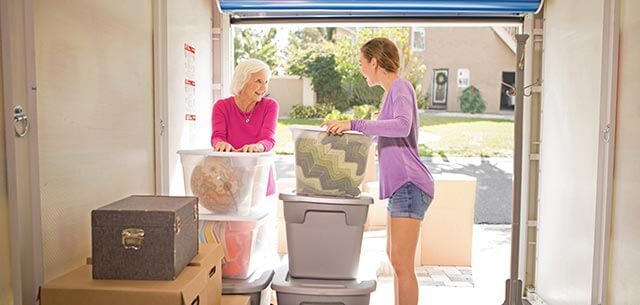 LA FLEXIBILITÉ ET LE TEMPS DONT VOUS AVEZ BESOIN
Contrairement à d'autres entreprises de déménagement local, nous pouvons déménager vos biens en une semaine, en un mois ou quand vous êtes prêt : vous avec le contrôle sur l'horaire de votre déménagement. Modifiez le rendez-vous à tout moment si vous avez besoin de quelques jours ou mois supplémentaires.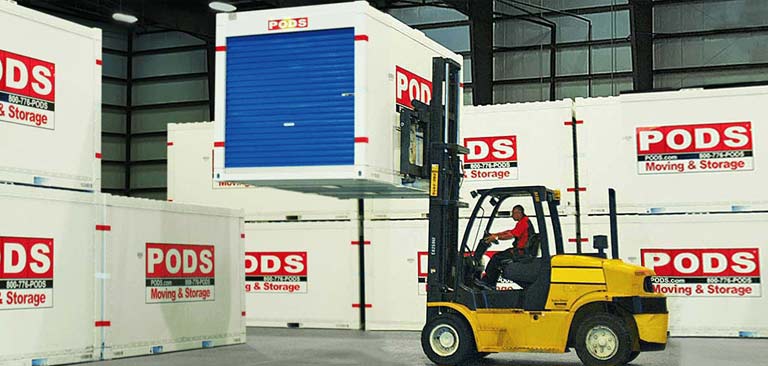 OPTIONS D'ENTREPOSAGE INTÉGRÉES
Nos conteneurs portatifs comprennent l'entreposage avec chaque déménagement, de sorte que vous n'avez pas à vous soucier de trouver un espace d'entreposage si vous en avez besoin. Gardez votre conteneur à la maison ou dans une installation d'entreposage intérieure et sécurisée de PODS à proximité de chez vous.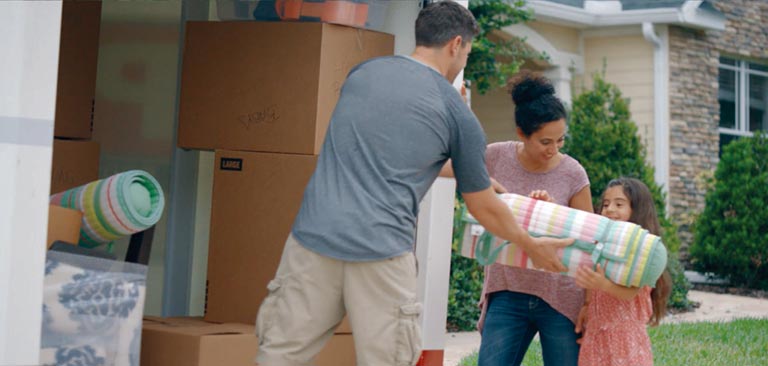 MOINS DE TRACAS ET D'EFFORTS
Il n'est pas nécessaire de louer un camion et de passer votre temps à le charger et le décharger. Nous vous livrons votre conteneur portable et vous n'avez à le charger et le décharger qu'à une seule reprise, peu importe le nombre de fois que vous déménagez vos affaires dans ou hors de l'entreposage. Une fois votre conteneur chargé, nous le livrerons à l'endroit désiré,
que ce soit à votre nouveau domicile ou dans l'un de nos centres d'entreposage PODS.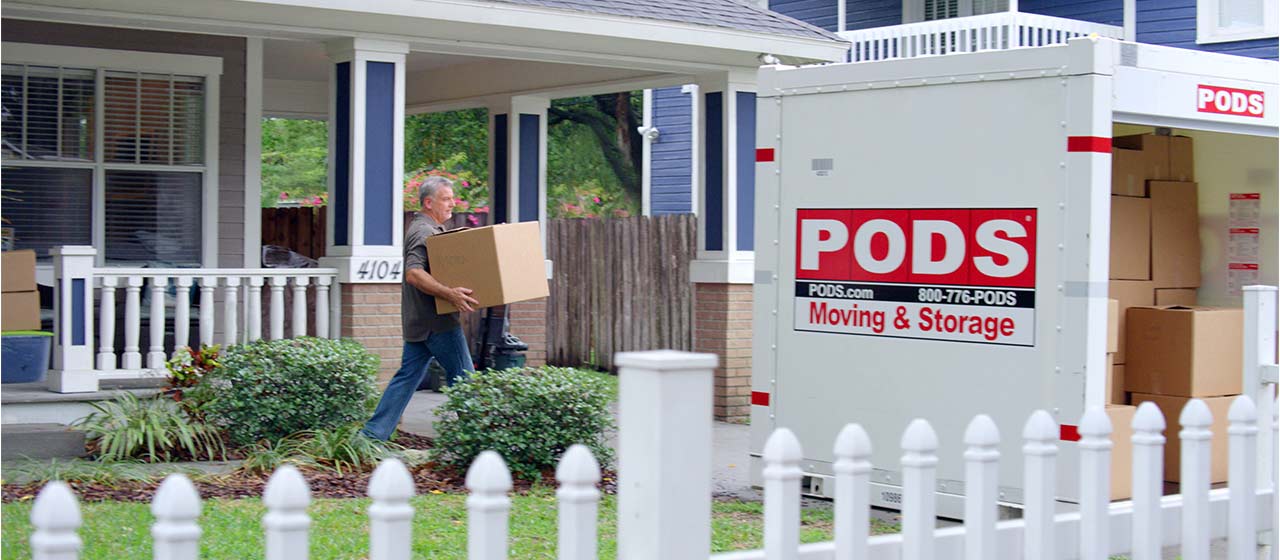 UN DÉMÉNAGEMENT PAR SOI-MÊME OU À SERVICE COMPLET SELON VOS BESOINS
Vous pouvez déménager seul (courage!) ou obtenir de l'aide pour l'emballage et le chargement. Que vous souhaitiez que tous les objets de votre maison soient emballés et chargés dans votre conteneur ou simplement obtenir de l'aide pour soulever des objets lourds, vous pouvez obtenir l'assistance au déménagement dont vous avez besoin.

CONTRAIREMENT À D'AUTRES DÉMÉNAGEURS LOCAUX, NOUS POUVONS FAIRE FACE À N'IMPORTE QUELLE SITUATION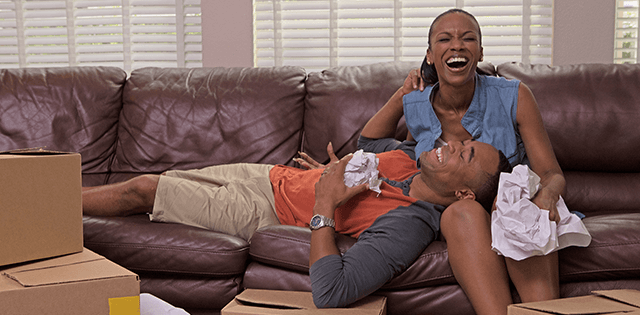 DONNEZ-VOUS UN PEU PLUS DE TEMPS
Qui a dit qu'il fallait tout déménager en une journée? Si vous effectuez des rénovations avant d'emménager ou si vous voulez seulement prendre votre temps, le service d'entreposage intégré et l'horaire flexible sont exactement ce dont vous avez besoin. Gardez votre conteneur dans votre allée et prenez votre temps pour charger et décharger vos biens, ou laissez-nous entreposer vos affaires dans l'une de nos installations d'entreposage intérieur sécuritaires jusqu'à ce que vous en ayez besoin.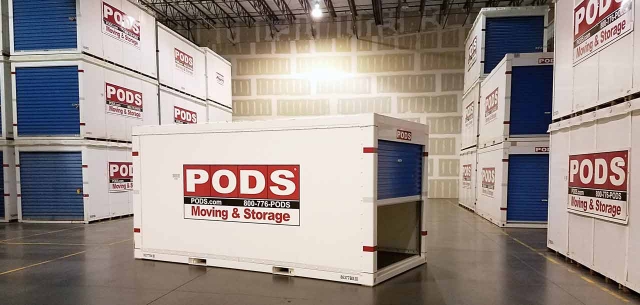 VOUS ÊTES ENTRE DEUX ADRESSES?
Dans un monde parfait, la date de transfert de la propriété et la date d'emménagement sont les mêmes. Mais en réalité, le déménagement est rarement aussi simple. Nous pouvons livrer un conteneur avec vos articles de première nécessité à votre hébergement temporaire et entreposer le reste de vos affaires dans un centre d'entreposage sécurisé de PODS situé à proximité. Nous pouvons également entreposer tous vos biens pendant que vous passez un moment agréable avec vos beaux-parents. Après avoir trouvé un nouveau domicile, informez-nous-en et nous y livrerons vos conteneurs.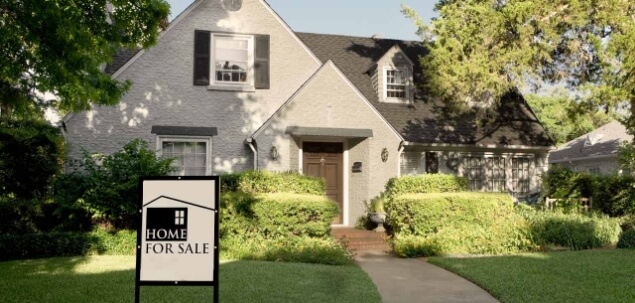 VALORISEZ VOTRE MAISON POUR LA VENTE
Préparez votre domicile à la vente avec des conteneurs portables. Videz votre maison de tout encombrement et chargez vos biens dans une unité de rangement portative de PODS dans votre allée. Nous livrerons le conteneur dans l'un de nos centres d'entreposage intérieurs sécuritaires jusqu'à ce que votre maison soit vendue. Au moment du déménagement, votre conteneur PODS sera prêt. Nous pouvons également vous le livrer pour charger le reste de vos affaires et le livrer à votre nouveau domicile.
En savoir plus sur la valorisation de maison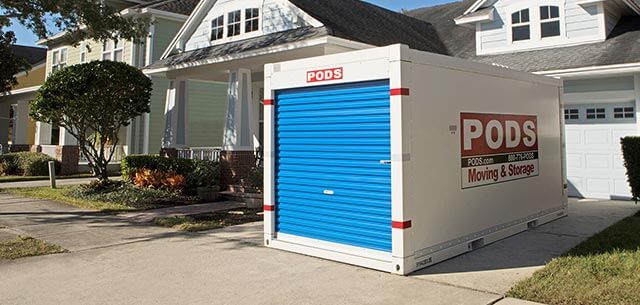 VOUS DÉMÉNAGEZ DANS UN LOGEMENT PLUS PETIT OU VOTRE MÉNAGE SE SÉPARE?
Vous organisez une vente successorale ou vous déménagez dans une maison plus petite? PODS vous offre tout le temps et l'espace dont vous avez besoin, de sorte que vous pouvez garder un conteneur dans votre allée pendant que vous décidez de ce dont vous voulez vous débarrasser. Nous pouvons ensuite le récupérer et l'apporter dans un centre d'entreposage sécurisé, le livrer à vos enfants, ou les deux.
LE BON CHOIX SI VOUS AVEZ ÉGALEMENT BESOIN D'ENTREPOSAGE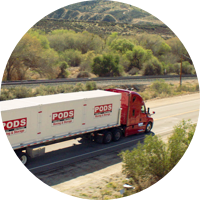 Nous apportons l'entreposage jusqu'à vous
Déménager est déjà assez stressant sans avoir à conduire un gros camion ou à payer l'essence. Pas besoin de louer un camion. Nous vous livrons les unités d'entreposage.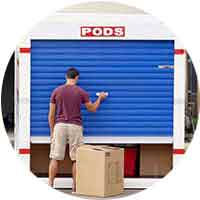 Conteneurs d'entreposage sécurisé
Nos conteneurs à ossature d'acier, robustes et résistants aux intempéries et nos installations d'entreposage intérieures sécuritaires sont conçus pour protéger vos affaires afin que vous puissiez vous détendre et vous concentrer sur toutes les autres choses que vous avez à faire.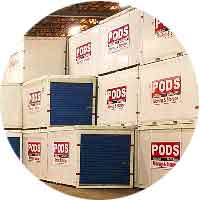 Options de location d'entreposage chez vous ou chez nous
Chaque location d'entreposage est accompagnée de trente jours d'entreposage. Gardez votre conteneur dans votre allée pour un accès en tout temps. Ou alors, nous pouvons garder vos conteneurs d'entreposage à l'intérieur d'un centre d'entreposage PODS et les livrer quand et où vous en avez besoin.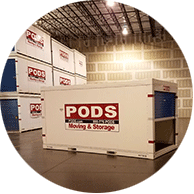 Accès gratuit et facile à vos affaires entreposées
Vous avez besoin de récupérer quelques objets dans votre conteneur au centre d'entreposage? Pas de problème. Accédez gratuitement à vos affaires aussi souvent que vous le souhaitez. Prenez rendez-vous et nous préparerons votre conteneur.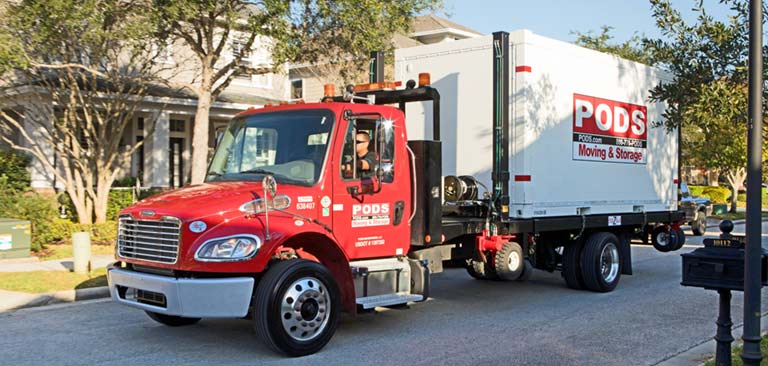 CONTENEURS D'ENTREPOSAGE PORTABLE PODS C. DÉMÉNAGEMENT LOCAL AVEC UN CAMION DE DÉMÉNAGEMENT
Nous nous occupons de la conduite.


Vous n'avez à charger et à décharger vos biens qu'une seule fois, peu importe le nombre de fois où vous devez déplacer vos affaires.


Besoin d'un espace entreposage dans le cadre de votre déménagement? Vous n'avez pas besoin de louer un camion plusieurs fois pour transporter vos affaires. Gardez votre contenant chez vous aussi longtemps que nécessaire, ou nous le conduirons à l'une de nos installations d'entreposage intérieur.
Comparer PODS aux camions de déménagement
LE BON DÉMÉNAGEMENT
« Tout ce que vous avez dit que vous feriez, au moment et au prix indiqué, a été absolument fait comme promis! Après avoir lu des commentaires dignes d'un cauchemar sur des entreprises de déménagement à service complet, je suis si contente d'avoir opté pour PODS! »
« J'ai demandé des devis à des entreprises de déménagement traditionnelles et leurs services étaient tous bien trop chers. J'avais également besoin d'un espace pour entreposer mes affaires… Une unité d'entreposage traditionnelle aurait pu fonctionner, mais j'aurais dû y apporter toutes mes affaires et ma voiture n'est tout simplement pas assez grande pour tout transporter. Avoir le [conteneur PODS] juste à l'extérieur de la maison était essentiel... donc c'est un service tout-en-un parfait pour mes besoins. »
« Nous avons eu recours à des entreprises de déménagement dans le passé et nous n'étions pas satisfaits de cette expérience. Nous avions besoin d'un service qui nous permettrait de déménager nos biens sur de longues distances, tout en étant rentable et nous donnant la possibilité d'entreposer nos biens sans avoir à décharger et à déplacer plusieurs fois les boîtes. »
What costs are associated with moving?
In addition to getting all your stuff moved from one place to another, there are other costs that may be involved in your local move. Taken individually they may not seem like much, but together they can add up to make local moving more expensive than you might expect:
Moving service costs, which can vary significantly depending on your moving solution (traditional full-service mover, rental truck, or portable container).
Packing and loading hourly labor if you're using a portable container or rental truck and want help with the heavy lifting.
Boxes, bubble wrap, and other packing supply costs can multiply quickly.
House cleaning or handyman services for your current home or new home.
Storage unit or storage container rental in case your next home isn't ready or you're downsizing.
Some moving truck companies carry fuel surcharges.
Utility deposits and connection fees may be required for your new place.
Replacing everything you don't move but need — like food, cleaning products, toiletries, and other essentials.
You may wish to purchase insurance from your local moving company to cover your belongings.
If you're renting, application fees, apartment deposits, pet deposits, and the last month's rent may be required.
Looking for ways to save on local moving expenses? Learn how to avoid hidden moving costs and how to cut costs while moving.
How do I budget for moving?
No two moves are alike and there are many variables that affect costs, even for local moving. Before you start calling local movers for estimates, consider these factors and how they may affect your moving budget:
What type of local moving companies and services are best for your needs (portable moving container, full-service mover, or rental truck)?
Do you need storage as part of your move?
Do you plan to hire professional packers or loaders to help?
What time of year are you moving? (You'll find the lowest local moving rates from October through April.)
How far away is your new place? (Local movers may charge for driving time or mileage fees.)
How much stuff will you be moving?
Do you have stairs, elevators, or extra heavy items? (Local moving companies sometimes add charges for these.)
How much does a local move cost?
There's a wide variation in how much it costs for a local move, as it depends on the area, how far you're moving, how much stuff you're moving, storage needs, and how much you do yourself, among other factors. You'll even find quite a wide range of pricing among local movers in your area. That's why getting multiple estimates from local moving companies is the only way to get accurate costs for budgeting and comparisons. Be sure to look beyond the "specials" in Google listings to get estimates for your specific move and details on exactly what's included. With all that in mind, here are some general guidelines on costs for local moving for your three main types of moving solutions – portable moving containers, full-service local movers, and rental trucks:
PODS Moving and Storage Container: $299 to $499* for local moves:
Pricing depends on distance, your area, and container size and quantity needed to hold your belongings. An estimated 20% of PODS moves fall above or below this average range based on these variables.
What's included: Container delivery and pick-up for both your current and new home, as well as 30 days of built-in storage, so you can take your time loading and unloading or even store your stuff at a PODS indoor storage facility near you.
What's not included: Loading, unloading, packing, or unpacking. Referrals to trusted packing and loading professionals are available.
How it works: We deliver your container, you take your time loading, and we pick up your container, and deliver it to your new home. You schedule the pick-up and delivery dates that work best for you. If your new home isn't ready, you can keep your items in storage on a month-to-month rental basis at a PODS Storage Center without extra loading and unloading.
Why choose a container service for local moving? Moving containers work especially well for local moves where you need to combine moving and storage to accommodate home staging, remodeling, a delay in moving into your new home – or just want more time, flexibility, and control over your moving process.
Full-Service Move: $1,250* for local moves:
Pricing for local moves works differently than with long-distance moves. Local moving companies typically charge by the hour, with costs varying based on your area, distance, and the number of moving professionals needed to help. Some companies add the travel time to get to your existing home in addition to time spent driving to your new home to their hourly charges.
What's included: Loading, unloading, and transport
What's not included: Storage, packing and unpacking, and gratuities. While packing and unpacking can be added, many movers don't offer storage. If storage is available, the cost can be a lot higher than you'd expect to pay at a self-storage facility, and you may also need to pay for extra time for unloading and loading your stored belongings.


How it works: Traditional local moving companies come to your home, load your stuff onto their truck, transport, and unload everything into your new home. Everything takes place on the same day, with little flexibility once you've scheduled your move date.


Why choose a full-service mover for local moving? Full-service moving companies can be a viable option for local moves if you're not worried about costs, can handle moving everything in one day, want someone else to do all the heavy lifting, don't need storage or flexibility with your move date, and are comfortable with others taking control.
Rental Truck: $155* for local moves:
Pricing depends on truck size, mileage, gas, and incidental fees.
What's included: One-day rental for a truck that you pick up and return.
What's not included: Driving, potential fees for late return, additional rental days if needed, loading, unloading, packing, unpacking, and storage.
How it works: You pick up the truck at their location, drive it to your home, load it up, and drive the truck to your new home. After you unload your belongings, you drive the truck back to the dealer's location. If you also require storage, you'll need to pay for a storage unit rental as well as another potential truck rental to move your stuff into your new home, in addition to loading and unloading multiple times.
Why choose a rental truck for local moving? Rental trucks can work well if you're on a tight budget, are moving a small household, don't mind driving a large truck, don't need storage, and can handle making your local move in one day.
* Averages based on estimates from PODS rates published September 2019, Moving.com, and HireAHelper.com
How much does a moving container cost?
If you're considering a moving and storage container for a local move, each company handles pricing differently and costs vary based on your area and unique needs. Local moving costs with PODS average from $299 to $499*, including one-month container rental/storage time, delivery to your existing home, pick-up, and delivery to your new home.

PODS local moving costs depend on factors including:
Geographic location
Duration and season
Size and number of PODS containers needed
Storage needs(you can store your container in your driveway or at a secure indoor PODS Storage Center)
You can get the most accurate estimate of your local moving costs with PODS by requesting an instant online quote.
* Averages based on estimates from PODS rates published May 2019
Will moving companies store your stuff?
Most traditional moving companies don't offer storage, which is a big reason why people who need storage as part of their local move opt for portable moving containers. If a local mover does offer storage, it can be expensive. PODS reinvented the moving and storage business over 20 years ago because so many people need the flexibility of built-in storage, whether they're making a local move or moving long distance.
Can PODS containers be stored?
Absolutely! You always have the option of storing your portable moving container either on your property or in a PODS secure Storage Center, even if that wasn't part of your original plan. You don't need to worry about driving a big truck or loading and unloading your stuff over and over. Once your container is loaded, PODS will pick it up and take it to an indoor storage facility nearby, where it's easy to access your stuff if you need to. When you're ready, you just have PODS deliver your container where it needs to go.
Can you hire movers without a truck?
Yes, it's easy to hire local movers by the hour just to load or unload your truck or moving container. You can get help with packing and unpacking, too. Using à la carte moving services is usually less expensive and more flexible than hiring a full-service local moving company because you only pay for the help you need, when you need it. To learn more about packing and loading assistance, you can contact a trusted PODS partner.
Let's Get Started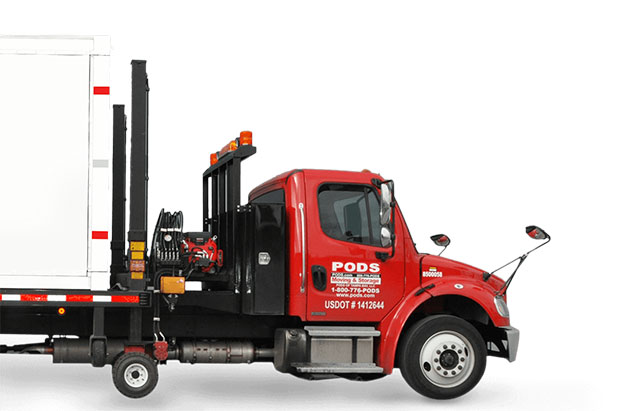 Choose the service you need.