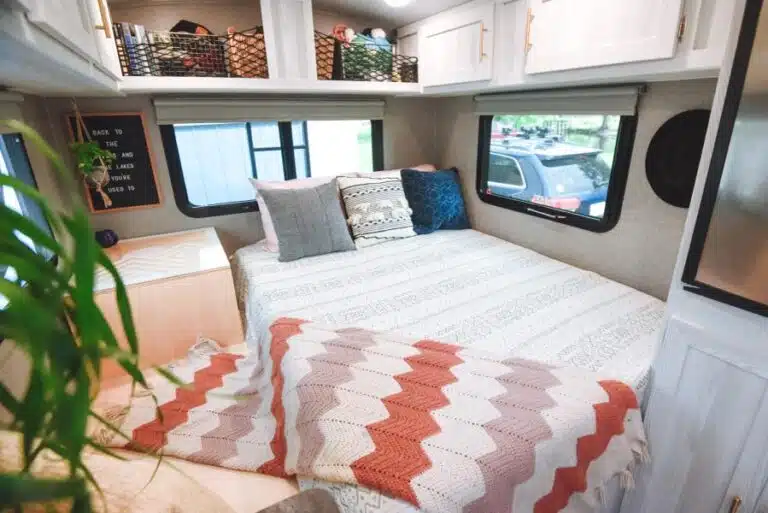 Travel In Style With These Quick And Easy RV Bedroom Remodel Ideas
So you've just purchased an RV and are planning your first adventure. Before you can hit the open road, though, it's time to address the elephant in the room — or, should we say, the floral patterned bedspread in the room. Your RV's bedroom is a little dated and could use a makeover, but you're not sure how much change can really happen in such a tight space. Well, we're here to set the record straight on that RV bedroom remodel that's in your future.
When it comes to an RV bedroom remodel, there are so many ways to maximize style (and function), even when you're dealing with an area that can hold little more than a bed. We've got RV remodeling ideas for any budget, and the best part is that much of it can be done yourself in record time. Let the adventure begin.
Start with your bed
When handling an RV remodel, it's important to focus on the purpose of each area, then design around that feature or function. Obviously, the bedroom is your spot for rest, relaxation, and recharging, so that means planning the design around your bed type. You may be surprised to learn that you have more than one option when it comes to selecting an RV bed. Here are some choices to consider depending on your situation:
Single Sleeper
Folding RV beds easily fit into the wall, freeing up more coveted floor space. Some models even come with a sofa underneath. Double duty is a definite win-win when it comes to RV furniture.
Traveling with a Crew
Whether you've got kids or roadies, stacked bunk beds and overhead bunks are great for accommodating multiple sleepers. Install curtains for a touch of light-blocking privacy.
Traditionalist
Keep in mind that your RV bed may be a little different from your bed at home. RV mattresses are usually shorter than traditional mattresses, and some have rounded corners. They're made for the smaller spot and designed accordingly. If you want a queen or full mattress, you'll need to make sure you can accommodate the size, height, and weight. Measure your sleep space carefully to figure out the best fit.
Insider Tip: Space is already at a premium in any RV, and especially in older campers. You may find yourself lacking in elbow room if you take on an RV bedroom remodel without a place to put everything. If that's the case, remember that you can have a PODS portable storage container delivered right to your driveway for remodeling projects. The container is built to protect RV furniture and fixtures, as well as your tools and materials. Keep everything together and within arm's reach, and keep the container for as long as you need. When you're all done, PODS will pick it up for you.
Once you've selected a bed style, it's time for the best part: new RV bedding. If you're using an RV-specific mattress, you'll probably want to get your sheets from a company that specializes in RV bedding. But you can have a little more freedom and fun with your bedspread and comforter. Use a colorful patchwork quilt for a pop of color or go with creamy whites for a hotel or spa-like feel. Don't forget the decorative throw pillows!
Perk up your walls
If your interior RV walls haven't been repainted in years, now's the time. A fresh coat of paint can do more than freshen up the space — it can actually make the room look bigger. Lighter neutral hues reflect the natural and artificial light, opening up the space visually. But don't feel like you can't have any fun just because you're working with tight quarters. Try an accent wall with a bright color or textured material like shiplap to give the room some depth and dimension. And if you like instant design gratification, there are some peel and stick RV wallpaper options that look incredible for a fraction of the price — and installation time — of traditional glued-on wallpaper.
Q: What do I need to do before painting my RV bedroom walls?
A: Painting is all about prep work. Don't go into your RV and start coating the walls immediately. Instead, use putty on any holes or flaws and sand the walls before you put on the primer and paint. For best results, use two coats of primer and two coats of paint. Voila!
Once the painting is done, it's time for some wall decor. No, you probably don't have room for that large family portrait, but that doesn't mean you can't add a sentimental touch. Take some pictures of your travels or favorite destinations, then upload to a picture app like Mixtiles for tile-shaped mementos that can stick right to the wall.
Let there be light
Since lamps can be tough to accommodate in an RV, this means you're likely dealing with old light fixtures. For a quick and easy RV lighting upgrade, get rid of any outdated yellow bulbs and replace them with LED lights. For extra credit, take out the old fixtures and install geometric sconces or a small chandelier. It'll give your bedroom a polished and elegant look without taking up much room.
Consider every corner
Since you're dealing with a tiny bedroom, it's important to think about the design and storage possibilities for every single square foot to make the most of your space (and, yes, we're talking about more than the floor).
While you won't be able to fit your entire wardrobe in your RV bedroom's closet, you can probably accommodate more than a suitcase worth of clothing if you rely on some clever storage options.
Try a slim shoe cabinet instead of throwing shoes on the closet floor. IKEA has some great options that are sleek, modern, and affordable.
Put plastic bins or drawers under your bed for clothing and personal items. Or, take bed storage to the next level by putting lift supports underneath your mattress, which allow you to raise and lower the mattress and use the entire space underneath.
Make the most of your wall space. Where possible, install shelves or a vertical storage system. Your wall is a great place to hang a television and built-in speakers, too.
Get creative with your bed's headboard. Sure, upholstered options are pretty, but ones with built-in shelves and cubbies are great for books, decorative items, and a small lamp.
And, the most important tip of all, remember that design doesn't stop after the remodel. To keep your RV bedroom looking fresh, you'll need to declutter at regular intervals. Excess stuff can detract from the style and function of the biggest of bedrooms, but, in a small space, it really causes a problem. If you need some help finding the best way to handle the job, the PODS blog has some tried-and-true purging tips from organizational and minimalist pros.
Traveling far from home shouldn't mean straying from your preferred level of comfort and style. These RV bedroom remodeling ideas are just a few ways you can add a personal touch to your new home away from home. As you explore the open road, you can explore new ways to express your creativity in your living space. Happy travels!
---
LB Gabriel is a freelance writer who lives with her husband, daughter, and Golden Retriever in Memphis, TN. A frequent PODS blog contributor, she's a sucker for any tip she can find on downsizing, cutting clutter, or minimalist living. When she's not on a deadline, you can find her on a tennis court or golf course.
Get a Quote
Choose the service you need
Comments
Leave a Comment
Your email address will not be published. Required fields are marked *