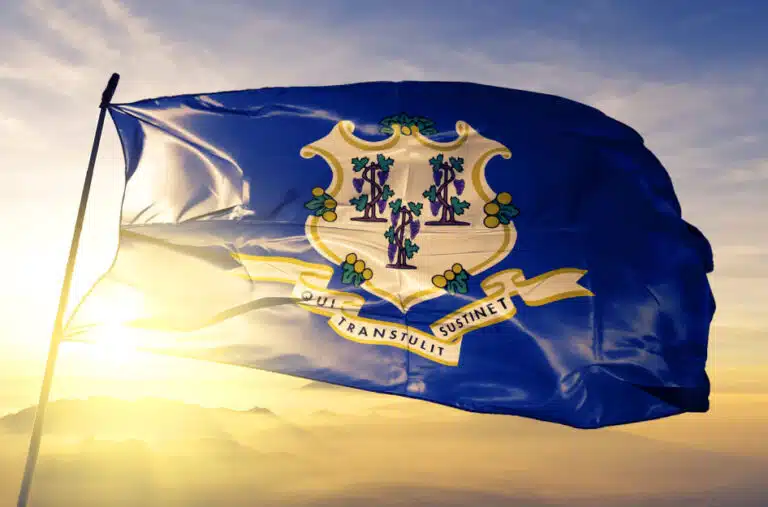 Find Your Own Stars Hollow in One of the Best Small Towns in Connecticut
If you love the idea of moving to a place that has a great quality of life, a variety of affordable housing options, easy access to major cities, and plenty of natural spaces to explore, then you've got to consider moving to Connecticut. Although it's the third smallest state by area, Connecticut definitely packs a big punch when it comes to wonderful areas to call home. 
From 2016-2020, approximately 109,000 people moved into Connecticut, mostly from New York City, other areas in New York, Massachusetts, and also from outside of the country. Drawn by the lower costs of living, job opportunities, schools, and cultural amenities, it's easy to see why people are choosing Connecticut as their next home. 
Although Connecticut does have its share of larger cities (Bridgeport, Stamford, New Haven), where the Nutmeg State really shines is in its variety of quaint small towns dotted throughout the state. Residents of these small towns enjoy easy access to large metropolises like Boston and New York City but without the large expenses, traffic, and crime that can come with them. So whether you're considering a move from a larger city out of state or are just looking for a slower pace of life, why not consider one of the best small towns in Connecticut?
Big City Living vs. Small Towns in Connecticut
When you choose a small Connecticut town over a larger city, you don't have to sacrifice all the amenities you're accustomed to. In fact, you'll enjoy a better balance because you'll still be close enough to a big city but get to enjoy quiet small-town life, as well!
In a small Connecticut town, you can say goodbye to intense traffic jams, high costs of living, lack of affordable housing, and higher rates of crime. In return, you'll get:
Close-knit communities
A family-friendly focus
Less congestion
Access to more outdoor activities
Larger space for the money
An increase in safety
Small Towns in Connecticut - FAQ
Q: What is the best town to live in CT?
A: One of the best small towns to live in Connecticut is Mystic, which is known for its charming New England coastal appeal and the famous Seaport Museum.
Q: What is the quietest town in CT?
A: If you're looking for a quiet place to settle down, consider Colebrook, CT.
Q: What small towns in Connecticut are like Stars Hollow?
A: Fans of the TV show Gilmore Girls (and anyone looking for a pretty Connecticut town) should look into small-town living in Essex or Washington.
Cute Small Towns in Connecticut Waiting for You to Call Home
In no particular order, these are our best small towns in Connecticut — perfect for anyone and everyone. Although the U.S. Census designates small towns as those with populations of 5,000 or less, we've included towns with populations up to 15,000.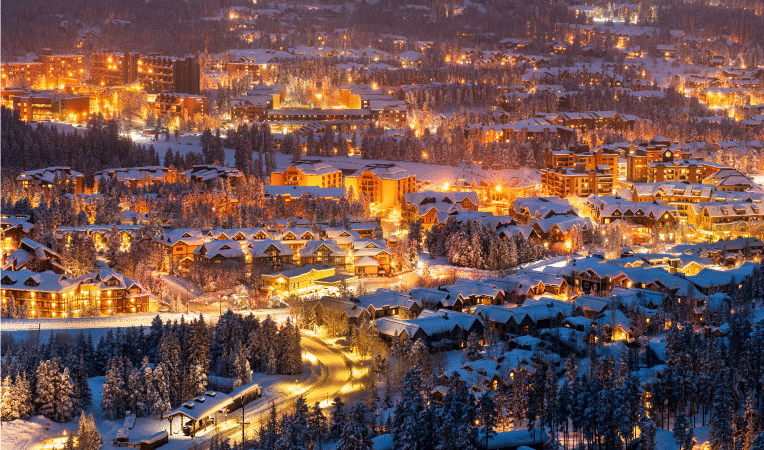 1. Niantic, CT
Niantic is a small coastal town in Connecticut that sits on both the Niantic Bay and the Niantic River. It's safe to say, if you always wanted to live close to the shore, this is the town for you. It's easy to spend time on the water, whether you want to boat, fish, kayak, canoe, or water ski. And everyone knows each other in this community, so you'll have ample opportunities to get to know your neighbors as a resident. 
As a local, you'll find it easy to fit into the coastal lifestyle. You'll be swimming at McCook Beach and enjoying fresh seafood at places like Skipper's Seafood in no time!
2. Essex, CT
Essex comes with all kinds of little shops to explore as you take in the quaint charm of its downtown, which includes lots of historic buildings. It's a safe and family-friendly town that boasts of plenty of parks and beautiful places to walk or ride a bike.
You'll love grabbing a bite in the Griswold Inn and enjoying all the New England charm you've ever wanted. Essex also offers cultural amenities like the Connecticut River Museum and the chance to explore the area on the Essex Steam Train. With concerts on the Ivoryton Green and ample opportunities to get out on the water, you'll love the small-town appeal.
3. Burlington, CT
Located just 30 minutes outside of Hartford, Burlington offers residents the perfect mix of small-town life with easy access to the bigger city.
Many folks work in Hartford and enjoy coming home to this cute town, and families love the safe neighborhoods. Since they see very little traffic, they're perfect for walks, bike rides, and runs at almost any time of the day. The town also offers fantastic views of the northwestern hills and gives residents that small-town feel lots of people are looking for.
Burlington has a variety of trails to check out, as well, where you can enjoy bird watching or just spending time with loved ones enjoying the natural scenery (especially in autumn). When you're done outside, make sure to fill up at the Greenhouse Cafe & Tavern or Sabrina's Restaurant.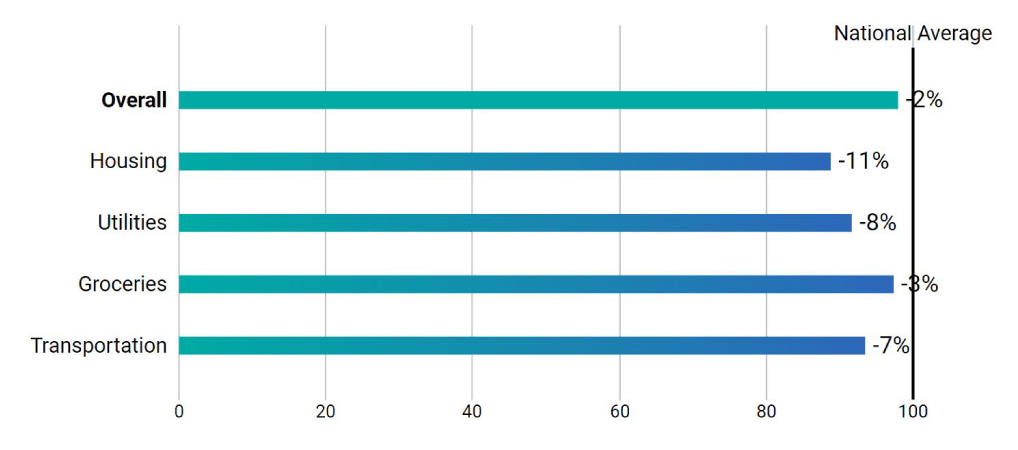 4. Cornwall, CT
Whether you have a family or you're looking to start one, you can't do much better than the western Connecticut town of Cornwall. This quiet area is home to all kinds of outdoor opportunities, like Housatonic Meadows State Park or Wyantenock State Forest, where you can hike and bike along the trails. The rolling hills and easy access to natural areas give kids the chance to get out and explore.
Adult residents will love skiing in the winter and river rafting in the summer, but everyone can enjoy the leaves in the fall. And after visiting the West Cornwall Covered Bridge, make it a point to stop in and check out RSVP restaurant or Frank Food Co.!
5. Chester, CT
Average rent (one-bedroom): N/A
Average home value: $431,200
Chester is an artsy small town in Connecticut that offers residents a welcoming, tight-knit community. It's located along the Connecticut River and boasts of a downtown area full of boutiques, galleries, antique shops, and locally owned restaurants.
You can be in state parks exploring the trails or out on the water enjoying boating or kayaking in no time at all.
The public school system is also highly regarded, making it great whether you want to raise a family or are looking to retire.
6. Washington, CT
This small Connecticut town served as inspiration for the fictional town of Stars Hollow in Gilmore Girls. Not only is this cute area full of quaint New England charm, but it's also close to NYC! You can be in the Big Apple in a little over two hours, which is great for those who like working in the city but don't like the high cost of living. 
You can also enjoy all the delights that western Connecticut has to offer, including lots of time outdoors. Two popular spots with locals are the Steep Rock Preserve and Mount Tom State Park. And there's also Lake Waramaug and its pristine camping facilities. If you really want to experience all this quaint, close community has to offer, spend some time getting to know your new neighbors at Luke's Diner or The Hickory Stick Bookshop.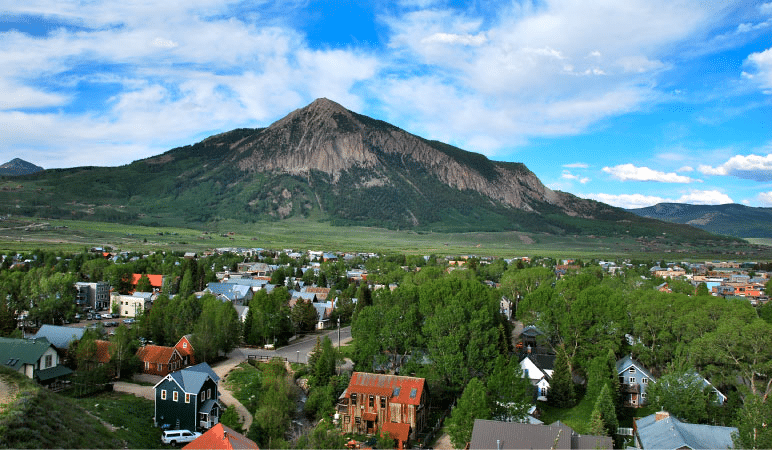 7. Mystic, CT
Mystic is a coastal town in Connecticut that's great for retirees. It's also the spot where screenwriter Amy Jones found inspiration for the 1980s film Mystic Pizza! You'll love the slower pace of life that permeates throughout this small town and enjoy lots of opportunities to get out on the water. Whether you want to take up boating, kayaking, swimming, or canoeing, you can do it all in Mystic. 
Residents also love the town's New England charm and history, which can be seen at the Mystic Seaport Museum and the Olde Mistick Village. It's also the perfect spot to call home if you're a fan of seafood, as there's always fresh fish, oysters, and other fruit of the sea coming in on a daily basis. Make sure you check out The Mariner or the S&P Oyster Restaurant and Bar for the catch of the day.
8. Colebrook, CT
Colebrook is located in north Connecticut, close to Massachusetts. If you're looking for a quiet, rural escape and the chance to have lots of space, this could be the small town for you. The natural beauty is unparalleled here, and as a resident, you'll have plenty of opportunities to get active and experience the outdoors.
Whether you want to explore the hiking trails of Algonquin State Forest or enjoy boating or fishing on Colebrook River Lake, if you enjoy the peace and quiet of nature, this place is a great option. 
Although stunning all year, you'll have lots of chances to see the fall foliage in Colebrook, thanks to its hilly terrain. Make sure to take in the views from the Gaylord Pond Dam!
9. Kent, CT
If you're looking for a place to get away from the hustle and bustle and relax in nature, Kent should be on your list of small towns. Located close to the New York border, this idyllic spot is only a little over two hours from New York City and a little under an hour and a half from Hartford. Spend the day at Kent Falls State Park and take in the views atop one of its many waterfalls — a great spot for bringing a picnic or just enjoying the area on foot via the trails. 
Families love the small-town feel of this spot, and residents work to create a welcoming, safe environment for all. Be sure to stop into the popular Fife 'n Drum Restaurant!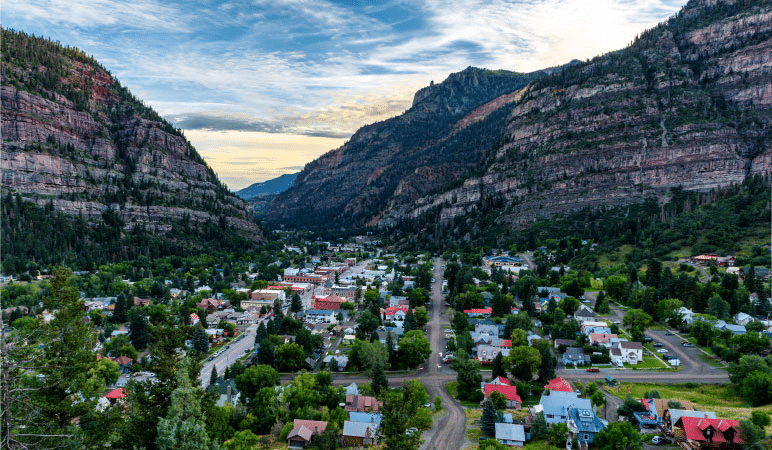 10. Old Saybrook, CT
Another fantastic coastal Connecticut town is Old Saybrook. This town was once home to actress Katharine Hepburn, whose legacy is apparent in the cultural arts center that bears her name and houses performances and exhibits of all kinds. Another interesting part of this town is the lighthouse that's located on Lynde Point, which draws visitors all year who marvel at the pristine natural beauty of the coastline.
Rocky Neck State Park and Harvey's Beach offer folks a place to get out and experience the outdoors first hand. And foodies will rejoice knowing there are all kinds of small restaurants to try like Liv's Oyster Bar & Restaurant and Little Pub of Old Saybrook.
11. Woodbridge, CT
Average rent (one-bedroom): N/A
Average home value: $571,000
Located just a short drive from New Haven is the quiet town of Woodbridge. This is the place to be if you're working in New Haven but want more space, less crime, and a less expensive way of life. Surrounded by beautiful wooded areas, you'll enjoy green spaces throughout the town, such as Alice Newton Street Memorial Park, Sperry Falls Park, Elderslie Preserve, and the Old Derby Trail. 
If you want to raise a family, you'll be happy to know the schools in Woodbridge are top notch. To get a taste of bigger city life with an amazing array of shops, restaurants, boutiques, and bars, New Haven (and the Yale campus) is less than 20 minutes away!
12. Litchfield, CT
Litchfield is a quintessential New England town that takes pride in its history and has a welcoming and safe community. The famous author and abolitionist Harriet Beecher Stowe was born here, and it is also home to the first law school in the country. 
Residents enjoy being close enough for day trips into New York City (just under 3 hours) but far enough away to enjoy the pristine countryside. If you love getting out and exploring, you'll enjoy visiting Topsmead State Forest and trying out new spirits at the Litchfield Distillery.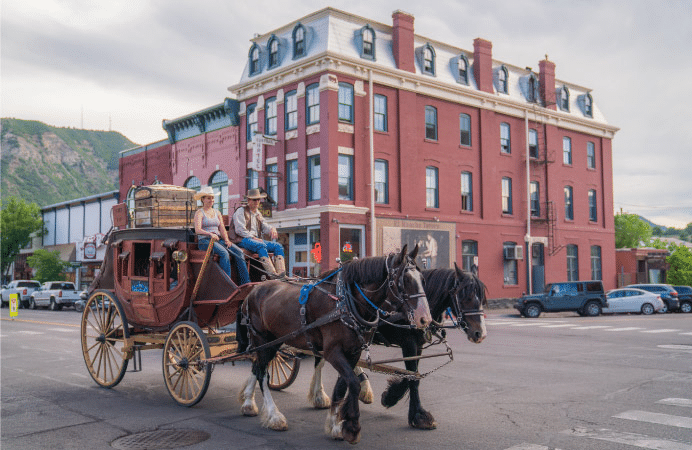 Decided on a small Connecticut town for you? PODS can help with your move!
When you're ready to move to Connecticut, let PODS help you out. Simply have a portable moving and storage container delivered to your place and take all the time you need to load it up. Once it's ready, PODS will pick it up and either deliver it to your new Connecticut home or keep it in a secure PODS Storage Center until you're ready to unpack!
---
Editor's note: Monthly rental prices were rounded to the nearest $25 and home values were rounded to the nearest $100 for ease of reading.
Get a Quote
Choose the service you need
Comments
Leave a Comment
Your email address will not be published. Required fields are marked *