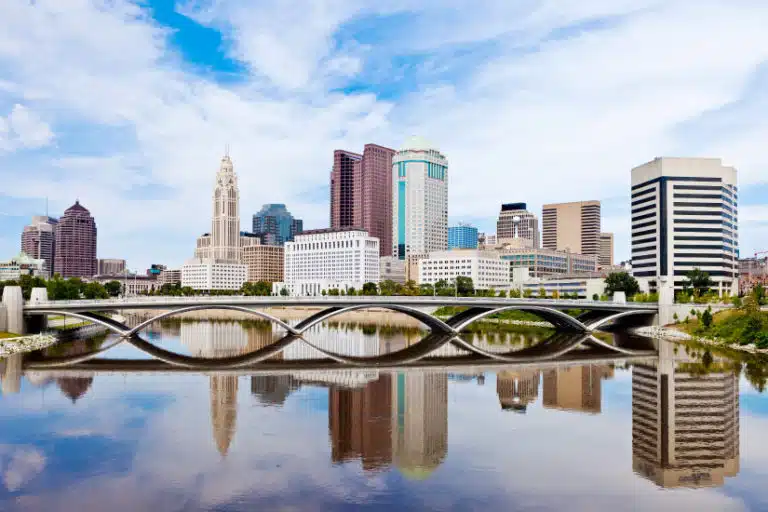 Making the move to Columbus, OH? Check out our guide to the best Columbus neighborhoods
Planning a move to Columbus, OH? Columbus might just be one of America's biggest sleeper hits. In the 1980s it was still considered a "small town," but Ohio's capital city has been making moves over the past decade or so, offering big city vibes and amenities. It's estimated that the population increased nearly 14% between 2010 and 2019, according to the U.S. Census Bureau.
Love a good food scene? It's here. Want your pick of diverse neighborhoods — from fancy to artsy to historic to low-key? All here. Great family-friendly activities? Here. Long summers, short winters, and gorgeous fall foliage? Yep, Columbus has 'em all. No wonder this city draws everyone from millennials to young professionals to families.
The city may boast several nicknames — CapCity, Indie Art Capital, Arch City, and Cbus, to name just a few — but however you ultimately decide to refer to Columbus, we think you're going to love calling it home. So, without further ado, let's get you acquainted with your new city by taking a closer look at the best Columbus, Ohio, neighborhoods to live in (at least, in our humble opinion).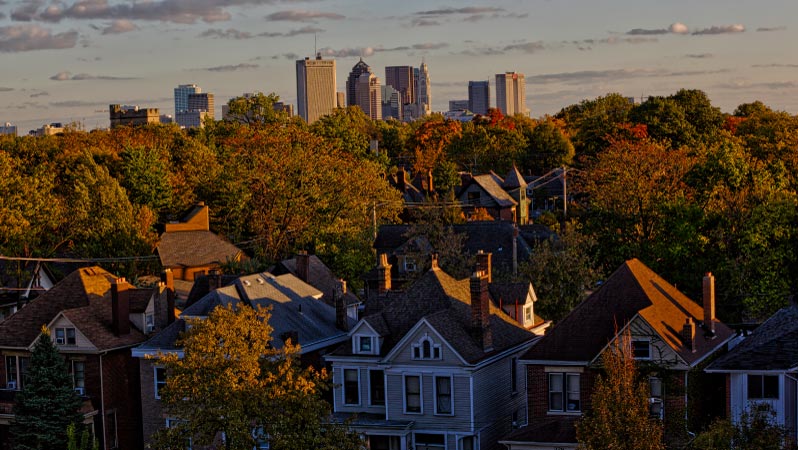 What are housing costs like in Columbus, OH?
If you're curious how much it costs to live in Columbus, especially compared to the national average, you've come to the right place! For a frame of reference, the national average rent in the U.S. is $1,482 per month according to RENTCafé (as of August 2021), while the national typical home value was about $299,000 as of July 2021 (an increase of 16.7% over the previous year).
According to Zillow, the typical value of a home in Columbus (as of July 2021) is about 29% lower than the national typical home value, coming in at about $211,600 — though prices showed a higher year-over-year increase (18.4%). You'll catch even more of a break when it comes to rent, which, at an average of $1,035 per month as of August 2021, runs about 30% less than the national average.
Six of the best Columbus neighborhoods
Spanning more than 230 miles, there are a lot of neighborhoods in Columbus to consider, though only a handful made the cut for this guide. To help you find your perfect spot (or at least get you started on your search), we're sharing the details of the best Columbus neighborhoods and breaking them down by vibe, housing types and costs, things to do in the neighborhood, quality of schools, and more. Ready to dig in?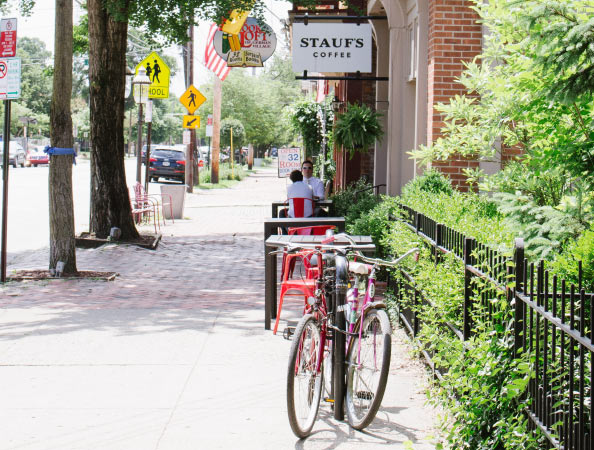 German Village
A five-minute drive south of Downtown Columbus and across Interstate 70, German Village is known for its painstakingly restored brick buildings that date back to the area's mid-1800s settlers from — you guessed it — Germany. This walkable neighborhood is flush with charm and photo ops, and sports a vibe straddling the line between urban and suburban. A great nightlife scene and proximity to downtown make German Village popular with young professionals, while its below-average public schools keep it from being a first pick for families.
Plenty of buildings in Columbus stretch high in the sky, though you won't find any higher than three stories in German Village. The typical home value in this neighborhood is just shy of $488,500, as of July 2021. Homes start around $200,000, but most list for closer to the typical home value (or edge upwards toward $1 million). Expect single-family homes that go big on character and lot size. Rentals in German Village are higher than the city average, coming in at about $1,340 a month, as of August 2021. More than half of the rentals here go for between $1,000 and $1,500, but you can definitely find some for less (and some for more).
Whether you end up living here, walking The Brickline — a self-guided, 12-stop historical tour around Beck Street — uncovers the neighborhood's history through its beautiful brick buildings and is an absolute treat. Other things to do in the neighborhood include off-leash dog walks and trail hikes or runs in Schiller Park, grabbing some seriously tasty chocolate treats at Schmidt's Fudge Haus, and perusing Keny Galleries' nationally recognized American art collection.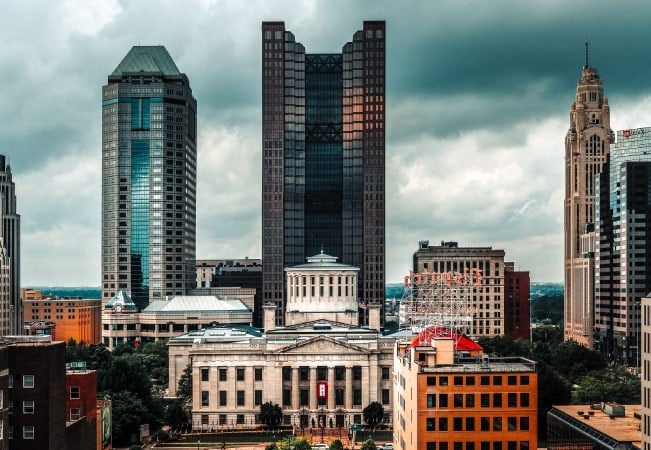 Downtown Columbus
Downtown may be one of Columbus' biggest up-and-coming neighborhoods, but it wasn't that long ago that it was a dead zone. Folks who live here love the food options, walkability, and diversity that comes with downtown living. As the city's central business district, government seat, and cultural center, the vibe here is business-meets-pleasure, and residents like to work hard, play hard, and eat well. Plus, transportation options are plentiful — you're 10 minutes from the airport, surrounded by four interstates, and can even get around by bus, bike share, or scooter.
However, living in the city's entertainment, culture, and business hub comes with high housing costs. Listing prices here are usually higher than the city and national average, and Zillow puts the typical home value in the area at around $327,900 as of July 2021 (with a year-over-year appreciation of just under 8%). As expected, most offerings are condos and high-rise apartments sporting modern amenities and city-sized square footage. Monthly rent in Downtown Columbus averages about $1,460 with the majority of rentals going for $1,000 or more, as of August 2021.
If you don't end up living downtown, you'll likely be here often — even if it's just to feed your face at the famous North Market, a 145-year-old covered market with more than 50 vendors sharing the best food, crafts, and goodies the Midwest has to offer. Plus, this is where you'll find Nationwide Arena (home to concerts and sports games), the gorgeous Greek revival-style Ohio Statehouse, the awe-inducing Center of Science and Industry (COSI), and the Scioto Greenway, a riverside trail that's perfect for sunset walks.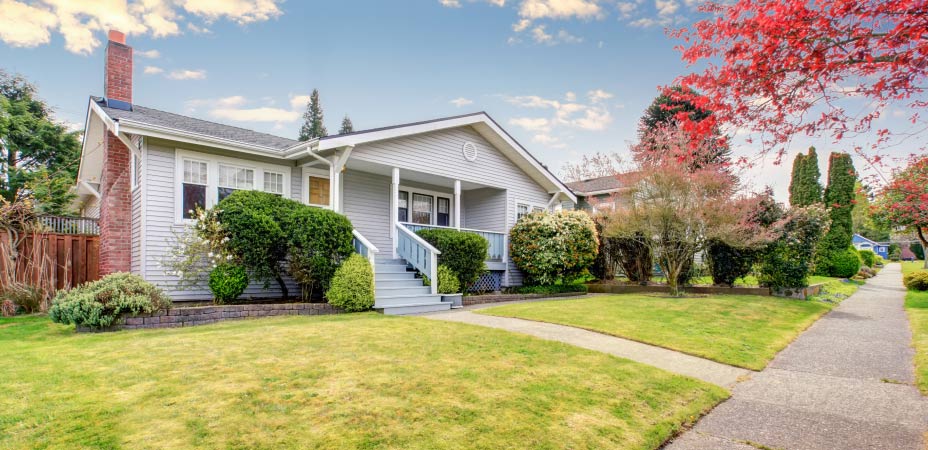 Clintonville
If you're looking to live in one of Columbus's hipster neighborhoods, definitely take a look at Clintonville. Located 10 minutes north of Downtown Columbus, this neighborhood offers a dense suburban feel just minutes from the city center. Thanks to the top-notch nightlife, proximity to downtown, and eclectic eateries, shops, and things to do, Clintonville draws its fair share of young professionals, singles, and students from nearby Ohio State University.
This area is full of beautiful Tudor-style and Craftsman homes, and Zillow lists the typical home value in Central Clintonville at around $427,500, as of July 2021. Most Clintonville residents here own their homes, and rentals can be hard to come by, unless you canvas the area in person (they are more common in Central Clintonville). Niche gives public schools in Clintonville an overall below-average grade, though several schools in the area are highly rated, such as The Graham School, Columbus Alternative High School, and Centennial High School.
We love Clintonville because the entire west side is lined with riverfront and parks, giving residents great access to greenspace (among which is the colorful Columbus Park of Roses). Other unique things to do here? Grabbing a beer, pizza, and a flick at Studio 35 Cinema & Drafthouse, hiking through one of the six natural glacier ravines, shopping for vinyl and vintage, and brunching on avocado toast at Dough Mama.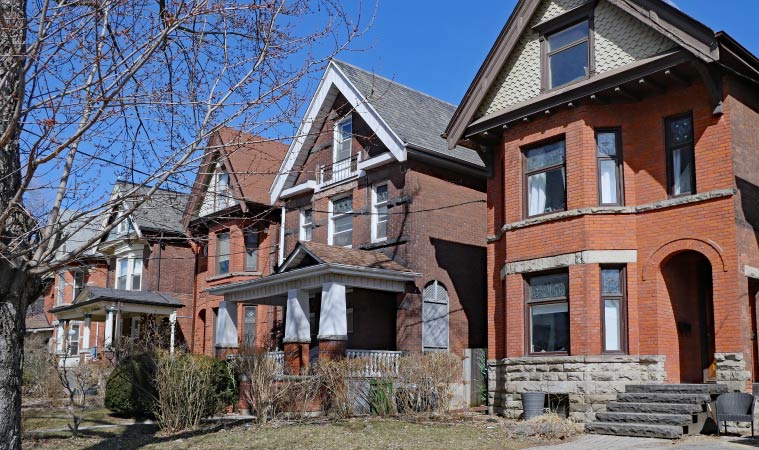 Olde Towne East
This Near East Side neighborhood is a good pick for folks looking to lay down roots in an up-and-coming area full of history. Located just five minutes southeast of the busy downtown bustle, Olde Towne East is full of leafy streets, pedestrian walkways, and a collection of homes spanning more than 50 architectural styles. Residents here are very involved and protective when it comes to the neighborhood, and you'll get the most out of living in this residential area with a like-minded approach.
As one of the city's oldest neighborhoods, the area is lined with historic homes, giving buyers and renters several styles to choose from, including Victorian, Queen Anne, and Italianate — as well as more contemporary condos and multi-family houses. Just know, you've got to move quick, as homes don't tend to stay on the market too long here. The typical home value in Olde Towne East is about $308,000, as of July 2021. And according to realtor.com, as of August 2021, rentals go for between $825 and $3,000 a month (though most are less than $1,500).
Olde Towne East residents can be found sipping beers with friends and neighbors at the Gemüt Biergarten, cooling off with their kids in the water features at Blackburn Park, or just soaking in the local architecture on walks through the neighborhood. Unfortunately, the public schools here leave a little something to be desired — Niche gives most of the schools in the area a C or lower.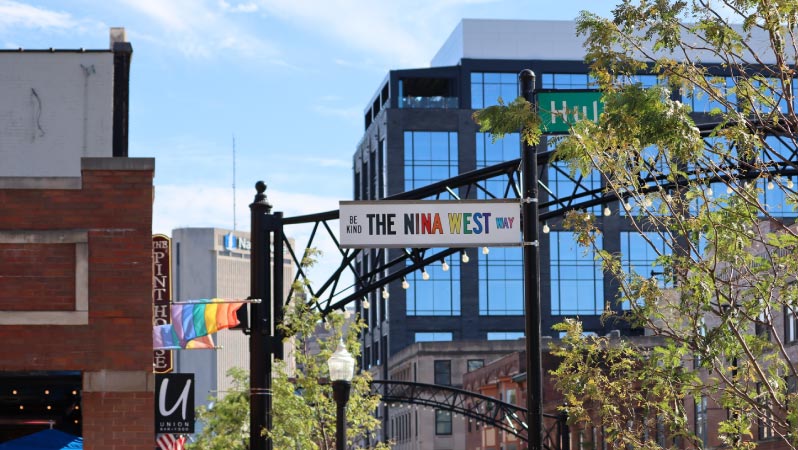 Short North Arts District
Craving a creative, hip, and LGBTQIA-friendly neighborhood to call home? Put the Short North Arts District on your shortlist. Just two miles northwest of downtown, this slim sliver of a neighborhood straddles N High Street with a block on either side and is wedged between Italian Village and Victorian Village. Colorful murals and tons of eateries, art galleries, and boutiques line High Street, giving the area a vibrant feel no matter the time of day (or night). Unsurprisingly, Short North draws a lot of young professionals, millennials, and Gen Z residents.
Come here for the converted industrial lofts, renovated condos, and new units in multi-use spaces. While some homes list in the $400,000s (or higher), according to Redfin, the average sale price for a home in Short North was $290,000 in July 2021, down 28.8% since last year. However, most residents here rent and pay $1,463 a month on average, as of August 2021. Families looking to live here should note that Niche gives public schools in the area a solid C- all around (which is just below the city's overall C+ average).
Looking for something to do? There's plenty, especially if you love eating and drinking. Try a puffle and scoop at CRMD, grab a slice of Brooklyn-style pizza at Paulee Gee's, enjoy raw oysters at The Pearl, or sample your way through the 24 taps at local craft brew kings Brewdog Short North. Don't worry, you can work it all off with scenic jogs around the pond or a few games of tennis at nearby Goodale Park.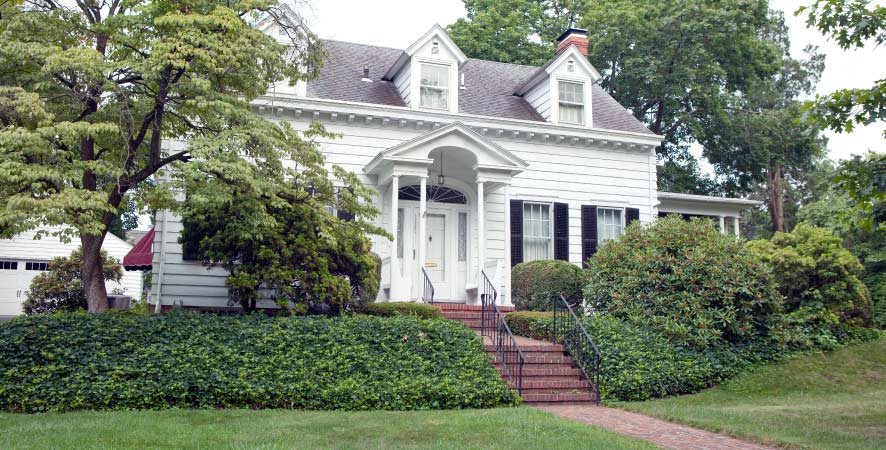 Bexley
Bexley's history as a suburb dates back to the 1800s, when it was a popular spot for wealthy Columbus residents to build their country homes and estates. Today, Bexley is its own bonafide city (albeit a small one at just under 2.5 square miles) that draws young professionals looking for a picturesque suburban setting and families who prioritize close-knit communities and great schools. It may only be three miles from Downtown Columbus, but the tree-lined streets of Bexley feel worlds away.
According to RENTCafé, the average rent in Bexley is $1,000 per month as of August 2021, just slightly below what you'll find in Columbus. However, as of July 2021, Zillow puts the typical home value here at about $488,000 — a staggering 130% higher than the typical value in the city. There are a lot of historic housing options in Bexley, including townhomes, large multi-bedroom homes, and Victorian-era houses. Lots here are fairly big but tend to hover around 3,000 square feet, whether the houses have three or five bedrooms.
Niche gives Bexley an overall A+ — and the high marks extend to the suburb's schools. All seven public and private schools in Bexley have A-range grades, including Bexley High School, Columbus School for Girls, and St. Charles Preparatory School, which all scored an A+. Although the action and amenities of Downtown Columbus are less than 10 minutes away, Bexley residents are perfectly happy taking advantage of the neighborhood's well-maintained parks, strolling down the town's main artery of Main Street, or even just catching a flick at the art deco, retro-cool Drexel Theatre.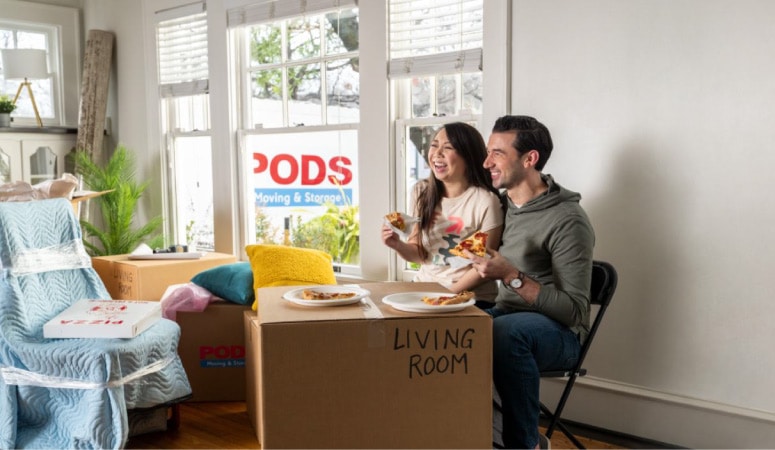 Planning Your Move
Ready to make Columbus your new home? The PODS blog is loaded with information on how to plan, pack, and complete your move. We've got you covered every step of the way, including providing key tips on how to navigate tough challenges, helpful apartment moving checklists, and tricks on how to pack to avoid damages during a long-distance move. You can even read up on what you should know about renting portable moving and storage containers — the ultimate in convenience and flexibility.
---
Katherine Alex Beaven is a frequent contributor to the PODS blog who has moved 20+ times because she loves to experience new places.
Get a Quote
Choose the service you need
Comments
Leave a Comment
Your email address will not be published. Required fields are marked *