It's no secret that moving is a stressful and often costly venture. And without a plan in place? You can pretty much bet that getting from point A to point B will end up being a much bigger expense than you bargained for. Want to know how to reduce moving costs and successfully relocate without breaking the bank? Take a look at these money-saving moving tips. You'll be a budget-savvy mover before you know it!
1. Research moving costs
Your first money-saving opportunity? Research and compare companies and price points. This is really where you're going to save a lot of your money. Make sure to start this process at least a month in advance, though we recommend two. Be aware, though: The cheapest option may not be the best option.
Q: What is the most expensive way to move?
A: Not surprisingly, the most "hands-off" moving option is pretty much guaranteed to be the most expensive way for you to move. Want to take all the packing, loading, driving, unloading, and unpacking off of your to-do list? You can! You just have to be prepared to chalk up a lot of moolah for it! If you're looking to cut costs while moving, you should definitely start by reconsidering your "must-haves" when it comes to finding the right moving option for you. Just eliminating the unpacking from your list can end up saving you a substantial amount.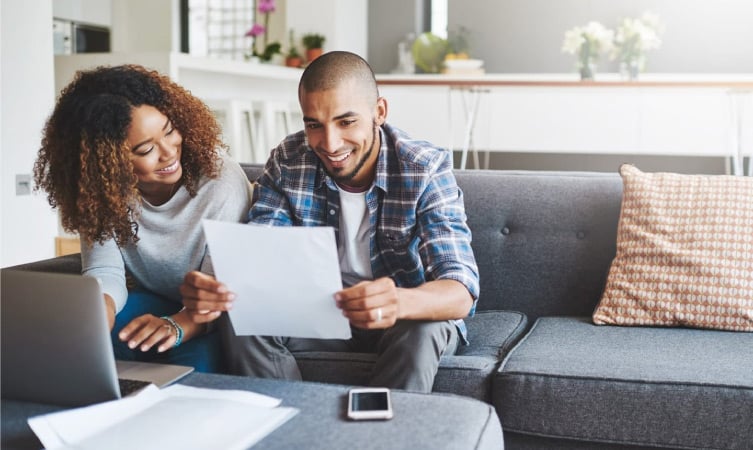 2. Assess your finances
If you're not already tracking your income and expenses, your move is a great time to start. Budgeting apps like Mint and Personal Capital are great tools to help you monitor your spending habits all in one place. They make it simple to separate your spending into categories, like entertainment, restaurants, home expenses, subscriptions, debt, etc. From there, you can see where you can cut back and how much you have leftover for your move.
Q: Why is moving so expensive right now?
A: Moving costs a lot any time because you're piling a lot of expenses on top of each other all at once. But, especially now, with the increased pressures from a hot housing market and country-wide inflation, the always-pricey moving experience is now more so. 

Whether it's gas (especially if you're renting a truck), furniture shipping, new furniture, supplies, other travel expenses, or moving help, it's a lot to handle at one time. Add alllll that to the expenses of buying or leasing a new home, security deposits, and any other unforeseen expenditure, and it's easy to see yourself digging for loose change in the couch cushions.
3. Know these five things that influence average moving costs
The season: Are you moving during the summer? It's the most popular time of year to move, so there's limited availability for moving solutions — not to mention prices could be higher. Moving during the off-season can help you find lower prices and more affordable movers.
Your belongings: The more items you have, the more it costs to move them. If you're worried about this, decluttering your space beforehand can help.
Extra hidden fees: Depending on the services and moving company you hire, you may be charged extra to move large items like a piano or if your furniture needs to be disassembled and re-packed.
The distance you're moving: Whether you're moving locally, out of state, or cross-country makes a huge difference.
The moving option you've chosen: As you know, having professional movers take care of every aspect of your move is typically the most expensive option, while going DIY with a moving truck rental is often considered the cheapest. But with fluctuating fuel prices, that may no longer be the case. Moving with PODS means you can choose your container size, take your time with packing and loading, store your things if you need to, and (the best part?) you don't have to drive a big rental truck.
Q: Can you negotiate moving costs?
A: In short, yes, you can negotiate moving costs. How much you can save is going to depend on your situation, though. If you're moving to start a new job, ask your new employer about the costs they'll cover for your relocation. When you're apartment hunting, see if it's possible to negotiate the monthly rent or have a portion of the initial fees waived. And if you're buying a house, there are a number of things you can negotiate, like closing costs or renovations and repairs.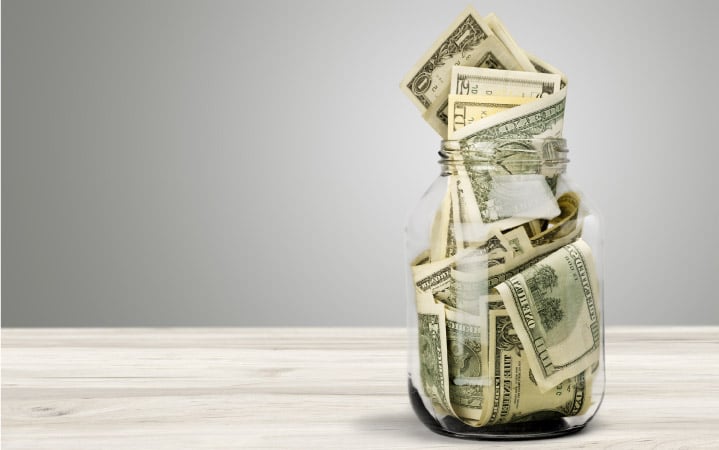 4. Make a moving budget
The cost of a move varies greatly from a few hundred dollars for a small, local move to $10,000 or more for a cross-country move. When asking yourself "How much should I budget for moving?," you'll need to consider things like:
Where you're moving
Your living situation
What you're moving
What you already have vs. what you need
Once you've nailed down the details, you'll have a better idea of how much you'll need to prepare for the move.
Q: How can I save the most money on my move?
A: You can start by asking around for free items, like boxes, paper, bubble cushioning wrap, and other packing supplies. You can also get creative with what you already have in your home.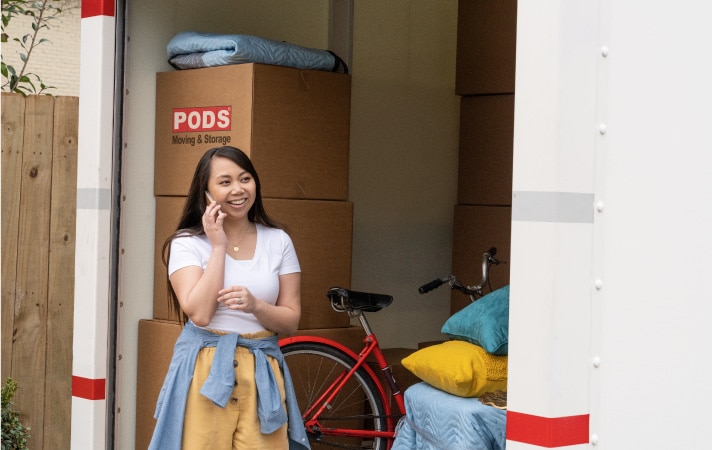 5. Divide and conquer
Who says you have to stick with one moving solution? To get the most bang for your buck, consider mixing it up. For example, pack everything yourself and just hire professionals for a couple of hours specifically for the heavy lifting. Better yet, go a step further and get your friends and family involved (who doesn't want free pizza?). Add the convenience and flexibility that a PODS moving and storage container offers — not to mention the fact that you won't have to worry about navigating a huge truck around tricky curves! — and you'll really make your money stretch!
Q: What are the benefits of moving with PODS?
A: There are many benefits when you move with PODS, including:

• PODS is a no-contact service: Don't worry about meeting the driver or being present when PODS delivers or picks up your container — unless you want to see the PODZILLAⓇ in action, that is. Plus, you have the only key, so you're the only one who has access to your stuff.
• PODS does the driving: Save yourself the hassle of renting a truck — and the headache of driving one.
• You control the schedule, so you can take your time: You pick your dates, and you can keep your container as long as you need. If your plans change, no problem!
• 10X fewer damage claims compared to traditional movers*: You're the only one in charge of who touches your things, and you load and unload them just one time — regardless of how many stops there are before your final destination.
• Flexible, easy storage options: Keep your container in your driveway for 24/7 access or at a secure PODS Storage Center for as long as you need.
• Packing and loading help available: PODS can connect you with highly rated pros in your area to help make sure every aspect of your move is as smooth as possible.
*According to AMSA (American Moving & Storage Association)
Limited delivery service areas may apply. Check PODS.com or call PODS at 877-350-7637. for details.
6. Save up more before moving day, just in case
Even if you're moving on a tight moving budget, it's always a good idea to have a little extra padding. We recommend saving up at least three months of expenses before your move. 
You can take advantage of free cost of living calculators for your new area to get an idea about the key differences between cities. From there, you'll get a better idea of how far your money can go. It's also smart to have a comprehensive moving checklist on hand, so you have a guide to follow when you're calculating moving costs. (Apartment dwellers: We have a list specifically for you! Check out our checklist for apartments.)
7. Cash in on travel deals before the big day
It seems like pretty much every establishment has a rewards program these days. QR codes and signup links everywhere you turn, right? Well, use that to your advantage when you're moving — especially if you're making a long trek! With a little prep-work beforehand, you can score a discount on everything — from hotel room rates to gas prices to food — along the way. And the best part? You can just unsubscribe from their mailing lists when you get to your final destination. No spamming in your future!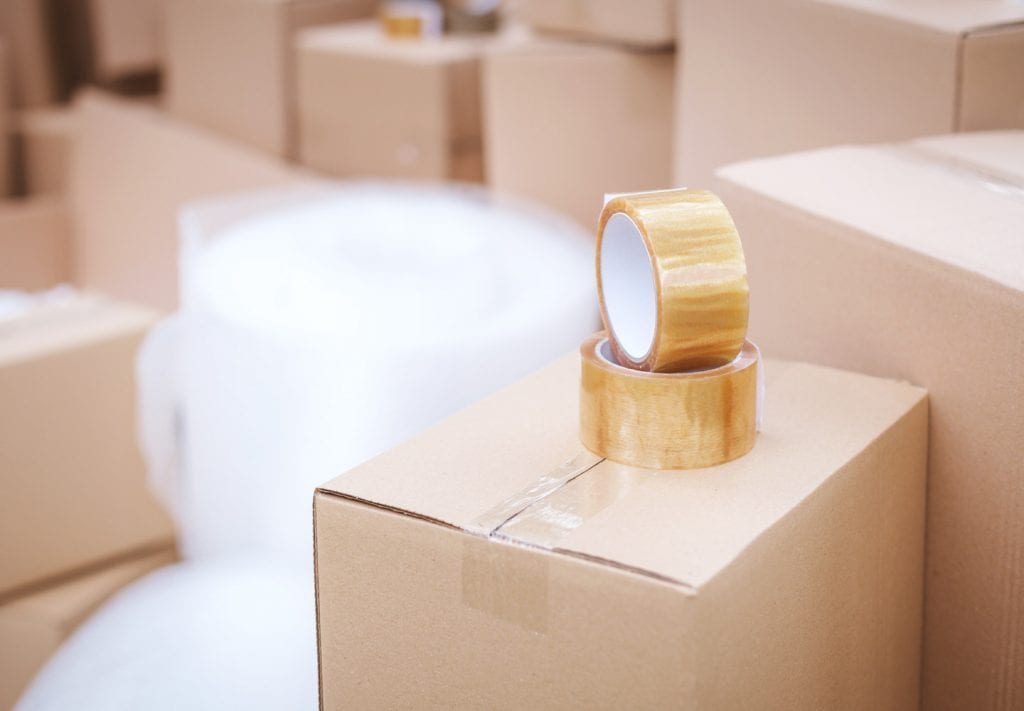 8. Get creative with your moving materials
Packing supplies like boxes, paper, tape, mattress bags, and blankets don't seem expensive on their own, right? But just like that daily cup of coffee, they add up quickly. Check out these moving and packing hacks instead, and you could find some real savings.
Moving Boxes
Moving boxes from moving companies are highly recommended due to their sturdiness and uniformity, but there are other options, too.

For free boxes, try getting in touch with local businesses. A lot of businesses will break down boxes and pack them for recycling right away, so call ahead and make sure there are some available. You can also check out Facebook or Craigslist to see if your neighbors are giving away their gently used boxes.


Packing Paper
Instead of buying packing paper or bubble wrap to pack away your vases, picture frames, dishware, and other fragile items, turn to your linens. Sheets, towels, scarves, and soft, bulky winter gear are all a great way to protect things that might get damaged during your move.


What You Already Have
You have laundry baskets and bins lying around, don't you? Why not use them to pack up clothes, shoes, or even your bathroom items? Instead of packing your first night essentials in their own box, you can turn to a clear or open container for easy access, too.

Shoe boxes and reusable food containers are great for toiletry items, smaller kitchen utensils, and accessories. And old tackle boxes are a great way to store accessories and eliminate the headache of tangled jewelry. If you don't have a tackle box, you can try placing necklaces and bracelets into each finger of a rubber glove before tying or taping it closed. Genius!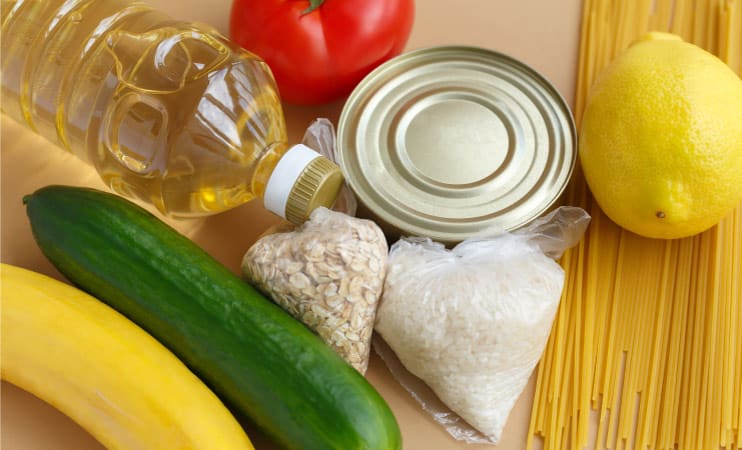 9. Keep using those cooking skills
You might think takeout and delivery are the easiest options, but eating out three times a day can put a serious strain on your wallet. Here are some meal prep tips and tricks you can use to ease the burden:
Two to three weeks before your move, take a full inventory of your kitchen. Plan your meals with the intent of eating your frozen and perishable foods first.
To begin, pack a kitchen emergency box. This should include essentials to last at least 72 hours once your kitchen is packed up, like:
Salt and pepper
A neutral oil (olive, vegetable, avocado, etc.)
Lemons and/or limes
Red onions
Heads of garlic
Your favorite spices
Something sweet
Heat-resistant spatula
Non-stick pan
1 kitchen knife and other prep tools
Cutting board
Dinnerware
New sponge/dish soap
1 mixing bowl
Next, buy frozen meat like chicken or burgers and pair them with pre-cooked, frozen veggies. Then just add pasta and toss everything together, and you have some healthy, delicious, and cheap meals.
For breakfast, you can pack some eggs up to cook. Or simply throw your blender into this box along with bags of frozen fruit to make smoothies.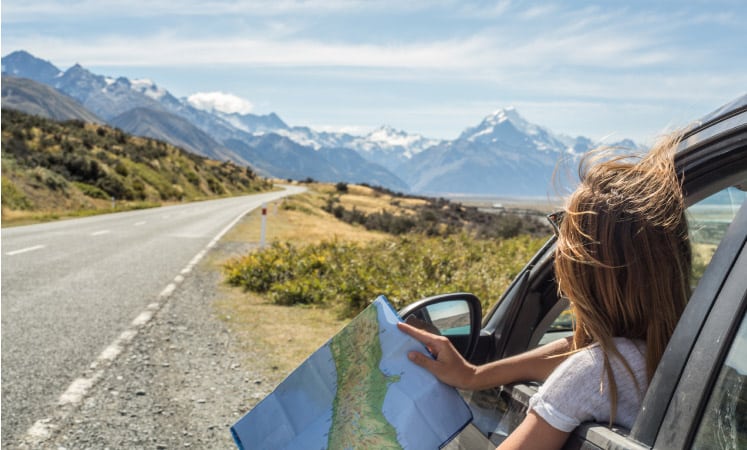 10. Know that you've got this!
If you're overwhelmed, remember that there are entire industries dedicated to figuring out the logistics of moving. Yes, it can be hard, but you're never alone. Take as much time as you can, thoroughly research, build lists, consult apps, and even give us a call if you want — do everything at your disposal to budget the right way from the beginning. Costs are easier to cut when you know where to look! And in the meantime, check out the PODS Blog for more tips on all things moving and storage.
---
Katlynn Mullins is a St. Petersburg-based freelance writer whose only roommate is their cat. A frequent PODS blog contributor, Katlynn loves finding ways to make moving into new spaces simple and stress-free. Between yearly apartment hopping, you can find them on the waterfront or experimenting with new ways to make coffee.
Get a Quote
Choose the service you need
Comments
Leave a Comment
Your email address will not be published. Required fields are marked *