Inside Laguna Beach: Neighborhoods, Schools, Things To Do And More!
Ready to live where other people vacation? Laguna Beach is waiting for you. This SoCal beach town boasts absolutely stunning coastal views, a lively arts and culture scene, excellent food, miles of picture-worthy sand and pristine beaches -- all with perennial good weather that averages in the 70s.
With roughly 23,000 residents who love to get outside, be social, celebrate art, and care about community, who wouldn't want to move to Laguna Beach?
To really get to know this beautiful place, we talked with local broker Cynthia Ayers of Laguna Coast Real Estate who not only has over 30 years in business but, after moving from Los Angeles, has proudly called Laguna Beach home for over two decades. "I love the idea of my kids learning to walk along the sands of the beach and having these wide open parks, so it was an easy decision for us to move here — and we've never gone back."
Keep reading to find out all the reasons why Cynthia thinks you'll love living here, too, as she dishes on different neighborhoods, schools, things to do, and more. Don't forget the sunscreen!
WHAT'S IT LIKE LIVING IN LAGUNA BEACH?
"The Laguna Beach lifestyle is — in a word — awesome!" gushes Cynthia. This affluent Orange County beach town may have had its 15 minutes of uber-fame when the hit MTV reality show Laguna Beach aired from 2004-2006, but the truth is Laguna Beach had been attracting tourists and locals long before MTV joined the party. What's more? This charming community has only gotten better, offering a breath of fresh ocean air and enviable views for new residents, whether they're moving down from L.A. like Cynthia or logging some serious miles with a long-distance move.
"I think the appeal of Laguna Beach is that it feels like an escape," Cynthia says. "The private beach coves, lush hillsides, oceanfront parks, and coastline hiking trails make you feel like you are getting away — even if you've lived here for decades." In addition to myriad outdoor activities, Cynthia tells us that you can also expect summer art festivals, great restaurants, cafes, art galleries, and boutiques. The people, she says, appreciate culture and have a great sense of community, and there is a real underlying artsy vibe throughout.
"It's a special place," she says. "And everyone who lives here appreciates the beauty that surrounds us. It also doesn't hurt that the average temperature is 72 degrees!"
HOW MUCH DO HOMES COST IN LAGUNA BEACH?
It shouldn't come as a shock that in a place along such a gorgeous stretch of coastline as Laguna Beach, the real estate prices are driven by proximity to the beach and how stellar of an ocean view you're getting. Cynthia says walkability to shops and the bustling Village area also factor into price. "On the lower end, you can find a small cottage or ocean-view condo for $700,000 to just under a million," she says.
She explains that homes further up in the hills tend to run upwards of $2 million, while . oceanfront estates can go for over $50 million. "Depending on the neighborhood you settle on, prices can vary drastically," says Cynthia. So, before we go any further, now seems like a good time to take a look at some of the different neighborhoods.
BEST NEIGHBORHOODS TO LOOK FOR HOMES FOR SALE IN LAGUNA BEACH
In a nutshell, Cynthia describes Laguna Beach as a town that's basically one big community made up of small neighborhoods that pan out from the downtown area. "Laguna Beach neighborhoods are unique," Cynthia says. "And they can feel like private communities with their own characteristics." Strap in and take notes while our local expert takes us for a quick spin through a few of the best neighborhoods in Laguna Beach.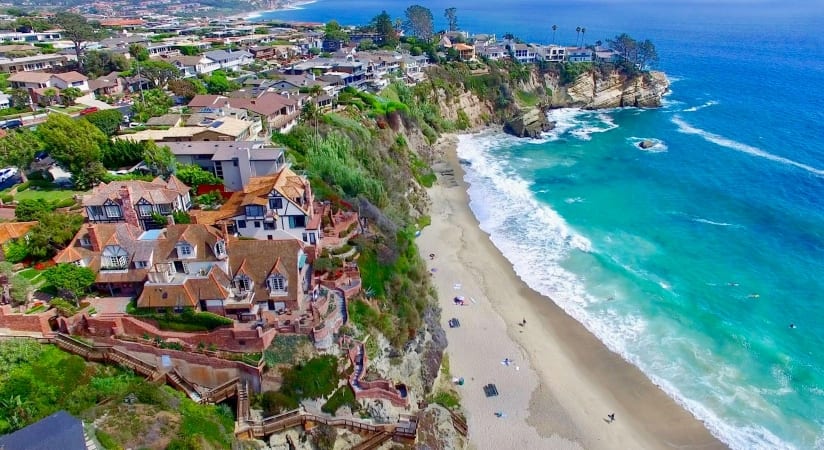 South Laguna -- Three Arch Bay
This affluent Laguna Beach neighborhood is technically a 29-acre gated community. Located in South Laguna, Three Arch Bay has a mix of homes either with ocean views or smack right on the oceanfront. It's one of the older communities in town and houses here don't come on the market often because once people move in they tend to stay put. According to Cynthia, the homes range from garden cottages to contemporary estates, and fixer-uppers here start at about $1.5 million. Median prices fall around the $3.8-million-dollar mark, and it's not uncommon to see multimillion-dollar estates with asking prices in the tens of millions.
North Laguna -- Emerald Bay
On the other side of town in North Laguna, Emerald Bay is another very sought-after gated community neighborhood. It's also one of the most expensive areas in Laguna Beach with median prices hovering just below $7 million. On the plus side, you'll get the same bang for your buck in terms of square footage; it's just that the houses are bigger. Entry-level prices can be as low as $4 million, says Cynthia.
As in Three Arch Bay, you'll find great oceanfront and ocean-view homes ranging from cottage-style to sprawling estates. As far as amenities go, Cynthis shares that Emerald Bay residents have a large community pool and clubhouse with lots of activities for kids. "Gated oceanfront communities like Three Arch Bay and Emerald Bay are very family oriented," she says.
Temple Hills
Laguna contains several hillsides which are dotted with architectural marvels and cliff-hangers built into the bluffs that rise up from the downtown area. "Temple Hills homes are nestled along the streets that wind up to the Top of the World," says Cynthia, explaining that Top of the World is a hilltop park with stunning 2.4-mile-high views over the Laguna coastline out to Catalina Island. Homes in Temple Hill often have walls of windows that allow you to take it all in. Homes here range from $1.5 million to $10 million. You're more likely to find contemporary and Mediteranean-style homes here, and, if you're into panoramic sunset views, living in Temple Hills will deliver nearly every day of the year.
The Village
If you're looking to be closest to the action, look no further than The Village. This area includes the bustle of downtown and its shops, cafes, boutiques, restaurants, and galleries. Homes here are pretty varied in terms of style and offer a decent entry point for anyone looking to get a slice of the Laguna lifestyle without shelling out many millions. Homes here start at around $1.7 million, average around $2.8 million, and can go over $10 million. The Village is also a great spot for anyone who wants to pump their legs — it's one of Laguna's more walkable areas!
Tree Streets
Located in North Laguna, the Tree Streets neighborhood is known for — you guessed it — its high number of trees. According to Cynthia, this area expands east from Ocean Front Heisler Park, fanning out until it hits High Drive. "The streets are lined with their namesake trees; Holly, Jasmine, Myrtle, Aster, et cetera," she says. "The lots here tend to be deep and the impressive traditional houses or large cottage homes are surrounded by lovely gardens." Expect historic homes that date back to the 1920s and 1930s that can start as low as $1.25 million and average around the $2.5 million dollar mark. Prices will usually top out at about $4 to $6 million, though there is the rare property that can go upwards of $9 million.
South Laguna Village
While the median price of a home in South Laguna Village rests at around $3 million (lower than some other areas), the price per square foot is slightly higher here. This area is quirky and -- quite frankly -- adorable, filled with smaller streets lined with vintage cottage homes sporting gardens and even picket fences, beach bungalows, and larger Mediteranean-style estates. Here, you'll have the perks of being close to the excitement downtown but without too much noise. Price tags range from around $700,000 to upwards of $20 to 40 million, all depending on location, location, location (and views).
Pro Tip: Cynthia strongly recommends working with a realtor who is familiar with the distinct areas of Laguna Beach — and who is connected enough to know about "inactive" listings, listings that won't show up on the MLS search but are still for sale.
THE BEST AREAS TO LOOK FOR AN APARTMENT OR CONDO IN LAGUNA BEACH
Want to try Laguna life in a rental before looking to buy? Cynthia says your best bets will be downtown. "There are more apartments in the Village area — in the downtown core," she says. "It's more commercial with apartment buildings, apartment complexes, and small condos." However, don't expect to find the glitzy, high-rise apartment buildings typical of some downtown areas. In Laguna Beach, they're mostly older, but updated, complexes, reflecting efforts to protect the architectural integrity of the city.
"Laguna also has less expensive areas in the downtown core where you can find apartments and lots of rentals," she adds. "Although prices are still relatively high compared to inland areas, you can find small apartments and bungalows renting for around $2,500 a month and up. Most of these are within walking distance of Main Beach and downtown shops." On average, if you're looking for an apartment, expect to pay about $1,500 to $2,000 a month for a studio, $2,100 to $2,700 for a one-bedroom apartment, and about $3,000-plus for a two-bedroom and up.
What are schools like in Laguna Beach?
"All the schools in Laguna Beach are excellent," says Cynthia. "Almost all are Blue Ribbon or highly rated. There are private schools in town and there are religious schools, like St. Catherine's, but most people let their kids go to the public schools here because they're so great."
However, she's quick to point out that there are differences, particularly for elementary or pre-school. "There are a lot of choices in that range, but there's only one middle school, and there's only one high school." Her best advice is to work with a Realtor who is familiar with the nuances of schools in the area.
Looking for a few stats to back up Cynthia's praise? According to Niche, El Morro Elementary School and Top of the World Elementary School both rank in the Top 100 elementary schools in California, while Thurston Middle School ranks in the state's top 50 for middle schools. The site also put the student-to-teacher ratio across all schools around 23:1, on average. Plus, the two school districts that serve Laguna Beach — the Laguna Beach Unified School District and the Capistrano Unified School District — are in the top 20 and top 50 for the state, respectively.
Top Things To Do in Laguna Beach
"There are so many outdoor activities to keep you fit — from swimming, surfing, paddle boarding, and kayaking to long hikes along beautiful trails. There is never a lack of things to do," Cynthia says. Not only is Laguna packed with fun outdoor activities, it's also teeming with art, culture, and delicious eats and drinks. Here are some of our must-do recommendations in town.
• Hike, eat, sip, and stare in Heisler Park. Follow the coastline walking paths up and be rewarded with delicious Cali-Mexi food and margaritas along with a side of bluffside views at Las Brisas, a restaurant high up in Laguna's popular and gorgeous Heisler Park.
• Take a stroll through the local art scene. Get to know your local artists every first Thursday of the month at Laguna Beach's First Thursday Art Walk where you can sip wine, snack, and take in pieces from Laguna's art scene.
• Have a whale of a time. Make your way to one of Laguna Beach's coastal lookout points and squint out to sea and see if you can spot some of the most magnificent marine mammals. Gray whales are known to pop up from December and April, while Blue whales can sometimes be seen between May and October.
• Travel to the African coast (for a night). The three-story Mozambique restaurant dishes up a taste of South Africa and Portugal along with coastal views and a lively, spirited shebeen-styled bar area.
• Step onto a gorgeous hidden beach. Good things come to those who are willing to risk the calf-burning stairs down (and up!) to Thousand Steps Beach. Don't worry, it actually only takes 220 steps before you're on the sand surrounded by romantic, rugged, and rocky scenery, tidal pools, and emerald green water.
---
Based in Los Angeles, Katherine Alex Beaven is a freelance writer and frequent contributor to the PODS blog. She has moved 20+ times because she loves to experience new places.
Get a Quote
Choose the service you need
Comments
Leave a Comment
Your email address will not be published. Required fields are marked *