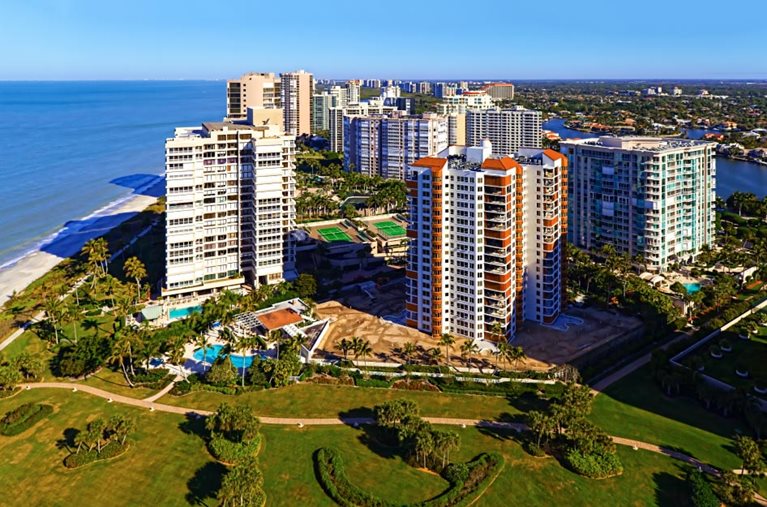 Relocating to the Sunshine State's Alluring Gulf Coast - Everything You Should Know About Living in Naples, Florida
Known for its miles of coastline and picturesque sunset views, living in Naples, Florida, is a dream come true for many. That's not all you get when you move to the Gulf Coast, though. From the beautiful weather to the lively events that happen year round, Naples is a great location to settle down.
Moving to paradise might sound like a no-brainer, but it's best to get the lowdown before you start packing up. Luckily, our guide is here with all the essentials.
Planning a move to Florida?
Start by getting a quote from PODS
.
Living in Naples, FL at a Glance:
Naples is located between Fort Myers and Marco Island, with Miami just two hours to the east.
Naples City has a total area of just over 12 square miles.
As of July 2022, Naples had a population of 19,600.
Naples has a median age of 66, making it a great place for retirees to settle down.
1. Cost of Living in Naples, Florida
Is Naples, Florida, expensive to live? Well, with a cost of living index of 113, the total living costs in Naples is higher than the national index of 100. But while this may seem like a steep number, Naples is still more affordable than other major cities in Florida, like Miami and Palm Beach, where the cost of living is 118.9 and 114.1 respectively.

So how much do you need to live comfortably in Naples, FL? That depends. According to MIT's Living Wage Calculator, to live comfortably in Naples as a single adult or retiree with no children, you'll need an annual income of at least $33,300. Your specific lifestyle will determine how much you will need, in particular, though.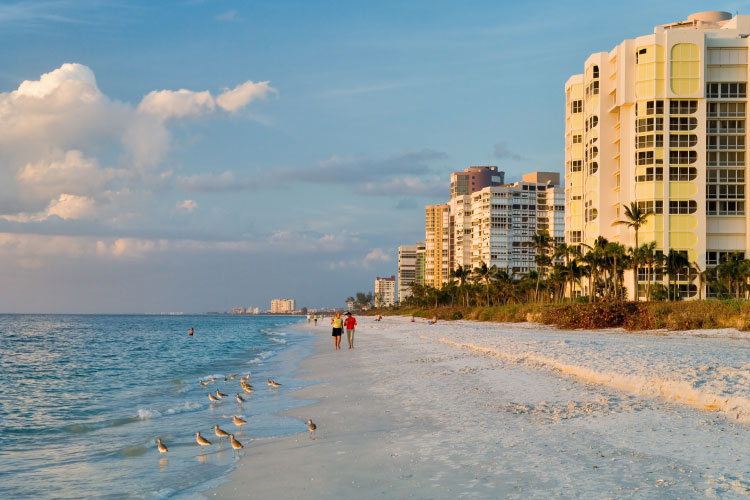 2. Pros and Cons of Living in Naples, Florida
Is Naples, Florida, a good place to live? While some of the general living perks of Naples have been briefly discussed, such as its desirable weather and views, here's more of an in-depth look at some additional pros and cons you can expect when living in Naples, Florida.
Pro: Picturesque Beaches Wherever You Go
From Barefoot Beach Preserve to the Naples Pier, Naples boasts of some of the most picturesque and serene beaches in the entire world. In fact, in Collier County, there are over 48 miles of beaches.
Con: High Housing Prices
Good luck finding affordable housing on one of those beaches, though. The city's overall cost of living is higher than both the state and national average, and housing prices match. The average home value in Naples is $594,100, while the national average sits at $348,500.
There are still affordable areas to live, though. You just have to know where to look.
Pro: Naples Is the Golf Capital of the World
The state of Florida offers great golfing opportunities, and Naples is no exception. In fact, Naples is the self-proclaimed Golf Capital of the World. You can find around 90 golf courses throughout the Greater Naples area, 30 of which are accessible to the public.
Con: Hurricanes Can Cause Problems
Moving to Florida means you will quickly become familiar with hurricane season (and those famous hurricane parties). Remember, though, while hurricanes are serious, there's no need to live in fear or let them stop you from moving to the state.

We recommend finding a local weatherman you trust and then avoiding multiple news sources when a hurricane is lingering. You'll need to remain more alert since you're close to the coast, and pay close attention to evacuation warnings, have your hurricane kit ready, and a plan in place, and you'll be fine.
Pro: There's a Strong Arts and Culture Scene
Naples is home to a rich arts and culture scene, with so many places to explore and activities to partake in. The
Naples Philharmonic
and
Baker Museum
offer everything from world-class performances to exhibitions, and you can always find a variety of art festivals, fairs, and more throughout the year.
Con: You'll Have To Deal With Tourists
It's no shock that Naples deals with a lot of tourism — especially in the colder months. When snowbirds settle in for the season, traffic in the city can get hectic. Beaches, restaurants, and other attractions can get overcrowded, as well, but you'll eventually learn all the local favorites and how to avoid all the noise.
3. Naples Housing Market
Picky about your perfect place? Naples has everything, from ranch-style to Mediterranean-style homes, along with many contemporary homes in between. The average home price in Naples is $594,100.
4. Renting in Naples
With an average apartment size of a little more than 1,000 square feet, the average rent for a one-bedroom apartment in Naples is around $2,375. There are plenty of bigger 2- and 3-bedroom options at more expensive prices, though, of course.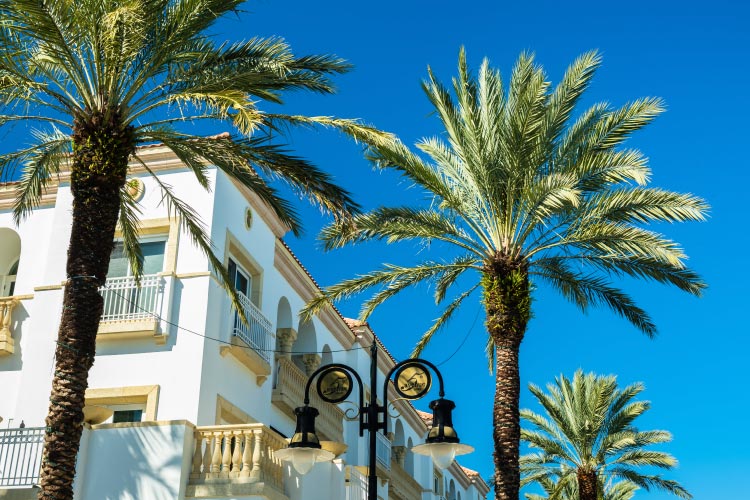 Old Naples
5. Best Places to Live in Naples
Planning a move to Naples but not sure where exactly you'll fit in most? Check out just a few of the city's best neighborhoods.
Pelican Bay
If you've been asking yourself whether Naples, FL, is a good place to retire, you should check out Pelican Bay. Ranked as the #1 best place to retire in Florida by Niche, this high-end community offers the dream waterfront-living experience. Locals love golfing at Pelican Bay Golf Club, exploring Lovers Key State Park, and taking nature walks along the boardwalks.
Coquina Sands
The Coquina Sands neighborhood features a variety of housing options, from single-family houses to condominiums. It is situated near the best of the city's amenities, such as Lowdermilk Park and the Naples Preserve. Locals also love visiting Nectar Lab Kava Bar.
Since it's close to Downtown Naples, residents of Coquina Sands can bike to the city in about 15 minutes. And for those with school-aged children, Coquina Sands provides access to some of the area's best schools, including Lake Park Elementary School and Naples High School.
Old Naples
Old Naples is a great place to be if you're looking to be close to the best attractions of Naples! It features a mix of high-end condos and single-family homes near Naples Bay and Tamiami Trail. Old Naples residents can enjoy easy beach access through Naples Pier or Naples Beach.
Locals love visiting the area's various local restaurants and art galleries along 5th Avenue South. (You definitely won't want to miss out on the district's outdoor concerts and street festivals!) And after you've eaten, you can head over to Third Street South for some shopping or to grab dessert at one of the cafes.
6. Dealing With Traffic When Commuting to the City
Just like with many larger cities, commuting from the suburbs into the city is often difficult — especially during rush hour. The Golden Gate and Immokalee routes are known for having heavy traffic, so make sure you plan out your day ahead of time and leave early before traveling into the city.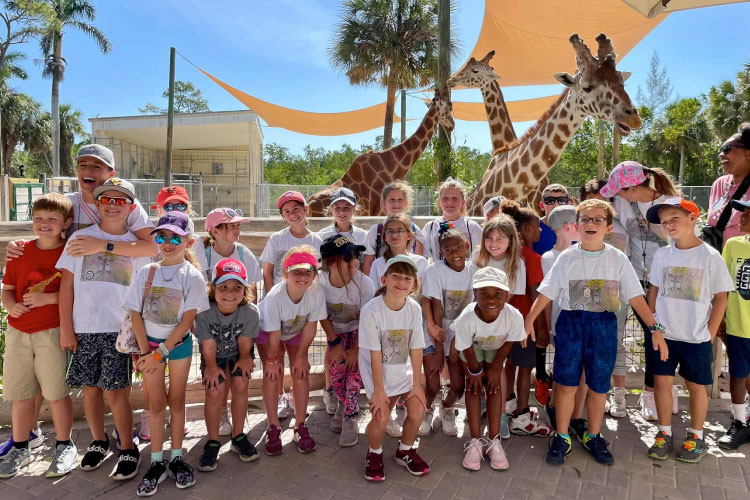 Collier County students visit the zoo
(Source: Collier County Public School District via Facebook)
7. Schools and Higher Education in Naples
With an A grade on Niche and ranking fifth on Niche's list for "Best School Districts in Florida," Collier County's public school district is definitely a great place for your kids to learn.

And if you're looking for higher-education opportunities, you're definitely in luck. There are three colleges/universities in the area:
Edison State Community College in the Florida State University system
8. Naples Crime Rates
With less than 300 total crimes happening each year, Naples is a great place to call home. You have a 1 in 255 chance of being a victim of violent crime in Florida, but the chances in Naples are 1 in 842. The city is also safer than 32 percent of other U.S. neighborhoods.
9. Favorable Weather All Year
During the summer season, the average temperature in Naples can reach up to 93 degrees Fahrenheit, while in the winter season, the temperature consistently stays in the 70s.
Remember to take humidity into account, though. The summer months aren't quite as unbearable as inland parts of the state, since you have the sea breeze, but the heat index can easily reach into the 100s. Once October hits, temperatures are usually much nicer, and the humidity isn't as high.
10. Rain in Naples
In Naples, the summer season is best characterized by its rainy season along with the warm weather. The wettest month of the year is August, when the city can get around six inches of rain. The city's wet season spans from the end of May to the beginning of October.
11. Strong Job Market for a Variety of Careers
If you're looking for a work environment that combines art, nature, good food, and beautiful beaches, then Naples surely is the place for you. The tourism industry is also a major contributor to the city's economy, as many local residents work in the service and hospitality sectors.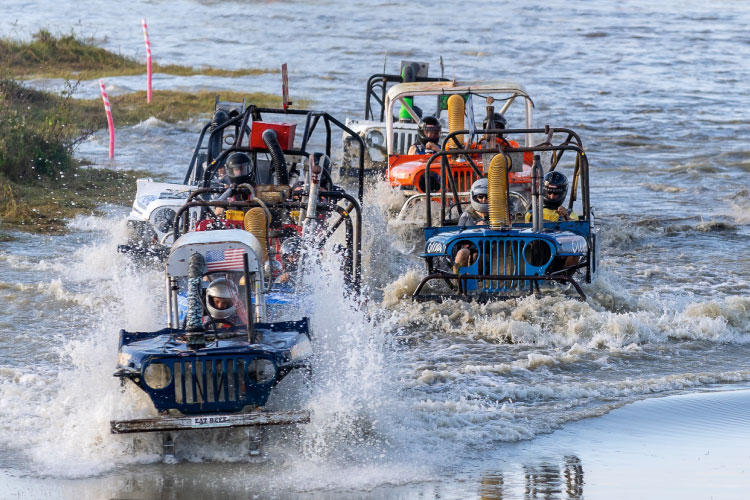 Swamp Buggy Racing
(Source: Swamp Buggy Races via Facebook)
12. Fun Things to Do in Naples, Florida
Local Events
The Naples Craft Beer Fest takes place every March. Those who attend can enjoy sampling different types of beer while also getting to enjoy live music and local dishes. The Naples Stone Crab Festival is another great event for those who love seafood.
Shakespeare in Paradise in May takes place on the beach and features the works of William Shakespeare, along with other playwrights. Even if you've never gotten into this famous writer's realm, it's a great opportunity to support local actors, directors, and designers.
Outdoor Activities Year Round
You're moving to Florida, so year-round outdoor activities are a given. Whether it's hiking, kayaking, or just plain bird-watching, the many parks and trails surrounding Naples give you easy access to it all. Those who love fishing and boating can also easily take advantage of the Gulf of Mexico's abundant waters.
Swamp Buggy Racing
In Naples, a man by the name of Ed Frank is well known because of his ability to navigate through the swamps in Naples. In fact, he built a "Tumble Bug" frame out of aircraft tires and gave birth to the swamp buggy! Originally, this was a way for law enforcers and hunters to get around rough terrains, but it has transformed into racing, and there are multiple swamp racing events that take place each year. Swamp buggy racing is certainly one of the most unique things to do in Naples.
PODS Can Help You Move to Naples
Initially, finding a place to live in Naples might be easy, but actually moving there might present the challenging part. That's why you should consider using a portable moving container from PODS. Flexibility is the name of the game with PODS, as they can deliver a container right to your doorstep and you can load it on your schedule. Need help with the heavy lifting? PODS can connect you with local loading and packing services. Need more time between moves? You can keep your container in a PODS Storage Center as long as you need to. Basically, with PODS, you call the shots.

Editor's note: For ease of reading, monthly rental prices were rounded to the nearest $25 and home values were rounded to the nearest $100.
Get a Quote
Choose the service you need
Comments
Leave a Comment
Your email address will not be published. Required fields are marked *