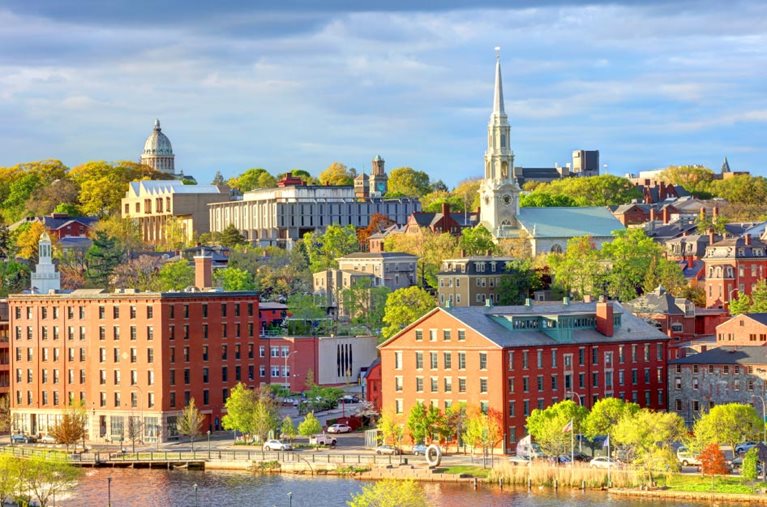 Settling Down in the "Creative Capital": Your Complete Guide to Living in Providence, RI
Providence is a small city situated in a small state, but that doesn't mean it's lacking in offerings. In fact, living in Providence, RI, means experiencing a friendly, small-town feel with the culture of a big city. Along with a thriving arts community, Providence has abundant education and job opportunities, and an interesting history to boot — just to name a few things.
Before we dig into what we think you should know about living in Providence, here are a few quick facts to get yourself familiar with the city.
Providence at a Glance
Providence is the capital of Rhode Island, and it's in Providence county at the head of Narragansett Bay.
Providence has a total land area of around 18.4 square miles.
Providence has a population of almost 189,600.
The median age of Providence is approximately 32 years old.
1. Cost of Living in Providence, RI
According to MIT's Living Wage Calculator, for a family of four (two children and two adults) with at least one working adult to live comfortably, the required annual income after taxes is almost $68,100. For a single young adult or retiree, that income is closer to $31,200 after taxes.

The overall cost of living in Providence is above the national index of 100, coming in at 108.8. That is much lower than Boston, the city's neighbor to the northeast, which sits at 150.8. The state average comes in a bit higher than the national average at 112.5, but you're still saving money here compared to the bordering state of Massachusetts, which sits at 127.5. You can expect to pay about the same living in Connecticut, though, where the cost of living index is 111.8.
Q: Is Providence, RI, an expensive place to live?
A: While the cost of living in Providence, RI, may be cheaper than the state's average, it's more expensive than the national average. One typical living expense that's considerably cheaper in Providence compared to the national average, though? Healthcare.
2. Pros and Cons of Living in Providence, RI
Providence is one of the oldest cities in the entire nation that has since become one of the best places to settle down in New England today. But as with any other city, you can expect to encounter pros and cons when living in Providence, RI. Here are a few worth mentioning.
Pro: Rich History to Explore
Providence was first founded in 1636, and it went on to become a vital part of both the Revolutionary War and the Industrial Revolution. History Buffs can find plenty of reasons to enjoy living in the city, with easy access to some of the city's historical attractions, including the Stephen Hopkins House and the John Brown House Museum.
Con: Lively Yet Dense Population
Due to the relatively large number of people in Providence, you may find it a little cramped when you're out and about in the town. If you are looking for a quiet and private evening out, you may not always find it in Providence.
Restaurants, attractions, and local streets will typically be busy, so you will need to factor in traffic when heading to work or traveling. This isn't so different from other major cities, though, so it shouldn't be too much of a difference if you're moving from another metropolis.
Pro: Ideal Location for Traveling
In Rhode Island, you're never more than a 30-minute drive from the Atlantic Ocean or Narragansett Bay. And if you want to take a weekend trip, Boston is an hour drive from Providence, Hartford is about 90 minutes, and New York City is four hours away.
Con: Brutal Winters
If you're moving from somewhere outside New England, that first winter in the city might prove difficult. It might feel nearly impossible to adjust initially, but you'll know how to weather the cold like a local in no time.

Also, if you don't already have winter clothes, it's a good idea to set aside a portion of your budget to invest in good-quality thermals to layer with.
Pro: Sustainability Efforts
While the state of Rhode Island focuses on preserving the environment, as a whole, the city of Providence is working individually toward becoming more eco-friendly. The city's Department of Sustainability has set numerous goals to reduce its greenhouse gas emissions.

Residents can also make a significant impact on the environment through their participation in the local bike scene. Not only does the Rhode Island Bicycle Coalition help educate the community about the benefits of riding bikes in the state, but they also work with local officials to promote active transportation
Con: High Sales Tax
One of the drawbacks of living in Providence is that the state's sales tax rate is higher than the average. It's tied with Mississippi, Tennessee, and Indiana for second-highest in the nation. And it's only slightly lower than California's 7.25 percent — the highest in the country.
It's also important to note that retirees are re quired to pay certain taxes that may be exempt in other states. In Rhode Island, retirees have to pay taxes on various income sources, including Social Security benefits (but only for citizens that surpass certain limits) and retirement income.
3. The Providence Housing Market
In Providence, the average home price is around $363,200, which is lower than the state's average of around $436,700 and only slightly higher than the national average of just over $348,500. Some of the residents in Providence live in the city's historic homes, while others enjoy the city's modern condominiums with beautiful city views.
4. Apartments and Renting in Providence
Interestingly, 60 percent of housing units in Providence are renter-occupied households. The average rent in Providence is around $2,500 for a one-bedroom apartment that's approximately 840 square feet. Of course, the more space you're interested in, the more money you'll have to pay each month.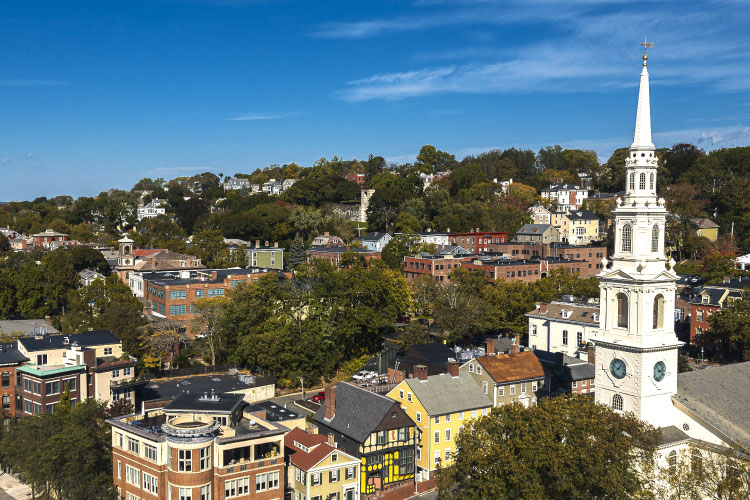 5. Best Places to Live in Providence
Is Providence, RI, a good place to live? Absolutely! It may be a smaller region, but there is no shortage of unique neighborhoods with lots of things to do and see. From bustling downtown areas to history-filled streets, Blackstone, Wayland, and the College Hill Historic District are three of the best neighborhoods in Providence worth considering settling down in.
Blackstone
Located on Providence's East Side, the neighborhood of Blackstone was developed as a middle- and upper-class residential community, and it's become one of the most expensive neighborhoods in the city.
One of the most popular areas in this neighborhood is Blackstone Boulevard — a 1.6-mile walking path filled with beautiful homes. It hosts a farmers market and free outdoor concert series each summer. Another area that's popular is Swan Point Cemetery, where you can find the gravestone of author H.P. Lovecraft.
Looking for a good meal and a place to shop in Blackstone? Check out Hope Street. It's situated right between Blackstone and the neighborhood of Hope, and it has a variety of establishments that are both charming and highly rated.
College Hill Historic District
Another prominent area in Providence is College Hill — an affluent community great for young professionals with a strong academic reputation.
Located along the Providence River's east bank, College Hill is home to some of the country's most prominent universities, such as Brown University and the Rhode Island School of Design.
In addition to these universities, College Hill also has various other venues related to the academic community. One of these is the RISD Museum. There is also the Providence Athenaeum, a library and cultural center that has been around for almost 190 years! The Providence Performing Arts Center is also in the area.
Wayland
The Wayland neighborhood is located along Seekonk River, and it has the charm of a traditional New England neighborhood while boasting easy access to the city. In fact, it's been ranked #3 on Niche's list for "Best Neighborhoods to Live in Providence."
It's home to the Red Bridge, which spans between East Providence and Providence over the Seekonk River. There are also various parks in the area, such as the Gladys Potter Garden and Paterson Park.

6. Providence Public Transportation
Getting around Providence can easily be done with the help of public transportation. There are several RI Public Transit Authority bus lines that travel in and around the city. And traveling between the T.F. Green International Airport and Downtown Providence can be done using the Massachusetts Bay Transportation Authority's daily rail service, which operates between the two areas. Another way to get around is by using the Providence Amtrak station, which can accommodate people traveling to places such as Washington, D.C., Philadelphia, and New York.

(Source: Brown University via Facebook)
7. Educational Opportunities in Providence
Education is highly valued in the city of Providence, as there are multiple world-renowned institutions to choose from. Two of the most significant include:
Rhode Island School of Design: A prominent institution that offers career paths in various fields, like architecture, fashion, photography, and graphic design.
Brown University: One of the oldest universities in the country. Founded in 1764, it is one of the leading research universities in the nation, and it's one of the eight Ivy League schools.
8. Providence Sports
Since residents in Providence are near major cities, like New York City and Boston, they can find various professional sports teams nearby — or they can simply root for their home teams, the Providence Bruins (ice hockey) and the Rhode Island FC (soccer).
Besides professional sports, people can also watch various university sports games in Providence. The Providence College Friars football team is especially popular among local residents, as are the Brown University Bears' ice hockey and field hockey teams.
9. New England Seasons
In Rhode Island, the average annual temperature ranges from 48 to 51 degrees Fahrenheit. Hot summer days are rare, with a max of about 10 days of hitting 90 degrees or higher.
In January and February, the minimum temperature in most parts of the state is around 19 degrees Fahrenheit. In coastal areas like Providence, it's closer to 25 degrees Fahrenheit. Providence also has an average annual snowfall of around 25 to 30 inches.
10. Crime in Providence
Providence is safer than 11 percent of U.S. neighborhoods. The chances of becoming a victim here are 1 in 254, which is higher than the state likelihood of 1 in 491. The chances of becoming a victim of property crime is 1 in 40, while the state likelihood is 1 in 80.

The numbers may not lie, but that doesn't mean Providence is a dangerous city, nor does it mean you can't stay safe.
Q: What do I need to know about moving to Providence?
A: Providence isn't any more dangerous than other big cities. It's important to remember that there are more people in a smaller area, so things are bound to happen, but that doesn't mean you'll fall victim. Stay aware of your surroundings, take the precautions you would normally take, and you'll be safe in your new home city.
11. Job Opportunities
Due to the state's growing job market, healthcare workers can find numerous positions at some of the area's most prominent institutions, such as The Miriam Hospital and Rhode Island Hospital. In addition, the city is home to Infosys — a prominent digital studio — where people can explore careers in technology and design. There are also opportunities for finance professionals at Providence Equity Partners and Citizens Financial Group, which are both headquartered in Providence.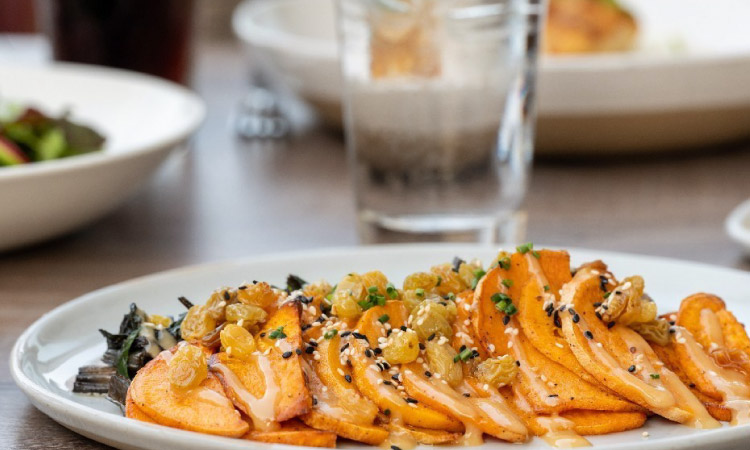 (Source: Waterman Grille via Instagram)
12. Growing Providence Food Scene
Despite having a small footprint, Providence is home to a thriving food scene. From cozy breakfast spots to dinner with a view of the waterfront, there's plenty to experience. Here are some examples:
13. A Slice of Little Italy in Providence
Federal Hill is also known as Little Italy. It's a great place to experience Italian culture in the city, and you'll find plenty of restaurants, coffee shops, and bakeries along Atwells Avenue.
You'll be able to experience a variety of local favorites, like Caserta Pizzeria's Pepper Pig and Spinach Pie. And if you're in the mood for something to go, check out Massimo's Ristorante & Pizzeria for a classic takeout experience.
14. Arts and Entertainment for All Ages
The capital city of Rhode Island is deemed the "Creative Capital'' for a reason. There are plenty of fun things to do in Providence, RI! Check out some ways you and your family can explore the vibrant arts and entertainment scene.
15. The Nightlife Scene in Providence
If you enjoy going out with friends after the sun goes down, there are plenty of nightlife options with fun things to do in Providence, RI, including visiting:
Comedy Connection: A local favorite to hang out and enjoy a night of comedy.
Free Play Bar Arcade: Fan of arcade games? Sip on some of Rhode Island's best beers while playing on old-school machines or enjoying air hockey.
EGO Providence: Catch a drag show or dance the night away with friends.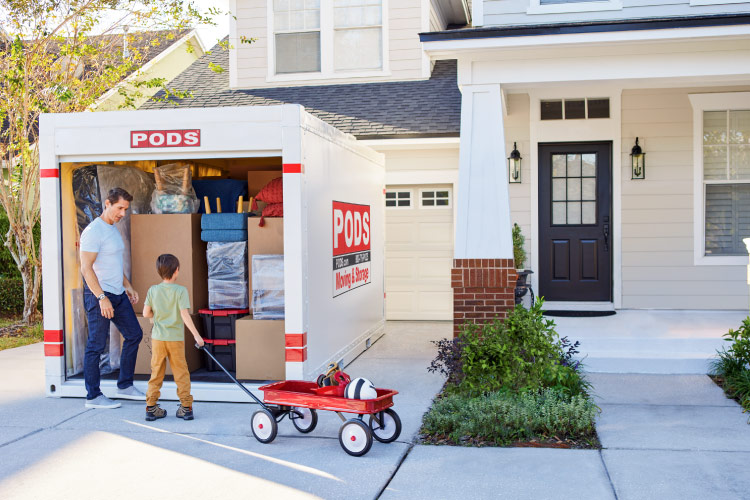 Let PODS Assist You With Your Providence Move
Getting to your new home in Providence can be done as stress-free as possible when you choose a moving company like PODS. With a portable moving container, you can easily pack and load your things on your own schedule. You can also get connected with local loading and packing companies to help with the heavy lifting, if you'd like.

Once you're ready, PODS will take care of your container and make sure it gets to your new Providence residence safely. Ready to load your belongings but not move just yet? No problem! You can keep your container in a PODS Storage Center until it's time for the move.
Editor's note: For ease of reading, monthly rental prices were rounded to the nearest $25 and home values were rounded to the nearest $100.
Get a Quote
Choose the service you need
Comments
Leave a Comment
Your email address will not be published. Required fields are marked *