You can maneuver around the bathroom in the dark, you know just how to stack those pots and pans for a perfect fit in the cabinet, and you've been able to successfully keep your secret candy stash hidden from your kids. But it seems just as soon as you feel like you've mastered every inch of your home's floor plan, it's time to move. You need moving hacks.
Sure, moving into a new home can be frustrating and emotional, especially if you're leaving a place you love. But luckily, there are several moving pros who've found ways to reduce the stress of moving. And with these tried-and-true moving hacks, the process can transform from overwhelming to efficient, quick, and even — dare we say — kind of fun.
Check out these pro-tested and pro-approved moving hacks and tips to make your next move a positive one.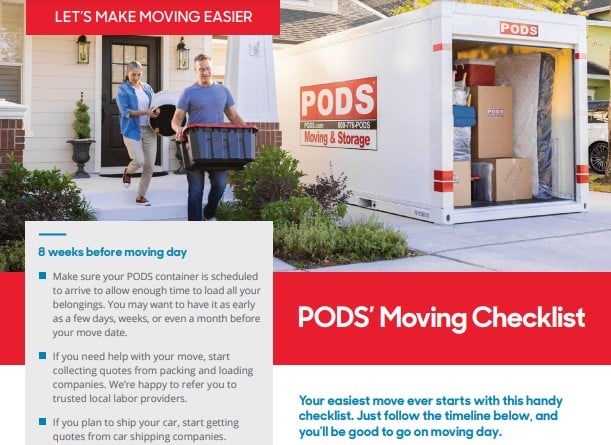 1. GET ORGANIZED WITH THE PROFESSIONALS' MOVING CHECKLIST
If you're a more visual person, this is one of the best things you can do to help make your move as smooth as possible.

Download this awesome moving checklist that the professionals use. Save it as a PDF or screenshot it on your phone's camera roll for easy reference. You'll be able to see exactly how to prepare for your move six weeks out, four weeks out, three weeks out, one week out, on moving day … and even after you've moved in!

A few of the things you'll find on this checklist: supplies reminders, moving-day essentials, and which important areas of your new space to clean first.
One of the most important takeaways of a moving checklist is setting aside enough time for your move so you can handle the tasks in phases, rather than trying to accomplish everything in the matter of one week. Sometimes, though, we understand that time isn't on your side. If that happens, here's a quick moving hack for speeding up the process:
Book your moving service immediately
Then, load up on all your packing supplies in one fell swoop, since you won't have time to make multiple orders. Wondering what you'll need? The PODS Blog has a list of packing essentials.
Do a major purge throughout your house. Donate what you can, then discard the rest. The fewer things you have, the fewer things you have to move!
Don't be a perfectionist. This is the time for getting the job done, not breaking out your best color-coding and organizational skills. Remember, perfect is the enemy of progress.
Have your home professionally cleaned. You've got enough on your plate. Once you've got your home mostly packed, hire a helper to do a thorough cleaning.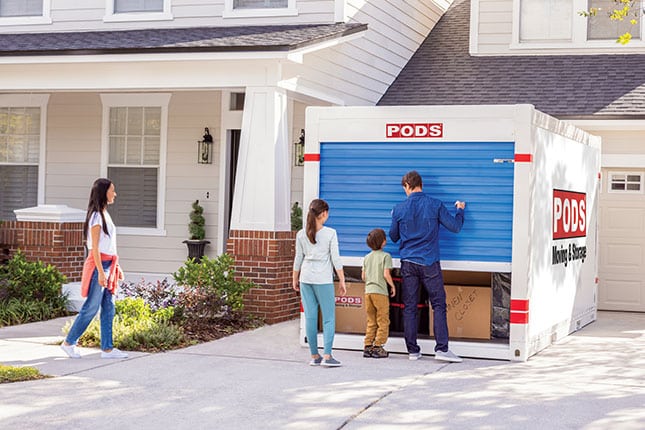 2. TRY HYBRID MOVING (YEP, IT'S A REAL THING)
There are a few different ways to move. If you're asking yourself, "How can I move fast and cheap?," we recommend bucking up and asking your most muscled friends to help you carry your sofa in exchange for some pizza and beer. If you're wondering, "How can I make moving out easier?," you can call a traditional full-service moving company and spend a few grand on a comprehensive team of movers who will handle everything for you.

If, like many movers, you find yourself in the middle of these two scenarios, there is an in-between option. HireAHelper, a mover comparison and referral tool, calls it Hybrid Moving because it combines aspects from the do-it-yourself and full-service moving approaches to hack together a cheaper, often less stressful, move.

To save money, you rent the moving truck on your own, then hire the movers by the hour to come and load and unload everything. On average, this costs around $900, in comparison to a full-service move, which will set you back an average of nearly $2,500. For a local move, you might be able to cobble together an all-inclusive-style move for just a couple hundred bucks.

The hybrid strategy also works if you'd rather not drive a big truck and prefer to use a portable storage container instead, with driving included. A company like PODS already gives you a month to load and unload your container, so scheduling someone to come and load it professionally is easy. And most importantly, it still usually costs way less than a full-service move, while giving you more control over the timing and entire process.
3. PACK WITH PURPOSE
You've got your packing supplies, you're armed with your moving checklist — now how do you pack these cardboard boxes? The PODS Blog has everything you need to know.
Build a sturdy base at the bottom of each box.
Put heavy items in smaller boxes.
Use medium-sized boxes for things like pots and pans, shoes, linens, toys, and clothing.
Use specialized boxes, like dish boxes, for packing fragile kitchenware. Wardrobe boxes can come in handy, too, for your nicer clothing pieces.
Double-bag your leaky cleaning products, toiletries, and kitchen goods to prevent spills and gooey mess.
For added protection, take pictures of the contents of your boxes before taping them up. This way, you'll remember what you have in each one. Making a contents list works, too.
If you're wondering how to handle packing your clothes, have no fear: The pack hacks are here. Some moving hacks for clothes you can try in addition to using wardrobe boxes include:
Use wine boxes for storing shoes. Ask your local wine shop or liquor store if they have some discards you can take home with you.
Try vacuum compressed bags for bulkier winter clothing items.
Instead of wasting time emptying out your non-hanging clothing items from their drawers and packing up the contents, put packing wrap over the drawers. Wrap them at least two times to prevent spills.
For a cheap pack hack, turn to your trash bags. They're great for moving hanging clothes. Use a large drawstring trash bag, put your clothes inside while gripping them by the hangers, then tighten the drawstrings around the hanger hooks. You could also cut a small hole at the bottom of the bag and pass the hangers through the cut hole. Secure the hanger hooks with a rubber band.
Don't forget to wash all your clothes before you pack them. No one wants to unpack clothes that need to go straight to the washing machine.
Still not feeling confident about your packing abilities? Check out these 13 moving hacks that may change your mind.
---

If you color-coordinate your boxes with Washi tape, it'll cut down your move time by a factor of… a lot.
---
4. USE COLOR OR NUMBER CODING FOR YOUR BOXES AND A "PACKING KEY"
Color-coordinating your boxes is one of the most efficient moving hacks. It's hard to miss a bright blue or red piece of tape!

If you color-coordinate your boxes with Washi tape, it'll cut down your move time by a factor of… a lot.
Get different-colored, fluorescent tape and only use that color tape to mark the boxes from each room. Then, before you start unloading at your new place, mark the door or entry with the color of the boxes that should go there.

You can try marking boxes full of supplies that go into the kitchen with blue tape, master bedroom boxes with red tape, and office supplies with striped tape, to name a few. Then, it's as simple as creating a packing key for your movers on a piece of paper.

You'll be able to find cheap Washi tape on Amazon or at your local discount store. Have fun and get creative with the designs and colors!

5. LOAD YOUR THINGS STRATEGICALLY
One of the most stress-inducing parts of the move is worrying if your possessions will survive the trip. If you're loading your own storage container or moving truck, you're likely wondering how to organize your things for added protection. The team at PODS can help you pack and load like a pro. The video above breaks things down into a simple step-by-step process.
Some quick moving hacks to remember when loading your truck or container:
Move the largest and heaviest items first.

Load the items section by section, using those heavy items to make a base along the truck or container floor.

Turn couches on their ends so they take up less room.

Put lighter and more fragile items on the top of the truck.

Be sure to fill in as many gaps and holes as possible with blankets, small decor, artwork, and other items.
Here are some things you don't want to do when loading a truck or container:
Don't load in inclimate weather if your things will be in boxes for longer than a few days. Moisture that collects on the outside of your packages can seep through boxes and lead to mildew or rot — the last thing you want to find when you eventually pull things out.

Don't put all the heavy items on one side of the container. If you put a lot of heavy boxes at the back, they can shift and smash against all the lightweight boxes at the front.

Don't pack items that aren't allowed to be transported. More on that below!
---
The best way to handle a daunting task is to break it down into small steps before starting the work. This philosophy definitely applies to packing hacks for moving.
---
6. KNOW WHAT TO PACK WHEN – AND WHEN IT'S BEST NOT TO PACK IT AT ALL
Desmond Tutu once said, "What's the best way to eat an elephant? One bite at a time." No, he wasn't giving a culinary recommendation. He was saying that the best way to handle a daunting task is to break it down into small steps before starting the work. This philosophy definitely applies to packing hacks for moving.
If you wait until the last minute to pack up your home, you're going to have a big, stressful job on your hands. When you have a packing plan of attack along with your moving checklist, you're better prepared to eat the elephant — so to speak.
As helpful as it is to know what to pack and when to pack it, you also need to know what's best left out of the box and away from the moving truck. The answer to "What should you not pack when moving?" is:
Living things and remains
Household cleaners
Perishables
Weed and lawn chemicals
Loaded guns and ammunition
Fireworks and explosives
Car batteries
Valuable jewelry
Wills, deeds, and other important documentation
Items of such high value that they cannot be insured or replaced
For a more comprehensive list, check out this article from Angi on household items that should not be packed and loaded onto a moving truck.
7. PULL TOGETHER A "DAY-OF" ESSENTIALS BAG
This is one of the most important tips. It's such a simple hack, but one that's often overlooked.
How many times have you accidentally packed away something important? The night before your move (or sooner), make sure you pack:

Water bottles (which you can also give to your movers)
Healthy snacks, like nuts and protein bars, for quick energy
Important medications
Personal documents, like birth certificates, passports, and social security cards
Toiletries, like a toothbrush, toothpaste, shampoo, and conditioner
Disposable plates, cups, and utensils — no one wants to do dishes on or immediately after moving day (Bonus points if you place the order on Amazon and have it delivered straight to your new home!)

At the end of the moving day, you're not going to want to go rummaging around for your toothbrush before finally crashing in bed in your new room! A change of clothes will also make things more pleasant, especially if you spill something on yourself, or if you simply want to change into a fresh shirt to travel or sleep in.

Finally, if you're thinking about tipping your movers, make sure you have some cash stored away in your essentials box so you're not searching for money later in the day.

8. GET SMART WITH THESE BONUS PACKING HACKS FOR MOVING
Save time and avoid frustration with these tried and true techniques:

Before you unhook your TV, entertainment center, and other electronics, take a photograph of the back showing how connections are set up. This will save some trial and error when trying to hook it all up again in your new place. Trust me, don't forget this one!

There's no sense taking clothes off hangers. Keep them together and place them into garbage or garment bags.

Moving art? Make an X out of tape across the glass part of your frame as a preventive measure in case the glass shatters during the move, then place cardboard over the glass and wrap it all in bubble cushioning roll.

Got some rubber bands? Put them to good use! Place rubber bands over door knobs to prevent yourself from getting locked out. You can also put rubber bands over the tops of pots and pans to keep the lids on.

Use your suitcases and luggage to pack your things — don't put them inside a box. All usable space is good space! Pro Tip: Putting books inside rolling luggage is incredibly helpful because the wheels make transporting heavier items much easier.

Use linens, towels, and other soft items as packing padding.

By using a pro moving checklist, trying out Hybrid Moving, and getting creative with your moving hacks, you can make your move a lot easier on yourself — and your wallet.
---
LB Gabriel is a freelance writer who lives with her husband, daughter, and Golden Retriever in Memphis, TN. A frequent PODS Blog contributor, she's a sucker for any tip she can find on downsizing, cutting clutter, or minimalist living. When she's not on a deadline, you can find her on a tennis court or golf course.
Get a Quote
Choose the service you need
Comments
Leave a Comment
Your email address will not be published. Required fields are marked *