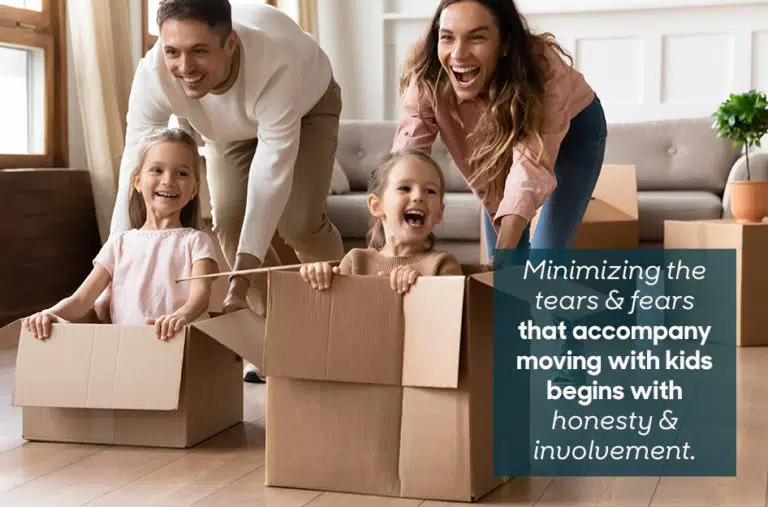 12 Ways to Make Moving with Kids a Good Experience for All
Adding a move to the mix of toddler, tween, or teen drama? Let's face it: Changing schools, leaving friends, and abandoning a beloved childhood bedroom have the potential to make the process of moving with kids difficult — if not downright traumatic. But it doesn't have to be that way.
First of all, kids are resilient and eminently adaptable — which is not to say it'll be smooth sailing all the way. But grownups have the power to help minimize the tears and fears that often arise in the middle of moving with family. Sure, every child and every family situation is different, but take a look at our top 12 tips that make relocating with kids as painless as possible for everyone involved.
1. BE TRANSPARENT
Our tips for moving with family begin with honesty. Tell your kids why and when you're moving — in age-appropriate language, of course — as soon as the plans are finalized. Is this a job-related relocation? Are you moving to be closer to family? Tell the kids in simple, direct language they'll understand.
Our children have a sixth sense that can pick up on the slightest shift in the household vibe. So instead of waiting for the elusive right time, tell them on time. Add the topic to the next family meeting agenda or take a walk-and-talk break. They may need a minute to absorb the news and process it, so give them that, too. But make sure they're informed of your plans early and keep them up to speed every step of the way; that'll go a long way toward an easier move for the entire family. Bonus: You'll gain points in the trust department — a rarity, particularly in those sometimes prickly teen years.
There are certain situations that require an especially delicate touch, of course. If you're blending families, for instance, consider your child's relationship with your significant other before deciding how to have the conversation. Moving in together is exciting, but it can also be stressful. And moving in together with kids adds a whole new dimension.
2. INVOLVE YOUR KIDS IN THE MOVE
From picking a new house to packing up treasures, enlist your kids as part of the team — it's a family event, after all. 
Here are a few ideas for moving with family and getting them involved:
Give your children a vote as you look for a home in your new town. This can be as simple as looking at photos online together as you narrow down your search or taking them along to tour new homes. Find out what their dream rooms would look like. How about the yard? Have they always wanted a treehouse? Is a swimming pool on their wish lists? Ask their opinions, hear their pros and cons, and consider their views when making your selection. Do keep the dream-house exercise in the realm of reality, though; you don't want to end up disappointing your kids if you can't deliver the hillside castle with ponies and an amusement park out back.

Send them to their rooms — with a few boxes to pack. Giving your kids ownership of their part of the move — again, age-appropriately, of course — helps them feel like they're a part of the process and can make for an easier transition. Do the same at the other end: Have them take the lead on unpacking in their new room. Find out where they'd prefer to hang pictures and posters and how best to arrange the furniture.

Unleash your kids' inner decorators. From paint colors to pillowcases, let them help decide the look of their new bedrooms. Even the most cranky tween will crack a smile if they get to pick out new goodies. And you don't have to break the bank — just a few simple touches can change the character of the new space. You might suggest a signature piece to build a design around: maybe a favorite cartoon character, a movie, or a sports theme. Your child might want to recreate their old bedroom in the new house — which is fine, to a degree. While you're just getting settled, it's important to support your child and make them feel comfortable, but you do want to strike a balance that helps them accept the reality of the move, as well.
Pro Tip: Advise the kids to keep the lovies out of the moving boxes. Stuffed bears and penguins belong in a carry-on backpack or otherwise in hand at all times. The last thing you want is for that precious cargo to get stowed away in a moving truck or container.
3. TAKE YOUR KIDS ALONG ON A RECON TRIP TO YOUR NEW TOWN
If you're moving for work, negotiate moving family with you and include a visit to your new city as part of your relocation package. Make a mini-vacation out of the trip and explore the area — particularly sites with kid-friendly activities like parks, playgrounds, and the nearest ice cream shop. When they're familiar with places of interest in their new town, your children will feel more at home when you get there for good.
4. JOIN THE CLUB
A surefire way to help your family feel at home is to get involved in a social or civic club that interests your kids (and you!). A few ideas:
Volunteer with a nonprofit. A neighborhood clean-up crew or a food pantry are good places to start. You'll find like-minded folks to get to know, and you'll be doing meaningful work for your new community.

Get creative. Check out arts organizations in your new town for opportunities to act, paint, write, or even play in a band. Expressing emotion and working through issues creatively is a cathartic, tried-and-true therapy — just ask Taylor Swift. So if your kids are having some angst about the new town, put a guitar, a paintbrush, or a blank notebook in their hands and see what they come up with.

Sporty kids in the house? The YMCA or local community center are good bets for energetic little ones. If the weather's agreeable, find (or kick off) a pickup game of soccer and let your kids unleash their inner Olympians. Older kids can check out your local YMCA or community center as a source of new pals, particularly if you're moving during the summer, when area swimming pools are the social hub of neighborhood activity.

Extra, extra! Help your kids explore after-school options. From sports to social clubs, extracurricular activities help students find peers with shared interests and perhaps foster a new hobby. If their particular passion isn't offered in a club, encourage them to start their own club — another terrific way to meet people with similar interests and hobbies.
5. CONNECT WITH OTHER PARENTS
This one is a win-win for you and your kids. Tap into your social networks for connections. Somebody always knows somebody, right? Or if your situation is a job relocation, ask your new HR director to refer you to local parents' groups. Moving with a baby? Check out the library for weekly story times or playgroups. The gatherings are an easy way to meet potential friends for both you and your children — essential to settling in and beginning to feel at home.

6. PLAN FOR A VISIT TO THE OLD HOUSE TO SEE OLD FRIENDS
Turn that tearful "goodbye" into a cheerful "see you soon!" Everybody loves having something to look forward to — it's why we count the days until Christmas starting in July and have half-birthday celebrations in the summer. Apply the same anticipation to planning a trip back to your old town. Your kids will be comforted knowing there's a visit on the calendar. It's always soothing in times of stress to turn to old friends, so keeping them close in their hearts is the next best thing. And, in the meantime, encourage your kids to stay in touch via email or even old-fashioned letters. (Remember how fun it was to have a pen-pal?)
7. GIVE YOURSELF PLENTY OF TIME TO PREPARE FOR THE MOVE
As you're winding down time in your old home and getting closer to moving day, the transition period will likely involve lots of unexpected moments: friends dropping in to wish you well, neighborhood going-away parties, and, inevitably, the occasional meltdown of one of your children — or you. Build in some buffer time to allow for these unplanned delays. And consider PODS portable moving containers, which allow you to take all the time you need. Literally. Because the containers are just outside in your driveway until you schedule them to be picked up and transported to your new home, you have the flexibility to move at your own pace. The best part? That means you can keep your focus on your kids throughout the process.
8. MAKE THE KIDS' ROOMS A PRIORITY
Last and first: That's how you should think about packing and unpacking your kids' rooms — the last to pack up and the first to unpack. That way your kids have the most time possible in their old room, and they can begin getting settled right away in the new house.
9. CHECK OUT THE LIBRARY
The best first stop you can make after your move is at your local library. Get your kids a library card — nothing like their very own IDs with their names on them! — and then get down to research. Make a fun project out of learning about the new community. The librarian can help you discover the history: Who founded the town? What are its main businesses? How many people have moved there in the past decade? If it's summer and school's out, make the lesson into a creative art project: Have your child design a picture book or write a poem or short story about the town. Not the project type? There's likely a book club or summer reading program (with prizes!) in full swing!
10. LEARN AS MUCH AS YOU CAN ABOUT HOW TO MAKE YOUR MOVE AS SMOOTH AS POSSIBLE
Visit the PODS Blog for more great moving tips to keep your family sane. You also might want to check out these family-friendly neighborhoods in a few sought-after cities. Even if you're not moving to one of these destinations, you're sure to find some valuable information to help with your move and your home search:
11. REMEMBER: THERE'S NO "WORST AGE TO MOVE A CHILD"
Every age has its own distinctive challenges when it comes to moving away from the only home they've ever known. For teens and tweens, there's sadness at losing lifelong friends (more on that in a minute). Being the new kid in town can be nerve-wracking — and if the school year has already started, doubly so. For toddlers just beginning to gain their footing in the world, there's the daunting task of navigating a new home and the loss of leaving familiar faces. Finding new friends will be key, so get involved with your local toddler network as soon as you can.
And as for older kids, talk with them about the chance to expand their horizons. Maybe celebrate the move with a shopping spree or a mini-makeover. A must: Help them find the best coffee shop in town (or another favorite eatery) and splurge for a gift card.
Remember that these moving challenges can also represent opportunities, and it's your role as their caregiver to help put a positive — even exciting — spin on the process. Acknowledge the sadness of leaving and the anxiety of starting over. But just as importantly, emphasize the good things that await in the new town. What a treat it can be to explore a whole new environment: fresh shops and restaurants to try, new parks to explore and friends to find, and the potential for interesting clubs and activities at school. With those fun possibilities on the horizon, you may be able to help your kids turn the blues around.
12. AND FINALLY, TRUST YOUR INSTINCTS
Moving is stressful at any age. In fact, experts consider it to be among the top five most stressful life events. But for kids, disruption lands differently. You know your children better than anyone, so pay attention to their moods and behaviors. Your goal is to reassure them and help keep angsty moments at bay. Even the most insightful parents can miss a signal, though, so be sure to check in with your children to make sure they're rolling with all the changes.
If new behaviors emerge that you find worrisome — spending a lot of time alone or exhibiting mood swings, for instance — it might be time for a heart-to-heart or a wellness break. Go outside and take a walk, start a new project, or just snuggle up on the couch for a movie or storytime. Sometimes a hug is all it takes to feel better in a time of disruption and change. And that's true for kids of all ages.
---
Shannon Jacobs is a Tampa-based freelance writer and frequent contributor to the PODS Blog. She has lived in Atlanta, the Berkshires, and Nashville, but always returns to the warmth of Florida's Gulf Coast.
Get a Quote
Choose the service you need
Comments
Leave a Comment
Your email address will not be published. Required fields are marked *