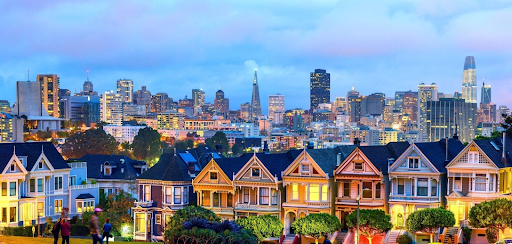 Moving to San Francisco in 2024: Finding the Best San Francisco Neighborhoods for You
San Francisco packs a lot of punch for a city that's only 7×7 (or 49 square miles). With its iconic Golden Gate Bridge, colorful Victorian row houses, and funky, diverse districts, the City by the Bay is a great place to live — if you can afford the hefty price tag. San Francisco neighborhoods are a mix of trendy and classic, with more restaurants per capita than any other city in the U.S. They are all mostly walkable (if you're capable of some major hill climbs), they are close to public transit, and each has a unique flavor. Another thing about San Francisco neighborhoods? With the population here trending younger and richer, you're more likely to see someone walking a dog than pushing a stroller.

If you're thinking about moving to San Francisco, or just relocating to a new part of the Bay area, you'll probably need a little help choosing the best neighborhood in San Francisco to live in. Whether you're looking for family-friendly, artsy, affordable (relatively), or trendy, this guide has you covered. And while you're looking, you can start planning how you'll make your move with our guide to surviving moving day in San Francisco.

Planning a move to San Fran? Start by getting a quote from PODS.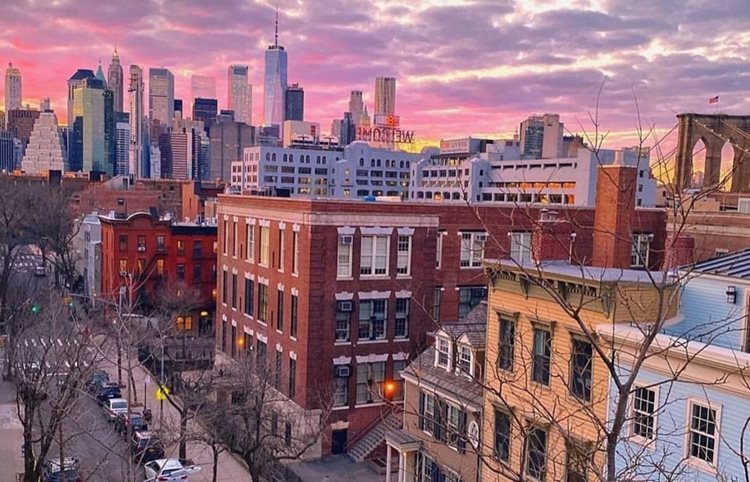 (Source: @onlyinSF via Facebook)
About Moving to San Francisco
With a population just over 808,400, San Francisco is a hilly peninsula bordered on three sides by shining water. Surfers, kiteboarders, hikers, and park dwellers will love the mix of nature and culture, with miles of forested trails and beaches just a short drive away.
You'll find distinct cultural groups and neighborhoods in San Francisco, from Chinatown to Japantown, Little Italy to the Latino-infused Mission District. And top-notch restaurants mimic this cultural blend, so you'll be able to find a cuisine to tempt your taste buds every night of the week.
While the neighborhoods are walkable, be prepared for some steep hill climbs in the City by the Bay — San Francisco is famously home to 48 hills, ranging in altitude from 200 to nearly 1,000 feet.
And when it comes to the entertainment, San Fran definitely delivers. The San Francisco Museum of Modern Art, the California Academy of Sciences, and the M. H. de Young Memorial Museum attract world-class traveling exhibits; performing arts abound with a hearty mix of Broadway shows, plays, and outdoor street festivals; and the local arts and music scene is thriving with dozens of galleries, live music venues, and clubs.
The best part? If you have the salary to call San Francisco home, there are more than 30 neighborhoods to choose from.
About Moving to San Francisco
San Francisco's single-family homes and condos are highly coveted, and you'll be hard pressed to find one under a million dollars. If you do find your dream home, be prepared to get in a
bidding war
with other potential buyers — particularly for homes in the $1 million to $3 million range.
It's also important to know that if you buy a home in one of the best neighborhoods in San Francisco, you're not likely to have a yard — but if you do, it will be the size of the proverbial postage stamp.
Thinking about kids? Many young professionals tend to prefer the East Bay, North Bay, or South Bay when they're ready to have children, because home prices are more affordable, relatively speaking, than in other parts of the city.
Cost of Living in San Francisco
Even if you're relocating to San Francisco from
across the country
, there's no doubt you've heard about how expensive it is — with a cost of living behind only Manhattan and Honolulu,
according to Investopedia
. Here's how it breaks down: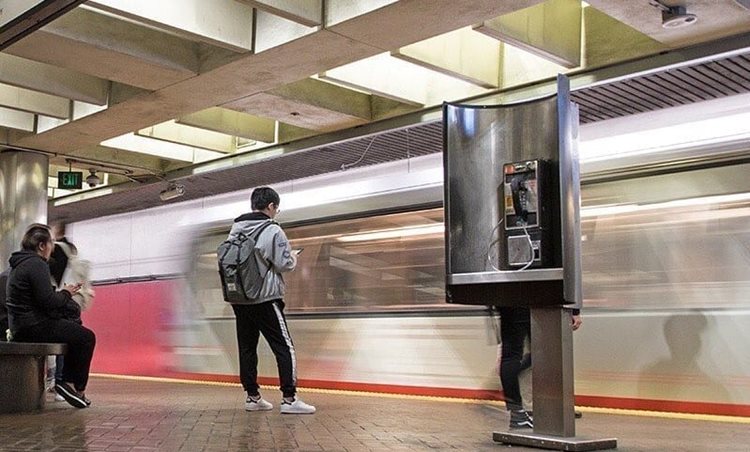 (Source: @sfmtaphoto via Instagram)
Things To Think About Before Choosing an SF Neighborhood
Choosing one of the best areas in San Francisco to live is a highly personal decision. Think about whether you'd like a quiet, tree-lined street or a bustling hotspot. Do you want to be by the best burritos in San Francisco or by the most iconic row houses? How much does fog (lovingly known as Karl the Fog by San Francisco residents) bother you? How much money are you willing to fork over?
There's a lot to consider when you're moving to San Francisco, and we hope these questions and answers help you narrow down your choices.
Do You Have a Car?
If you're taking a car with you to San Francisco, you're better off living in a neighborhood farther away from the city center. Parking is a bear in many parts of this highly populated city, and plenty of vehicle owners end up circling the block endlessly to find a spot. If you're taking a car, look at outer areas like the Sunset, Richmond, Cole Valley, Noe Valley, and Bernal Heights neighborhoods.
Where Are You Commuting?
A large number of people who live in San Francisco either commute to the downtown Financial District or south to Silicon Valley. San Francisco's transit system, called MUNI, is notoriously slow and overcrowded. So think about your personal limit for the number of hours you're capable and willing to spend on MUNI — and choose a San Francisco neighborhood accordingly.
But if you're relocating for a job in Silicon Valley, you'll likely get your own fancy shuttle, fondly known as "Google buses," complete with Wi-Fi and designated stops in San Francisco.

(Source: @onlyinSF via Facebook)
What Type of Weather Do You Want?
San Francisco is known for its microclimates. For example, Dolores Park in the Mission District can be warm and sunny while, just five miles away, freezing fog is blowing its way through the Outer Sunset. Think about how much fog and cold weather you can handle. If the answer is "none," you may want to consider living in a neighborhood outside the city of San Francisco, like the South Bay or East Bay.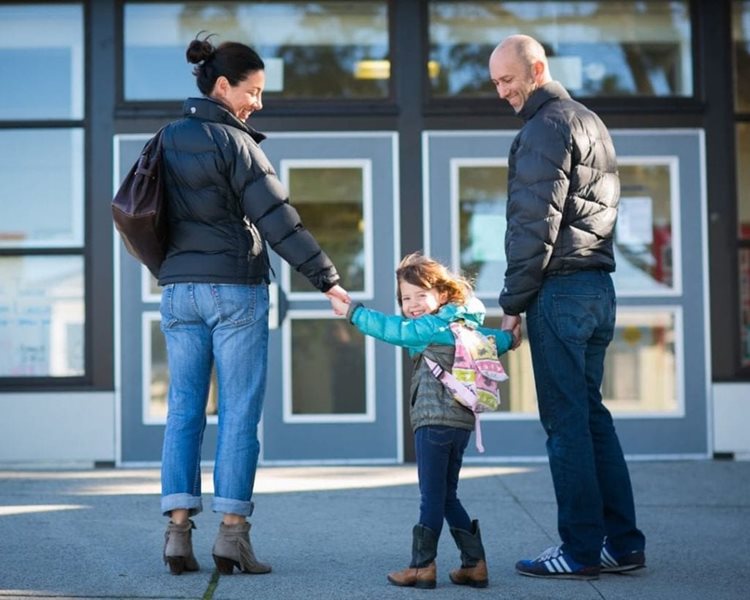 (Source: @sfunified via Instagram)
Looking for Good Schools in San Francisco?
The city tends to attract more singles than families with children, but overall, students at public schools in San Francisco tend to enjoy more success than those at other highly urban school districts across the country. For example, San Francisco Unified School District (SFUSD) students scored higher proficiency levels than California students statewide in both English and math in 2022.

However, school rankings still vary significantly across the district, and parents will need to do a lot of homework to navigate the system and find the schools that best match the needs and interests of their children. That's because students are assigned to schools based on a controversial lottery system, which means there's no guarantee your child can attend their closest neighborhood school or their top school choice — although there is more weight given to placing students in schools closer to home.
On the other hand, you're not restricted to the schools in your neighborhood, so your child has the chance to "win" a spot in a school that's highly rated for academics and other special programs in the arts and languages. Sound complicated? It is. Here's where you can start your education process on San Francisco school choice. And the good news? In the 2024-25 school year, the SFUSD lottery system will change for elementary school students, who will be able to pick from a dozen schools close to home.

Private schools also have a strong presence in San Francisco, with 116 schools enrolling about 26,000 students — compared to the 56,000 students attending 134 public schools. Besides the expense, you'll have to do just as much research as with a public school choice to vet the private options.
What Are the Best Neighborhoods in San Francisco?
If you want to be close to the water . . .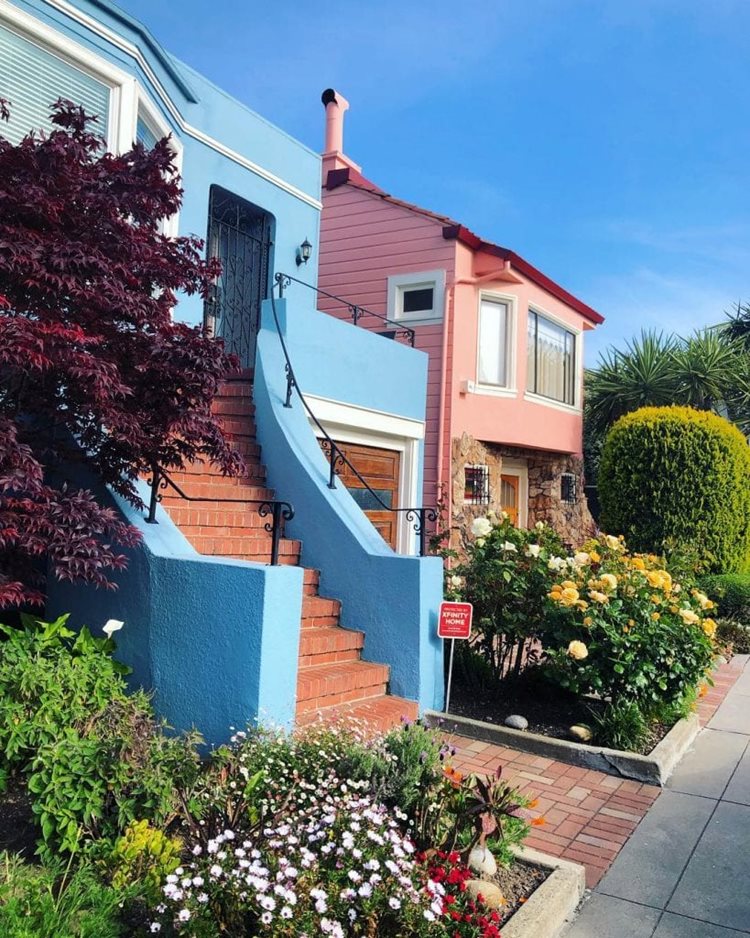 (Source: @marina_district_sf via Instagram)
1. The Marina
Beloved as one of the top neighborhoods in San Francisco, The Marina is perched on the north shore of the city and is known for its trendy bars, restaurants, and boutiques along Chestnut Street. A flat and easy stroll brings you down to Marina Boulevard, a popular spot for runners and walkers with stunning views of the Golden Gate Bridge, the Bay, and Alcatraz. You're also a quick walk away from The Presidio, the Palace of Fine Arts, and trails that lead to Fort Point.
2. The Outer Richmond and Sunset Districts
These two outer SF neighborhoods are also known as "The Avenues'' and aren't too far from the windy spread of sand that's Ocean Beach. The Golden Gate Park separates these two communities, which each feature an eclectic mix of Russian, Chinese, Burmese, and Indian restaurants. Burma Superstar on Clement Street, in particular, is a standout. Expect a more peaceful vibe in these neighborhoods, which are a longer haul from downtown — but some of the nicest areas in San Francisco.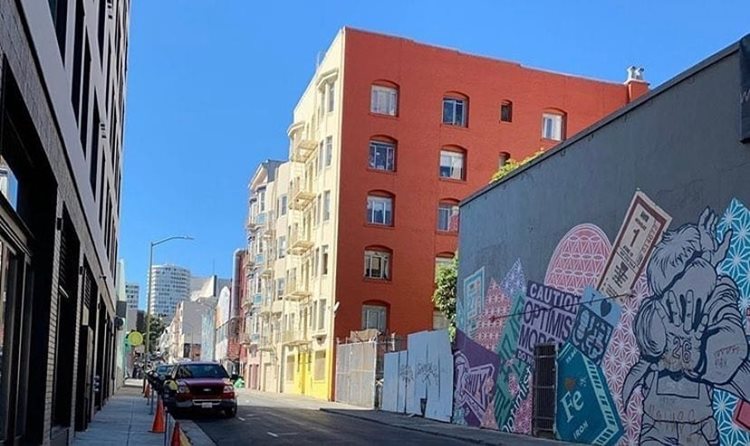 The Tenderloin neighborhood
(Source: @tl_merchants via Instagram)
If you're looking for affordability . . .
3. Visitacion Valley
Located in the southern end of the city, this diverse San Francisco neighborhood is a working-class 'burb with rents that are significantly lower than in other parts of the city. You'll find a lot of single-family homes here and an easier commute if you work in the Peninsula. McClaren Park also offers hiking trails and beautiful views of the Bay, but if you're looking for a hip nightlife, this isn't the spot for you.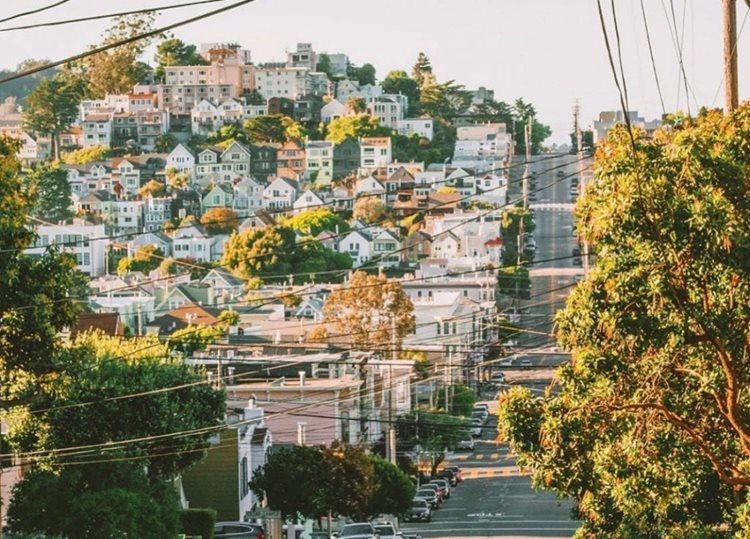 The Castro neighborhood
(Source: @onlyinSF via Facebook)
If you want a neighborhood with a colorful past . . .
4. Haight Ashbury
You'll still find vestiges of the 1960s hippie counterculture in this San Francisco neighborhood, once home to musicians like Janis Joplin and the Grateful Dead. The Haight pays homage to its colorful past with splashy murals, vintage boutiques, and funky bars. Its proximity to Golden Gate Park also makes it one of the best neighborhoods in San Francisco for those who like to be near museums, picnic areas, and trails.
5. North Beach
Beat writers like Jack Kerouac and Allen Ginsberg called North Beach home in the 1950s and gathered at City Lights Bookstore, still treasured by poets and writers as one of the best parts of San Francisco. Also known as "Little Italy," North Beach bustles with tourists and Bay area crowds on weekends. You can find tons of hidden treasures here, and the neighborhood's proximity to downtown makes it a popular spot for folks who don't want to spend too much time commuting on a bus.
6. Castro
Castro, one of the first gay neighborhoods in the United States, still has an open-minded and LGBTQ+-friendly attitude. This San Francisco neighborhood's main drag includes bars, dance clubs, and top-notch restaurants, where you'll find people sitting outdoors on sunny days. The walkable neighborhood features adorable Victorian homes, and a quick ride on the underground MUNI train or the above-ground F-line gets you downtown in no time.
The Biergarten in Hayes Valley
(Source: @biergartensf via Instagram)
If you want hip restaurants and nightlife . . .
7. Hayes Valley
Into that see-and-be-seen crowd? Hayes Valley is for you. This revitalized neighborhood between Van Ness Avenue and Western Addition is a major hotspot, with upscale boutiques, art galleries, and restaurants that attract lines a block long. Despite its haute couture style, this San Francisco neighborhood isn't snobby and maintains its community feel. Glug a German pint at the outdoor Biergarten before grabbing a cone at Smitten Ice Cream's outdoor stand.

Q: What is the nicest area of San Francisco?
A: In a city as vibrant and eclectic as San Francisco, choosing one neighborhood as "nicest" might be impossible. If you're all about revitalization and want to be in an area that's in high demand, check out Hayes Valley. If you're a fashion maven or history buff, the elegant Nob Hill is right up your alley. Foodies will savor the touristy (but fun!) Fisherman's Wharf and Chinatown. And pop-culture lovers will find familiar sites in Pacific Heights — the house from Mrs. Doubtfire, for instance, and the colorful "Painted Ladies" row houses from sitcom fave "Full House."
8. Mission
If you like hip with a Latin flair, you'll be happy as a clam in San Francisco's Mission District. Sixteenth and 24th streets are lined with taquerias and pupuserias — and it's home to the best burritos in the city. Traditionally a Latino neighborhood, this area has undergone a major gentrification in recent years, thanks to the tech industry. You'll easily find upscale bars, restaurants, and music venues. Another plus? Mission Dolores Park, the perfect place to stretch out with friends on a sunny afternoon.

Q: What are the safe areas of San Francisco?
A: Every city has its share of crime, unfortunately — some more than others — and San Francisco is no exception. In fact, according to NeighborhoodScout, the city is safer than only 2 percent of other cities in the U.S. But there are districts rated higher than others when it comes to crime, including the Mission, Sunset, Parkside East, Oceanview, and Merced Manor. As always, taking practical precautions and getting familiar with your surroundings can help protect you from harm.
9. Cow Hollow
On a sunny weekend afternoon, the people of Cow Hollow look like they came straight from the pages of GQ magazine. The patio-lined Union Street is popular for Sunday brunch, with mimosas and white wine decorating almost every table. You'll find upscale yoga studios, clothing stores, and restaurants in this San Francisco neighborhood of apartment buildings and Victorian homes. It's also a short stroll to the Presidio and the Marina District, and buses 45 and 41 go straight downtown.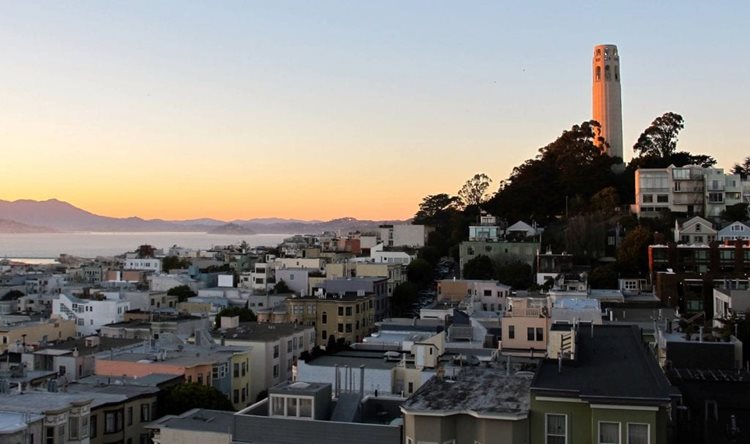 Coit Tower perched on Telegraph Hill
(Source: @onlyinSF via Facebook)
If you like historic character . . .
10. Russian Hill
Average rent (one-bedroom): $2,750
Average home value: $1.45M
One of the most popular sights on Russian Hill is Lombard Street, known as the "crookedest street in the world." Residents of this upscale neighborhood also love the jingle of the famous cable car as it lumbers down Hyde Street day in and day out. Walk down to Polk for restaurants, bars, and clothing stores, and discover the hidden treasures of Russian Hill — tropical plant-lined pedestrian walkways and stairs, perfect for an afternoon stroll or workout.
11. Telegraph Hill
The iconic Coit Tower is perched on the top of Telegraph Hill, which boasts narrow streets, Victorian architecture, and wild parrots. (Don't worry. You'll get used to the squawking of these colorful birds.) Sure, Telegraph Hill isn't a cheap place to live, with postcard-size apartments going for a pretty penny. But it is walking distance to North Beach and a steep staircase away from The Embarcadero, which runs along the Bay.
12. Alamo Square
You've most likely seen pictures of The Painted Ladies in Alamo Square, a jaw-dropping block of popsicle-colored row houses overlooking downtown San Francisco. Dog walkers and picnickers love hanging out at Alamo Square Park, with its rolling green hills and Bay views. This peaceful neighborhood is also walkable to many bars and restaurants and is home to both young professionals and retirees.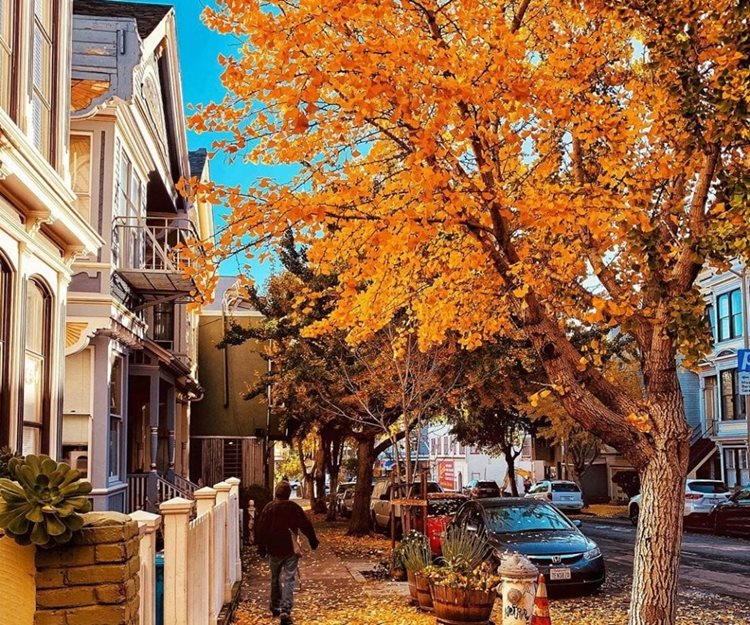 Noe Valley neighborhood
(Source: @samantha_lorenzini via Instagram)
If you're looking for a family-friendly neighborhood . . .
13. Noe Valley
Just south of San Francisco's Mission District, Noe Valley might be the definition of suburbia within a city, if there is such a thing. The heart of this family-oriented neighborhood is along 24th Street, which is lined with bakeries, restaurants, quaint boutiques, and bars. If you end up living in Noe Valley, you'll most likely be renting an apartment in a stunning Victorian or Edwardian home. Grab a cupcake or fresh loaf of bread at Noe Valley Bakery or nosh on a burger at Barney's Gourmet Hamburgers before a hike up to the top of nearby Twin Peaks.
And if you have school-aged children, you'll find many A-rated SFUSD schools in Noe Valley, according to Niche, including The New School of San Francisco Elementary, rated in the top 60 schools in California; Roosevelt Middle School, with a 17:1 student-teacher ratio; and Lowell High School, ranked No. 13 in the state. (Note: While you'll still need to use the lottery system, more weight is given to placing students in nearby schools.) There are also plenty of private schools nearby, including the No. 1 Best High School for STEM in both CA and America, The Nueva School.
14. Cole Valley
If you want more access to the outdoors, a place in Cole Valley might be the perfect fit for your family. This small neighborhood is nestled near Mt. Sutro Forest, Golden Gate Park, and Twin Peaks. You'll enjoy a leisurely walk down leafy streets lined with old Victorian homes as you head for morning coffee at La Boulangerie. And even though Cole Valley is the smallest neighborhood in San Francisco, it's home to one of the best brunch spots, Zazie, which has a line a block long every weekend.
As one Cole Valley resident, Amit Melwani, put it: "At surface level, it's a quaint little neighborhood for 30 to 40 year olds with strollers and dogs. After a while as a resident, though, you realize how friendly the community is, how locals constantly stop to make conversation with each other passing by or in the cafes, and how the businesses feel really local. Add to that the proximity to Golden Gate Park, Sutro Trails, and Twin Peaks, and it does feel like a secret valley nestled away in a corner of San Francisco."
Although there are no public schools directly in Cole Valley, there are highly rated schools nearby, both public and private. For example, Claire Lilienthal Elementary, which serves grades K-8, gets an A rating from Niche and is rated 9 out of 10 by GreatSchools. (Again, SFUSD schools are assigned by a lottery system, but students have a greater chance of attending nearby schools.)
Making Your Move to San Francisco
Whether you're moving long-distance or relocating locally, we hope this guide to the best neighborhoods in San Francisco helps you make the right choice for you and your family. If possible, we highly recommend you walk around the San Francisco neighborhoods you're interested in before you rent or buy. Check out the coffee shops, nightlife, and restaurant scene. Test out your commute by hopping on a MUNI bus or BART train. And before you know it, you'll find an awesome San Francisco neighborhood to call home.
Looking for more San Francisco moving resources? See our related posts here:
Kristin Hanes is a freelance writer living in San Francisco. Her work has appeared in SF Gate, Marie Claire, and Realtor.com, among other publications.

Editor's note: For ease of reading, monthly rental prices were rounded to the nearest $25 and home values were rounded to the nearest $100.
Get a Quote
Choose the service you need
Comments
Leave a Comment
Your email address will not be published. Required fields are marked *