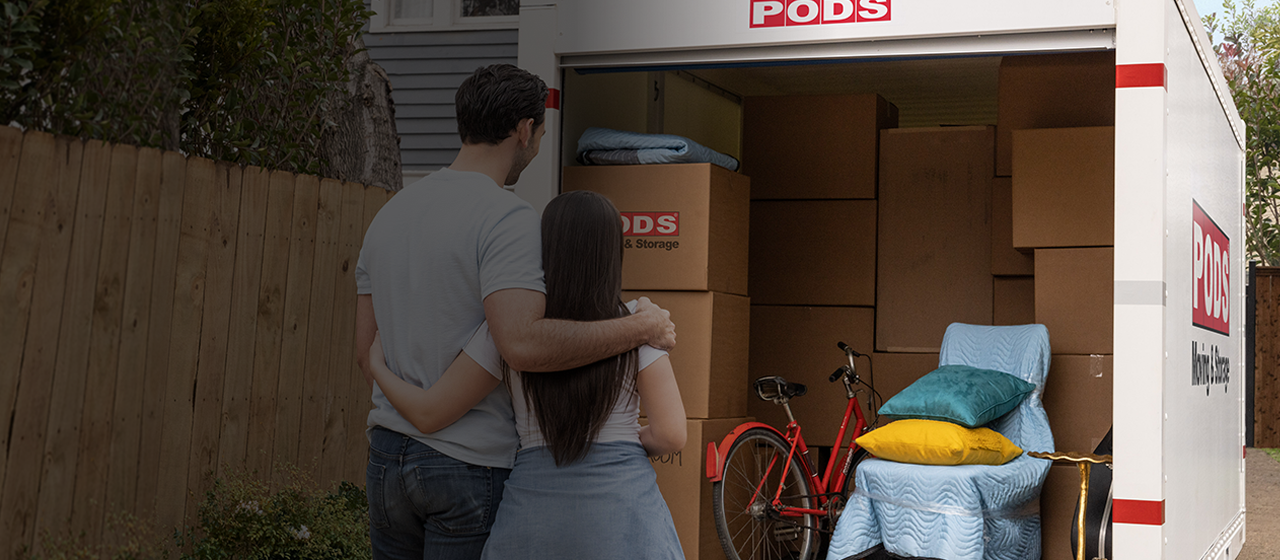 Cross-border moving made easier
For many years our experts have given personal support to people moving across the border to the U.S.
PODS is your moving and storage expert for cross-border moves@Model.Title.HeadingType>
Whether you're moving back home or starting your next big adventure, PODS can help every step of the way. We'll help you navigate the process and provide you with all the resources you'll need for a smoother cross-border move.
Get your customized moving quote.
Move to the U.S. with PODS in 9 easy steps@Model.Title.HeadingType>
Call or chat with us to get a free quote and book your move.
We'll deliver your empty container to your house. We've got containers for any size move.
Load the container at your own pace, taking as much time as you need.
Complete your rental agreement and send us all required paperwork listed below, including a Power of Attorney form to allow us to clear customs on your behalf. (We cannot pick up your container until all documentation has been submitted.)
Schedule a time for us to come pick up your container.
Make sure to travel to the U.S. before your container is shipped and stay in the U.S. until it arrives.
PODS picks up your container and does all the driving.
We contact you when the container arrives in the U.S.
That's it! You've moved to the U.S.!

Check out our cross-border FAQs here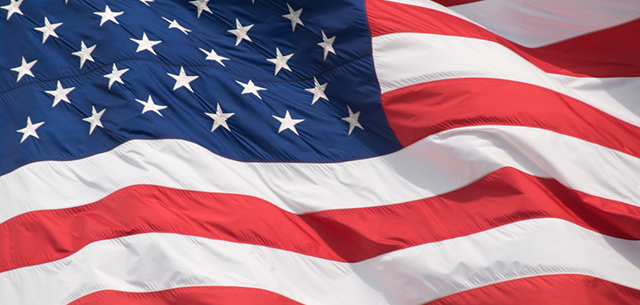 Find all the required documents. Right here.
PODS won't just provide the container to help you organize your stuff. We're here to help you find all the documentation you'll need to complete your move to the U.S.
Check out our guide, Required forms and key information for moves to the United States
Download Guide (PDF)
What to know before you pack
When you're packing for your move, you'll need to be aware of the rules and regulations the U.S. Government has on the importation of certain goods.

Bringing goods into the U.S.

You may be required to pay duties on different goods from your household. Learn more from CBP.

Importing a vehicle into the U.S.

Before importing your car into the U.S., you need to ensure it's admissible. Find out more from CBP.

Moving pets to the U.S.

If you're planning on bringing your animal companions with you, make sure to get the right paperwork in place. Get details from the Centers for Disease Control and Prevention.
Bringing alcohol into the U.S.

Bringing tobacco into the U.S.

Prohibited and restricted items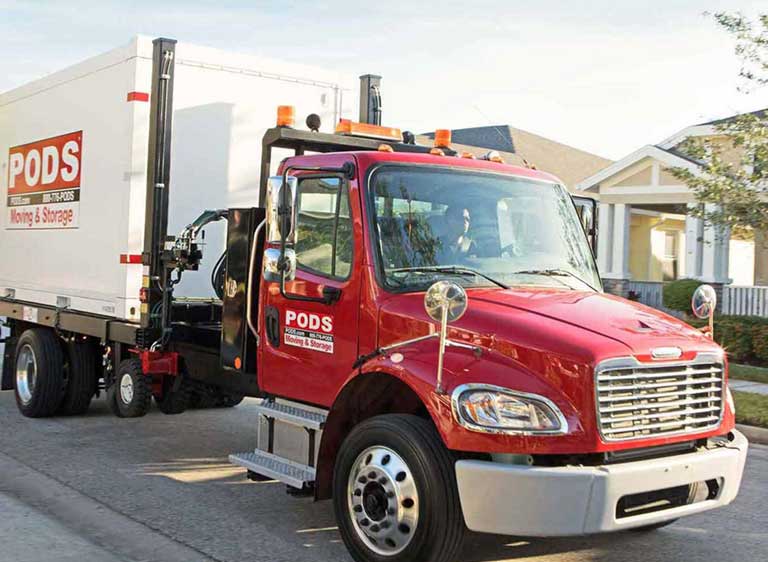 Support without borders@Model.Title.HeadingType>
With PODS, you get real people offering real support every step of the way. Our moving and storage experts work with you to create a personalized experience and adapt to any changes you might need to make. Take your time packing and loading your stuff into your container, and rest assured that unlike with traditional movers, there's no unloading/reloading needed, so no one else will handle your stuff along the way.
Flexible scheduling: We fit your plans with no penalties for rescheduling.
Help with the heavy lifting: We do all the driving, and can connect you with local packing and loading pros.
Cross-border experts: We have many years' experience moving people to the U.S.
For even more customization, you can mix and match containers to fit your move.
We've got containers to fit your moving and storage needs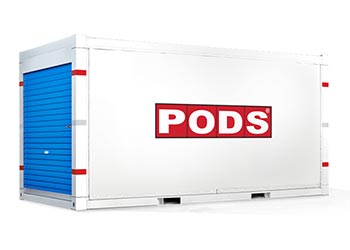 Large Container
16-Foot
Ideal for a 2-bedroom home, or up to 1,200 sq. ft.
About the length of a standard parking spot
Comparable to a 10'x15' storage unit or a 20' truck
Available for moving and storage needs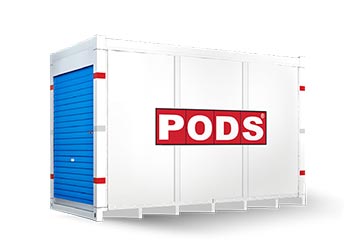 Medium Container
12-Foot
Perfect for a 1-bedroom home, or a 500-800 sq. ft. space
Great for packing away things from 2 or 3 rooms
Compare to a 10'x10' storage unit or 15' truck
Available for storage only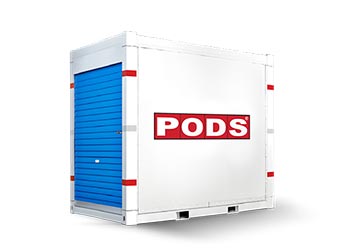 Small Container
8-Foot
Great for a studio or room of 500 sq. ft. or less
A popular choice for college students
Comparable to a 5'x10' storage unit or 10' truck
Available for moving and storage needs
See what real cross-border customers have to say
The moving experience itself was amazing.
How easy the entire process was. I think I said it after every call with customer service.
Very positive experience.
Feel at home in the U.S.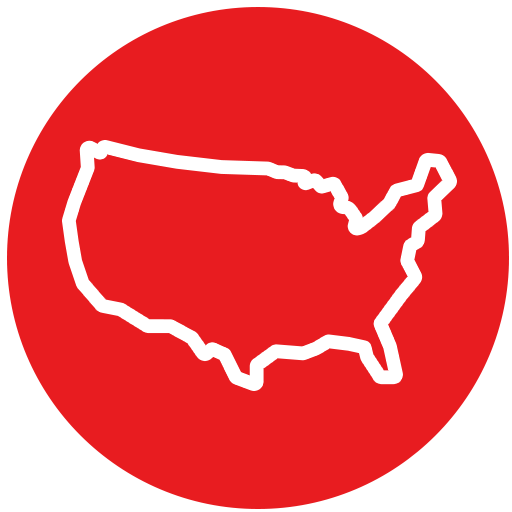 Immigrating to the U.S.
Learn from the U.S. Government how you and your family can immigrate into the country.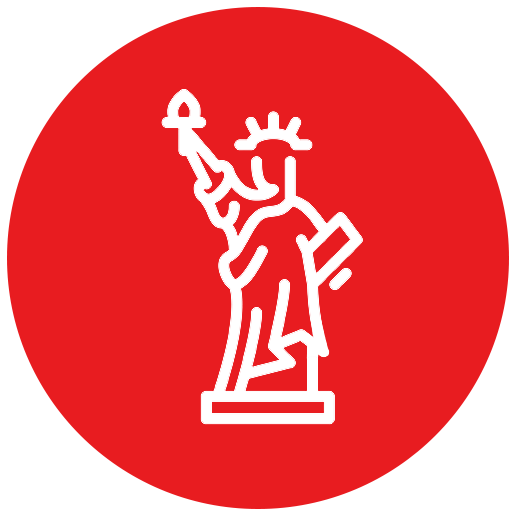 Settling in the U.S.
Get ready for life in the U.S. with tips from the U.S. Government on topics like securing a job, getting an education and finding child care.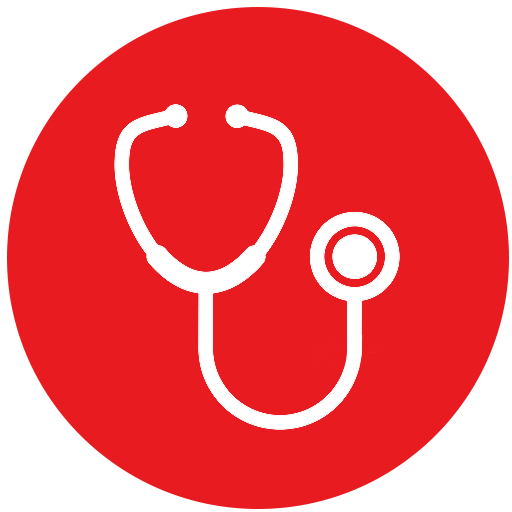 Understanding the U.S. healthcare system
Let the U.S. Government show you how to find health insurance for your family and navigate the healthcare system.
Have questions? We have answers.
Is there any customs paperwork that I need to complete?
Where do I submit my documentation?
When it comes to paperwork submission and follow-up, all communication is via email through PODS. At time of booking, an automated email will be sent with information on next steps.

Please submit each document separately in PDF format to SpecialServicesPPW@pods.com.
Do I need travel documentation to move a container internationally?
Yes. You and any persons moving internationally together must each have the appropriate documentation to prove status in the United States.
Do I have to meet the driver at the border?
You do not have to meet the driver at the border, but you must have arrived in the United States prior to the shipping of the container and remain there until the container arrives. Failure to arrive in the United States prior to the container's arrival at the border could result in your shipment being returned to Canada.
I'm moving belongings to my vacation home. Do I have to complete the same forms?
Yes. It is possible to move a container internationally for a vacation home. In most situations, a customer must show proof of property ownership in Canada and the U.S., all required customs forms, and a six-month visa. (Rental properties will not be approved by customs.)

For additional assistance regarding this particular need, please give us a toll-free call at (877) 770-7637.
I have a business and would like to ship goods to a customer. May I use your service?
No. PODS international transport is for residential use only.
Do I have to create a list of contents for the customs forms?
Yes. You must complete a detailed list of the container contents. If you have more than one container, you must create separate lists.
Do I have to pay taxes and duties?
The assessment of any taxes and duties is strictly between the customer and customs. PODS is not involved.
Where can I get the required customs forms?
A link to all required forms will be e-mailed to the customer after the container is booked.
If customs searches the container, will the driver need a key, or will the lock be cut?
Customs will cut the lock and secure it with a special metal seal after the inspection. Customs does not require a key. Only customs personnel are permitted to be present when the search is conducted.
What happens if my container is selected for inspection?
For Canada-to-U.S. moves, the driver will cross the border into the U.S. There is no bonded warehouse on the U.S. side of the border; any inspection will be performed at the border or at a government warehouse near the border. If there is no inspection, the container will continue directly to the specified delivery location or PODS Storage Center.
I am trying to ship the personal belongings of someone who is not directly involved in the international move. Can they be transported with my belongings?
Yes. As long as everyone is moving together, has legal status in the United States, and is able to submit proof, the belongings may be transported together. Please keep in mind that one person must take responsibility for the items, and that is the person whose name must be on the PODS account.
In addition, the method of payment should be in the name of the PODS account holder.
I am going to need multiple containers. Can PODS offer multiple containers for international use?
Yes. We can ship multiple containers which are transported together. We are unable to ship containers separately at later dates.
I have a visa or passport. Is this acceptable?
Yes. Your visa must be valid for at least one year from the ship date. Your passport must be valid for at least six months from the ship date.
My parent passed away. Can I ship their goods from Canada to the U.S.?
Yes, upon verification of the will listing you as the inheritor, and other required documentation.
I moved my goods from a country outside of North America to Canada and am trying to move to the U.S. Can I do it?
No, your belongings must have originated in Canada, not from a country outside of Canada.
Can I ship alcohol or tobacco?
No. Shipment of alcohol or tobacco is not allowed.
I'm moving with my spouse to the U.S. for a job. Can we use your services?
Yes. All persons involved in the move need to be able to provide proof of either: U.S. citizenship, a visa that is valid for at least one year from the move date, or a work permit.
I recently married someone who is not a citizen of the U.S. They are awaiting their visa, and we'd like to move to the U.S. Can we use your services?
We cannot transport the container internationally until a visa (valid for one year or more) is submitted to our logistics team for confirmation. For the time being, you can still book an order for an empty initial delivery and pickup to the PODS Storage Centre in Canada.
When the container crosses internationally into the U.S., will my PODS monthly rental amount change?
Yes. At time of crossing, the monthly rental currency type will change to U.S. dollars. The unused number of days in your current month will be adjusted accordingly, and any future months will be charged in full in the new currency.


Please keep in mind that your long-distance transportation invoice or any other charges moving forward will be in U.S. dollars.
How long will it take for PODS to move my container internationally?
While we try to make your move as seamless as possible, delays can occur, since customs has increased its border inspections and requirements. Transit duration is not guaranteed, but we will contact you in the event of a delay.
Let's Get Started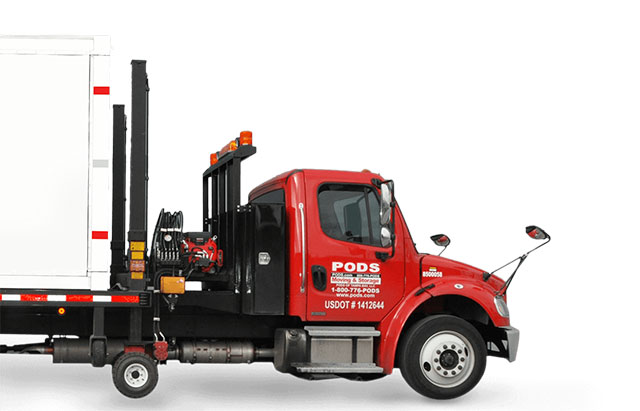 Choose the service you need