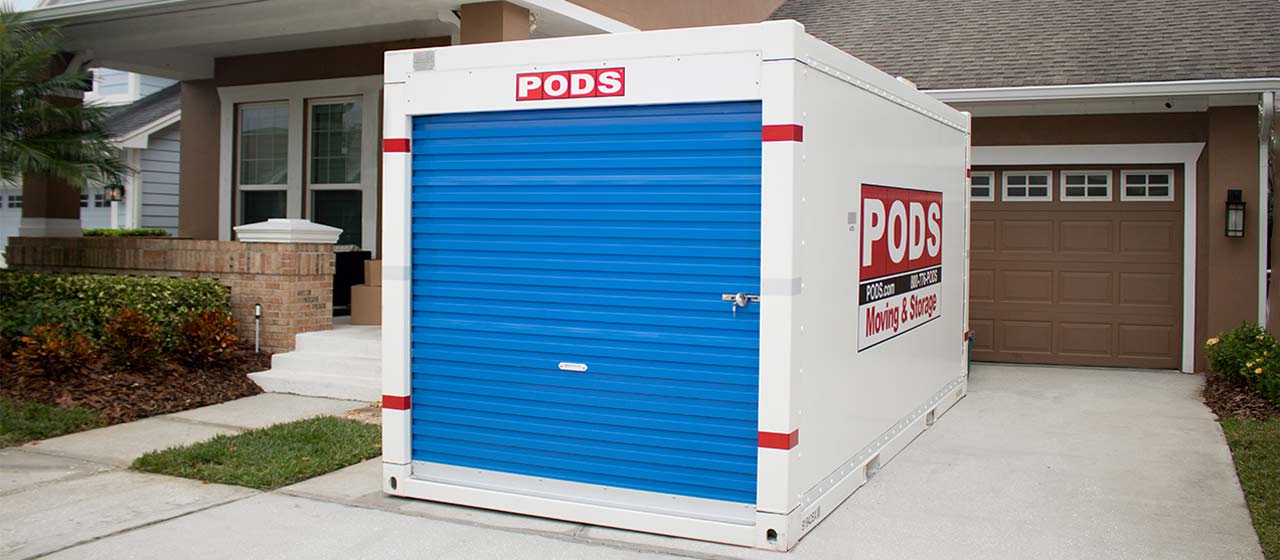 CONTAIN THE CHAOS WITH MOVING AND STORAGE CONTAINERS
We know moving is hectic. That's why we offer multiple moving and storage unit sizes, and give you the time and space you need to conquer it on your terms.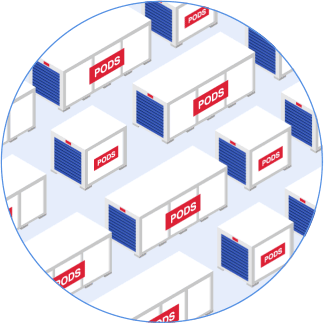 This may take up to 30 seconds.
We're searching over 200,000 containers to find you the best price.
Designed for Protection & Convenience@Model.Title.HeadingType>
Sturdy steel construction
PODS steel-frame, weather-resistant containers are built to keep your belongings protected from the elements. Watch out for some companies that advertise their containers as "all steel," which may only be lightweight metal sheeting that offers no added security for your belongings.
Impact-resistant wall paneling
Our containers are specially designed with impact- and weather-resistant high-tech polymer wall panels, or sturdy wood reinforced with an aluminum exterior sheet for extra security and protection.
Safe & secure
Since you own the lock and key, you're the only one who has access to your stuff.
Built-in tie-down rings
Convenient tie-down rings enable you to secure your belongings for transit with ropes or straps.
Convenient roll-up door
Unlike swing doors, our roll-up doors don't require as much space to open. This means you have more room in your driveway.
Ramp-free loading
Our containers make loading easier with ground-level access.
16-Foot Container
The perfect size for bigger households
Great for moves requiring temporary storage.
Our largest size, and a popular choice for moving a home with 3 to 4 rooms
Comparable to a 10'x15' storage unit or a 20' rental truck
Imagine a parking space in 3D
Weight limit: 4,200 lbs.
835 cubic ft.
Dimensions: 16' x 8' x 8'
Watch our
What Fits in a 16-Foot Container
video.
Try our
Moving and Storage Calculator
to determine which size and how many you need.
Get 16-Foot Container Pricing
12-Foot Container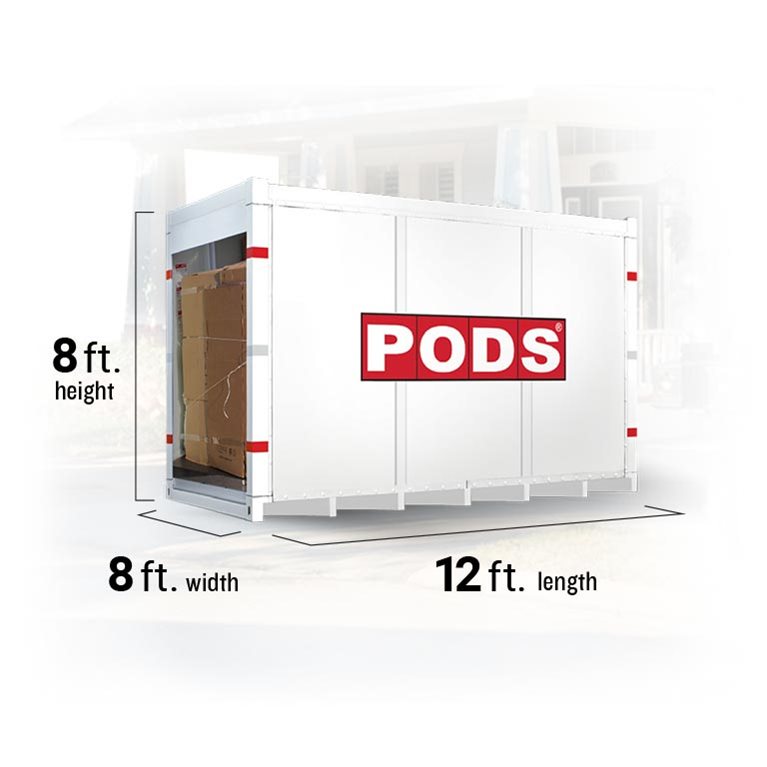 Simplify local moving or your home improvement project
Perfect for a 500-800 sq. ft. space* (2 to 3 rooms' worth of belongings)
Great for smaller moves and bigger storage needs
A popular size for local apartment moves
Comparable to 10'x10' storage unit or 15' rental truck
Available for in-town moving and storage only
Weight limit: 4,700 lbs.
689 cubic ft.
Dimensions: 12' x 8' x 8'
Try our
Moving and Storage Calculator
to determine which size and how many you need.
Get 12-Foot Container Pricing
8-Foot Container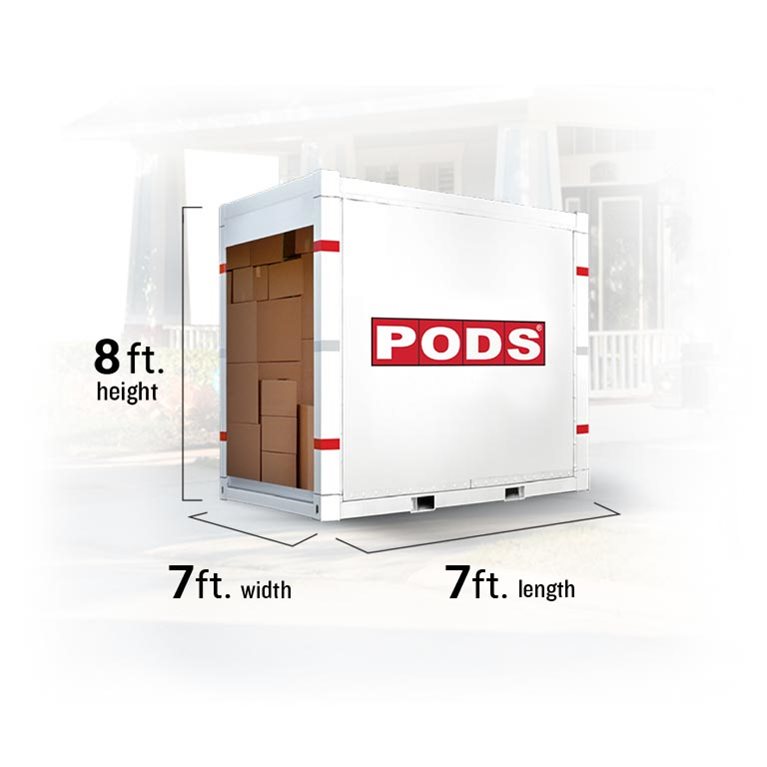 Conveniently small, Surprisingly roomy
Perfect for a 500 sq. ft. space* or smaller
Mix and match – Often paired with our 16-ft. unit
Great for college students, apartment residents, or people looking to downsize
A popular size for small or partial moves, as well as shipping furniture and other larger items
Comparable to a 5'x10' storage unit or 10' rental truck
Imagine a walk-in closet
Up to 402 cubic ft. of usable space
Dimensions: 8' x 7' x 8'**
Watch our
What Fits in a 8-Foot Container
video.
Try our
Moving and Storage Calculator
to determine which size and how many you need.
Get 8-Foot Container Pricing
*Container sizes are for guidance only and may vary slightly. Dimensions are based on exterior measurements.
**Limited service areas may apply. Please call PODS for service availability.
We Pioneered Level-Lifting
Protecting your things is our priority. That's why we developed PODZILLA, our level-lift system. PODZILLA is designed to keep containers – and your belongings – level while being lifted onto and off PODS trucks. It can also precisely maneuver your unit into place, so you don't have to worry about tight spaces.
Learn more
Your One-Stop Moving and Storage Resource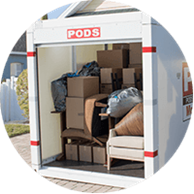 Hourly labor help
PODS offers self-moving services with full-service options, like referrals for professional packing and loading companies in your area that will do as much, or as little, of the work as you'd like.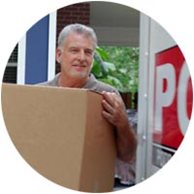 Packing and loading video & tips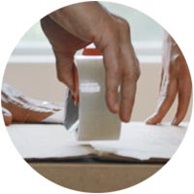 Moving supplies
Need boxes, tape, moving blankets, or more? We've got the moving supplies you need – with fast, free shipping.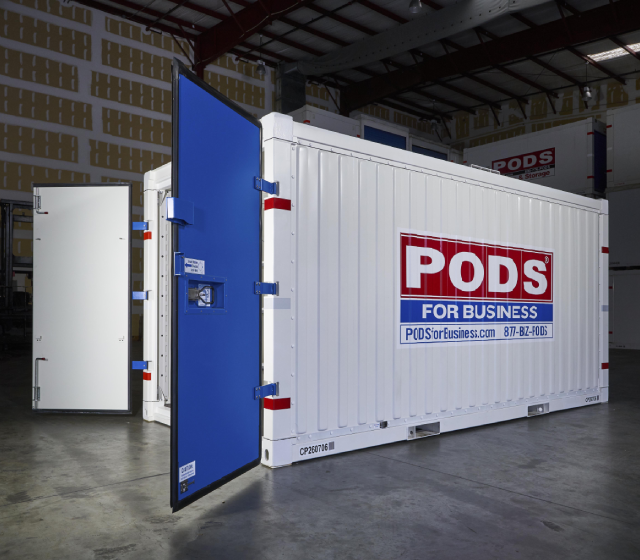 Supporting Business Storage Needs
PODS for Business offers portable containers for both short and long-term rentals with three sizes. Exclusively offering an All-Steel Commercial Container for business customers.
8-Foot Container
12-Foot Container
16-Foot Container
16-Foot All-Steel Container
Learn about business storage
Let's Get Started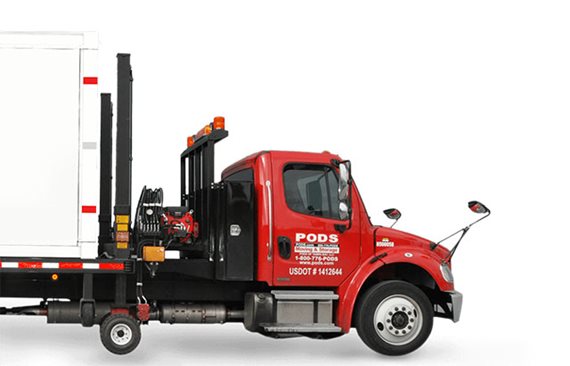 Choose the service you need