PODS Packing and Loading Tips
Find the help you need, when you need it, where you need it.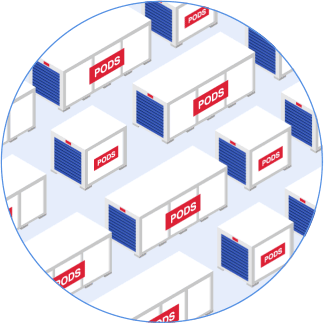 This may take up to 30 seconds.
We're searching over 200,000 containers to find you the best price.
Maximize Container Space. Minimize Damage to Your Stuff.@Model.Title.HeadingType>
PREPPING FURNITURE & APPLIANCES
Use moving blankets to protect furniture. Visit PODSBoxes.com or contact a PODS Customer Care Associate to purchase or rent moving blankets

Use moving bands (giant rubber bands) or shrink wrap to keep the moving blanket in position. These options are much easier to remove than tape.

Wrap fabric couches and other "soft" furniture with stretch wrap. Leather couches should be wrapped in moving blankets.

Cover appliances with cardboard or moving blankets.

Use mattress covers to protect your mattress.
Loading Tips
Avoid loading items in the rain whenever possible, and make sure none of your items have any moisture or mildew before loading them. Loose items should be individually wrapped to maximize protection.

To help prevent mould, mildew, and odors inside the container, consider using moisture absorbers. These can be purchased at PODSBoxes.com or your local home improvement store.

Do not load all your heavy items first. Distribute the weight of your contents evenly throughout the container. Use all available space inside the PODS container to pack your belongings. This includes wall-to-wall and floor-to-ceiling.

Place heavy items on the bottom, lighter items on the top.

Turn couches on end.

Cushions, pillows, and other soft items – all of which should be in plastic bags – can be useful for filling in empty spaces. A snugly packed container will minimize shifting during transport. Don't save all your boxes for the end.

Cover items that could be damaged by sunlight if you will be keeping your container stored outside your home for more than a few weeks.

Use rope or straps to secure your belongings at regular intervals as you load the PODS container.

In the last section of the container, use a box spring or mattress lying on its side, a large sheet of cardboard, or four extra-large, flattened boxes that are taped together to create a barrier that will keep objects from falling against the door during transit. This will help prevent the door from jamming.

If you're moving or storing a mattress, check with the manufacturer on instructions for your specific mattress type. Instructions may vary depending on whether you're moving or storing your mattress.
IMPORTANT: When stacking items toward the top of the container, allow enough clearance between your items and the door barrel roll. Items positioned against the barrel, such as an upright mattress, may interfere with container door operation.

Secure your PODS container with a lock when it is unattended. Locks can be purchased through a PODS Customer Care Associate when booking your container.
Related Resources@Model.Title.HeadingType>
More moving tips from our blog
Let's Get Started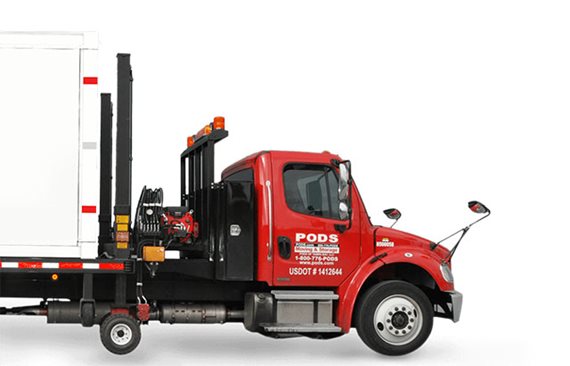 Choose the service you need