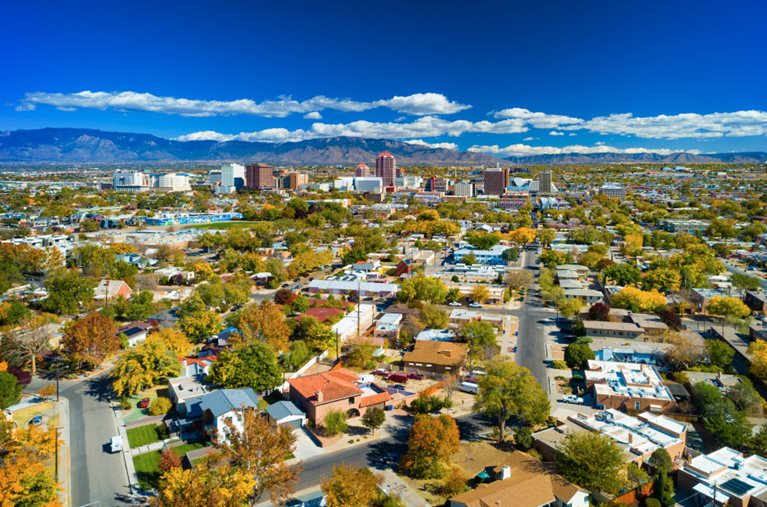 Navigating New Mexico's Biggest City: The Best Albuquerque Neighborhoods
Burque, ABQ, or the 505 — Albuquerque is a city known by a lot of names. Among the agave, film sets, and beloved celebrations, though, are the residents that give this city its names. They know the best Albuquerque neighborhoods, and you should, too, if you're considering a move here.

Whether you're looking for family-friendly festivals, like the Albuquerque International Balloon Fiesta, or a distinct food scene capable of bringing together the best of two cultures, this vibrant southwestern city can do it all. On top of that, residents also enjoy its affordable cost of living and low property and income tax rates.

The city's average home price is $321,800, while the national average is $348,900. Rent is also cheaper, with the local average coming in around $1,275 each month and the national average sitting around $1,700 per month. There are also plenty of safe housing options for residents to choose from.
Safest and Nicest Neighborhoods in Albuquerque - FAQ

Q: Is Santa Fe safer than Albuquerque?
A: When you compare overall crime stats, living in Santa Fe can be safer than living in Albuquerque. However, this answer is likely to vary from neighborhood to neighborhood. It's important to look into specific areas you're interested in before deciding between these two cities.
Q: What is the safest part of Albuquerque?
A: The neighborhoods of Huning Castle, Nob Hill, and Ventana Ranch are among the safest neighborhoods in Albuquerque.

Q: What area of Albuquerque is best to live in?
A: The westside and northeast areas of ABQ are considered to be among the best, due to the lovely natural views and upscale modern amenities.

Q: Is Albuquerque a good place to live in?
A: From an affordable cost of living, fun activities year-round, vibrant downtowns rich in heritage, and more, Albuquerque is quite the special place to live.
10 Best Neighborhoods in Albuquerque, NM
With their own unique aura, each Albuquerque neighborhood represents the diversity of the city in the best way possible. From big attractions to intimate gatherings, you can always find something to do — and having friendly neighbors is a great bonus. While there are plenty of great neighborhoods to choose from in ABQ, we've gathered our 10 favorites to tell you about.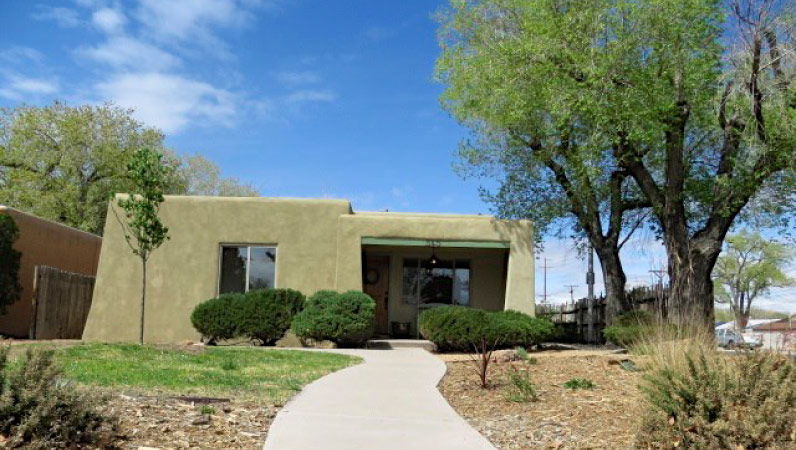 Nob Hill
(Source: Jason Hinkes via Facebook)
1. Nob Hill
Average rent (one-bedroom):
$1,225
Average home value:
$388,900
The historic Nob Hill neighborhood is known for its vibrant and retro atmosphere. Not only does it embody the spirit of Route 66, but
Niche has ranked it #1
on its list of best neighborhoods in Albuquerque. Most of the houses in this area were
built before World War II
, but many have been well maintained and still come with their original charm.
Families love this area because of the
great walkability
, overall safety, and family-friendly activities in the area, like the
Route 66 Summerfest
.
2. Balloon Fiesta
Average rent (one-bedroom):
$1,700
Median home value:
$218,400
Great for: Fun annual events, history, ballooning, families, young professionals

The northern border of Albuquerque is marked by Balloon Fiesta Park and Interstate 25 — a newer area with a variety of lodging and restaurant options. The park hosts the National Balloon Fiesta each year, along with the New Mexico Wine Festival.

In 2005, the Anderson Abruzzo Albuquerque International Balloon Museum was established to teach people about the history of ballooning and even offer an observation deck for visitors to watch the balloons go by whenever they visit.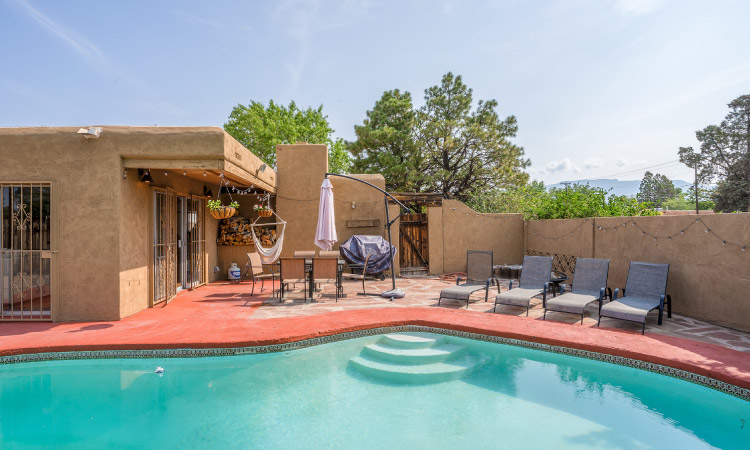 Hodgin neighborhood in Eastside Albuquerque
(Source: Greg Brasher with EXP Realty via Facebook)
3. Eastside
Average rent (one-bedroom):
$875
Median home value:
$243,100
Great for: Mountain activities, hiking, young professionals

The Eastside neighborhood in town is located near the foothills of New Mexico's Sandia Mountains, making it a great place for outdoor enthusiasts to call home.
Residents love exploring the trails leading up to the mountains and even taking rides up to the top on the Sandia Peak Aerial Tramway. On the mountain itself, you can try out activities like snowshoeing, skiing, and mountain biking.
The area's foothills are also ideal for both picnicking and hiking. If you're feeling really inspired, take a leisurely stroll or try to reach the mountain's summit by hiking the La Luz trail.
4. Huning Castle
Average rent (one-bedroom):
$1,250
Average home value:
$517,900
Great for: Outdoor recreation, restaurants, families, retirees, young professionals

Another highly regarded place to live in Albuquerque is Huning Castle, which is close to Downtown. The area is full of families, retirees, and young professionals, meaning there are always plenty of things to do.
Huning Castle's residents have plenty of recreation options, as well. Tingley Beach is a great place to go fishing, boating, or hiking in the beautiful New Mexico weather. Families can also enjoy the Rio Grande Pool and the ABQ BioPark Zoo.

There are plenty of great restaurants in Huning Castle that cater to all kinds of appetites, too. For a more refined meal, try SEARED Bistro, which has an amazing selection of American seafood and meat.
5. Uptown
Average rent (one-bedroom):
$825
Median home sale price:
$325,000
Great for: Sporting events, arts and crafts, families, young professionals

The Uptown neighborhood is located in the heart of the city's business and shopping district. It features ABQ Uptown, a 220,000-square-foot center that houses a mix of local shops and national brands. The area is also home to a variety of restaurants and lodging establishments.

The New Mexico State Fair is held in the area every September. Also throughout the year, EXPO New Mexico hosts various events, such as concerts, horse shows, and flea markets. You can also catch games or check out arts and crafts exhibitions at the Tingley Coliseum.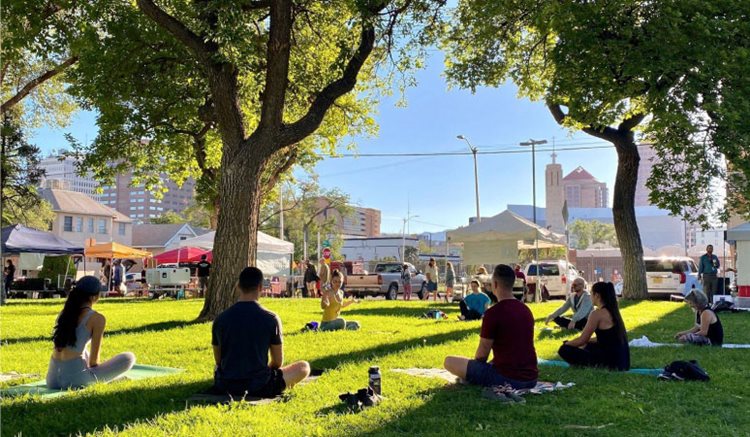 Downtown Albuquerque
(Source: Albuquerque Downtown Growers' Market via Facebook)
6. Downtown
Average rent (one-bedroom):
$1,025
Average home value:
$308,500
Great for: Nightlife, shopping, restaurants, young professionals

When railroads started appearing in Albuquerque in 1880, it led to the city's eastward expansion. Today, the area is known as Downtown Albuquerque — the hub for people of all ages and one of the coolest Albuquerque neighborhoods!

Nights on Central Avenue never get boring, and neither do the restaurants. And the best part? It's located amid a multi-million-dollar revitalization project that will end with seven miles of multi-use trails connecting downtown and riverside destinations.
7. Westside
Median rent (all sizes):
$1,225
Median home value:
$220,500

The Westside neighborhood of Albuquerque is booming with several new businesses and stores that have opened in recent years. The area is known for having some outstanding outdoor recreation facilities, like the Petroglyph National Monument, which features over 25,000 images of ancient stone carvings.
The Electric Playhouse is also a hot attraction in the area, where visitors of all ages can come together for eats, drinks, and video games. The Cottonwood Mall is also a very popular shopping center in the area, with both local and national stores.
8. Midtown/University
Average rent (one-bedroom):
$1,000
Median home value:
$267,200
Founded in 1889
, the University of New Mexico is the flagship institution in the state and makes up a portion of the Midtown neighborhood. Students and young professionals can enjoy the area's cafes, trendy bars, and stores.
Aside from the food and nightlife, though, there are plenty of cultural amenities to enjoy in the area.
The Maxwell Museum of Anthropology
, for example, is a must-visit for anyone interested in learning more about the Southwest's history and its people.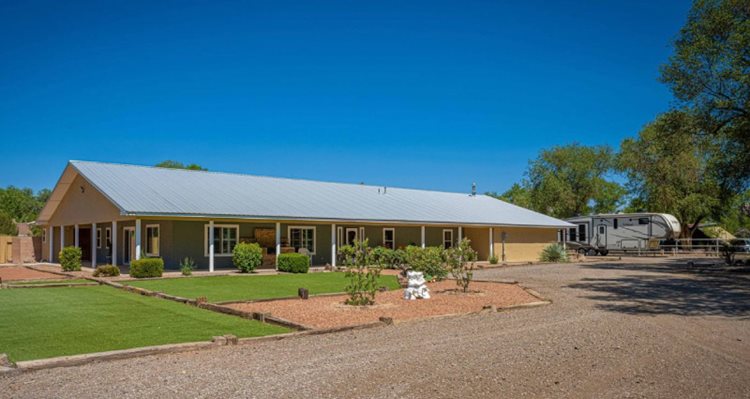 South Valley
(Source: The Team NM via Facebook)
9. Barelas/South Valley
Average rent (one-bedroom):
$975
Median home sale price:
$226,900
Great for:
Rich history, cultural activities, families
The South Valley neighborhood of ABQ has been inhabited by Mexican and Spanish families for hundreds of years, with some of the
adobe homes
in the area being over 400 years old! This region is rich in natural resources and is bordered by irrigation canals that run through the Rio Grande. The South Valley's charming rural setting makes it easy to forget that you are in New Mexico's biggest city.
The historic Barelas neighborhood is situated just south of Downtown Albuquerque. And while it is close to the area's downtown center, it still has a strong sense of individual character.
10. Ventana Ranch
Average rent (one-bedroom):
$1,475
Median home sale price:
$339,900
Great for: Parks, recreation facilities, annual events, families, young professionals, retirees
Located in northwest Albuquerque, Ventana Ranch is quite the sought-after neighborhood. It features a variety of home styles and sizes, making it an ideal choice for families, young professionals, and retirees. Residents of this neighborhood are also situated near major highways, giving them easy access to the city.
The community is home to various parks and recreation facilities, like the massive
Ventana Ranch Park
. So, naturally, the community hosts plenty of events, including holiday parades and
summer concerts
, giving you plenty of opportunities to get to know your neighbors.

Q: What are the wealthy neighborhoods of Albuquerque?
A: The richest part of Albuquerque is the neighborhood of High Desert. Fortunately, though, none of the neighborhoods on this list are among the most expensive in ABQ!
Let PODS Help With Your Albuquerque Move
Whether you are already living in Albuquerque and relocating to a different neighborhood or moving from afar, PODS is here to help with the journey! You can have a portable moving and storage container delivered right to your doorstep, where you can pack and load all your belongings at your own pace. PODS will then pick it up and deliver it to your new residence when you are ready. The best part? One month's worth of storage is included in the fee, so you can easily unpack your items without feeling rushed.

Editor's note: For ease of reading, monthly rental prices were rounded to the nearest $25 and home values were rounded to the nearest $100.
Get a Quote
Choose the service you need
Comments
Leave a Comment
Your email address will not be published. Required fields are marked *