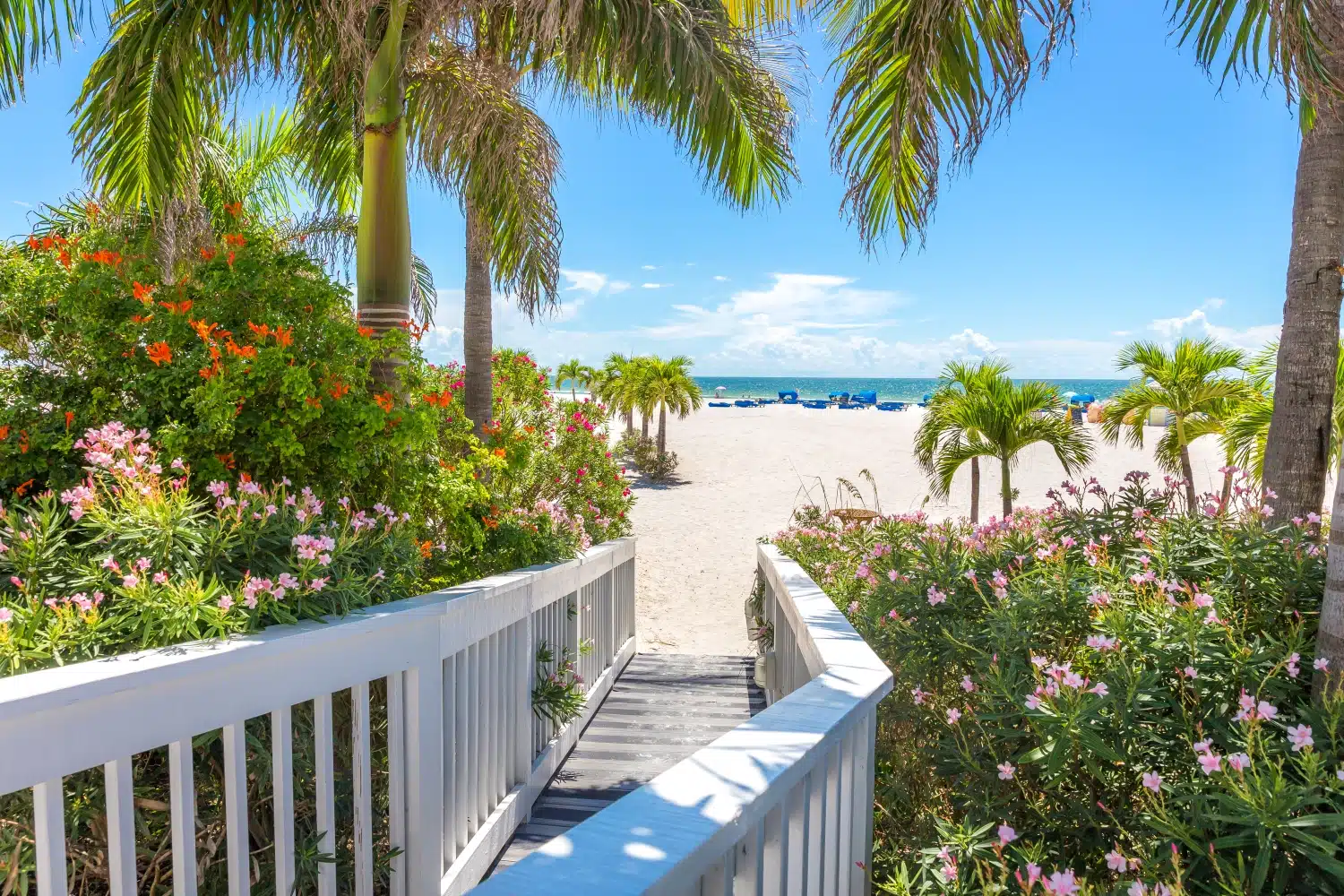 From Sarasota to the Space Coast: The best places to live in Florida
No doubt about it, there are definitely some preconceived notions about Florida. Take its rep as a rest area for retirees, for instance. Or the stereotype that everyone is obsessed with a mouse named Mickey. But with its booming economy and beautiful weather, the Sunshine State has the last laugh, welcoming around 900 new residents every day in search of warm gulf breezes and mangrove sunsets.
Recent data indicates these new Floridians know what they're doing: Statewide unemployment is holding steady at 5.0%, as of June 2021, which is healthier than the national labor picture, and the workforce is growing. And three Florida hotspots rank among the top 20 growth cities nationwide, based on PODS customer moves in 2020 and the first quarter of 2021, meaning more people are moving to Sarasota, Melbourne, and Jacksonville than leaving.
All of this simply adds to Florida's allure as an attractive option for people looking to ditch icy winters and head south toward the sun. If you're one of those fresh-start seekers, read on for a look at five of the best places to live in Florida. It's by no means an exhaustive list, but a good place to begin. But first, a few Sunshine State FAQs:
What's the best part of Florida to live in?
Are you a beach fan or more of a lush-woods-and-rivers type? Do you love the nightlife? Horse country? Theme parks? As the third-most populous state in the U.S., Florida is really more like six states in one. From the panhandle's Gulf Coast beaches all the way to the glamorous hotspots of Palm Beach and Miami 500 miles to the south, the state features diverse cultures and a rich variety of flora, fauna, and flavor. The best part? That depends on your specific preferences.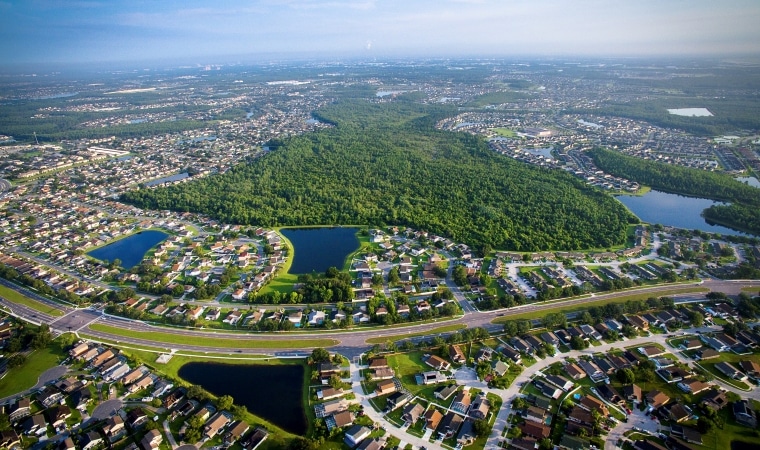 Where's the most affordable place to live in Florida?
Surprisingly, perhaps, given its proximity to the theme park capital of the world, Kissimmee tops the list of affordable cities in Florida, with a typical home value of around $265,000, as of June 2021. This Orlando-adjacent town is nestled squarely in the center of the state, with Gulf of Mexico and Atlantic beaches about an hour's drive to the west and east, respectively. Orlando International Airport is a quick drive, and the state's main highway arteries criss-cross nearby, making it relatively easy to get out of town in any direction (if traffic is agreeable, that is).
What's the best beach in Florida?
You can't talk about Florida without mentioning the beaches; it's a rule. Among the many awards the state's sugar-soft sands have won in 2021, St. Pete Beach took top honors in the Tripadvisor Travelers' Choice Awards for America's Best Beach. Clearwater Beach earned the No. 5 spot in Travel + Leisure's "25 Best Beaches in the U.S." And two state parks, Caladesi Island and St. George Island, made it onto Dr. Beach's coveted Top 10 Beaches in America list.
Now, on to five of our favorite Florida cities: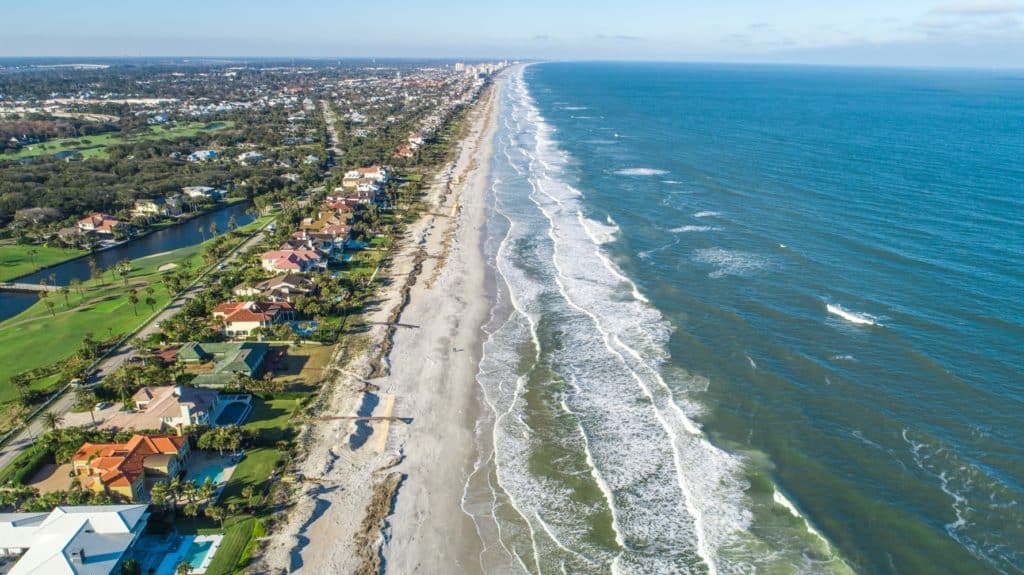 Jacksonville
True to its nickname as "The River City by the Sea," Jacksonville is practically overflowing with waterfront attractions and recreation, between the St. Johns River and the Atlantic Ocean. But like many thriving Florida cities, Jax (as it's known to locals) has a lot to offer beyond its gorgeous beaches and outdoor lifestyle.
Jacksonville has the feel of a traditional southern city — it's only 12 miles from the Florida-Georgia line, after all — but its demographics are shifting to a younger, more vibrant, and creative community. The arts scene in Jax is growing, with galleries and museums that range from contemporary art to children-specific interests. Jacksonville also provides live performance venues, such as the Times-Union Center for the Performing Arts, home of the Jacksonville Symphony Orchestra.
On the Riverwalk, a downtown promenade along the St. Johns, walkers, runners, and bicyclists enjoy a 1.2-mile paved path with views of cruising boats and the occasional manatee. Nearby attractions include TIAA Bank Field, home of the Jacksonville Jaguars, a Sunday staple for local football fans. Participatory sports are big in Jax, too. The annual 15K Gate River Run, for instance, has grown since its inception in 1978 to attract more than 18,000 competitors. And as the largest city by landmass in the contiguous U.S. at 840 square miles, Jacksonville has plenty of trails to explore, as well. In fact, the city holds the record for the largest urban park system in the country, totaling more than 80,000 acres.
As for real estate, the Jax market is on fire right now. Dozens of distinctly different neighborhoods stretch from the beaches to the 'burbs, with different price points, amenities, and lifestyles. The typical home value in Jacksonville is around $237,000, as of June 2021, a 16.7% increase over last year. Renters can expect to pay $1,266 per month, 13% more than a year ago.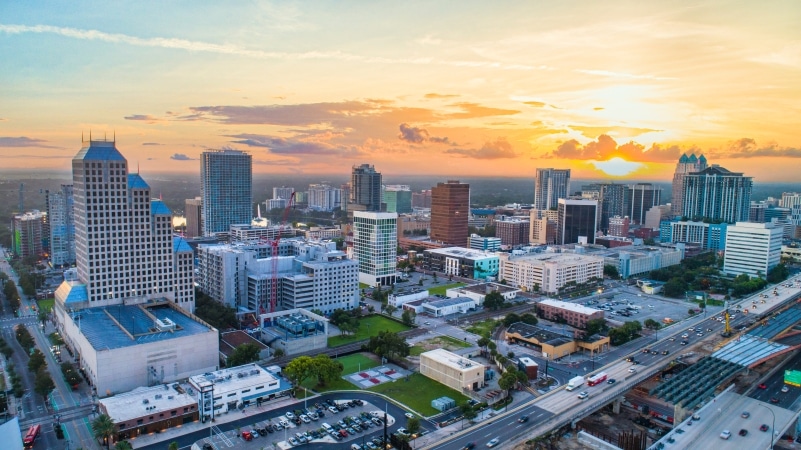 Orlando
Yes, the Magic Kingdom and its family of theme parks are amazing wonderlands that draw 75 million visitors annually to "The City Beautiful," as Orlando is known. But this bustling Central Florida hub is home to nearly 300,000 people who stay in town after Disney's nightly fireworks. Tourists are the lifeblood of Orlando, for sure — and the cause of traffic headaches for locals — but not the sole source of economic growth.
Perhaps not surprisingly, given the generations of Orlando kids who've grown up surrounded by the latest in theme park animation and augmented reality, Orlando has emerged as one of the fastest-growing technology markets in the U.S.
Creativity abounds in the Orlando arts community, as well. Traditional organizations like the Orlando Ballet and Orlando Museum of Art attract thousands of guests every year, while innovative, independent organizations like Twelve21 and the University of Central Florida's Center for Emerging Art showcase contemporary works. At the Dr. Phillips Center for Performing Arts, shows include La Traviata, performed by Opera Orlando, and a Harry Potter tribute with the Orlando Symphony Orchestra.
At the north end of the Ivanhoe Village Mainstreet District — a bustling neighborhood of restaurants, shops, and watering holes — Loch Haven Park's 45-acre complex is home to about 10 arts organizations. Known as the cultural heart of the city, the park includes the Orlando International Fringe Theatre Festival, the Orlando Fire Museum, and the Orlando Science Center.
Of course, all of those tech workers and artists need places to live, and Orlando area real estate offers plenty of options. From established suburbs like trendy Winter Park to urban-village hotspots like the North Quarter, the city and its vicinity are full of vibrant communities. Downtown alone has nearly 10 discrete neighborhoods, including the Lake Cherokee Historic District, where stately homes have held court under shady oaks since the 1800s, and Parramore, where a rich cultural heritage is experiencing an exciting renaissance after decades of economic decline. The typical home value here is about $300,000, as of June 2021, which is up 11.7% from the previous year. An average apartment will cost you $1,541 a month.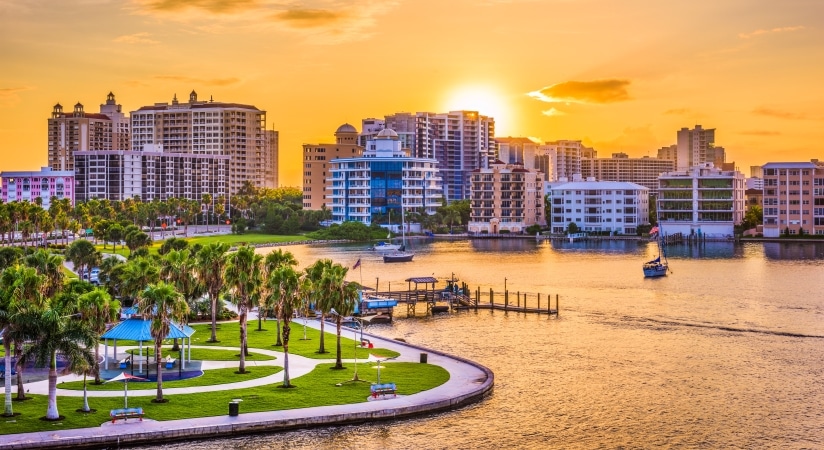 Sarasota
About two hours south of landlocked Orlando, Sarasota beckons from its perch on Florida's Gulf Coast. The city is certainly one of the best places to live in Florida for retirement. However, families and young professionals have discovered the many charms of Sarasota, as well, so there's a healthy mix of age groups among the nearly 60,000 residents. There's also a healthy dose of tourists, as is the case in most seaside Florida cities.
There are lots of reasons Sarasota makes best-of lists and draws new residents. Gorgeous beaches and plenty of greenspace are part of the appeal, particularly during the winter months when temperatures are moderate and skies are blue. Summers aren't as pleasant for folks not fond of daily thunderstorms and oppressive heat and humidity. But when fall arrives with the first cold front sweeping down from the north, Sarasotans fall in love with their city all over again — and head to the beaches and scores of golf courses in every direction.
Homes in Sarasota neighborhoods range from super pricey on the beaches and in downtown luxury high rises to more affordable in suburban areas. The typical home value for the city is about $340,000, as of June 2021, up 17.9% from last year.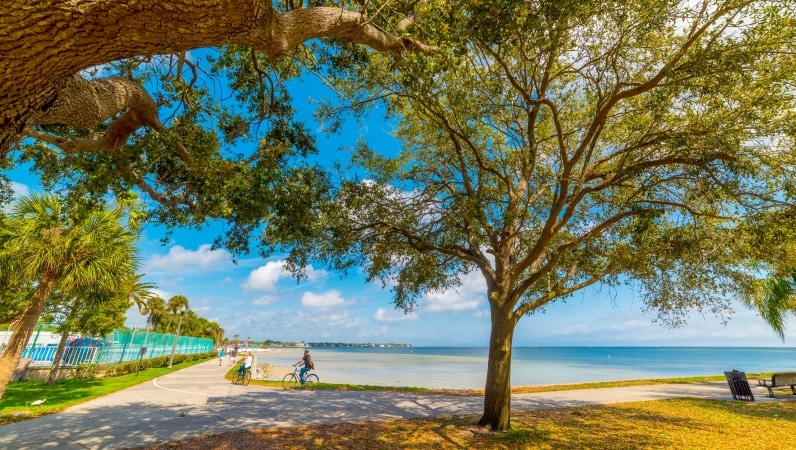 St. Petersburg
To get a real feel for the city of St. Petersburg, hop on the Cross Bay Ferry in Tampa and set sail southwest for 25 miles. Fifty minutes later, you'll disembark in Vinoy Park, a greenspace that curves around the edge of downtown for a beautiful two-mile stretch. Signature happenings including St. Pete Pridefest and Reggae Rise Up take place here, making it one of the most popular spots in the Bay area. But even when a special event isn't on tap, you'll find people running, cycling, and relaxing on blankets and benches with amazing views of the newly rebuilt St. Pete Pier.
Families have become more prevalent in recent years here after decades with retirees at the top of the demographic chart. In fact, today, the median age is 43, which is still a bit higher than the rest of Florida, but skewing way younger than the old days when the over-65 crowd dominated. Memories of those times linger in the form of gorgeous art deco hotels, an historic shuffleboard court, and other historic sites that have been renovated for new generations — and are newly hip once again.
The job market in St. Petersburg is going gangbusters, with a 4.6% unemployment rate as of May 2021 (compared to 5.8% nationwide at that time). Major employers with headquarters in the city include Jabil, Raymond James, HSN, and Tech Data. Real estate is equally robust, which isn't great news for new homebuyers moving to town, but illustrates the booming economy with a typical home value of just under $285,000 as of June 2021 — up a whopping 29.1% from the previous year.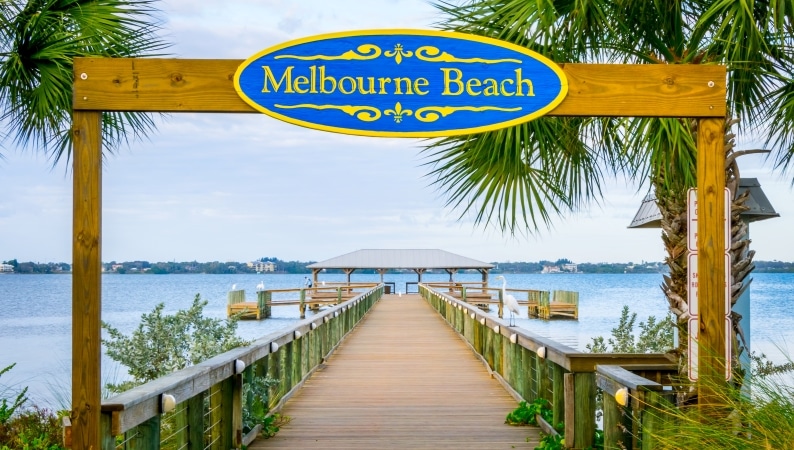 Melbourne
Mention the Space Coast, and chances are most Americans will know what you're talking about. Cape Canaveral. Kennedy Space Center. Rocket ships and space shuttles. But it's also likely that only locals can name the towns that make up that celebrated slice of Atlantic coast — other than Cocoa Beach, famously home to Ron Jon Surf Shop and "I Dream of Jeannie." Melbourne anchors the Space Coast halfway between Jacksonville and Miami, on the narrow strip of land between I-95 and the Indian River, and, a bit farther east, the ocean. With a population of almost 84,000, Melbourne is considered part of the Palm Bay-Melbourne-Titusville metro area.
Fun Fact: The area code for Melbourne and the Space Coast is a clever nod to Cape Canaveral countdowns — 321.
An easygoing beach town vibe is the hallmark of Melbourne, known as the Harbor City. Quick access to the ocean means surfers, sailors, and shell collectors have abundant opportunities. Fishing and golf are popular here, too, and many neighborhoods are oriented around these recreational faves.
The centerpiece of Melbourne is a lively, quaint downtown area of boutiques, restaurants, and bars, with lots of entertainment options. Established in the 1800s, the historic district has been the focus of a revitalization effort during the past few years — and with terrific results. Besides serving as a retail and dining hub, the downtown area hosts community events, including the Melbourne Food & Wine Festival, Candlelight Shopping, and the Melbourne Botanical Festival.
A lively creative community also calls Melbourne home in the Eau Gallie Arts District. Once its own city, Eau Gallie, which means "rocky water," merged with Melbourne in 1969 and today is part of a revitalization effort centered on the arts. Performing arts lovers spend time at the Maxwell C. King Center for the Performing Arts, part of Brevard Community College, where shows include Lindsey Buckingham (of Fleetwood Mac fame) and the Broadway touring production of "Rent."
Melbourne real estate runs the gamut from beachside condos and cottages for vacationers, snowbirds, and empty-nesters to estate homes situated around Lake Washington about eight miles outside of town. In the northern part of Melbourne, the Suntree and Baytree communities offer master-planned living with resort-style amenities including golf courses and lakeside or riverside homes. And in West Melbourne, a growth spurt has nearly doubled the number of homes since 2000, far outpacing other nearby suburbs. The typical Melbourne home value is about $284,000, as of June 2021, up 17.4% in the past year. And apartments are plentiful, including The Highline community in the downtown historic district, with monthly rents from around $1,200 to nearly $2,000.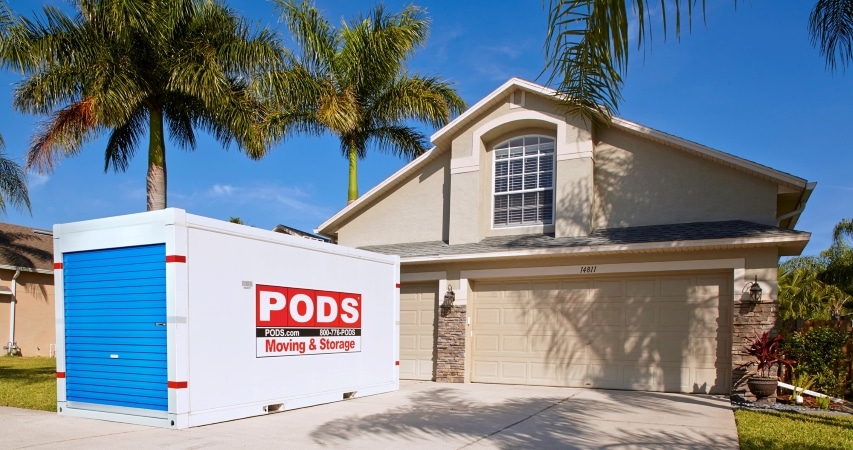 Planning your move to Florida
It's common knowledge that Florida weather can be hot, right? Especially in the summer. It's also wet and steamy, at times, with near-daily thunderstorms that can knock your socks off. So how can you make your move with the least amount of hassle? Consider taking advantage of PODS moving and storage containers. For starters, flexible scheduling means you can work around the sudden downpours. And the fact that your portable containers are literally in your driveway as long as you need them means you can take all the time you need unloading them. After all, you can't let a little unpacking get in the way of visiting all those top-rated beach destinations, right?
Check out our PODS Blog to read more about living in some of Florida's top destinations, from well-known Tampa Bay to hidden gem and family-friendly suburb Brandon.
---
Shannon Jacobs is a Tampa-based freelance writer and frequent contributor to the PODS blog. She has lived in Atlanta, the Berkshires, and Nashville, but always returns to the warmth of Florida's Gulf Coast.
Get a Quote
Choose the service you need
Comments
Leave a Comment
Your email address will not be published. Required fields are marked *