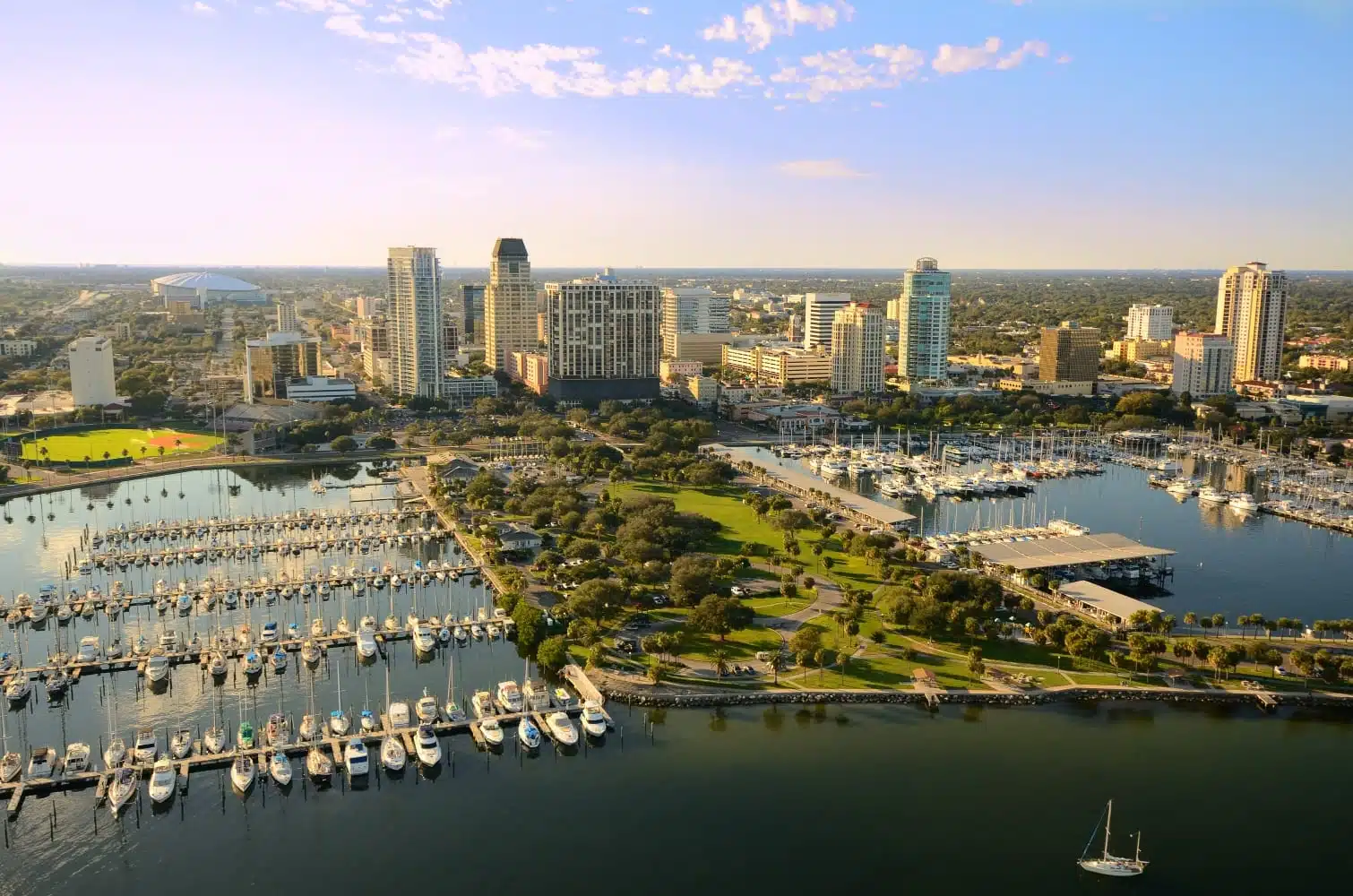 Moving to St. Pete? Explore the Best Neighborhoods & Life In Florida's Sunshine City
Thinking about relocating to St. Petersburg, but you're not sure what it would be like to live in Florida's Sunshine City rather than just vacation here? Rest assured, St. Pete and its surrounding areas have plenty of neighborhoods where you can settle down and be happy in the knowledge that you won't have to head back to the frigid north at the end of the week.
Besides near-perfect winter weather, St. Pete has a ton of character, charm, and opportunities to relax, have fun, and take care of business. Few U.S. cities have made the kind of full-scale renaissance experienced by St. Petersburg in recent decades. Once dismissed as a sleepy rest area for retirees, the city today is vibrant as an arts mecca, business center, recreational wonderland, and shining example of the wholesale change that can be accomplished with vision and thoughtful, strategic planning.
Seniors are of course still welcome and well-represented. But St. Petersburg's demographics have shifted dramatically in the past decade. An influx of young professionals, families, and creative types have moved in, attracted to historic neighborhoods in need of a little TLC (read: great housing deals) and a burgeoning downtown core with restaurants, shops, and world-renowned museums. All that, plus stunning beaches just minutes away.
Check out this video for a day in St. Pete:
Living in St. Petersburg: Quick Facts
Blessed by 361 days of sun a year, St. Petersburg was dubbed "The Sunshine City" by early tourism promoters decades ago, but it's mostly known among locals as "St. Pete" and "The Burg."
St. Petersburg is one of three major cities that make up the Tampa Bay area, along with Tampa and Clearwater. In fact, when someone says "Tampa" or "Tampa Bay," they often mean St. Petersburg. For example, major league baseball's Tampa Bay Rays actually play in St. Petersburg, but sportscasters seldom mention the city.
While the Tampa Bay metro region has a population of 3.1 million, St. Pete itself is home to about 266,000, ranking as the fifth largest city in Florida. And that stat is growing: Since 2010, the city's population has risen by more than 8%.
Situated on a peninsula between Tampa Bay and the Gulf of Mexico, St. Pete has the third-largest waterfront park system in the U.S.
Check out other Tampa Bay cities: When you're looking for a place to live, it's a good idea to explore other parts of the area before deciding on a neighborhood. These guides will help:
-- Clearwater neighborhoods
-- Tampa neighborhoods
Looking for homes for sale in St Petersburg, Fl? Top areas to try
Do you prefer a waterfront lifestyle? Or are you more attracted to arts events and concerts? (Not that the two are mutually exclusive.) Is walkability important to you? Are you a beach bum or a luxury-highrise type?
It sounds like a cliche, but St. Pete offers enough variety in its neighborhoods to satisfy every taste. (That is, unless you like hills and mountains. St. Pete is flat as a pancake.) Take a look at our roundup below -- including a few 'hoods not considered St. Pete proper but definitely popular among locals. Do keep in mind that if you want to be on the water or close enough to the beach that Pinellas County's sugar-soft sand coats your kitchen floor, you should check whether the home you want is in a flood or evacuation zone -- and be prepared to pay a premium, not only to buy the place, but also for insurance and property taxes.
Driftwood
Described by its residents as a "tucked-away fairyland" and an "enchanted forest," Driftwood is home to just under 50 residences shaded under gorgeous live oaks in the area known as Coffee Pot Bayou. The community originally featured 19 homes designed by local artist Mark Dixon Dodd, who ensconced one of his own paintings in each home, typically attached to the wall above the fireplace.
Check out this video for a closeup view of Driftwood in St. Pete:
Today, the neighborhood of Mediterranean and Italian-style homes provides easy access to all of downtown's amenities, just a quick drive away. Nearby parks include Salt Creek and Bartlett Park, where residents also enjoy the St. Petersburg Tennis Center, the Frank W. Pierce Recreation Center, athletic fields and courts, and a playground. As you might imagine, the market for homes in Driftwood is competitive, with prices from the mid-$300,000s to several million for estates near the waterfront.
Jungle Prada
A neighborhood of brick-lined streets, lush hardwood trees, and a variety of greenspaces, Jungle Prada offers a variety of home styles, from modest bungalows and concrete block homes to waterfront estates. Home values in the area have increased more than 14% just in the past year, with a median cost of about $262,000 -- but if a lavish estate is in your future, prepare to pay in the millions. Area schools include Azalea Elementary, Azalea Middle School, and Boca Ciega High School. Commuters to downtown St. Pete have about a 15-minute drive, and to downtown Tampa about three times that. Plan accordingly.
Take this video tour of Jungle Prada:
Major landmarks include:
Former Jungle Prada Hotel, which once hosted Babe Ruth and Al Capone but today houses the Admiral Farragut Academy, a prestigious private school.
Narvaez/Anderson Mound, a prehistoric Indian mound and one of the most well-preserved sacred lands in the state.
Oh, and about 70 majestic peacocks make their home here, adding to the feeling that you're living in a tropical jungle.
Kenwood
Only a mile west of downtown St. Pete, historic Kenwood features one of Florida's highest concentrations of Craftsman-style bungalows. Brick streets, wide sidewalks, and lovely flowering trees line Kenwood, where the annual "Bungalowfest" celebrates the neighborhood. Close enough for easy and frequent access to all the dining, concerts, theater, and festivals in downtown St. Pete, Kenwood is also convenient to the beaches, at just a quick five miles from the Gulf of Mexico.
Get a look at St. Pete's historic Kenwood neighborhood:
You'll find lots of young families and professionals attracted to the neighborhood for the nearby nightlife, sports and recreation, and a convenient commute to Tampa. Kenwood homes average in the mid-$200,000s, and like Jungle Prada, values have increased more than 17% in the past year. Rentals start at about $2,400 for a 1,100-square-foot, three-bedroom home.
Greater Pinellas Point
Incredible views are the hallmark of this neighborhood at the southernmost point of Pinellas County. About 7,100 households comprise Pinellas Point, which means "lots of pines." A particularly charming area is lined by pink-bricked streets, leftover from the original development in the 1940s. Many of the residences are dubbed "bird cage" homes, designed by renowned architect Glenn Johnson, who had a penchant for lots of screened areas.
Experience Pinellas Point with this local video:
Condominiums are plentiful overlooking Tampa Bay, with price points starting in the high-$100,000s all the way up to the multi-millions. Single-family homes range from the mid-$200,000s and up. The area is definitely car-dependent, with few local shopping districts but plenty of nearby parks, including Bay Vista Park, Lake Vista Park, and Maximo Park. Commuters can count on a convenient hop to downtown St. Pete, with Tampa clocking in at about 40 minutes, and points south via the Sunshine Skyway a bit longer.
Gulfport
A charming Old Florida beach town in every sense, Gulfport prides itself on its lack of chain stores and almost a dozen restaurants -- all indie, all the way. And the city celebrates the best kind of indie, with arts and music festivals year round, the First Friday Art Walk showcasing the shops and sights along Beach Boulevard, the infamous Geckofest, once-a-month IndieFaire, Fresh Market every Tuesday, and the historic Gulfport Casino. Situated along Boca Ciega Bay on about 3.8 square miles (one of which is water), Gulfport is home to just over 12,500 residents. As is the case in most Florida communities on the water, homes run the gamut from modest $200,000 bungalows to multi-million-dollar waterfront estates. The former are far more plentiful. And downtown St. Pete is just 15 minutes away.
See this video for a bird's eye view of Gulfport:
Largo and Seminole
In the center of Pinellas County, these two small cities offer the advantages of affordability and higher ground. Rentals are plentiful. And you'll find lots of family-oriented neighborhoods with single-family homes in tree-lined enclaves just minutes from the Gulf beaches. Home prices range from the $200,000s to the $600,000s near the waterfront, and apartments go from around $1,200 to $2,200.
St. Pete Beaches
Anchored by the stunning Don CeSar Hotel on Pass-a-Grille Beach, the South Pinellas beaches draw millions of visitors every year, lured by the velvet-soft sand, calm Gulf of Mexico waters, and resort lifestyle -- as relaxed or active as you desire. Among the handful of coastal communities are St. Pete Beach, Treasure Island, Madeira Beach, Redington Beach and Redington Shores, and Indian Rocks Beach.
From the southernmost point northward along the coastline, you'll find a mix of beachfront condos and fingers of land with single-family homes, many facing Boca Ciega Bay. They are pricey -- and you'll need to watch out for flooding and high insurance rates. Whether you're in the market for a luxurious waterfront mansion or a charming, beachy bungalow, you can't do better than the St. Pete beaches. Traffic gets dicey in the cooler months when snowbirds and tourists descend. But with a home of your own perched near the waves, who's complaining?
What about St. Petersburg schools?
Set back among the foliage along busy 5th Avenue North, St. Petersburg High's arches and bell tower gleam atop the school. Built in 1926 and now designated as a historic landmark, the school's International Baccalaureate (IB) program was the first of its kind to be initiated in Florida.
St. Petersburg is home to a total of 235 schools, including 185 private and 46 public -- part of Pinellas County Schools, the eighth-largest district in Florida and 28th largest nationwide. In addition to St. Pete High's IB curriculum, more than 75 magnet programs across the district include STEM, performing and visual arts, journalism, and more. Six of the magnet schools recently were honored by Magnet Schools of America with Merit Awards for exemplary programs: Three were named Schools of Distinction and three Schools of Excellence.
Map of St. Petersburg, FL
Getting around St. Pete and the Tampa Bay Area
In the busy winter and spring months when tourists and snowbirds flock to St. Petersburg, roads get a bit clogged. The influx of people also has the potential to make restaurants, museums, and beaches more congested than usual. But there's so much to do and so many beautiful places and greenspaces to explore, any complaints are generally minor.
Public transportation via the Pinellas County Transit Authority serves the area with plenty of local service and several express buses to Tampa and back every day. In the downtown core, The Looper is a free trolley, debuted in late 2019, that cruises the circuit every 15 minutes -- a terrific way to see all the sites and take a short breather on the way to the next one.
For business commuters to Tampa's downtown and Westshore business centers, the time investment depends on which part of St. Pete you call home. But generally speaking, a 30-to-45-minute window suffices.
St. Pete is super accessible from the mainland thanks to several bridges:
Eight-lane, four-mile Howard Frankland Bridge, is part of I-275 and just one easy exit to Tampa International Airport on its east end.
Three-mile Gandy Bridge has new elevated approach spans on both sides which will make travel to and from Tampa much faster and easier when the project is completed later in 2021.
Spectacular Sunshine Skyway from south St. Petersburg to Tierra Ceia, Bradenton, and Sarasota is the Western hemisphere's largest suspension bridge at 4 miles long and 19 stories high.
Top Things To Do in St. Pete
The newly rebuilt St. Pete Pier dominates the downtown waterfront, stretching out over Tampa Bay with a collection of shops, restaurants, live entertainment, and recreation, encompassing a total of 26 acres -- which also includes adjacent greenspace for land-lovers. Facing the pier is Beach Drive, a promenade of outdoor cafes and bars and eclectic shops that's always teaming with people.
St. Pete doesn't lack indoor entertainment, either. Here are just three of the world-class arts venues in St. Pete:
Salvador Dali Museum, which houses the largest collection in the world of the Surrealist master's works
Museum of Fine Arts St. Petersburg, the first waterfront museum in the city when it opened in 1965
Florida Holocaust Museum, which documents the experience of Holocaust survivors and liberators in powerful exhibitions and traveling shows
Consider these fun-in-the-sun stats about St. Pete's offerings:
137 parks on 2,300 acres
7-mile downtown waterfront
50 miles of area recreational trails
73 degrees average year-round temperature
610 boat slips in the St. Pete public marina
50 area golf courses
80 lighted tennis courts
2,865 area shuffleboard courts
Feel like you can hardly wait to make your move? See our guide to moving in Florida. Ready to start getting moving quotes? Call PODS at 877-350-7636 for long-distance moves or get local moving quotes online.
---
Shannon Jacobs is a Tampa-based freelance writer and frequent contributor to the PODS blog. She has lived in Atlanta, the Berkshires, and Nashville, but always returns to the warmth of Florida's Gulf Coast.
Get a Quote
Choose the service you need
Comments
Leave a Comment
Your email address will not be published. Required fields are marked *