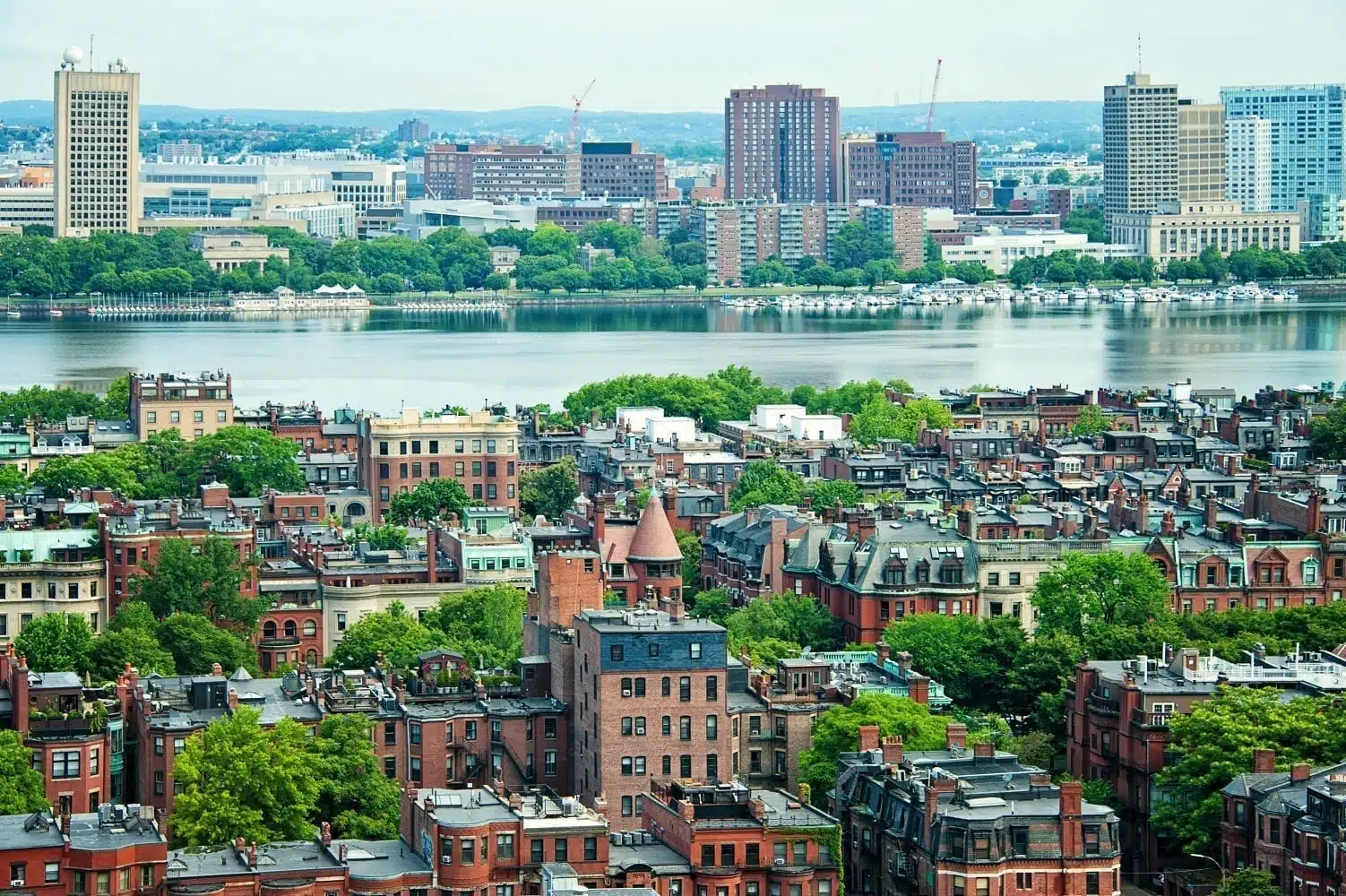 Moving in Boston: Find the best Boston neighborhoods for you
Welcome to Boston! If your only points of reference for the capital of Massachusetts are Goodwill Hunting and Super Bowl commercials with hammed up accents, consider this article your crash course to what it's actually like to live in Boston. And if you already reside in the area, here's a peak at some of the other corners of the city you may have yet to discover.
Where in Boston should I move?
Just shy of 90 square miles, Boston comprises 23 distinct neighborhoods on its own, not to mention the far-reaching spread of towns near Boston that fall under the vague category of "Greater Boston." Figuring out how to narrow your focus can be overwhelming at the get-go, especially if you're moving long-distance from another state. But isn't deciding where to plant your roots or rent some new digs part of the adventure of moving to a new city, anyway? Considering these three factors will help you focus your search: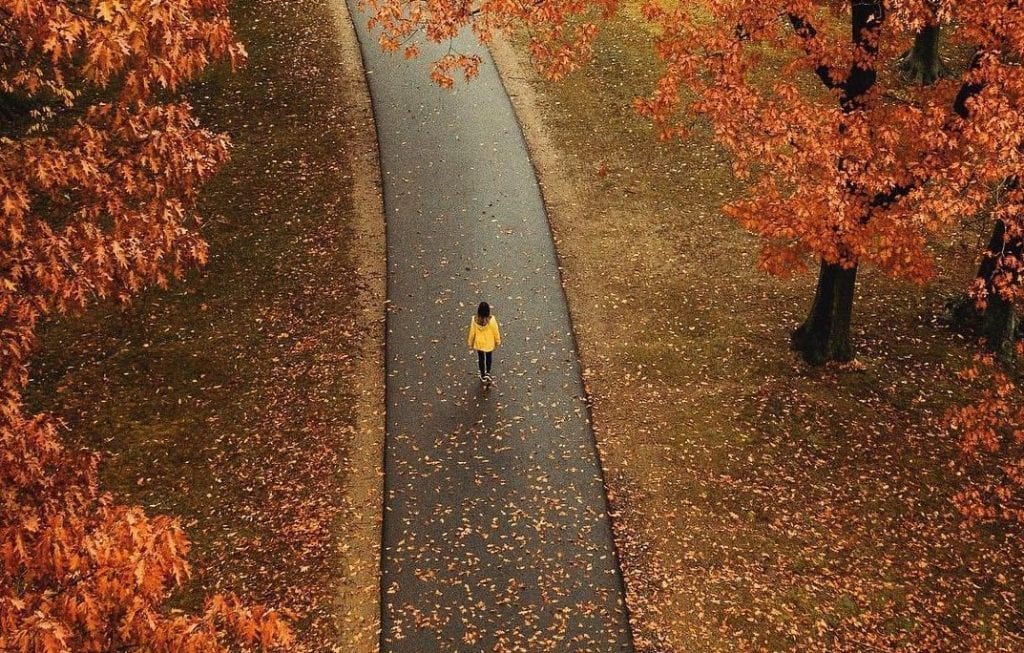 How do you prefer to get around?
Driving and traffic: If you own a vehicle you might want to consider residing slightly outside of the city, where you can park your car (leave your pahk the cah jokes at home) in your own garage. Otherwise, you'd be moving it across the street twice a week for street cleaning, or paying exorbitant prices for garage parking. Also keep in mind that Bostonians are big fans of honking, aggressive turns, and that hard-won "masshole" attitude. On top of that, traffic during rush hour can easily double or even triple driving time.
Walking and biking: If you're all about walkability, you'll love strolling home along Boston's many brick sidewalks, and often arriving at your destination sooner than the city's subway system, the T. Plenty of people bike to work, too, though protected bike lanes are harder to come by and you'll want to pedal with a helmet locked in place and a vigilant eye for cars.
Public transit: If you like to stick to public transportation, you should find a place along the Green, Red, Orange, or Blue T Lines (plenty of busses run throughout the Hub, too). Just be prepared to face delays and stop-and-go rides on squealing tracks — it was the first subway system in the U.S., after all. The bright side? By the time you find yourself complaining about a late Green Line train for the umpteenth time, you'll already be a true Bostonian.
Cost of living in boston
| | |
| --- | --- |
| 1-bedroom apartment average rent | $2,300 |
| 2-bedroom apartment average rent | $2,800 |
| Median sales price for homes | $625,000 |
| Boston's global ranking based on 2 bdrm rental costs | 7th |
| Sources: Business Insider & Zillow | |
What's your budget?
Behind New York and San Francisco, Boston is consistently ranked as one of the priciest places to rent in the U.S., and even breaks the top 10 worldwide. If you have the cash to drop on a luxe pied-à-terre or a sparkling penthouse, you'll have no problem finding it here. But if you know where to look, there are neighborhoods in Boston where you can score slightly more affordable digs. 
The practice of bunking up with multiple roommates in a big apartment is also a common way to bring down the cost of living in Boston. Prepare to fork over a little extra when you first sign for a new pad, though — most apartments in Boston still charge pesky broker's fees, which are typically equal to one month's rent.
Looking to buy?
If you prefer to buy instead of rent, consider that single-family homes are coveted and when they're available, they'll cost you a pretty penny. Condos are easier to come by, from renovated and converted triple deckers to brand new builds popping up as a result of the city's recent development boom. The median sale price for all homes in Boston these days is around $625k, though thanks to high demand many get snapped off the market for millions, with prices varying significantly depending on the neighborhood.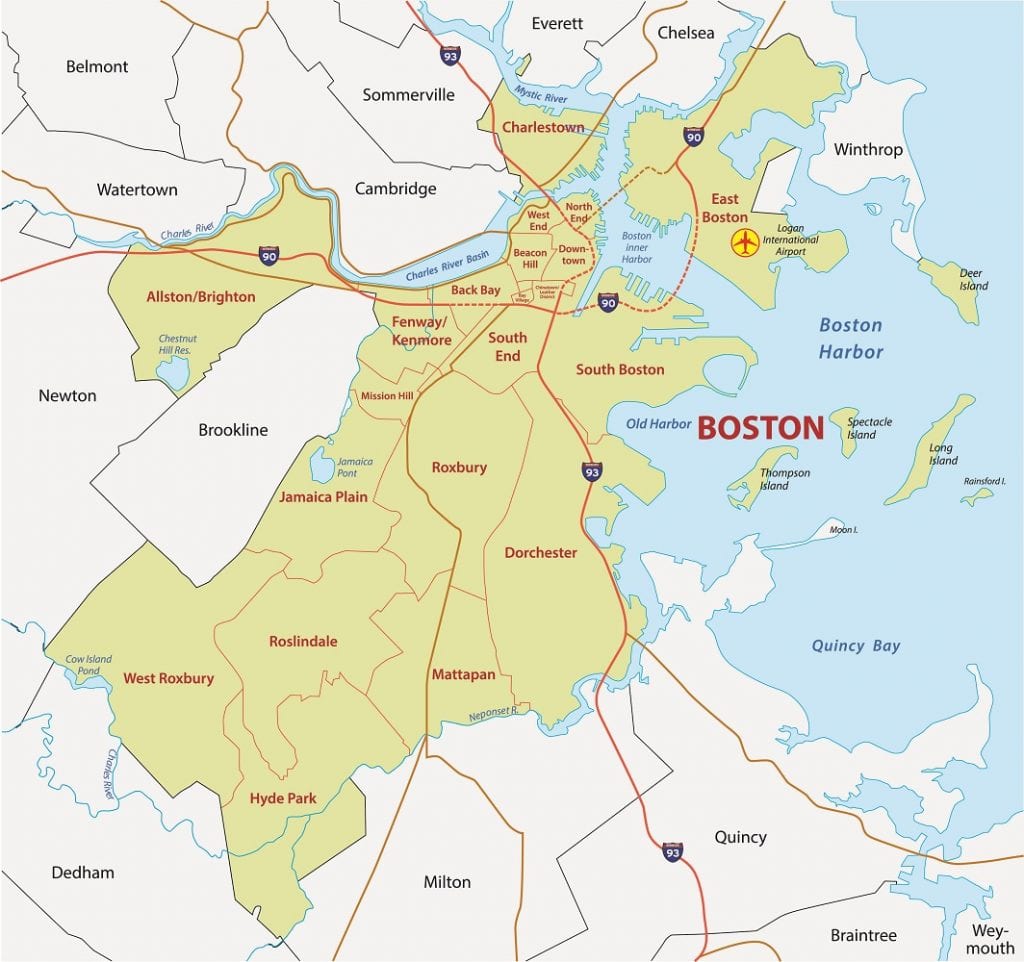 Boston Neighborhood Guide
If you're looking for a suburban feel and room for the kids to play…
West Roxbury
Transportation: It's about 10 miles or a 30-minute drive into the city center, though if you opt for public transport, you'll either have to catch a bus or two, or wait for the next Commuter Rail train.
Nearby neighborhoods to consider:  Hyde Park, Roslindale
Not to be confused with Roxbury, a Boston neighborhood six miles east, West Roxbury is at the outermost outskirts of the city limits. Sure, it's a little less convenient to commute to the Financial District than from some other areas, but it's surely much closer than the true suburbs, and it's one of the best neighborhoods in Boston for families.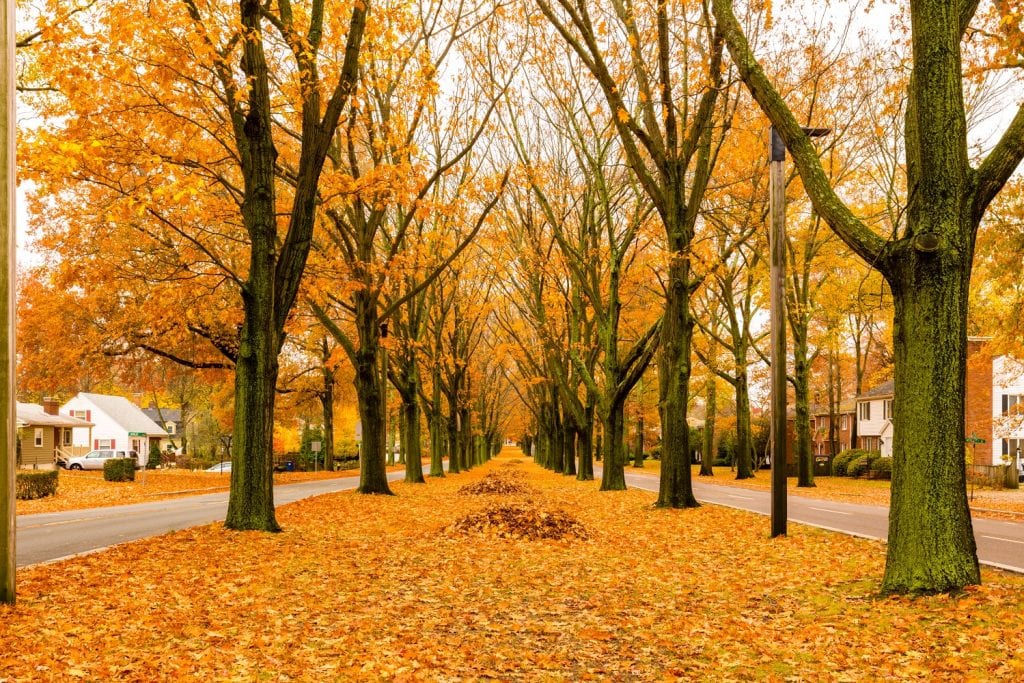 The good news for families hoping for a couple of parking spots and a yard to call their own is that West Roxbury contains many single-family homes, from Tudors and Gambrels to Victorians and new builds, often for around $600-700K. Most importantly, West Roxbury welcomes a slower pace of life that you just can't find in the center of the city, and a distance from the frenzy of development changing most of Boston's neighborhoods.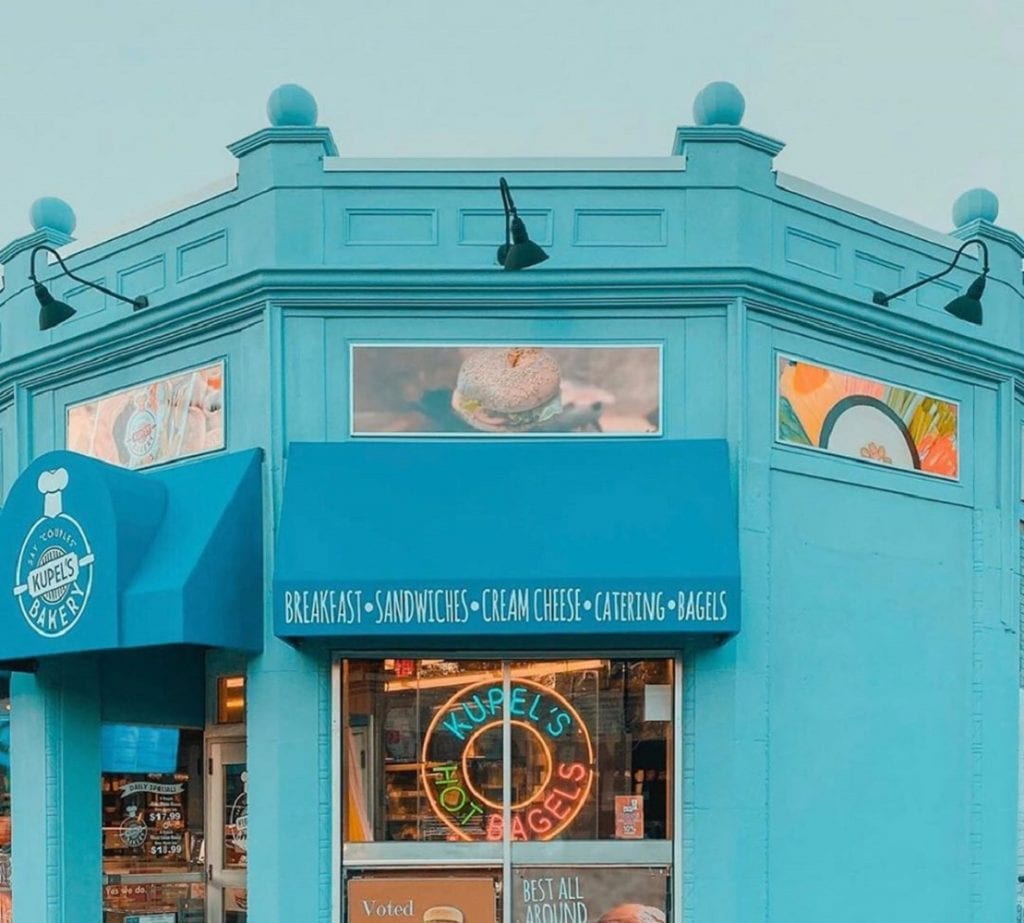 Brookline
Transportation: The C Branch of the Green Line can bring you downtown in 30-40 minutes, or a 15-20-minute car ride will do the trick. 
Nearby neighborhoods and towns to consider: Fenway, Chestnut Hill, Newton
Technically a city of its own, people often group Brookline in with Boston because it's so close. Locals easily live there and work downtown, and it shares borders with Allston, Fenway, Mission Hill, and Jamaica Plain. What's not to love about Brookline? Its public schools are highly ranked, it comprises multiple small and large parks, and it's home to some truly magnificent mansions — including Gisele Bündchen and Tom Brady's one-time abode. The sale prices are equally as impressive: The median for condos approaches $1 million, while for single-families it's about $2 million.
Brookline doesn't have a lot to offer in terms of nightlife, but its commercial hub, Coolidge Corner, has plenty to do for a date night or family outing. Coolidge Corner Theatre is one of the best independent movie theaters around, Kupel's Bakery serves up stellar kosher eats to the city's robust Jewish community and everyone else, and Trader Joe's fills up with customers every weekend afternoon.
Though it's a bit of a vertical hike up the street from Coolidge Corner, it's worth the sweat to arrive at Corey Hill Outlook, a hilltop park with lovely distant views of Boston's skyline. Let the kids frolic around the playground while you watch the sun set over the silhouette.
If you want to live in an area brimming with historical appeal…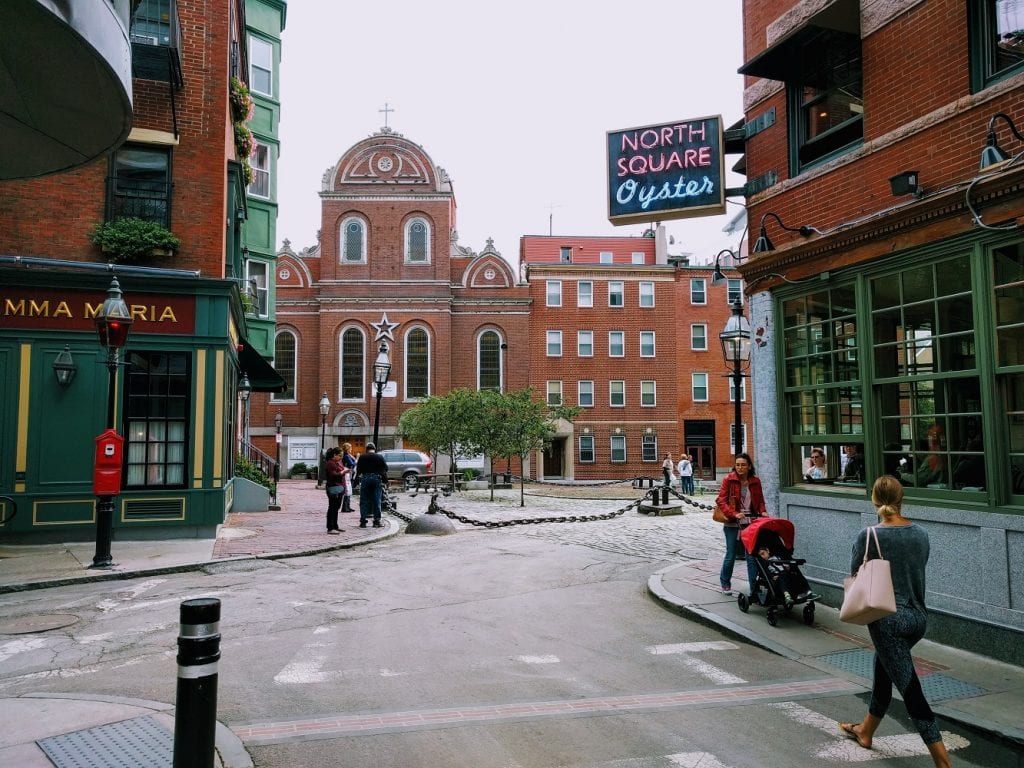 North End
Transportation: It's less than a 10-minute drive or 20-minute walk downtown, or you can ride the Orange or Green Line in from Haymarket station. 
Nearby neighborhoods to consider: Charlestown, East Boston
Practically every metropolis has a Little Italy, and the North End is Boston's – though you won't catch anyone but tourists calling it that. Dwell in this historically Italian-American locale and you'll have no choice but to try a cannoli, or ten, to judge which one is your favorite. (Mike's Pastry and Modern Pastry are the big names, though the 24/7 confections at Bova's Bakery are a true late-night blessing.) As a result of its waterfront positioning and proximity to downtown, homes are pricier in the North End; condos typically go for close to $1 million and penthouses easily soar into the $2 millions.
There are some reasonable rents to be found, though you're unlikely to find newly renovated quarters. While there's no true supermarket within neighborhood limits, one of the North End's treasures is Haymarket: The al fresco marketplace pops up each Friday and Saturday, when vendors hawk their fresh produce and fish for a fraction of what you'd pay at Star Market. Plus, some vendors even let you haggle the price.
Without a doubt, the North End is of one of the best neighborhoods in Boston for history buffs: Historic sites like Old North Church, Paul Revere's House, and a large swath of the Freedom Trail are all on home turf. In terms of entertainment, bordering the North End, the West End's newly revamped North Station now boasts a trove of options for weekend nights, from concerts at Big Night Live, fare at Guy Fieri's Tequila Cocina, a Celtics or Bruins game at TD Garden, or a movie at ArcLight Cinemas.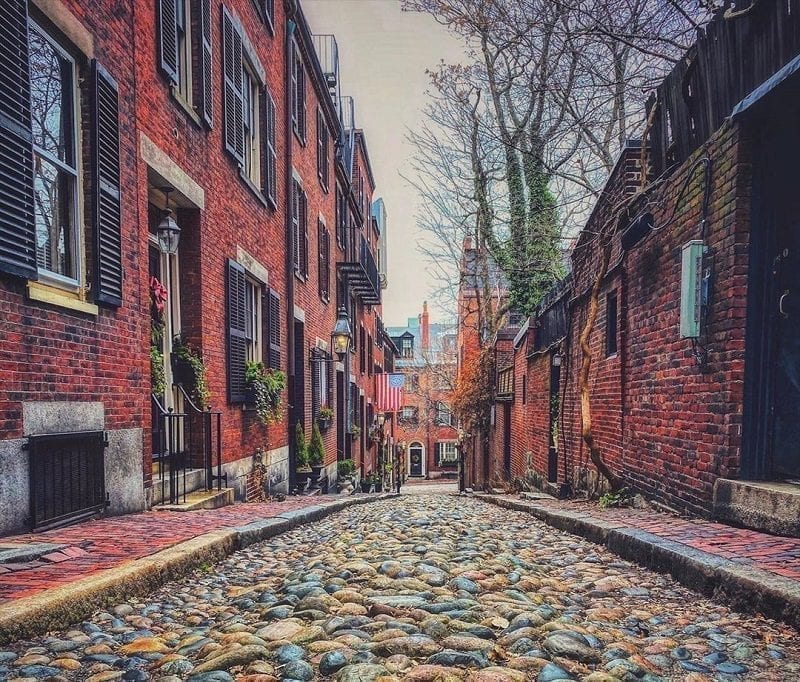 Beacon Hill
Transportation: If it's downtown you want to go to, just walk through the Common and voilà. Otherwise, catch the Green or Orange Lines from Park Street. 
Nearby neighborhoods to consider: Back Bay, Bay Village, South End
The enchantingly cobbled alleys of Beacon Hill are some of Boston's most beautiful. On any given day, you'll probably see a tourist posing for a picture on Acorn Street, the epicenter of the neighborhood's incredible Halloween decorations (and full-size candy bars, kids). Home to the golden dome of the Massachusetts State House and the television-famous bar, Cheers, it's no wonder Beacon Hill is one of the priciest parts of town (though technically neighboring Back Bay claims the city's priciest ZIP code).
Besides living in and among picturesque and opulent 19th-century brownstones, residing in Beacon Hill puts you at the foot of the glorious Boston Public Garden, where the bronze Make Way for Ducklings statues sit, and the Boston Common, which acts as the city's communal backyard. Not to mention a pleasant mile-long stroll from high-end shopping on Newbury Street.
If you want a neighborhood with a creative, artsy community…
Jamaica Plain
Transportation: JP is primarily serviced by the Orange Line, which makes it easy to get downtown in 20 minutes, but somewhat tricky to access many other parts of the city. You'll have to transfer to another line or bus, or take your trusty bicycle as many locals do. 
Nearby neighborhoods to consider: Roxbury, Mission Hill
You can't deny the cool, hippie vibe of Jamaica Plain. Young families and single creatives alike cherish the hip shops and cafes that line Centre Street, the neighborhood's main thoroughfare. For example: Tres Gatos, a tapas restaurant that doubles as a bookstore and triples as a record shop. Don't miss J.P. Licks, the original location of the beloved local ice cream chain, and the Sam Adams Brewery, where you can get a behind-the-scenes lesson on how beer is made, and a few free samples to boot.
Olmsted Park, which encompasses Jamaica Pond, and the Arnold Arboretum, which smells incredible when the lilacs bloom, provide extensive green space -- a definite plus in an urban environment. Homes in JP fall below the city's median sale price — which isn't to say that those grand old Victorians with colorful paint jobs won't cost you, but there are plenty of mid-range options, too.
Cambridge
Transportation: The city of Cambridge is right across the Charles from Boston and is well-connected to downtown. Simply grab a seat on the Red Line train and take it the 5 miles or so into the heart of the city in less than 15 minutes. Oh, and don't forget to savor the breathtaking skyline view as the train crosses the Longfellow Bridge.
Nearby towns and cities to consider: Somerville, Arlington, Medford
If the great brains of Harvard and MIT come to mind when you think of Boston, well, you're actually thinking of Cambridge. College campuses do occupy plenty of the land, but among those scholarly streets are an abundance of gorgeous Victorians and generally neat-looking housing stock. And beyond its Ivy League cred, the progressive city boasts plenty of quirks and culture in its several distinct squares -- Harvard Square, Central Square, Porter Square, Inman Square, Kendall Square, among other areas -- such as the art-covered Graffiti Alley in Central Square and the old-school films at Brattle Theater.
Of course, school spirit comes to the forefront in October, when rowing teams take to the Charles River to compete in the Head of the Charles, and spectators crowd the banks with picnics and cheers. You can definitely find reasonable rents if you look carefully in Cambridge, though there are often even better deals in neighboring Somerville or North Allston.
If you want to be surrounded by students and young professionals…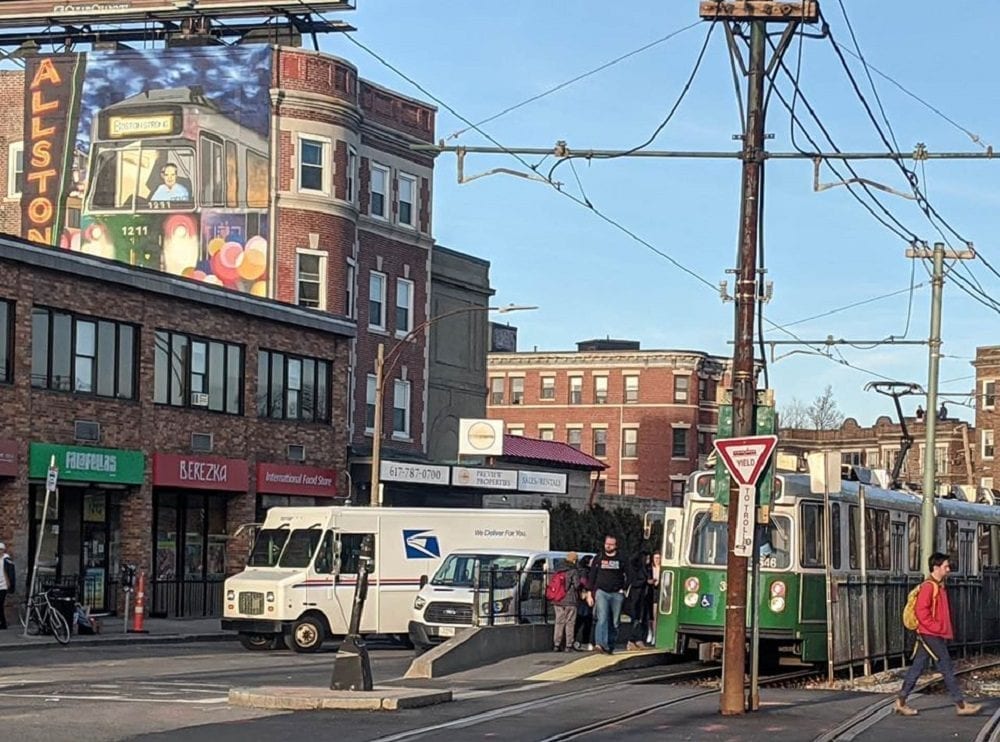 Allston
Transportation: Five miles from downtown, you can easily hop on the B Branch of the Green Line to get there in 30-40 minutes. Buses such as the 66 and 57 are convenient for getting into Cambridge and Kenmore, respectively. 
Nearby neighborhoods to consider: Brighton, Watertown
This area was once known as "Rock City" thanks to former residents like a little band called Aerosmith. Though the big-name rock legends have moved on, when you rent in Allston, chances are that at least one of your neighbors is in a band — and will probably invite you to see their house show this Friday night. Local haunts Great Scott and Brighton Music Hall always have cheap beer and inexpensive tickets to check out, too.
Up the street from Boston University, Allston is a popular spot for students to plunk down, and unlike many parts of the city, it's fairly easy to find an apartment here that allows undergrads to rent. (Tip: Rents are relatively low in Allston, though there are even cheaper units in Lower Allston, or North Allston, than in the central area around Harvard Avenue.)
Other perks include an incredible selection of Asian cuisine (try Coreanos for Mexican-Korean fusion or Teamoji for Instagrammable bubble tea) and several sweet vegan options (coconut-based ice cream at FoMu is a crowd pleaser, and the bowls at Whole Heart are big enough for two meals). Oh, and it's one of the only places you'll live that has its own holiday: So-called "Allston Christmas" happens on September 1, when everyone moves out of their old digs, leaving the streets strewn with free furniture and miscellaneous items. Feel free to make one man's trash your own treasure — just watch out for bed bugs.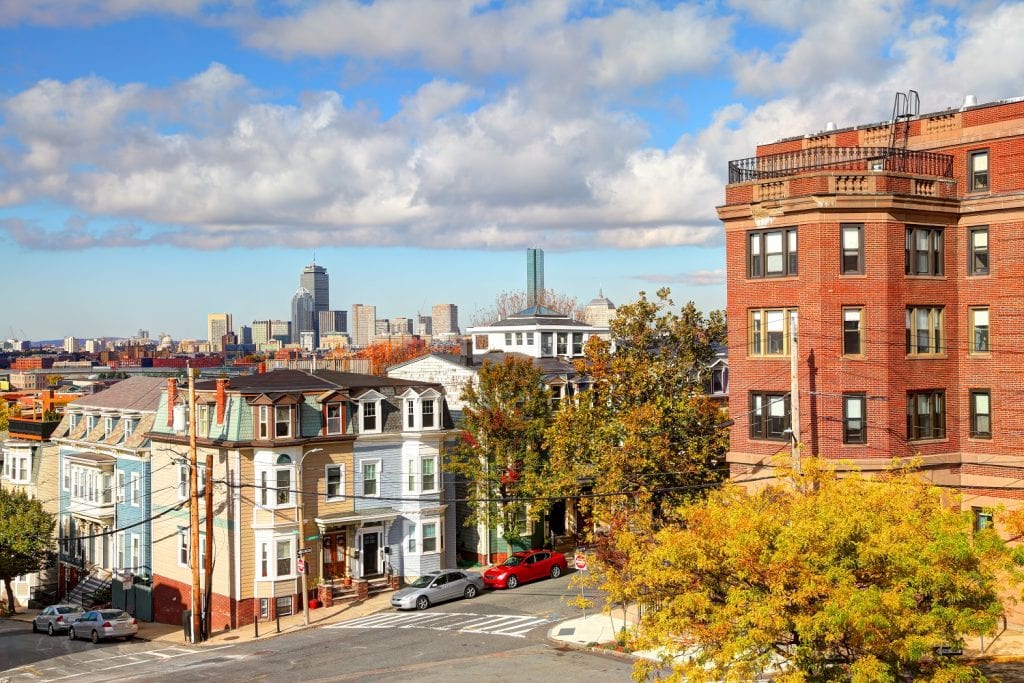 South Boston
Transportation: Here's the catch! South Boston is only two miles from downtown, but it can be annoying to get to certain parts of the city. To get to the Institute of Contemporary Art in the Seaport, for instance, you'll have to board a Silver Line bus. If you live over in City Point, you'll want to take the Red Line to Broadway (where the famed St. Patrick's Day Parade embarks each year) and transfer to a bus from there. 
Nearby neighborhoods to consider: Dorchester, South End
South Boston is at the Eastern edge of the city, just across the Fort Point Channel from the Financial District, Chinatown, and downtown. Nicknamed "Southie," the area contains several smaller neighborhoods. City Point, for instance, boasts proximity to Pleasure Beach and Castle Island, where people from all over Boston flock via ferry during the summer months to grab a lobster roll or hot dog from Sullivan's.
The Seaport is another sought-after area, with tons of luxury condos, hip stores, and millennials working for tech startups. Since the waterfront sub-neighborhood, once sparsely populated with warehouses, pretty much came to be within the last decade, you won't find much personality or history in the buildings here. But you'll certainly find sparkling new accommodations and steep rents to go with them.
Alternatively, South Boston abuts Dorchester, which happens to be the city's largest neighborhood. Though gentrification is rapidly changing the market, the sprawling community is still wonderfully diverse, and has some of the more affordable real estate to be found in the city — a great place for those looking to buy their first home.
Whether you're moving locally or from across the country, we hope this guide to Boston neighborhoods helps you find a community where you feel at home. While you're looking, prepare to tackle your move with 5 moving hacks the pros use and these moving survival tips.
---
Sofia Rivera is a Boston-based lifestyle editor and frequent contributor to the PODS Blog. Her work has appeared in Boston magazine, Apartment Therapy, and more. You can most often find her redecorating her apartment, trying out a new recipe, or trekking all over the city. 
Get a Quote
Choose the service you need
Comments
Leave a Comment
Your email address will not be published. Required fields are marked *