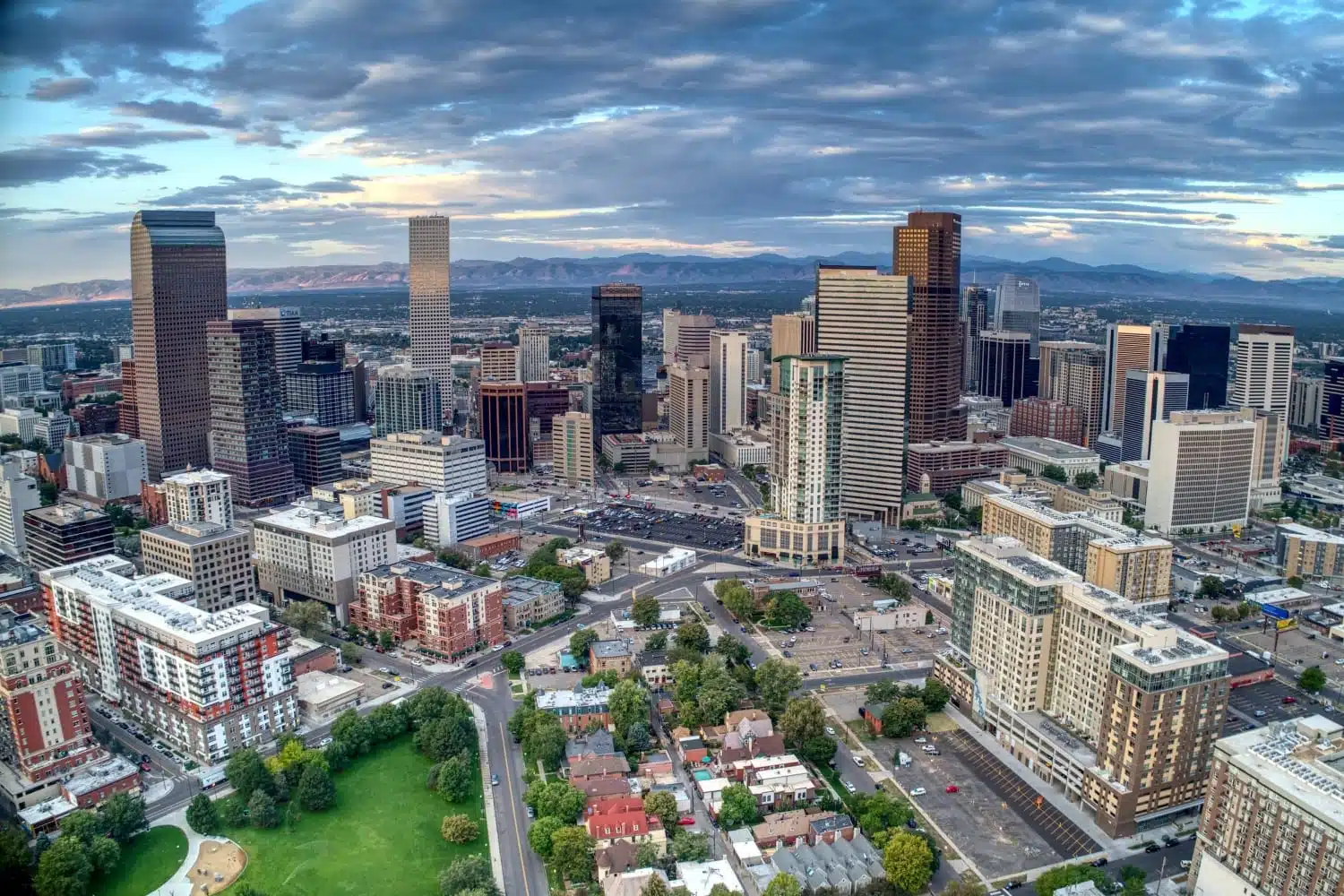 Moving to Denver: Your Guide To The Best Neighborhoods In The Mile-High City
Nicknamed the "Mile High City" for its 5,280-foot elevation, Denver has been a longtime favorite for eco-friendly folks looking for a taste of city life without straying too far from nature. No wonder Colorado's capital city snagged the #2 spot on the U.S. News and World Report's Best Places to Live list. If you're lucky enough to be headed this way, read on for the inside scoop on Denver's best neighborhoods.
EVERYTHING YOU NEED TO KNOW ABOUT LIVING IN DENVER
Denver is Colorado's most populated city, with over 700,000 residents in the city proper and 3.2 million in the seven-county Denver Metro area. Fresh air, great weather, craft beer, and a snazzy cultural scene are all big draws to the Mile High City. If you're moving from another state, getting your bearings here is easy — just scan the skyline for the Rocky Mountains, the city's natural compass indicator for west.
Hot but arid summers, plus over 300 days of sunshine a year (more than Miami!) make Denver an ideal spot for terrace drinks, outdoor events, and adventure activities. Hoping for snow? Sorry to disappoint, but the city rarely sees snow, and when it does, it doesn't tend to stick around. So, while Colorado is a top snow destination, people living in Denver typically experience chilly but mild winters.
Still, anyone moving to Denver is in for a treat. Here, the views are gorgeous, the people are friendly, and there's no shortage of fun ways to stay busy.
Things To Do in Denver
If you're into outdoor activities full of fresh air, Denver and its surrounding area will feel like a personal playground. Mountain climbing, biking, hiking, white water rafting, skiing, and fishing are all easily accessible activities within an hour or less from the city. Want to mix your outdoor adventure with top-notch arts and culture? Denver is chock-full of excellent food and drink, great shopping, and great museums, theater, music, and nightlife that rivals what you'll find in much larger cities — but with less pretense and (usually) less expense.
Getting Around Denver
As Denver's population continues to boom, so does the city's traffic. While it's still nothing close to major traffic-jam cities like Los Angeles, the traffic is definitely a pain point to locals, particularly during rush hours between 8 a.m. to 9 a.m. and 4 p.m. to 6 p.m. on weekdays. According to an October 2017 study, the average commute time in Denver ranked 17th in the country at just over 46 minutes.
Don't want to keep a car in Denver? Excellent bikeability, public transportation options, and decent walk scores mean you might not have to, depending on your neighborhood. While you might not be able to get around solely on foot, it's common to see residents walking, biking, or riding public transit when they can.
Denver is set up with over 267 miles of paved bike paths and supports B-cycle, a public bike sharing program with over 88 pickup-and-go stations across the city. Want a more passive form of public transport? Denver's RTD bus and light rail service has local and regional routes that stop throughout the city and go to/from the suburbs. For locals, riding the RTD is a no-brainer, eco-friendly way to hit up popular spots like Coors Field, Denver Union Station, and Denver Airport.
Cost of Living in Denver
For years, living in Denver was once one of the best deals in the country. However, its rise in popularity has caused prices to climb. Currently, according to Payscale, Denver's cost of living is about 12% higher than the national average, mostly due to higher real estate costs. Here's a breakdown of typical rental and home prices in Denver as per the Denver Metro Association of Realtors and Payscale.
| | |
| --- | --- |
| Denver Cost of Living | Housing Cost |
| 1-bedroom apartment average rent | $1,415 |
| 2-bedroom apartment average rent | $1,925 |
| Median sale price for homes | $606,000 |
Denver Jobs & Economy
Just prior to the beginning of the pandemic, Denver ranked as the #3 job market in the U.S., just behind Nashville and Austin, in a ranking by the Wall Street Journal. Industries like healthcare, biotech, and finance are big players here, thanks to the city's universities, though the city's tourism and cannabis industries are rising higher each year, as well. You're also likely to make more money here. Denver Metro's median household income was $75,565, compared to the national median of $60,293. Median earnings for full-time, year-round workers in Denver is also ahead of the national median at $53,478 compared to $47,527, based on U.S. Census data.
Schools in Denver
Send your kids off to school with confidence. Denver is packed with schools — and good ones. The city has 220 private schools, nine universities, and 157 public schools, including some that offer magnet programs such as The Gifted Program, AP, and International Baccalaureate. According to U.S. News & World Report, Denver has a 16:1 student to teacher ratio and has a higher College Readiness score (8.1/10) than similar metro areas. Plus, a whopping 76 Denver high schools placed in U.S. News' Best High Schools rankings.
Map of the Denver Metro Area
Finding Denver's Best Neighborhoods and Suburbs
Not sure where in Denver you want to call home? Trust us, Denver and its surrounding areas present a lot of options to choose from, whether you're looking to be close to the action downtown, on a family-friendly tree-lined street, or a quick jaunt away in the suburbs. Since there are so many neighborhoods to consider, we've cherry-picked our favorites based on popularity, variety, and appeal. While sizing up whether a particular neighborhood is the perfect fit, we'll be looking at things like overall vibe, who your neighbors will be, how convenient the location is, cost, and what there is to do in the 'hood.
Map of Downtown Denver: CBD and LoDo
Downtown Denver - CBD & LoDo
Want that big city feel? Moving to Downtown Denver puts you right in the heart of the city and next to public transportation. You'll also pay for the privilege with more street noise and foot traffic, hard-to-find parking, and higher rent. Anyone living downtown can expect to shell out $2,145 to $2,200 in rent, according to RentCafe, or around $480,000 for a home.
This area has Denver's most metropolitan feel -- bustling streets, lots of pedestrians, mostly high-rise buildings -- and is outlined by North Broadway, Park Ave West, Speer Boulevard, Colfax Ave, and the South Platte River. Depending on the vibe you're looking for, you'll have to choose between downtown's Central Business District (CBD) or Lower Downtown (LoDo). CBD is more of a business hub, bustling during business hours but not as hip and happening as LoDo in the evening.
LoDo is where to go to experience the action of Denver's best: bars, restaurants, nightlife, and sites like the Museum of Contemporary Art, Coors Field, and Commons Park. This area is ideal for anyone who doesn't want a car, has an active social life, and wants the bulk of what the city has to offer right at their doorstep. In those respects, the downtown area has got it all, but it's lacking in good schools, so this is an area that's more for young professionals than families with kids.
Map of Denver's Capitol Hill Neighborhood
Capitol Hill
The Capitol Hill neighborhood, or Cap Hill if you're a local, is downtown adjacent and picks up at the Colorado Capitol Building where the CBD stops. Housing options run the gamut from historic homes to contemporary apartments, rent rings in at around $1,600 a month, and homes cost $200,000 to $400,000 on average (though there are some that go for more, like over a million dollars). Schools here are pretty average.
Whereas the CBD can be a bit dead, Cap Hill is full of life with its vibrant arts and culture scene. In this 'hood you'll get six museums (including the Denver Art Museum and Clyfford Still Museum), tons of galleries, and the Curious Theater Company as your performing arts space. You'll also find a range of global cuisine restaurants from casual to fine dining, breweries, cocktail bars, and clubs. This is a neighborhood for people and personalities who like to brunch. Go Caribbean at Bang Up to The Elephant! or traditional New American at Jelly.
Map of Denver's Cherry Creek Neighborhood
Cherry Creek
In southwest Denver, the Cherry Creek neighborhood is a shopping hub, has a 22-mile bike path, and is full of spas, salons, boutiques, and art galleries — most within a 16-block walking distance. Some describe it as a more upscale, more adult version of Cap Hill. Most homes here sell for well over a million dollars. According to RentCafe, rent stays somewhat affordable at around $2,200 a month. Grade schools here are top-notch, though middle and high school ratings taper off.
Cherry Creek isn't shy when it comes to good eats. Neighborhood favorites are quick to become city favorites, like Elway's, owned by former Denver Broncos quarterback and current general manager John Elway; the Cherry Cricket (best burgers in the 'hood); and the Italian wine bar Postino 9CO. Neighborhood boundaries run west from South University to South Colorado Boulevard and from E 6th Avenue at the top to the eponymous Cherry Creek to the south.
Map of Denver's River North Art District (RiNo)
River North Art District (RiNo)
Every city has their hipster area and, located just north of LoDo and Five Points, the River North Art District (or RiNo for short) is Denver's. Like most hipster hangouts, this industrial neighborhood is the result of gentrification and sports all the usual flowers and scars of that process. Neighborhood haunts include a growing number of coffeeshops like Lekker Coffee and Blue Sparrow, as well as creative examples of adaptive reuse like The Source, all while still (for now) maintaining a few of its old-school businesses and slightly rough edges.
The vibe here is young, creative, cool, and social with a plethora of hip shops, colorful street art murals, tons of bars, quirky (and good) restaurants, and cheaper rent. The average rent here comes in at around $1,859. The RiNo is fairly walkable, though as a warehouse district it's a bit barren and sketchy, especially at night — and there is no RTD service — so you'll most likely need a car.
Map of Aurora, CO, 9 miles east of Denver
Aurora, CO
Spanning Arapahoe and Adams counties, Aurora is Colorado's third-largest city, with 381,000 residents. Located just 25 minutes outside of Denver, Aurora is a top pick for folks who want to avoid the "big city" housing prices of Denver proper. Green spaces galore, a couple of good museums, and the local University of Colorado Hospital are all selling points for this suburb. Plus, several RTD stops in town make it easy to get into Denver without having to drive. Bonus: Aurora is a great base for people who travel frequently since it's actually closer to Denver Airport than the city itself.
Like Denver, Aurora is full of great schools, though, again like Denver, it depends on your exact neighborhood. As the center of Colorado's refugee population, there is more diversity in Aurora than other parts of Colorado, and that's brought challenges as well as the benefit of a rich mix of cultures. For instance, Aurora is home to over 200 locally owned ethnic eateries with cuisine from six different continents and dishes you can't find in other parts of Colorado.
The cost of living in Aurora is still above the national average, but with rent around $1,350 and houses selling for an average of $320,000, housing costs in Aurora, Colorado are still substantially lower than in the city.
Map of Lakewood, CO, 7.5 miles west of Denver
Lakewood, CO
Part of Jefferson County, Denver's Lakewood suburb is so close that you might be able to get away with saying you live in Denver. Just 15 minutes from the city by car or Light rail, Lakewood, Colorado has 152,000 residents. Lakewood has a lot of things going for it, including a good job market, higher-than-average income, lower-than-average unemployment rate, and top-rated schools. This suburb has an urban residential feel that resonates with a lot of young, moderate to conservative professionals. According to Best Places, your average month's rent will be between $1,145 to $1,435, while the median cost for a house is around $409,300.
Though the hubbub and hip arts and culture of Denver is only a few stops away on the RTD, Lakewood has fine parks and a surprisingly decent set of restaurants and coffee shops of its own, like the Taste of Denmark bakery, African Grille and Bar, and the gorgeous Kendrick Lake Park. If you love outdoor shows, you'll score big by being just 15 minutes from Red Rocks Amphitheater, one of the most stunning outdoor concert venues in the country.
Map of Littleton, CO, 10 miles south of Denver
Littleton, CO
Ten miles and about 30 minutes south of Denver, Littleton is a stellar pick for families thanks to its great schools, diversity, and plentiful outdoor activities. It's also connected to Denver via RTD service. However, all these perks are reflected in Littleton, Colorado's cost of living, which is only 3.8% lower than what you'd find in Denver itself. That said, you're likely to get more bang for your buck here, especially when it comes to renting or buying. Average rent in Littleton is about $1,300 a month, according to Niche, which also puts the median cost for a house at $379,700.
Like Lakewood, this suburb is popular with young, conservative-leaning professionals, though with just over 47,000 residents, Littleton taps out at about a third of the population. Littleton is the Arapahoe county seat and also stretches into Douglas and Jefferson counties.
Map of Centennial, CO, 16 miles southeast of Denver
Centennial, CO
Going about 20 minutes southeast of Denver, you'll find the medium-sized suburb of Centennial in Arapahoe County, a hotspot for young professionals and growing families. According to Niche, Centennial, Colorado is one of the top five suburbs to buy a house in Colorado. While both Lakewood and Littleton have an urban-suburban vibe, Centennial takes another step back from city life, settling into a more suburban feel. For example, most people here own their homes and many people move here to start growing their families.
Public schools in the area rank well, housing options are good, and there is ample outdoor space, though diversity does drop off a little bit in this city of 100,000 residents. Average rent is about $1,679, and the average home listing is around $398,700.
Map of Westminster, CO, 10 miles north of Denver
Westminster, CO
Located 15 minutes north of Denver and 25 minutes from Boulder, Westminster is a popular spot for young professionals and new families commuting into Denver or Boulder. Spanning Adams and Jefferson counties, the city is home to about 113,000 residents, as well as nearly 1,000 technology firms, making it an integral part of Denver's start-up economy.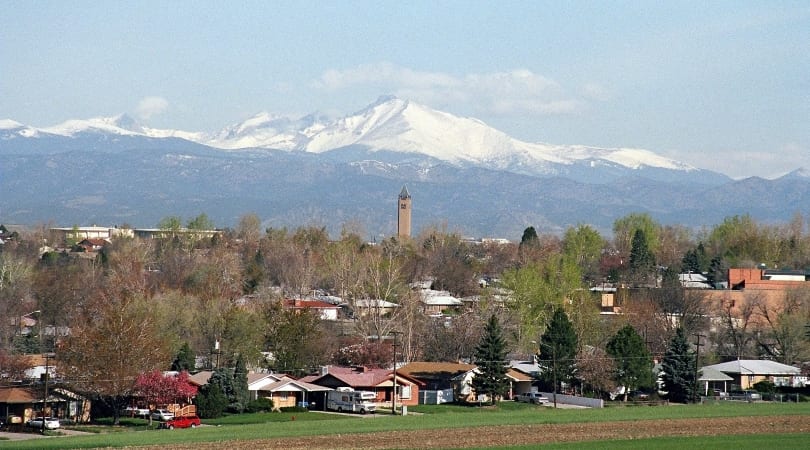 While it doesn't have quite the level of schools available as the other suburbs we've included, it's better known for its diversity and more moderate political views. With 60 developed parks, over 3,000 acres of open space, and 145 miles of trails, there's plenty of room to explore. The Butterfly Pavilion and Insect Center, housing 1,600 butterflies and more than 5,000 animals in its indoor tropical rain forest, is a favorite spot. It's part of Westminster Promenade, a former mall converted into an outdoor pedestrian village that features casual restaurants, movie screens, bowling, and a three-rink ice arena.
The median household income runs around $73,000, nearly $20,000 more than the national average, while monthly rent averages $1364 and houses on the market have a median price of $307,600. Denver's RTD has two stops in Westminster, including a park-and-ride stop, so you don't need a car to get into downtown Denver.
Map of Arvada, CO, 10 miles northwest of Denver
Arvada, CO
Another suburb located north of Denver, Arvada is west-adjacent to Westminster and also spans Adams and Jefferson counties. With 120,000 residents, Arvada is slightly more populated than Westminster, and has a higher quality of life, better schools, stronger job market, and higher cost of living. With 90+ parks, Arvada boasts a neighborhood park within a 10-minute walk of every home.
You might notice that the cost of living here is pretty on par with Denver, but you'll get more space for your money here. Rent is affordable at around $1,274 per month, though most residents here own their homes, which average about $352,300, according to Niche.
Arvada attracts active young professionals and families who want to take advantage of the many parks and year-round outdoor activities and indoor activity venues like the Archery Games Denver or Activate Indoor Activity Park. Restaurants and bars here are pretty standard, with your typical suburban fare and cuisine choices: pizza, pubs, Mexican, and American eats.
MOVING TO DENVER
Whether you're making a long-distance move to Denver or just moving somewhere new in the area, we hope this guide has helped you narrow down the choices for your new neighborhood in the Mile High City. In the meantime, check out our favorite packing and moving hacks or get started on your moving checklist.
---
Katherine Alex Beaven is a frequent contributor to the PODS blog who has moved 20+ times because she loves to experience new places.
Get a Quote
Choose the service you need
Comments
Leave a Comment
Your email address will not be published. Required fields are marked *