House-hunting in Edmonton? You're not alone. According to an October 2021 report from RE/MAX, home sales in Edmonton rose 60% across all home types. Not surprisingly, some of the factors fueling this activity are growing families, the ability to work remotely, and the desire for more outdoor space.
Despite the high demand, Edmonton is still one of Canada's more affordable markets (just ask anyone in Vancouver or Toronto). Whether you're a first-time buyer, upgrading, or relocating from out-of-province, there's bound to be a great option within your budget. The average sold price for a home in Edmonton is $380,000, up 2.3% from the previous year. However, the average price drops significantly when you start looking at condos and townhouses. Combine this with a thriving cultural scene, including festivals throughout the year, galleries, theatres, and live music, and the northernmost city in North America with more than a million people has something for everyone.
Ready to narrow down your search in Canada's Festival City? Here's a closer look at five of the best Edmonton neighbourhoods and the great attractions they have to offer.
1. Downtown Edmonton
If you love the buzz that comes with a fast-paced urban lifestyle, Downtown Edmonton is for you. This central location is a great choice for working professionals, young singles, and empty nesters. Love condo living? Expect a lot of options, from trendy renovated warehouse lofts to luxury residences with views overlooking the city. If your budget allows, you may even consider one of the upscale townhomes in the area. Not as congested as other Canadian city centres, Downtown is quite walkable, and the transit service is quick and reliable, too. As for leisure time, there are plenty of attractions, like the year-round festivals at Churchill Square, The Art Gallery of Alberta, Royal Alberta Museum, and the Commonwealth Stadium. Not to mention the plethora of cafés, restaurants, fun workspaces, and nightclubs just steps from your front door.
Q. What is the safest neighbourhood in Edmonton?
A. With comparatively low crime rates, neighbourhoods in the south and southwestern parts of Edmonton are generally considered to be relatively safe and very family-friendly. These include Henderson Estates, Ogilvie Ridge, and Haddow, to name a few.
2. Ritchie
Like a vibrant almost-suburb, Ritchie is filled with a mix of long-time residents, young families, and singles. A revitalization that kicked off in 2017 drew many more millennials to the area — and it's easy to see why. Downtown is nearby if you need to commute or don't want to stray too far from the action, and, locally, you have great dining and shopping options. The most well-known is Ritchie Market, a central hub that houses a brewery, bakery, meat market, and more. Although this walkable neighbourhood has a hipster vibe, it also offers outdoor appeal, thanks to Mill Creek Ravine. That's where you'll find all the local runners, mountain bikers, and dog owners. As for housing, it varies from family homes to stylish condos to luxury residences. And, parents, take note — there's a local elementary school with a Spanish bilingual program, in addition to a nearby junior high and high school.
Q. What is the best area to live in Edmonton?
A. In the last few years, the consensus seems to have landed on either Strathcona or Ritchie. But, of course, beauty is in the eye of the beholder. Our recommendation? Give them each a visit and see which neighbourhood tickles your fancy.
3. Strathcona
Often called the trendiest neighbourhood in Edmonton, Strathcona offers a great fusion of energy and culture. Located close to both Downtown and the University of Alberta, one of its biggest draws is Whyte Avenue — the main street lined with pubs, restaurants, and cafés that runs through the beautiful historic district of Old Strathcona. During the day, Whyte Avenue charms with its family-friendly vibe, then comes to life after dark with a pulsating entertainment and bar scene. And like the locals, you'll want to flock year-round to Old Strathcona Farmers' Market, plus you'll be perfectly situated for the annual Edmonton International Fringe Festival. A great place to start your house hunt, Strathcona offers just about every style of residence, as well, including single-family homes, cottage-style homes, bungalows, townhomes, and condos.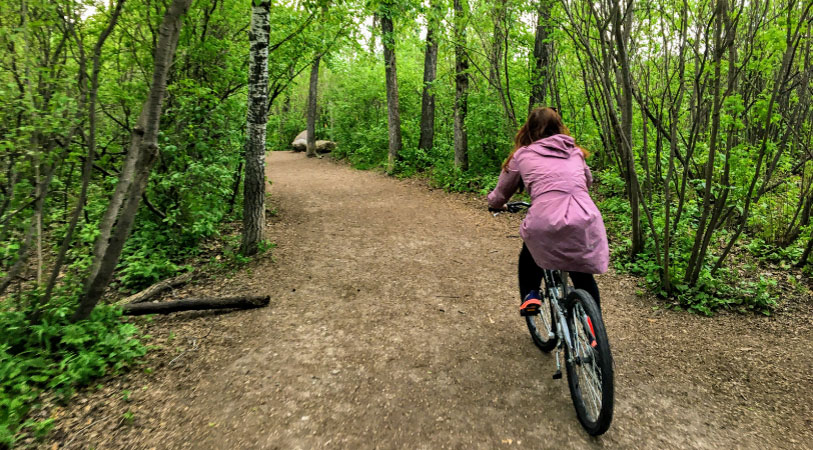 4. Aspen Gardens
For those who want to get away from it all, this peaceful and somewhat secluded family-friendly community will feel like a haven. Aspen Gardens is an affluent neighbourhood with scenic tree-lined streets far removed from congested city life with its large, single-family homes on spacious lots that allow plenty of breathing room between neighbours. Ideal for family life in all stages, there's an elementary school and a junior high school in the area. And the best part is that neighbourhood amenities are only about 10 minutes away by car. Nature lovers and fitness enthusiasts will really appreciate the local parks and pathways designated for pedestrians and cyclists.
Q. What is the richest neighbourhood in Edmonton?
A. According to AreaVibes, River Valley Walterdale is the richest neighbourhood in Edmonton, with a cost of living 28% higher than Edmonton. In second place is Windsor Park in the south central part of the city.
5. Garneau
As one of the oldest Edmonton neighbourhoods, Garneau is home to the University of Alberta. With a bustling mix of business, residential, and academic life, you can expect a diverse environment with a bohemian vibe. Just about everyone walks or cycles to get around the community and takes full advantage of its many amenities and loads of popular restaurants and cafés. And, no doubt, people of all ages are happy to view indie films or cult classics at the historic Garneau Theatre built in 1940. Though there is a strong student presence in this area matched by an array of apartments and condos, it's also a great place to settle down in a family home. The historic Garneau School for kindergarten to grade 6 students is just one more bonus.

Make your move… easy
Any of these Edmonton neighbourhoods would make a wonderful place to call home. But if you're making a move, be sure to choose a flexible moving partner designed to meet your unique moving needs to ensure a smooth transition. With PODS, a portable moving and storage container is delivered right to your driveway, where you can load it on your own schedule. And when you're ready, PODS will pick it up and deliver it to your new home. It's totally contactless (and totally convenient).
Ready to make the move to Edmonton? The PODS Blog has resources on everything from selling your current home, loading a truck or storage container, and even an all-encompassing moving checklist. And If you're considering other Canadian cities, you're covered there, too. Check out our list of the most affordable major metros in the Great White North.
Sources:
---
Talar Sakarya is a freelance writer based in Toronto. Eternally curious and restless, she loves to travel and ranks Italy, Ireland, and Indonesia as her top three favourite destinations.
Get a Quote
Choose the service you need
Comments
Leave a Comment
Your email address will not be published. Required fields are marked *