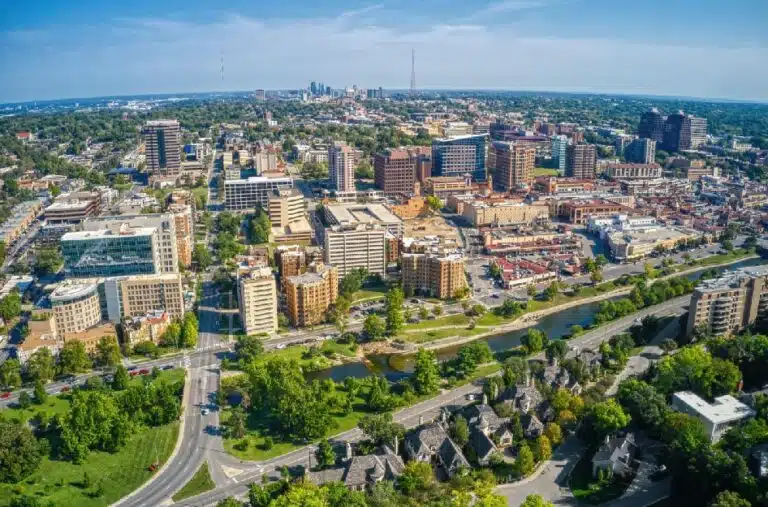 10 Kansas City Neighborhoods You Need To Hear About
Kansas City is a vibrant and creative city with a strong artistic flair. It's become a more popular place to call home in recent years, and has even managed to fit into the rankings of the "Best Places to Live" list by the U.S. News and World Report. From outdoor activities to exploring art museums, it's always easy to find something to do in Kansas City neighborhoods.
Kansas City is a diverse place to live, with an estimated 52% of the Greater Downtown Kansas City population being ethnically diverse across Black, Hispanic, Asian, and Native American populations. The city's population is a little over 509,000.
Housing Prices in Kansas City
Moving to the city might also set you back less than you might expect.
Kansas City's average home value is $228,545, while the national average home value is $339,048. If you'd rather rent, though, you still have plenty of options. The city's average rent sits at $1,220.
Kansas City Neighborhoods - FAQ
Q: What is the hippest neighborhood in Kansas City?
A: Brookside is considered as one of the hippest places you can live in Kansas City.
Q: Is it nice to live in Kansas City?
A: Because of the affordability, housing, culture, and art scene, Kansas City is regarded as one of the best cities to live in the United States.
Q: Is Kansas City a walkable city?
A: Kansas City has a walk score of 35, meaning that you will most likely need a car to get to most places.
Best Neighborhoods in Kansas City
Kansas City's various neighborhoods are distinctive in areas of art, history, and culture. Dubbed "The Paris of the Plains," there's something unique for people from every walk of life to love. Check out this list of the best neighborhoods in Kansas City.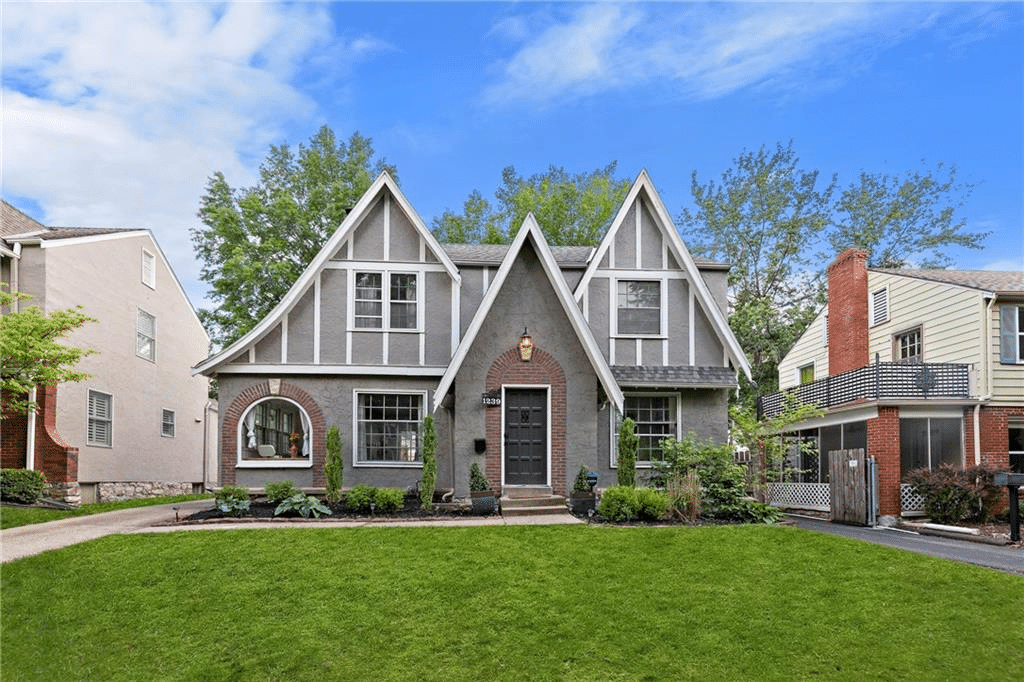 1. Waldo
The Waldo neighborhood is a tight-knit community in Kansas City, and it's perfect for families with kids. There's always something happening in the area, but some of the most popular are the Waldo Fall Festival and the Trolley Run. There are also a variety of different types of homes in the area, including Tudor and craftsman style homes, as well as larger Colonial-style homes.
2. Mission Lake
If you're looking for a safe and quiet place to raise your family, look no further than Mission Lake. This area is located about 25 minutes south of Downtown Kansas City. It offers families a peaceful environment and easy access to various big city attractions.
There are plenty of mid-century modern and cozy ranch homes along Mission Lake's safe streets. Families residing in this area can easily access top-rated schools for the kids to attend. They can also enjoy the area's many parks and the Blue River, which runs through the neighborhood!
3. Leawood, KS
If you are looking for a quiet and upscale community close to the city, then Leawood might be the place for you. It's situated just minutes away from the trendy Overland Park and is also near a variety of other attractions.
In addition to being close to the city, Leawood (which is technically a suburb) also has plenty of great places to unwind after a hard day at work. Some of these include Rye KC and the Leawood Stage Company. 
4. Blue Hills
Families enjoy living in the Blue Hills neighborhood in southeast Kansas City due to its convenient access to various local amenities. This area also has plenty of homes for growing families, along with some of the best schools in the area. It's also great for higher education, as you have access to Rockhurst University and the University of Missouri-Kansas City.
Residents of all ages can also take advantage of the Blue Hill Community Garden.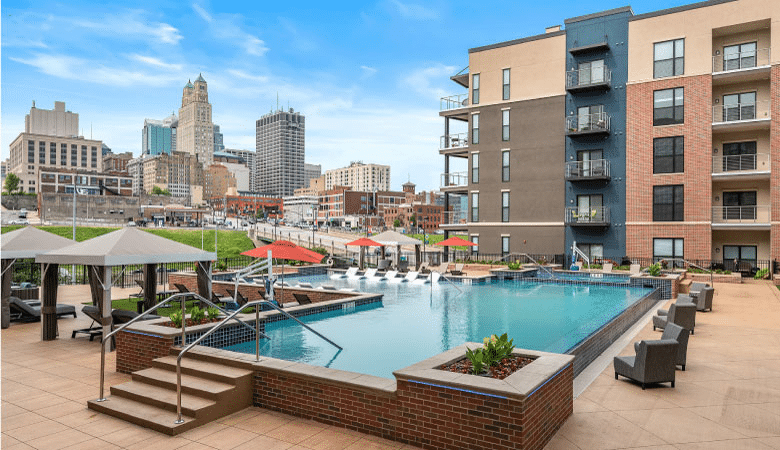 5. River Market District (Greater Downtown)
Kansas City's River Market District falls between downtown and the Missouri River, and it's perfect for finding great food, history, and local produce. It's located between downtown and the Missouri River.
There are many companies in this area and there are great jobs in industries that include architecture, graphic design, photography, and public relations.
You'll have access to a diverse dining scene, and you can get a taste of the city's steamboat history at the Arabia Steamboat Museum.
6. Crown Center (Greater Downtown)
Family-friendly atmosphere prevails in this area of Downtown Kansas City. One of the Crown Center District's most prominent attractions is the Money Museum in the Federal Reserve Bank. Another impressive place to visit is the National World War I Museum.
Other must-see attractions include the Legoland Discovery Center, Sea Life Kansas City, Hallmark Kaleidoscope, and the Hallmark Visitor Center.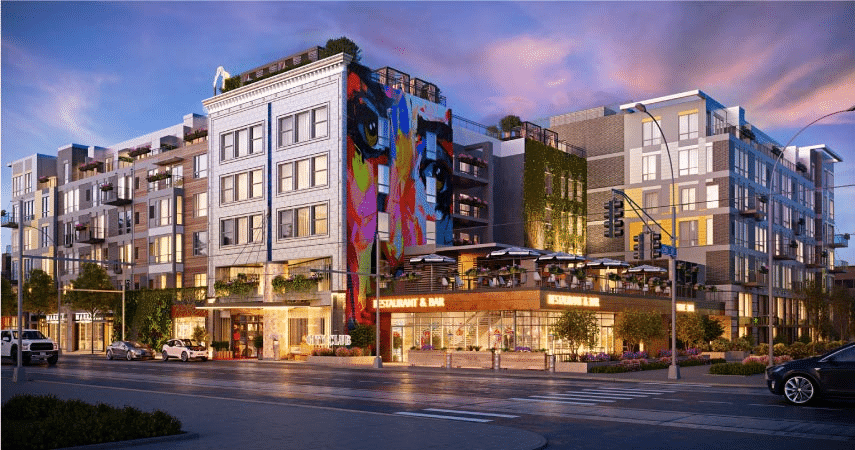 7. Crossroads Art District (Greater Downtown)
The Crossroads District is located near the intersection of major highways in Kansas City. It's a great place for artists and art lovers alike. With plenty of talented people and companies looking for creativity, there's no shortage of exposure available to residents.
With easy access to the Kansas City Ballet and the Kansas City Symphony, there are plenty of chances to enjoy great shows. It's also a great place for foodies. There are several notable establishments in this neighborhood like Blvd Tavern, and Affäre.
8. West Bottoms (Greater Downtown)
The neighborhood of West Bottoms is full of fun history and treasures to discover. The First Weekend in West Bottoms is a unique event that extends the Crossroads Art District's First Friday festivities. The neighborhood is known for its antique shops, so you'll find deals there, but you'll also be able to find food trucks, restaurant deals, and parking for less than $10 in some spots.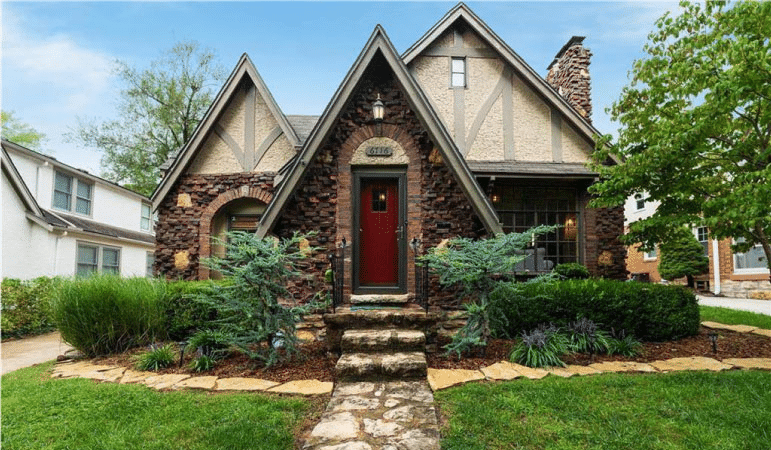 9. Armour Hills
The quaint Armour Hills neighborhood is located in South Kansas City, and offers a variety of housing options like Tudor and Colonial homes. This area is great for families and offers plenty of education opportunities with nearby private and public schooling options.
Those who reside in this area will enjoy the many events that it has to offer, such as the Freedom Parade and the Armour Hills Ice Cream Social. Its welcoming community atmosphere also helps make it one of the best places in the area.
10. Brookside
Kansas City's hippest residents and urban professionals reside in the area of Brookside. This neighborhood is known for its various cultural attractions and unique shops.
It boasts quite the dining scene with plenty of well-loved establishments. One of these is Carmen's Café, a long-time staple in the area. Another great place is Jalapenos Mexican Restaurant. For shopping, you can also visit World's Window or a store named Stuff.
Let PODS Help With Your Kansas City Move
When you're ready to move into your new Kansas City home, give PODS a call. They'll provide you with a portable storage container that makes it easy to pack and load it at your own pace, on your own time. Once you're done, they'll pick it up and drop it off at your new space. You'll also get one month of free storage on them.
---
Editor's note: Monthly rental prices were rounded to the nearest $25 and home values were rounded to the nearest $100 for ease of reading.
Get a Quote
Choose the service you need
Comments
Leave a Comment
Your email address will not be published. Required fields are marked *