Whether you're looking to explore historic sites on the weekends or catch a concert complete with brews, some of the best small towns in Missouri have you covered. The "Show-Me State" is home to rich history, natural beauty, and a thriving arts and music scene, making it simple for many to find their home.
Jobs have steadily been on the rise in recent years — with options in industries like aerospace, publishing, and even biotechnology. This variety can draw quite the crowd, meaning there are plenty of great communities to join once you've made your move. What are the other advantages of living in a small town, though?
Big Cities vs. Small Towns in Missouri
Large Missouri metros like Kansas City and St. Louis might come with stellar job opportunities, abundant food options, and plenty of entertainment, but the smaller towns of Missouri represent the state in a way that no city can. You can also avoid some of the problems that go unnoticed while living in a big Missouri city, like higher crime rates and expensive housing.
Pros of Small-Town Living in Missouri:
Quaint and walkable areas with thriving business districts
Unique historic buildings
One-of-a-kind natural landscapes
More affordable housing/overall cost of living
Close proximity for commuters to get to larger cities
Small Towns in Missouri - FAQ
Q: Is Missouri a high-tax state?
A: Low property taxes and an overall lower tax burden help residents save money each year.
Q: What is a livable wage in Missouri?
A: The average annual salary in Missouri is around $50,000 (or $24 an hour), so you should expect to make at least that much to live comfortably.
Q: Why retire in Missouri?
A: With its low cost of living, tax benefits, great healthcare, abundance of sports teams, and endless opportunities to explore nature, retiring in Missouri is a great option for anyone.
Q: What is America's most beautiful town in Missouri?
A: With rolling hills for miles and plenty of wineries to explore, Hermann has been ranked amongst the top 20 most beautiful small towns in the country by Travel and Leisure.
12 of the Best Small Towns in Missouri
To start the search for your next home, it's important to know all your options. With Missouri's abundance of beautiful views, along with thriving dining scenes throughout the state, finding a new place to call your own can be a breeze. Even if you're commuting into St. Louis, there are options on this list for you.

Note: While the U.S. Census designates a small town as one with a population under 5,000, we've decided to expand that to include towns with a population of up to 16,000. Here are 12 of our favorites.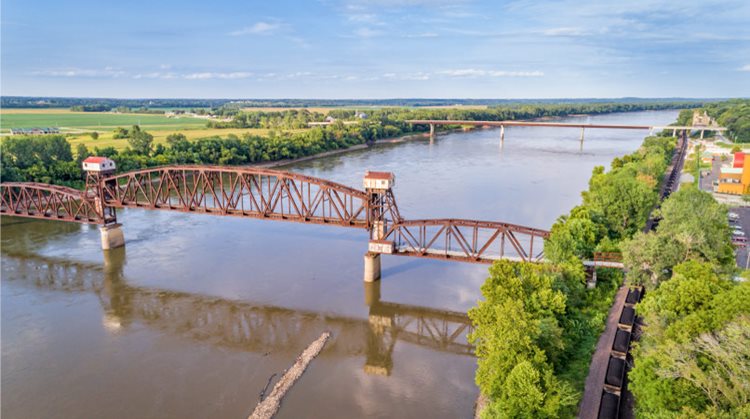 1. Boonville, MO
Average rent (one-bedroom): N/A
Average home value: $181,700
Living in Boonville, Missouri, is certainly a fun experience! This small town has a lot of character and charm, and its residents are known to be very welcoming. Despite its small size, there are still plenty of things for residents to enjoy. Some of the area's more popular attractions are the breweries and wineries, including Les Bourgeois Vineyards and Logboat Brewing Co.
There are plenty of shopping options in Boonville, as well, especially in the area's downtown district. The nightlife scene is always lively, with live music being performed regularly at a variety of establishments.
2. Hermann, MO
Average rent (one-bedroom): N/A
Average home value: $182,200
The small town of Hermann is located along the Missouri River. It has plenty of charm and historic buildings, and it's known for its German-style architecture. You can learn more about its cultural heritage by visiting one of its many historical sites.
The downtown district features several local eateries and shops, giving visitors the opportunity to sample the area's local flavor. And with its close proximity to the Missouri River, residents also have easy access to water activities, like camping and fishing.
3. Westphalia, MO
Average rent (one-bedroom): N/A
Average home value: $260,500
The German immigrants who settled in the small town of Westphalia influenced the town's European feel. This area is also known for its beautiful forests and lakes, making it the perfect stop for different activities such as fishing, bird watching, and camping. In fact, the Osage River's Painted Rock Conservation Area is renowned for its scenic views and great boardwalk trails.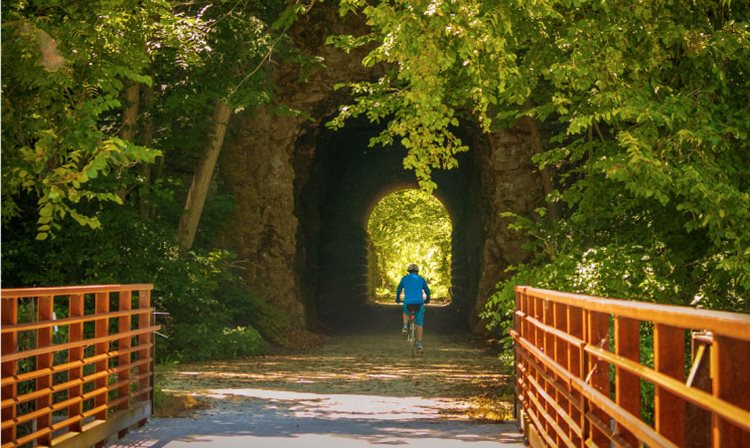 4. Rocheport, MO
Average rent (one-bedroom): N/A
Average home value: $428,100
Rocheport translates to "rocky port" or "port of rocks" in French — indicative of the area's jagged bluff, and was founded in 1825 as a trading post. The views from this area are similar to those that Lewis and Clark experienced hundreds of years ago, but the views of Interstate 70 cutting through the landscape to its southeast have brought it into the 21st century.
There are several galleries and shops in the downtown area, along with Rocheport Historical Museum. The Rocheport General Store is another frequent trip for residents in the area, as it serves up a variety of dry goods as well as breakfast, lunch, and dinner. It also hosts music acts, including bluegrass and classic rock, on weekends.
5. Carthage, MO
Located in Jasper County, the town of Carthage was established in 1842. The Battle of Carthage — the earliest full-scale battle of the Civil War — happened in 1861, 11 days before Bull Run.
Carthage is also known for its location along Route 66, making it a popular stop for tourists. The town also has a drive-in theater, a popular stop for families living in the area!
6. Reeds Spring, MO
Average rent (one-bedroom): N/A
Average home value: $245,200
Situated near Table Rock Lake, the town of Reeds Spring is more than just a vacation destination.
Although the lake has several summer homes and resorts, Reeds Spring still remains a year-round community to many. Interesting fact about this town: It was the site of a Bonnie and Clyde shootout in 1934.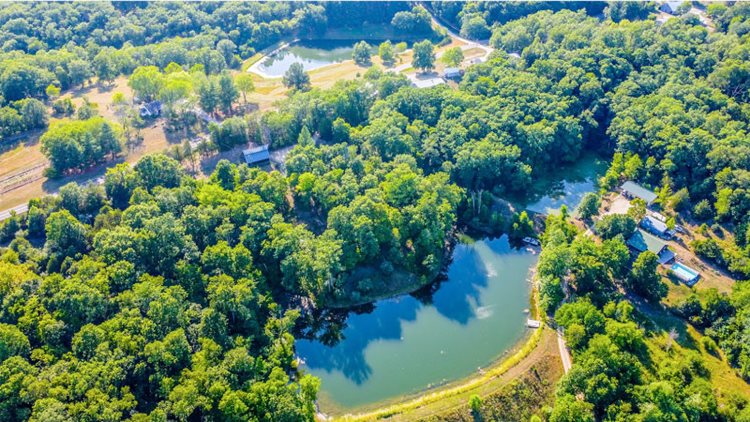 7. Fulton, MO
Average rent (one-bedroom): N/A
Average home value: $201,000
Located in Callaway County, Missouri, the small town of Fulton has plenty to offer its residents. Local favorites include going to concerts at Memorial Park, which is a must-visit for anyone looking for family-friendly fun, or checking out the amazing views at any of the town's parks and trails.

Once the fun is over, you can head over to Beks for steak or Brooklyn Pizza to grab a slice and try the chocolate chip cannolis.
8. New Haven, MO
Average rent (one-bedroom): N/A
Average home value: $237,900
Located about 90 minutes outside St. Louis, New Haven is a great place for the whiskey and wine lovers, with a wide variety of places to go for tastings, like the popular Pinckney Bend Distillery and Röbller Vineyard.
The commercial district of New Haven is also included in the National Register of Historic Places, meaning it's filled with plenty of great places to explore! Overall, It's a great place to live, especially if you're a retiree or if you're looking for a quaint town with a great history.
9. Fredericktown, MO
Average rent (one-bedroom): N/A
Average home value: $155,800
Fredericktown has a tight-knit community and is known for its beautiful views. There are plenty of fun events and activities to enjoy throughout the year (everything from 5K runs to farmer's markets). Bird watching and hiking are among the most popular outdoor recreational activities in the area — especially for families.
There are also plenty of places for locals to shop and eat, with some favorites including The Depot Cafe and Georgie Kay's Boutique. It's a small town with a vibrant culture and plenty of natural beauty, making it an ideal place to call home.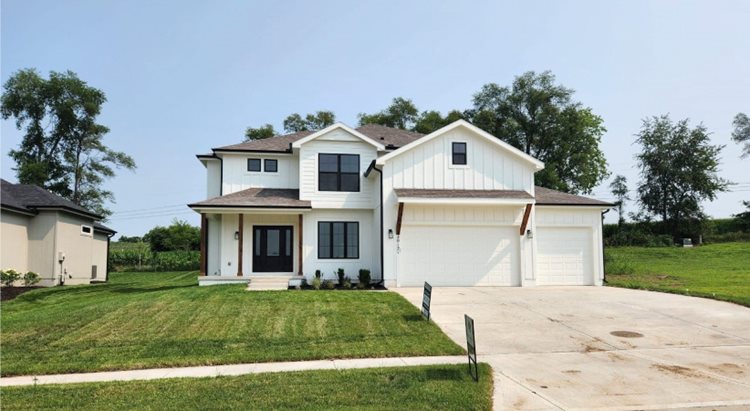 10. Weston, MO
Average rent (one-bedroom): N/A
Average home value: $331,900
Weston is a small town that's packed with big fun. With easy access to Weston Bend State Park, you'll have plenty of opportunities to pack a picnic for the afternoon or even go camping for the weekend.

If you want to get a taste of the town's history, there are six historic homes to explore, or you can head to the Weston Historical Museum. For brews and bites, you can tour Holladay Distillery and then head over to one of the town's favorite restaurants. And if you're more of a wine connoisseur, you have a few different options!
11. Pacific, MO
With this being one of the towns near St. Louis, Missouri, you can enjoy the benefits of having a big city 40 minutes away while maintaining your beloved small town way of life. Pacific is centered around Route 66 (if you've seen Cars, you'll understand what we mean), but it's also conveniently located on Interstate 44, which allows commuters and businesses to access the surrounding area.
12. Sainte Genevieve, MO
Average rent (one-bedroom): N/A
Average home value: $203,300
The town of Ste. Genevieve is not only the state's oldest continuously inhabited town, but it's also one of the most notorious ghost towns in Missouri. It's home to some impressive historic sites, restaurants, and breweries. Along with being a great place to retire, the town of Ste. Genevieve is home to some highly rated public schools!

When you need weekend plans, there's no shortage of options. You can check out one of the town's many ghost tours or an architectural tour. And if you'd like to get outside, head over to Hawn State Park, Hickory Canyons Natural Area, and Magnolia Hollow Conservation Area.
Use PODS When Moving to a Small Missouri Town
After settling on one of these small Missouri towns, you can count on PODS to help you get there. Have a portable storage container delivered right to your doorstep, pack and load it at your own pace, and then have it delivered right to your new space. One month's storage is included with every move, so you can easily unload on your own schedule.
Editor's note: For ease of reading, monthly rental prices were rounded to the nearest $25 and home values were rounded to the nearest $100.
Get a Quote
Choose the service you need
Comments
Leave a Comment
Your email address will not be published. Required fields are marked *