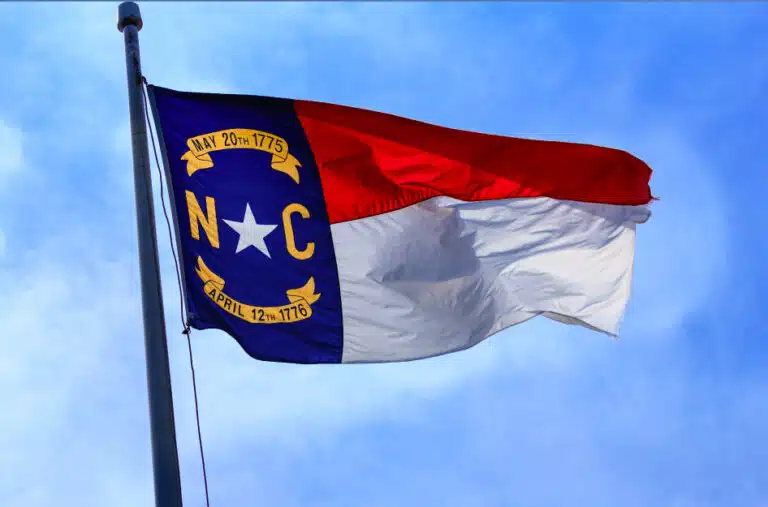 Get to Know the Best Small Towns in North Carolina
North Carolina has a lot to offer prospective residents, whether you're looking to be close to the beach and enjoy a coastal lifestyle, or would rather be nearer to the mountains in the west. The natural beauty of this state is unmatched, regardless of where you'd like to live thanks to the temperate climate and remarkable diversity of landscapes. You may be considering a move to North Carolina for a variety of reasons including its low cost of living, competitive real estate market, ample job opportunities, or because it's close to family.
But what if you want to avoid the hustle and bustle of big cities like Charlotte and Raleigh? Luckily, the Tar Heel State has no shortage of perfectly quaint small towns to call home — and we've curated a list of the ten best small towns in North Carolina.
Big Cities Vs Small Towns in North Carolina
While the larger cities of Charlotte and Raleigh may get a lot of attention, we wanted to focus this article on moving to a small town in North Carolina. Sure, the big cities are great, with easy access to amenities, high-end restaurants, and plenty of jobs. But it's not like you can't find those things outside the city limits. Plus, crowded spaces, a fast pace of life can make life a bit claustrophobic, and it can be tough to get out into the great outdoors, often requiring at least a 30-minute drive out of town.
Enter North Carolina small towns.
Small towns are a great alternative to the busier pace of life in a big city, and offer all kinds of perks including a more affordable lifestyle, a tighter knit community, easy access to outdoor activities, and the chance to have a better quality of life. Quite literally, they're a breath of fresh air.
Between 2021 and 2022, the U.S. Census Bureau estimates that North Carolina added about 133,000 residents. So, the word is out about the state. People from all over the U.S. are flocking to NC in search of greener pastures.
The Best Small Towns in North Carolina - FAQ
Let's cover some of the most frequently asked questions about the best small towns in North Carolina.
Q: What is the best small town in North Carolina to live in?
A: It's hard to say, as it all comes down to personal preference. Though, we are partial to Blowing Rock for its spectacular mountain views.
Q: What is the prettiest town in North Carolina?
A: Hillsborough, NC is one of the prettiest small towns in the state thanks to its lush riverwalk that's a part of the Mountains-to-Sea trail and stellar views of the countryside.
Q: What is the most quaint town in North Carolina?
A: We're sure there will be contention over the "most quaint" moniker, but if you're looking for a quaint countryside town in North Carolina, you can't go wrong with Banner Elk. With its mountainous views and easygoing lifestyle, it's hard not to fall in love.
Q: What is the nicest town to live in North Carolina?
A: Highlands, NC is one of the nicest small towns in North Carolina due to its proximity to the Nantahala National Forest and abundant waterfalls. With a population of about 1,000, you can say goodbye to traffic jams and crowded spaces.
Q: What are the safest towns in North Carolina?
A: Some of the safest towns in North Carolina include:
Best Small Towns in North Carolina
There are, literally, thousands of small towns in North Carolina to choose from, but we've narrowed that list to a few that would be perfect for raising a family, retiring, or simply getting away from it all.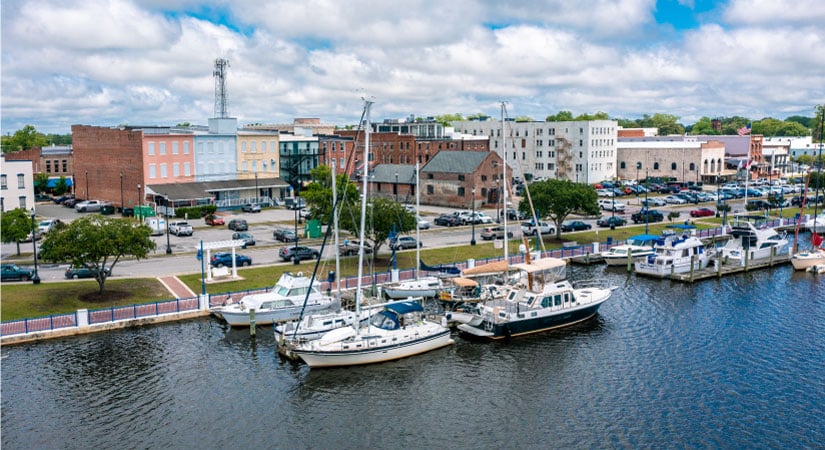 1. Washington, NC
Average home value: $216,522
Average Rent: $785
Great for: Friendly communities, beach access, vibrant downtown
If you're looking for a beautiful town by the beach in North Carolina, look no further. This charming town also goes by the moniker Little Washington and is known as one of the friendliest places to live in the state., Residents make it a point to make all who live, and visit, their town welcome. If you're looking for a slower pace of life, you'll love taking walks along the Palmetto Boardwalk or through one of the multiple parks in the area.
If you want to take advantage of access to the Pamlico River you'll have ample opportunities for fishing, boating, and even kayaking. There's a thriving downtown that has many galleries, restaurants, and even the Historic Turnage Theatre. Whether you're looking to stay active in retirement, or make a fresh start in a small town near the water, Washington could be just what you're looking for.
2. Manteo, NC
Average home value: $515,205
Average Rent: $1,100
Great for: retirees, tourism industry professionals, beach bums
North Carolina's Outer Banks region is one of the most popular places to vacation in all the U.S. So, if you're looking for a small beach town that's big on natural beauty, charm and close to the tourism industry, you can't go wrong with Manteo, NC. While a lot of the Outer Banks are vacant vacation rentals throughout the year, residents live in this small town year-round , and they know how lucky they are to be so close to those coveted beach-front views.
If you've always wanted to live in a town with a haunted history, you should know that Manteo is located on Roanoke Island, which once housed the Roanoke Colony of English settlers that vanished under mysterious circumstances. Spoooooky!
This town is very walkable and you'll find plenty of restaurants with fresh seafood, historic buildings, and antique shops. With easy access to the Roanoke Sound, you'll have plenty of water activities to enjoy as well.
3. Sylva, NC
Average home value: $307,120
Average Rent: $775
Great for: Newlyweds, mountain views, college students
Do you dream of a small North Carolina mountain town that's nestled at the foot of the Smokies but just an hour away from Asheville? Then you'll have to consider moving to Sylva. This quaint mountain town is all about living that outdoor lifestyle, and with access to so many amazing natural areas, it's no wonder to see why. Residents love that this small community is very tightly knit, and welcomes everyone from retirees to young professionals just starting out.
This small town is very walkable, and efforts have been made to ensure the downtown district is eco-friendly. You can choose to spend the day walking the streets and enjoying the local restaurants and breweries (of which there are plenty!) or you can head out to explore the Smokies, the Blue Ridge Mountains, or take on the Tuckasegee River. It's also a popular spot for weddings.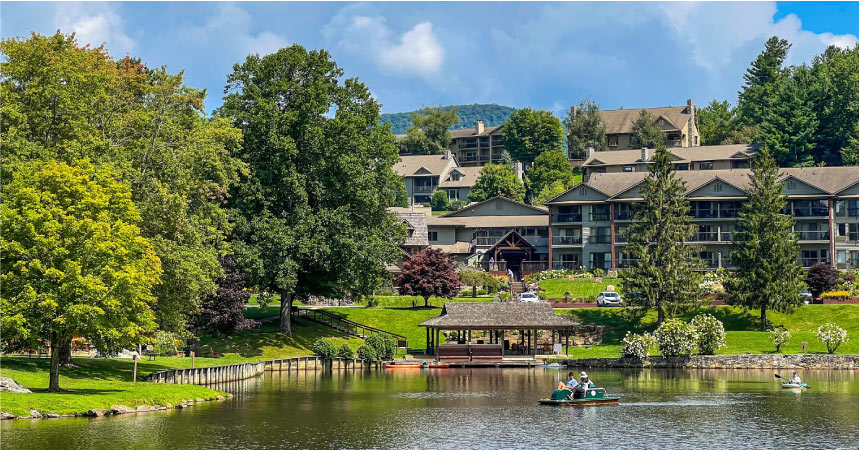 4. Blowing Rock, NC
Average home value: $654,794
Median Rent: $1,700
Great for: hospitality industry, easy highway access, winos
Quickly becoming a must-see area, Blowing Rock is your quintessential North Carolina mountain town. Located along the winding Blue Ridge Parkway, Blowing Rock offers all the best when it comes to High Country living. Nestled into the mountains, you'll find that this could be a great spot to retire in, or start a new job in their thriving hospitality industry. With wineries, spas, hotels, and restaurants all over the area, you're sure to find a job perfect for you.
As a resident, you can take full advantage of all the beautiful outdoor areas, including the parks, mountain trails, and the Moses Cone Manor, which is the estate of a former textile tycoon, that allows guests to explore the 3,600 acres on foot or on horseback. The slower pace of life in this pretty mountain town in North Carolina doesn't mean there isn't lots to do, it just means you'll have more time to enjoy everything!
5. Mount Airy, NC
Average home value: $173,359
Median Rent: $1,250
Great for: Retirees, strong communities, relaxed pace of life
If you were ever a fan of the The Andy Griffith Show, you should know that Mount Airy was the inspiration for the fictional Mayberry. This small town with a slower pace of life is perfect for those who are looking to retire, but still have lots of community involvement and recreational activities! North Carolina has some of the best tax benefits for seniors, including a flat rate income tax and tax exempt social security benefits.
You'll enjoy the historic layout of the town, and marvel at how well it's kept the original Mayberry appearance. For outdoor fun, you'll find plenty of mountain trails in the Blue Ridge Mountains, as well as local parks and greenways with outdoor paths of their own. While the Andy Griffith Museum is a highlight, there are also plenty of other museums, restaurants, and music venues to keep you busy.
6. Marion, NC
Average home value: $197,773
Median Rent: $1,600
Great for: Enjoying your golden years, Blue Ridge Mountain views, plenty of space
If you'd love to retire in the mountains of North Carolina, consider moving to the small town of Marion. With just under 8,000 people, this is a great place that retirees will really feel welcomed in. When you choose to retire here, you'll be greeted daily with amazing views of the Blue Ridge Mountains and plenty to do outdoors in the convenient state parks. The thriving downtown area offers all kinds of options when it comes to restaurants, breweries, a meadery, and boutique shops that are all locally-owned.
The McDowell County Senior Center is also nearby that offers all kinds of programs and events specifically geared towards retired adults. If you're looking for an affordable place in North Carolina for retirement, Marion could be your best bet!
7. Winterville, NC
If you want access to a larger city, but still get that great feel of a small suburb, you should consider a move with your family to Winterville. This spacious community is located within the Greenville Metro Area, which means there are plenty of great jobs just a short distance away. People have been flocking to this area because the schools are great, the strong community bonds, and it is a safe place to raise a family.
Families want to feel like they really belong, and in Winterville, you'll definitely appreciate all of the community events held throughout the year, including a Watermelon Festival, Family Day, and even Senior Day. There are plenty of parks, greenways, and even access to the Tar River that are perfect to take the family out for the day.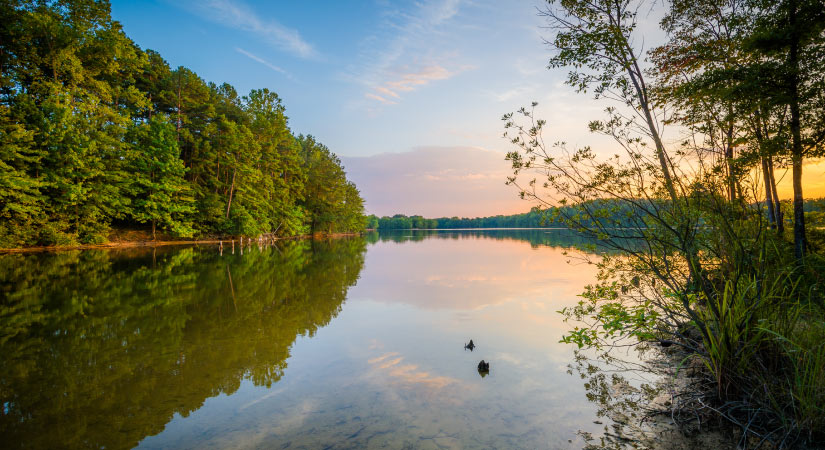 8. Davidson, NC
Average home value: $599,569
Average Rent: $1,664
Great for: Safety, lake life, easy access to Charlotte
If you have a growing family and are looking for one of the safest places to live in North Carolina, why not call Davidson your new home? This quaint town is located right on Lake Norman, which means you'll have ample opportunity to take advantage of all kinds of outdoor activities with the kids. One of the most popular ways for families to spend time with each other is exploring the Lake Norman Nature Preserve with its wide green areas and playgrounds. When you feel like seeing a new museum or finding an amazing kid-friendly restaurant, you'll be happy to know that the bustling city of Charlotte is only 20 minutes away.
While families love to call the small community of Davidson home, it's also great for students who are attending Davidson College. This nice mix of people ensures that there's always something fun to do in this small town!
9. Pineville, NC
Average home value: $386,043
Average Rent: $1,839
Great for: Proximity to Charlotte and South Carolina, theme parks, wide-open spaces
If you're interested in being close to a large city like Charlotte, but not in the city itself, consider moving to Pineville. This charming small town is located just 20 minutes away, and is the perfect place to call home, especially if you work in the city. This beautiful community is right on the South Carolina border, and boasts of plenty of outdoor space to roam around, as well as a historic downtown district teeming with local businesses and restaurants of all kinds.
Residents love the small town feel of this place, and you may be surprised at how living here offers you the best of both worlds.
10. Belmont, NC
Belmont is a great North Carolina small town located just 15 miles outside of Charlotte in Gaston County. It's a great place to call home if you're looking to live further from the big city, but still close enough to visit when you want to. This little town is great for retirees or those working professionals who would like to commute into Charlotte. No matter who you are, you're always welcome to be a part of the Belmont community, which takes pride in its immaculate city streets, a fun business district, and beautiful parks such as the Daniel Stowe Botanical Garden.
Belmont residents love to spend their time outdoors and parties in the park and outdoor concert series are common events!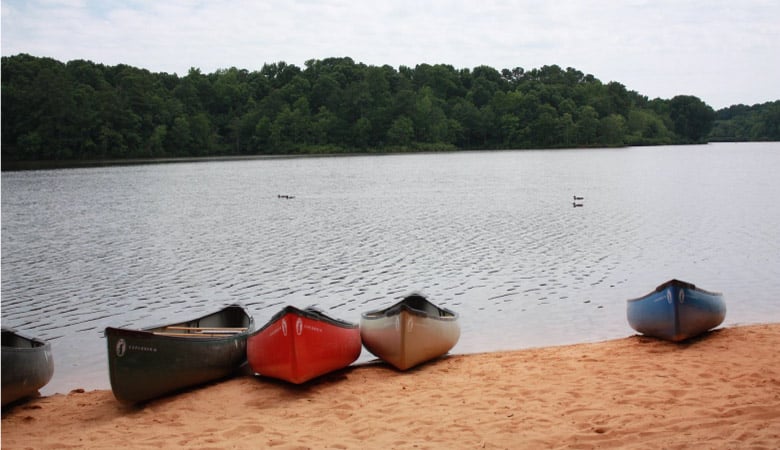 11. Holly Springs, NC
Average home value: $542,243
Average Rent: $1,667
Great for: High quality of life, festivals, neighborly vibe
Raleigh is a wonderful, bustling city to live in, but if you'd like something less hectic, consider Holly Springs. This little community takes great pride in the quality of life of all residents, and you'll find that neighbors know each other and enjoy interacting and caring for each other. There are lots of community festivals to look forward to including HollyFest, Main Street Christmas, and Bass Lake Day. With highly rated schools and all kinds of recreational activities available, it's also easy to see why this place is so popular with families.
If you're a working professional, you'll feel right at home here as well, as the great jobs available in Raleigh are just a short commute away.
12. Apex
Average home value: $593,709
Average Rent: $1,723
Great for: Strong real estate market, close to the Resarch Triangle, darling downtown
Consistently rated as one of the best places to live in North Carolina, this small town outside of Raleigh has a great real estate market and plenty of good jobs for residents. There are all kinds of tech and research jobs in Research Triangle Park, while the nearby universities (Duke, University of North Carolina, NC State) all offer educational as well as professional opportunities.
With a lovely downtown area, a historic district, and plenty of parks and natural areas in close vicinity, this small town is quickly growing into an in-demand town to live in.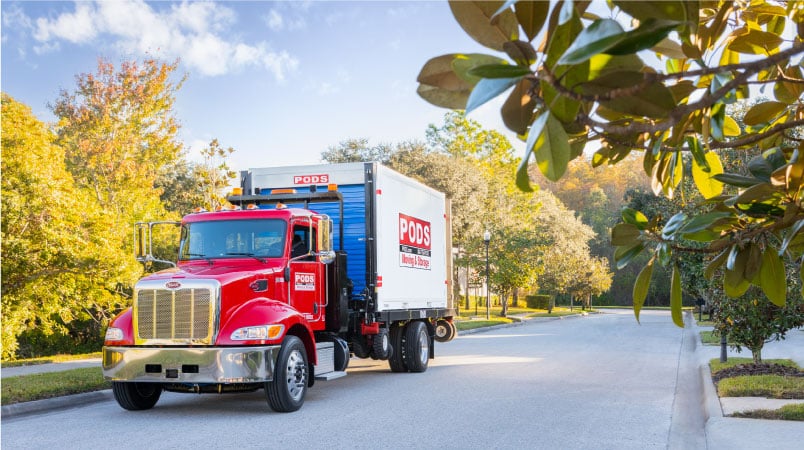 PODS can help you make the move to a small town in North Carolina
No matter what type of town in North Carolina you choose to make your home—near the beach, in the mountains, or outside the city—PODS is there to help you each step of the way. Use one of our storage containers to load up your belongings on your schedule. We'll then take it to your new North Carolina home, or store your items in our facility until unloading works for you. No need to worry, a month of storage is built in when you move to North Carolina with PODS!
Get a Quote
Choose the service you need
Comments
Leave a Comment
Your email address will not be published. Required fields are marked *