Georgia is a southeastern state in the US of A that delivers. From its renowned historic and southern charm and stunning Blue Ridge Mountain views to its up-and-coming food and arts scenes, there's something for everyone here — and it's no surprise that nearly 11 million Americans choose to call the "Peach State" home. In addition to the cultural and natural beauty found here, Georgia has the 5th lowest cost of living in the nation, nearly 11 percent below the national average.
Big Cities vs. Small Towns in Georgia
While metros like Atlanta offer their own unique varieties of the hustle and bustle of big-city living, it's Georgia's small towns where you can find a similar vibe with maybe a little more down-home heart.
Georgia is notably an affordable place to live overall, but life in the state's larger cities comes with a high price tag. The cost of living in Atlanta is nearly 10 percent above the national average, and that jumps up to more than 26 percent in Alpharetta. You'll find more opportunities to be wined, dined, and entertained in these cities, but you'll also have to contend with traffic, pricier housing, and the lack of peace and quiet common in more densely populated locales.
When it comes to choosing between small-town life and big-city living, the deciding factors tend to be cost and preference. If a pricey apartment in a high-rise building within walking distance of a trendy music venue is more your speed, then Atlanta it is. But if you like the idea of sitting on the front porch of your reasonably priced home while watching fireflies dance and listening to a soft symphony of crickets, then small-town life is the life for you.
Before we dive into our list of the best small towns in Georgia, let's answer some frequently asked questions about these Peachy places.
Small Towns in Georgia — FAQ
Q: What is the best town to live in Georgia?
A: Decatur, a suburb of Atlanta, earned an A+ rating from Niche and has been dubbed one of the best places to live in Georgia.

Q: What is the best coastal town to live in Georgia?
A: According to Southern Living, Tybee island is the best coastal town in Georgia, but Jekyll island is a close contender (and our pick!).
Q: What city in Georgia has the lowest cost of living?
A: Dublin is the most affordable town on our list, with a cost of living 24 percent below the national average. Milton is the most expensive at 45 percent above the national average.
Q: What is the safest part of Georgia to live in?
A: Milton is one of the safest cities in Georgia and safer than 70 percent of U.S. cities, according to NeighborhoodScout.
Q: What is the safest city to retire in Georgia?
A: On our list, Ellijay is the safest city to retire in Georgia, with overall above-average safety ratings from NeighborhoodScout and Niche.
Q: What is the friendliest town in Georgia?
A: Madison is one of the friendliest small towns in Georgia. Other small towns with a reputation for geniality include Thomasville, Wrightsville, and Ellijay. Truth be told, you'll find southern hospitality throughout the state.
The Best Small Towns in Georgia
Pour yourself a cup of sweet tea and let's explore this baker's dozen (because the south is just sweeter!) of the best small towns that Georgia has to offer!
1. Brunswick, GA
Brunswick, Georgia, is rich in history and living here is a treat. This mainland port has nearby islands to enjoy in your downtime in Georgia's Golden Isles. Go fishing, walk along the waterfront, enjoy a beautiful sunset. It's a perfect place to retire and enjoy the easy life or to settle and raise a family! This is a small town that's big on peace and quiet with excellent schools and pleasant year-round weather. Sure, you'll need a car to get around most of the time, but commuting here is easy and you'll get to reap the rewards with scenic views. This coastal town also includes a bonus – easy access to metro cities and just over an hour's drive to either Savannah or Jacksonville, Florida!
Tasty Tip: Brunswick is home of the infamous Brunswick Stew, a hearty Southern tomato mishmash of meat (originally rabbit or squirrel, but now consisting of chicken and/or pork and vegetables). Get an authentic recipe here from Ms. Southern Charm herself, Paula Deen.
2. Cumming, GA
About an hour north of Atlanta and just 15 miles from Alpharetta, Cumming is a small Georgia town with plenty to offer its residents and visitors alike. Schools are top-notch, the suburban feel is happening and there are tons of parks and other outdoors activities for families to enjoy. Downtown gives off that old town feel complete with a four-faced clock tower, and there are plenty of opportunities for shopping at nearby Halcyon (a 135-acre development with shops, eateries, greenspaces, and more). Cumming City Center also has plans for further development with the addition of even more retailers and restaurants. There are trails to explore at The Big Creek Greenway and endless summer fun to be had at nearby Lake Lanier, not to mention annual festivities such as the Cumming Country Fair & Festival, where the whole town gets together for some good ol' family fun.
3. Dublin, GA
The halfway point between good ol' Savannah and Atlanta, Dublin is one of the best rural towns to live in Georgia. Named after Dublin, Ireland — the hometown of its founder's wife — the residents of this quaint destination take the name seriously, painting the whole town green for a month-long St. Patrick's Day Festival in February/March of each year. Home of Dr. Martin Luther King Jr's first public speech, history abounds in Dublin. To say that housing in Dublin is affordable would be an understatement with home values at nearly half the state average, not to mention the lowest cost of living on our list, at nearly 25 percent below the national average.
4. Ellijay, GA
With a population of under 2,000 people, Ellijay, Georgia, enjoys a laid-back vibe that's affordable, safe, and oh-so-charming. With mountains, easy access to the Appalachian Trail, and apple orchards (it's "Georgia's Apple Capital"), Ellijay attracts visitors from around the state and the country who are looking for a breath of fresh southern air! Cost of living is low here, at 5.3% below the national average. Crime is low, too. There are local farms where you can get fresh produce and dairy, and if you've ever wanted to try your hand at small-scale farming or animal husbandry, this is a good place for it. Life in Ellijay is peaceful and the neighbors are friendly and helpful, making it a lovely place to raise a family or retire.
5. Greensboro, GA
Greensboro is one of those small Georgia towns with consistency. Founded in 1786 and home to tranquil Lake Oconee, Greensboro is rich in history and tradition with beautiful antebellum churches and homes. Though the public schools here are average overall (with the exception of a few B- or A-rated schools), it's still a very family-friendly place. The outdoorsy enjoy water sports such as boating, jet skiing, and tubing on the lake, as well as camping in the city's gorgeous natural surroundings. Greensboro is a popular destination for visitors with accommodations ranging from the historic Goodwin Manor B&B to The Ritz-Carlton Reynolds, right on Lake Oconee. There are also plenty of opportunities for golfing, shopping, and dining here in Georgia's Lake Country.
6. Helen, GA
A visit to Helen might find you wondering if you'd been accidentally transported to Europe. This cozy township is an almost exact re-creation of a quaint Bavarian Alpine village, complete with German offerings such as potato pancakes, schnitzel, cuckoo clock shops, and more. It probably won't come as a surprise that Helen holds its own Oktoberfest each year! Its sparse number of residents, A-rated schools, and low crime allow for an easy living — perfect for retirees, families, or remote professionals who appreciate the small-town life. Hiking trails, waterfalls, rivers, and mountains make enjoying the outdoors as easy as stepping outside.
7. Jekyll Island, GA
Boasting natural beauty that's hard to compete with, Jekyll Island is a Georgia State Park that boasts serene beaches, protected wildlife habitats, and an island community where many ditch their cars for a relaxing bike ride. With only about 1,000 residents, it's more of an exclusive family community with its historic "cottages" (read "mansions") and world-famous resorts. It can get a little touristy, but only seasonally. The ocean is unbelievably breathtaking, the beaches are pristine, and the restaurants are absolutely delicious; particularly the seafood!
Did you know? Jekyll Island once served as the private retreat and hunting grounds for families such as the Rockefellers, Vanderbilts, and Pulitzers — all members of the Jekyll Island Club, referred to as "...the richest, the most exclusive, the most inaccessible club in the world..." by Munsey's Magazine (a magazine that ran from the late 19th through the early 20th centuries).
8. Madison, GA
Madison, Georgia, is what small-town America is all about. Full of southern charm, it's ideal for raising a family or retiring with a sense of security. It also showcases an exceptional sense of tranquility, inclusion, and community involvement — especially with Madison's Spring & Holiday Tour of Homes. With one of Georgia's largest historic districts, this idyllic small town is especially known for the preservation of its local architecture. Hailed as one of the prettiest small towns in Georgia, Madison attracts visitors from around the world, but we're pretty sure you'll want to stay!
9. Tallulah Falls, GA
Bordering Georgia and South Carolina, this is the smallest town on our list, with just under 200 residents. Tallulah Falls is obviously named for its waterfalls – all six of them! But what makes this scenic town so great is its small, close knit-community paired with breathtaking natural surroundings. Schools in the area are top-notch and the crime rate is very low — we're talking zero. It's a picturesque nature town with a plethora of outdoor activities and a year-round tourist scene to boot.
10. Thomasville, GA
Thomasville is a true-blue southern town with little traffic and a big heart. Families thrive here thanks to the highly rated schools and the town's long history of diversity and historic preservation. The unemployment rate in Thomasville is lower than the national average (but so is the median income) — still, housing is more than affordable and the cost of living is low. Locals enjoy the sweet fragrance of over 1,500 blooms at the Thomasville Rose Garden and come together annually to celebrate the Rose Show & Festival (a Thomasville tradition since 1922). Visitors can explore the town's heritage at the Jack Hadley Black History Museum and take in downtown culinary delights with the Taste of Thomasville Food Tour.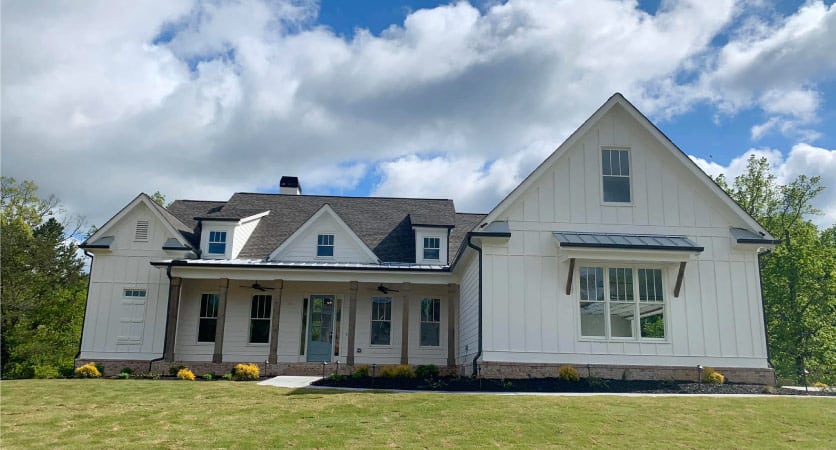 11. Canton, GA
Canton is located between the Blue Ridge Mountains and Atlanta with gorgeous views of the Etowah River and the foothills. This vibrant community blends southern charm with a progressive community spirit. There's a quaint Main Street where you can enjoy some good ol' Southern cooking, or shop in the variety of retail stores. Canton is a safe and family-friendly community with a multitude of outdoor activities to enjoy, making it one of the best small towns in Georgia for families and empty-nesters alike. A short 45-minute drive will get you into Downtown Atlanta, where you can enjoy all the big-city amenities before heading home to quiet, peaceful Canton.
12. Decatur, GA
What is the best town to live in Georgia? Decatur! Yes, while we'll admit that which town is best is really a matter of opinion, we're confident in our selection. Decatur is a sort of jack-of-all-trades or master-of-all when it comes to small towns in Georgia. Only about a 20-minute drive from Atlanta, Decatur was ranked the 4th best suburb in the state and awarded an A+ grade overall by Niche, thanks to its outstanding schools, nightlife, and diversity. Great for young professionals and couples looking to start families, Decatur is the place to be if you want easy access to the big city while maintaining a small-town vibe.
13. Milton, GA
The town of Milton with its dense treescapes and history in farming, is another all-star when it comes to the best small towns in Georgia. The cost of living here is higher than in Atlanta, but with above-average rankings from Niche for everything from schools and housing to nightlife and safety, the price tag makes sense. In fact, Milton is one of the safest (if not the safest) places to live in Georgia. It doesn't hurt that the town's sense of community and togetherness is substantial and residents are just 45 minutes from downtown Atlanta. The academics and athletics here are top-notch, making Milton a perfect fit for families who want to see their children grow and thrive.
PODS Can Help You Move to Any Small Town in Georgia
Once you've found the best small town in Georgia for you, let PODS help you get there. PODS will deliver a portable moving and storage container right to your driveway where you can pack and load at your own pace. When you're ready, PODS will pick it up and take it to your new Georgia home. One month's storage is included in every move, so you can unload on your own schedule without feeling rushed. Because why not start living that small-town, laid-back life from day one?
---
Kiran Bahl is a freelance writer who loves discovering how to make something better yet simpler at the same time. She lives happily and peacefully amongst her family and enjoys dessert every day — especially after meeting a writing deadline early.
Editor's note: Monthly rental prices were rounded to the nearest $25 and home values were rounded to the nearest $100 for ease of reading.
Get a Quote
Choose the service you need
Comments
Leave a Comment
Your email address will not be published. Required fields are marked *