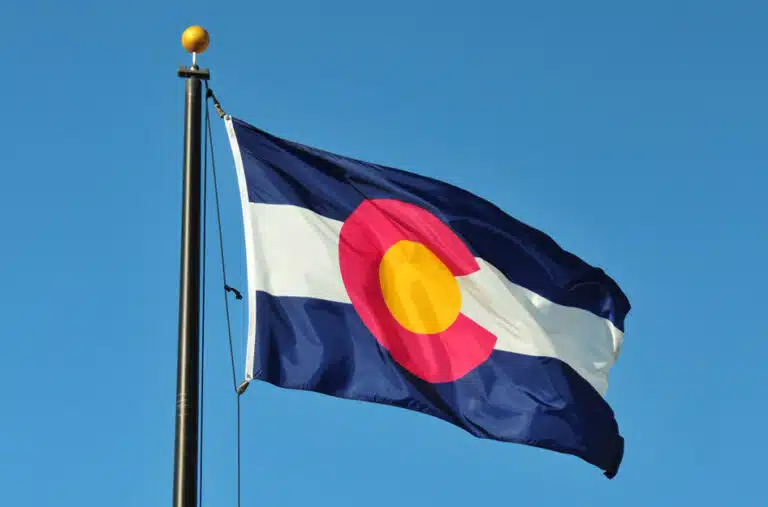 Venture Out West to the 12 Best Small Towns in Colorado
Colorado doesn't just have some of the most stunning mountain views you can find in the whole country. The Centennial State also offers a high quality of life for its residents that includes gorgeous weather, endless job opportunities, easy access to outdoor amenities, and an overall priority of health — among many other perks.
It's more common than not for the sun to be shining, and the natural beauty of the state encourages people to be active and get outside. In fact, Colorado has been ranked as one of the healthiest states in the country. With mountains, valleys, forests, plains, and deserts spread across the state, there is always some sort of an activity to do! 
And the people of Colorado? They're known for being very friendly and social, so it's easy to create a great work/life balance and meet new friends at a restaurant or bar in town. It's no wonder Colorado has remained a destination hotspot over the years with more than 760,000 new residents in the last decade. 
Big Colorado Cities vs. Small Towns in Colorado
Some of the most populated cities in Colorado include Denver, Colorado Springs, and Aurora. Living in a big Colorado city may make for easier transportation as well as better access to certain activities and food and drink locations. However, opting to move to a small Colorado town instead will save you some money and lots of added stresses of the big-city life — not to mention you could be closer to those majestic mountains!
What's more, in recent years, larger Colorado cities like Denver have actually seen upwards of 36,000 residents leaving for smaller towns and rural areas. Traffic and cost of living are some of those burdens that have caused residents to choose to live in smaller Colorado towns. 
Other reasons why many Coloradans are opting for a small-town lifestyle include:
Small towns in Colorado allow you to enjoy the beauty of the world around you in a comfortable and more slow-paced atmosphere.
Small towns in Colorado are known for each having their own unique personality and charm.
You can find some of the most abundant outdoor recreation activities in a small Colorado town, including skiing, hiking, fishing, and whitewater rafting.
Housing markets in small Colorado towns are a little more realistic in terms of pricing.
Small Towns in Colorado - FAQ
Q: What is the best small town in Colorado to live?
A: Travel+Leisure agrees that Paonia, Crested Butte, and Silverton top the list as some of the best small towns in Colorado to live. 
Q: What is the most quaint town in Colorado?
A: Telluride is one of the most beautiful yet quaint towns in Colorado. It's tucked into a canyon of the San Juan Mountains, offering an immense sense of serenity and seclusion. 
Q: What is the best walkable town in Colorado?
A: According to WalkScore, Denver and Englewood are tied as the most walkable cities in Colorado. 
Q: What are the artsy small towns in Colorado?
A: The towns of Paonia, Hotchkiss, and Crawford have numerous art galleries, studios, musicians, and more. In fact, together, they make up what's known as the North Fork Valley Creative District. 
Best Small Towns in Colorado
Now that you're a bit more familiar with perks of a Colorado life, check out some of the best small towns to live in Colorado to see what small-town Colorado life can offer you. And although the U.S. Census considers a town with a population under 5,000 a small town, our list of small towns in Colorado includes some areas with a little more.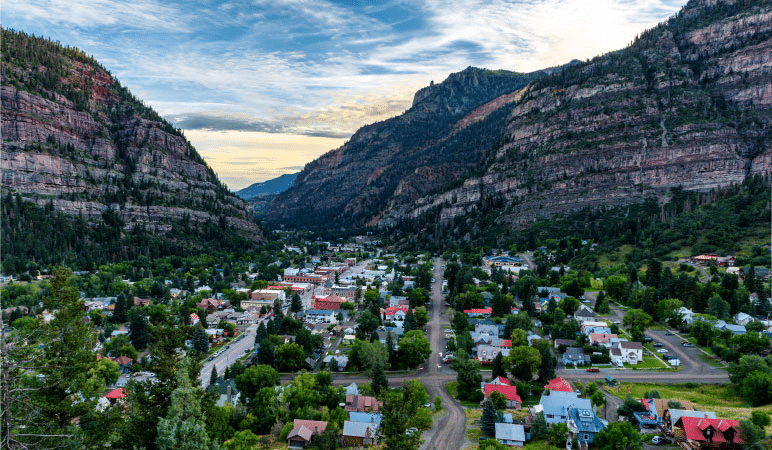 1. Ouray, CO
The historic town of Ouray has plenty to offer. It's known for its beautiful natural surroundings and diverse activities, such as hot springs and extreme sports. And the town is even referred to as the "Switzerland of America" due to its tall peaks and amazing architecture.
Ouray is a great place to enjoy winter activities and ice climbing. You can even participate in its annual Ice Festival at the town's Ice Park. And in true Colorado fashion, there are also plenty of biking and hiking trails during the summer season.
If you're looking for a small town with rugged mountains and historic sites, Ouray is the place to be!
2. Trinidad, CO
Trinidad is a town that's known for its vibrant culture and artists. In fact, it's been designated as a creative district by the state of Colorado.
In addition, Trinidad is regarded as the birthplace of Colorado's history, which means it features various museums and historical sites that can be visited alongside all those art galleries.
The town's downtown area is full of Victorian architecture and is characterized by its quaint red brick streets. And for those who love nature, the Trinidad Lake State Park offers a base camp that's ideal for fishing and other outdoor activities.
The best part? When it comes to cost of living, Trinidad is one of the more affordable small towns in Colorado!
3. Creede, CO
Few people know that Creede is a town in Colorado's Rocky Mountains with a population of only about 300 (yep, you read that right). During the 19th century, it had upwards of 10,000 residents, most of them prospectors who were drawn to the area's silver mines.
The town's history is still relevant to the area, and the Underground Mining Museum and Last Chance Mine are must-sees for anyone interested in those who worked in the area's mines.
One of the town's most popular attractions? The Creede Repertory Theater, which is actually nationally recognized. In fact, it's been featured in the New York Times on more than one occasion.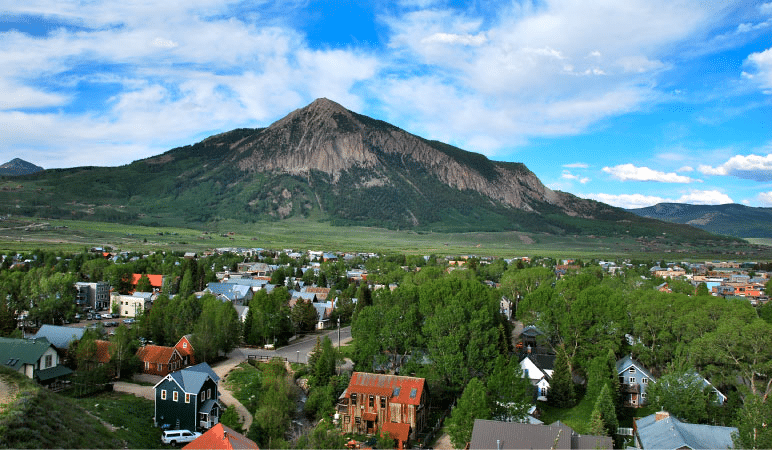 4. Crested Butte, CO
Due to its remote location in Colorado's East River Valley, the town of Crested Butte draws fewer people than other small towns. This allows residents to experience the area's culture and beauty without the crowds (which also makes it one of the best small towns in Colorado to retire). The town was once a mining town, and many of its buildings were constructed in Victorian style.
Crested Butte is known for its skiing and snowboarding, and it's regarded as Colorado's "last great ski town." Other winter activities include ice skating and cross-country skiing at the town's Nordic center.
During the summer, the town takes on the name of "Wildflower Capital" of Colorado. And its annual festivals, such as the July Wildflower Festival and bike week, are popular events.
5. Paonia, CO
Named after a flower, Paonia is considered to be one the coolest towns in Colorado due to its arts and recreation scenes. There are even various art workshops and an artist-in residence program in town.
Like other small towns in Colorado, Paonia has plenty of outdoor activities that are available year-round. Some of these include fishing, hiking, and river rafting. The town's unique characteristics include some of its agricultural activities, though. Due to its fertile soil and apple trees, it's known for its bountiful harvests.
Not surprisingly, the abundance of fruit harvests provides the area with numerous festivals, as well as inspiration for several farm-to-table restaurants and art galleries in the town.
6. Silverton, CO
The town of Silverton, Colorado, is known for its mining heritage. It's also one of the state's most historic places. One of the most popular attractions in the area? Hands down, it's the Narrow Gauge Railroad, which offers a breathtaking view of the San Juan Mountains.
Besides history, there are plenty of other things to do in the town, focused on the outdoorsy side of things, of course. Ice Lakes Basin is a popular hotspot, which (contrary to its name) is a great summer hiking destination.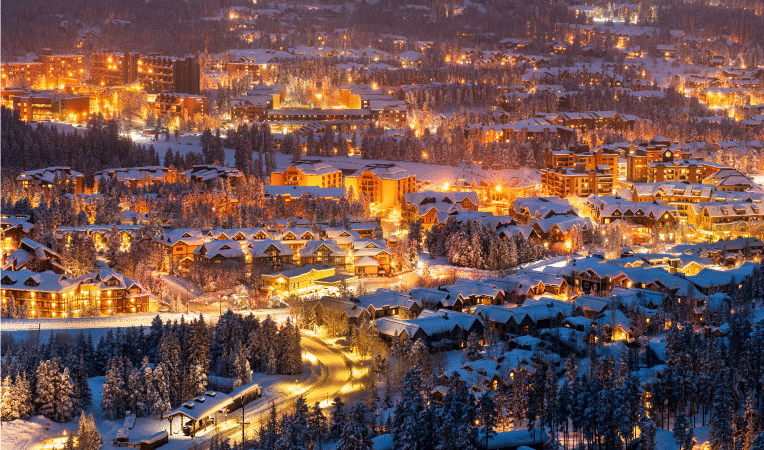 7. Breckenridge, CO
Average rent (one-bedroom): $2,600
Average home value: $1,144,800
Great for: Families, public schools, jobs, commute, nightlife, winter activities, history, retirees 
Among one of the most popular small ski towns in Colorado, Breckenridge — commonly referred to as simply "Breck" — is situated in beautiful Summit County, surrounded by breathtaking snow-peaked mountains.
Even outside of the winter season, it's a popular destination for people who want to explore the area. In the summertime, residents enjoy going on rafting trips on the Blue River.
Before it became a popular destination for outdoor recreation, the town was a mining community. During the gold rush of Pike's Peak, people flocked to the area. In fact, the historic district of Breck is one of the largest in the entire state of Colorado!
8. Ridgway, CO
Located in the western part of the Rocky Mountains, the town of Ridgway is home to only about 1,200 residents. It's surrounded by a pristine national forest and has a charming downtown, which has been featured as a backdrop for over a hundred western films.
Although it no longer has a railroad, the town still has a railroad museum. It's located near a major ski town called Telluride, and it offers many outdoor activities such as hiking, hunting, and bicycling. Among one of the best small towns in Colorado to raise a family, the town includes a vibrant arts scene that is centered around its libraries, studios, and galleries.
9. Windsor, CO
Less than a half hour away from Windsor is Fort Collins, which is a growing city full of tech companies, such as Intel and HP. Windsor would be a prime place to live for a young professional starting out in the tech industry!
It has a vibrant culture and is known for its outdoor recreation and museums.
And although Fort Collins has many of the same advantages as Windsor, living in this small town might just be the smarter choice. Its small downtown and the quality of its schools are some of the reasons why people choose to live here, along with some of the lowest crime rates of the state!
10. Lake City, CO
The town of Lake City is located along the Silver Thread Scenic Byway in Northern Colorado. It's the only town in the country that's almost entirely public land, full of snow-peaked mountains that make it a great place to explore.
The town's most popular attraction is San Cristobal Lake, which is known for its beautiful scenery and for attracting boaters and anglers during the summer season. During the winter season, people can enjoy ice skating when the lake is frozen over. 
Fun fact: The town holds an annual ice climbing competition, which is an event very popular among the skilled athletes and spectators of Colorado!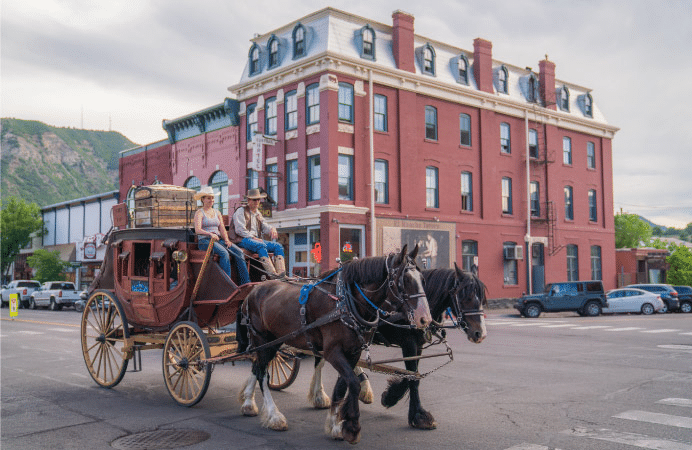 11. Durango, CO
The town of Durango is situated in a region that's known for its diverse culture. It's home to a small college, Fort Lewis College, and a manifold of people, such as skiers, tech workers, and marijuana enthusiasts (yes, it's legal in Colorado). 
The city of Durango is known for hosting various festivals. Some of these include the Bach Festival, the Celtic Festival, the Bluegrass Meltdown, and the Wine Experience.
12. Marble, CO
The town of Marble, Colorado — known for its beautiful Yule Marble quarry — unearthed tons of marble that was used for the Tomb of the Unknown Soldier and the Lincoln Memorial in Washington, D.C.
Today, you can walk around the old quarry site and see massive pieces of marble laying on the ground. The town of Marble is also located in the Elk Mountains' Crystal River valley, so if you want to visit the Crystal Mill, you'll only be about 6 miles away.
One of the best small mountain towns in Colorado, Marble is about 45 minutes south of the town of Carbondale and an hour and 40 minutes away from Aspen. Some of the activities that can be found in the area include the Crystal Ghost Town and the Beaver Lake State Wildlife Area.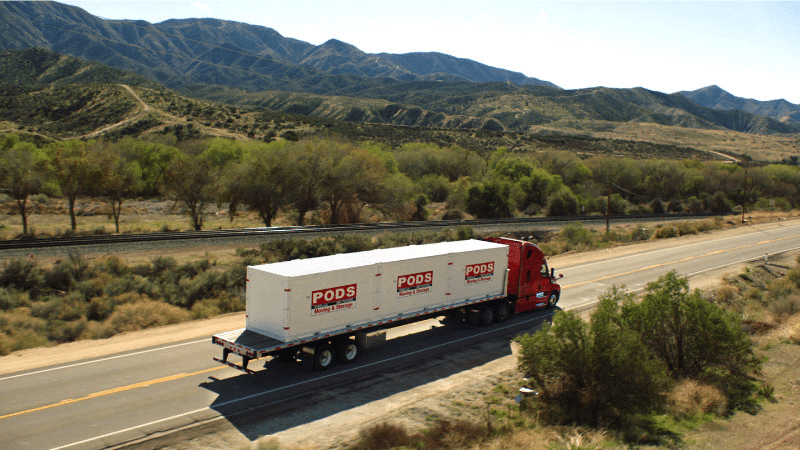 Let PODS help you move to your new small-town Colorado home
Once you've found your slice of small-town picturesque heaven in Colorado, let PODS help you get there. Have a portable moving and storage container delivered right to your driveway, where you can pack and load at your own pace. When you're ready, PODS will pick it up and take it to your new home. The best part? One month's storage is included in every move, so you can unload on your own schedule without feeling rushed.
---
Editor's note: Monthly rental prices were rounded to the nearest $25 and home values were rounded to the nearest $100 for ease of reading.
Get a Quote
Choose the service you need
Comments
Leave a Comment
Your email address will not be published. Required fields are marked *