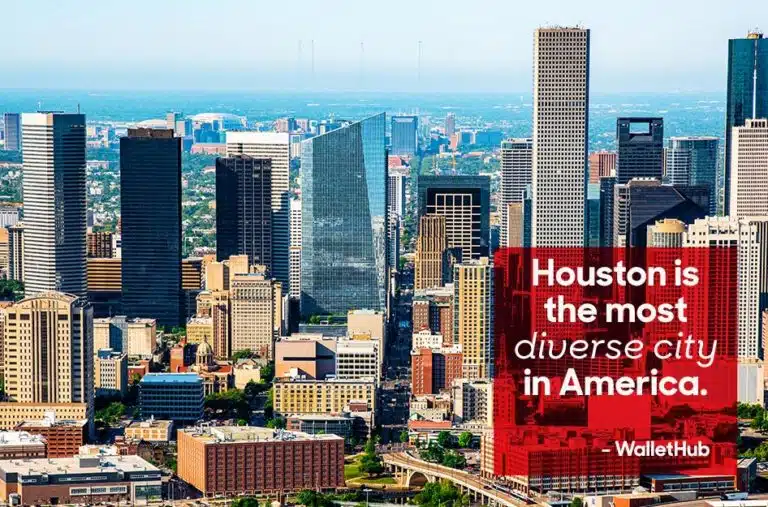 16 Things to Know About Living in Houston in 2023
Houston is a big city in a big state, so there's a lot to consider when relocating to this diverse and booming metropolis. From its vibrant food scene to melting-pot neighborhoods, its affordable housing options to mosquito-boosting humidity — here are some key things to know about living in Houston, Texas, before making your move.

Once you're ready to move to Houston, see how PODS helps you move on your own schedule.
Before we dive into the facts, you might enjoy taking this virtual tour of Houston, focusing on the downtown and midtown areas.
Houston at a Glance:
As the largest and most populous city in both Texas and the Southern United States, Houston teems with an estimated 2.26 million residents across a sprawling 640 square miles.
Houston makes up the southeast corner of the Texas Triangle, or "Texaplex" — a mega-region that includes the state's four largest cities — Houston, San Antonio, Austin, and Dallas-Fort Worth.
Houstonians are young. Metro Houston's median age is 33.7, compared to 38.9 overall in the U.S.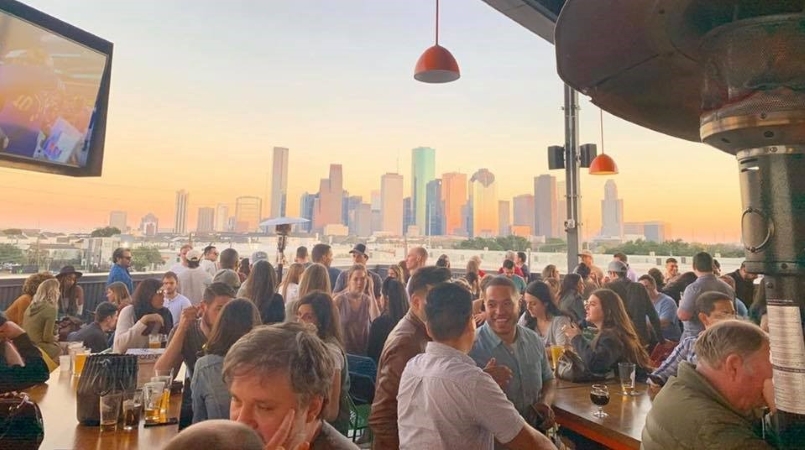 (Source: Visit Houston via Facebook)
1. The cost of living in Houston is below the U.S. average
If you're moving from another major metro area, you may find it's cheaper to live in Houston:
Compared to the nation's most populous metro areas, Houston has the third-lowest overall cost of living, with costs 5.8 percent below the U.S. average and 28.8 percent below the country's most populous metropolitan areas.
Housing costs are 17.3 percent below the national average and a whopping 84.4 percent lower than the average of the most populous U.S. metros. If you exclude New York and San Francisco (since their high housing costs tend to skew the average), Houston's housing costs are still 57.3 percent lower than the major metro average.
2. Houston homes are affordable.
If you're looking to buy a home in Houston, prices are attainable, with a slight drop in the past year after the pandemic-era peak. The average home value in Houston is around $85,000 less than in the country overall.
Average home value in Houston: $264,800 — down 0.4 percent over the last 12 months.
National average home value: $349,800 — up 0.4 percent over the last 12 months.
Q: Is it worth it to move to Houston?
A: It is totally worth it to move to Houston! Houston offers affordable housing, low cost of living, no state income tax, diverse culture, amazing food — the list of good things about Houston goes on. As long as you don't mind some hot weather and honky-tonk, Houston is a great place to live.
3. You'll find a diverse mix of rental apartments in all price ranges.
The median monthly rent for a 1-bedroom apartment in Houston is around $1,200, which is about $50 lower than the national median rent for the same size apartment (according to Zillow). But that doesn't tell the whole picture. Due to the city's size and complexity, Houston offers a diverse rental market with cheap, mid-range, and luxury apartment options across a wide variety of neighborhoods. According to RentCafe:
The most affordable Houston rentals can be found in South Park, where average rent for a 1-bedroom is about $725 a month.
The most expensive apartments are in the Fourth Ward, Afton Oaks - River Oaks, and Neartown - Montrose, with average monthly rents in the $2,150-$2,225 range.
The most popular neighborhoods for rentals in Houston are Uptown and Neartown - Montrose, where average monthly rents are $1,600 and $2,150, respectively.
Map of Houston's 610 Loop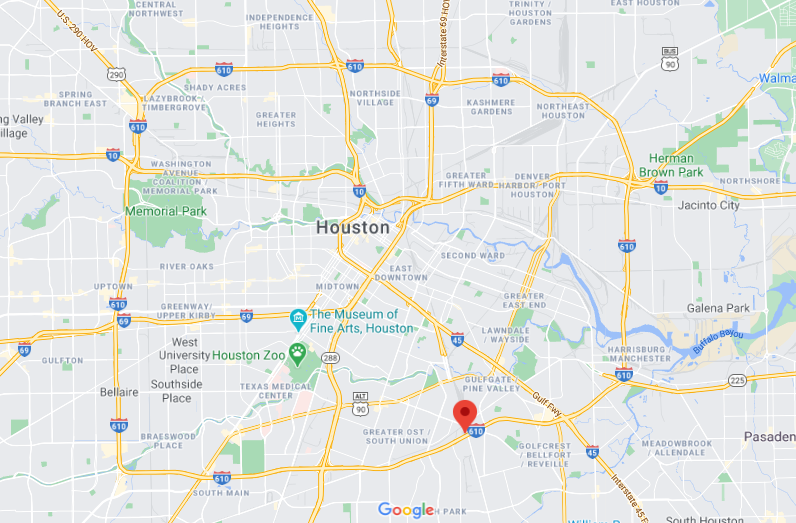 (Source: Google Maps)
4. When looking for the best Houston neighborhoods, think inside and outside "the Loop."
As you can see from the map above, the city's central urban center is enclosed by the square-ish Interstate 610 — what locals call "the Loop." As you explore Houston neighborhoods, you'll notice big distinctions inside and outside this stretch of major highway. Both areas offer advantages, depending on your preferences.
Living inside the Loop comes with all the perks of city life: an easier commute, an elevated bar and restaurant scene, and a high concentration of museums and cultural events. Here's a quick look at some top Houston neighborhoods inside the Loop, plus one that's right on the border:
Houston Heights
Located northwest of downtown, The Heights is one of Houston's most walkable communities, with a vibrant dining and antique scene unlike anywhere else in the city. Newly constructed Victorian and Charleston-style cottages blend well with updated historic homes. Homes in this area have a median sale price of $650,000.
River Oaks
Just three miles west of downtown and one of Houston's oldest and most affluent neighborhoods, this historic community is protected by strict architectural standards and building restrictions — a distinction in a city with little or no zoning. Mansions dating from the 1920s line the streets of River Oaks, where the median home sale price is over $1.63 million. While that may sound pricey, it's actually down 25.3 percent from last year!
West University Place
Just a mile from Rice University and 20 minutes from downtown Houston, West U (as locals call it) is home to a thriving community. The neighborhood's expansive park system, beautiful homes, and tree-lined streets are major draws, pushing the median home sale price to $1.49 million — but that's down almost 9 percent from 2022.
Greater Hobby Area
Though technically outside the Loop, the Hobby area is so close to the action (just 10 miles southeast of Downtown Houston) that the convenience factor is still strong — especially considering its proximity to Hobby Airport. With a median home sale price of $297,000, this neighborhood is a place where first-time homebuyers can invest in remodeling a fixer-upper and start to build home equity. Home to Hobby Airport, the community is known for its accessibility, top-rated schools, and affordability.
Living inside the Loop comes with all the perks of city life: an easier commute, an elevated bar and restaurant scene, and a high concentration of museums and cultural events. Here's a quick look at some top Houston neighborhoods inside the Loop, plus one that's right on the border: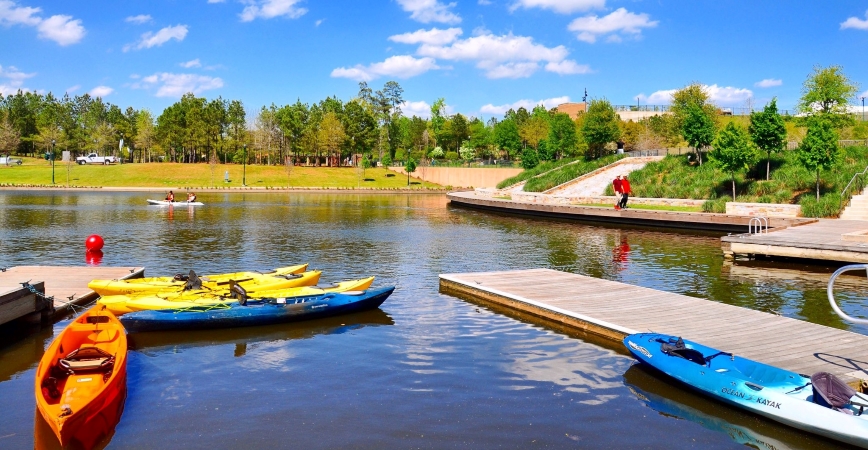 The Woodlands
(Source: The Woodlands Township via Facebook)
Areas outside the Loop have a more low-key and suburban feel, with the best Houston suburbs typically offering homes in the $300K to $500K range. They feature family-friendly neighborhoods and top-rated public school districts, but there's also plenty of urban sprawl to contend with. Here's a quick overview of some of the best suburbs outside the Loop:
Clear Lake
About 21 miles southeast of downtown Houston, this area is not just close to major aerospace headquarters — like Boeing and Lockheed Martin — but it's actually home to the Johnson Space Center. While the median home sale price is $315,000 overall, there's a good mix of both single-family older neighborhoods, luxury townhomes in gated communities, and condos, with prices ranging from $80,000 to over a million.
Sugar Land
About 20 miles southwest of downtown Houston, Sugar Land offers small-town hospitality with big-city amenities. The median home sale price here is $415,000, but when you see the collection of master-planned communities with golf courses, lakes, highly rated schools, and convenient dining and shopping, you'll wonder why it isn't more! All that (and then some) makes this community a popular place for families to settle.
Living inside the Loop comes with all the perks of city life: an easier commute, an elevated bar and restaurant scene, and a high concentration of museums and cultural events. Here's a quick look at some top Houston neighborhoods inside the Loop, plus one that's right on the border:
The Woodlands
About 30 miles north of downtown Houston, The Woodlands is an award-winning master-planned community that balances nature with business, innovation, and neighborhood living. The Woodlands' nine residential villages and over 2,000 businesses sit on 28,500 acres, with nearly 8,000 acres remaining open space. Residents enjoy 220 miles of trails for hiking and biking, 148 parks, pools, water sports, and golf. The Woodlands' median home sale price is $549,000.
Relocating in or out of Texas? We're here to help with our big-picture guide to moving in the Lone Star State.
(Source: @nano_montoya82 via Instagram)
5. Commuting here is no cakewalk – but it's not the worst.
Houston, Texas, living means spending more time on the road than most Americans, with some parts of the metro averaging an hour or more each day, based on government traffic studies. Although there's a light rail system with three lines covering about 22 miles, the car culture runs strong in Houston.
Still, you might be surprised at Houston's low-ish ranking of No. 23 among the nation's worst cities for commute times. Only 5.8 percent of Houstonians have an hour-plus drive to work, with most averaging right around 26 minutes.
Efforts are underway to improve the city's transportation infrastructure, including continued expansion of the city's bus routes, improved sidewalks, and extension of the light rail system. And like any other major city, some neighborhoods are more commutable than others. The most transit-friendly neighborhoods in Houston tend to be around downtown and the south portion of the Loop, while the communities farther from downtown tend to suffer the longest commute times.

Q: What are the pros and cons of living in Houston?
A: We've outlined many of the metrics here, including, in the pro column, Houston's diversity, dining scene, and cultural vibrancy. There are a few cons, however – just like in any city or town in America – including the commute time (which is surprisingly lower than you might expect but still too high), the crime rate, the unrelenting heat, and all that sprawl. But the temperature eventually breaks, and there are enough pretty, walkable neighborhoods to offset the chain-clogged 'burbs.
6. Houston's diversity may surprise you.
According to WalletHub, Houston is the fourth-most diverse city in America, with high diversity scores across multiple metrics, including socioeconomics, culture, economics, and religion. Interestingly, the city fell from first place in the past year to three cities in Maryland.
Houston is home to several international communities and cultural enclaves, including the burgeoning Museum and Theater Districts, a vibrant dining and nightlife scene, and a packed roster of festivals and trade shows. Visitors from all over the world travel annually to attend the city's large-scale industry and cultural events, including the Bayou City Art Festival, Houston Auto Show, Houston Fashion Week, Houston Gay Pride Parade, and of course, the Houston Livestock Show and Rodeo.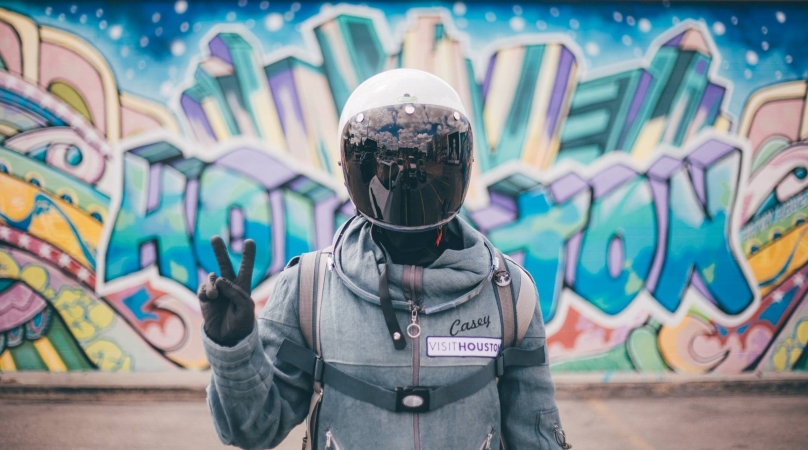 (Source: Visit Houston via Facebook)
7. You can call it "Space City," the "Bayou City," or choose from a bunch of other nicknames.
Houston has so many nicknames, there's a Wikipedia page just to help you keep them straight. But the two most popular are "Space City," because it's home to NASA's Johnson Space Center, and "Bayou City," for the 10 meandering waterways that wind through the area.
Q: What salary do you need to live in Houston?
A: The median household income in Houston is around $56,000, according to the latest info from the U.S. Census Bureau. What you'd need to earn really comes down to the type of lifestyle you want to live. Still, Houston does have a lower cost of living than many other large cities. For example, if you earn $50K a year in Dallas, you would only need to earn about $45K to maintain the same standard of living in Houston.
BAPS Shri Swaminarayan Mandir in Houston
(Source: Wikimedia Commons)
8. The Bayou City has a lot of superlatives.
Maybe it's the "Don't Mess with Texas" effect, but Houston is really good at being big and setting records. Here are just a few good things about Houston:
Texas Medical Center in Houston is the largest medical complex in the world.
Houston's Galleria is the biggest mall in Texas and the seventh-largest in the U.S.
Houston is home to the world's first domed air-conditioned stadium, the Astrodome.
The BAPS Shri Swaminarayan Mandir is the largest Hindu temple in Texas and the first of its kind in North America.
The Houston Grand Opera is the only opera company that has won all three major awards — Grammy, Tony, and Emmy.
Houston is Beyoncé's hometown. Consider that a triumph in itself!
Q: Is Houston a good place to live?
A: You know the saying "Everything's bigger in Texas"? Well, Houston is the perfect embodiment of that sentiment, meaning the city is so vast and varied from zip code to zip code that there's quite literally something for everyone. Yes, urban sprawl feels like it was invented here, and the crime rate is not good. But with its vibrant cultural offerings, range of diverse neighborhoods and opportunities, and affordable cost of living, Houston gets a Texas-sized thumbs up.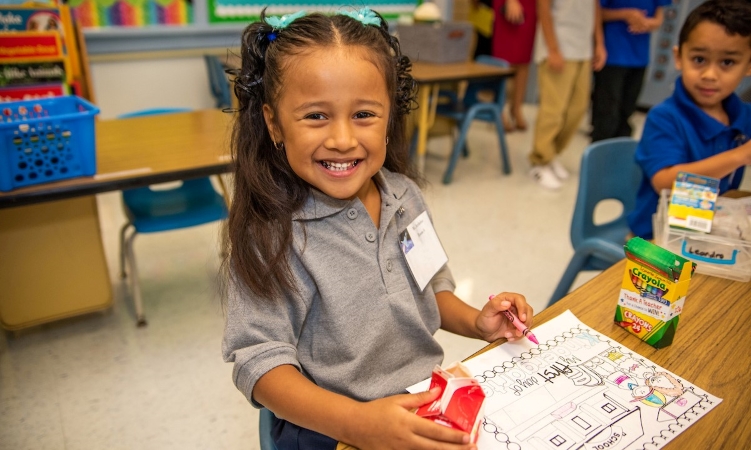 (Source: Houston Independent School District via Facebook)
9. K-12 parents look to the suburbs, while higher-ed students love living in Houston proper.
Here's why Houston parents with school-aged children tend to prefer the suburbs, while college students flock to the city:
Most top-rated schools in Houston are located in surrounding suburbs outside of Houston's Loop.
The greater Houston area has 14 major institutions of higher learning, including the University of Houston, Texas Southern University, and Rice University.
The Texas Medical Center contains the world's largest concentration of healthcare and research institutions, including a vast range of medical, nursing, dentistry, and pharmacy programs.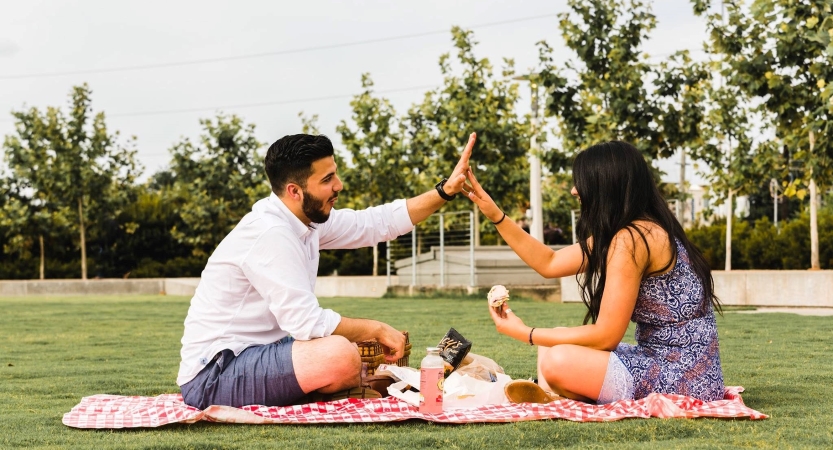 (Source: Visit Houston via Facebook)
10. Most don't like the weather in Houston, but a few relish it.
If you like heat, you'll love Houston. The city has a hot and humid subtropical climate, with low temperatures around 40°F in January and highs around 95°F in August. The city experiences plenty of rainfall throughout the year, some dry spells in summer, and occasional bouts of severe weather blowing in from the Atlantic. Besides the heat and humidity, here are two important factors to keep in mind about living in Houston:
The risk of flooding is increasing in Houston, not only from hurricanes like Harvey, which pounded the city in 2017, but also from other weather events. Before choosing a home, check this guide to avoid areas prone to flooding.
If you have respiratory issues, you may have trouble with Houston's air quality. Pollution from heavy chemical industries, high temperatures, and long runs of rain and humidity combine to create difficult conditions for residents with asthma, allergies, and lung problems, according to multiple studies, including the Rice Kinder Institute for Urban Research.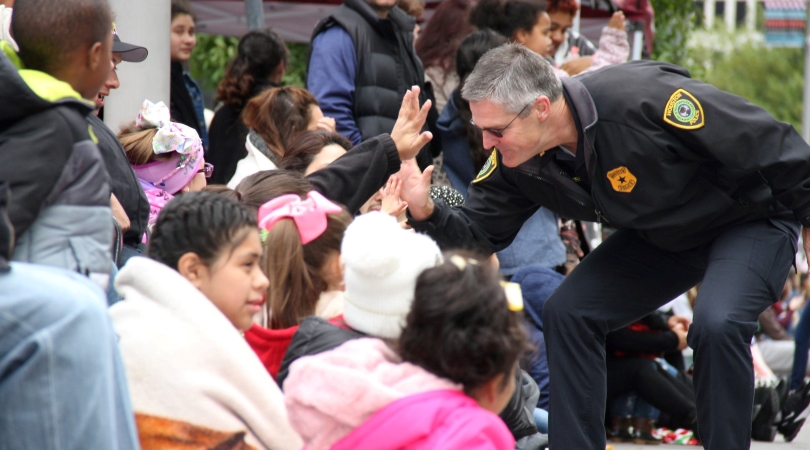 (Source: Houston Police Department via Facebook)
11. The crime rate is high, but there are plenty of ways to be safe.
You should be aware that Houston's crime rate is ranked higher than most U.S. cities. Residents have a 1 in 18 chance of being the victim of violent or property crime — making Houston one of the top 100 most dangerous cities in America. Contributing factors to crime in the area include gang activity, illicit drug trade, and economic hardship. Like most cities,, though, a lot of the crime is concentrated in certain areas. Houston's leaders have undertaken a coordinated effort aimed at reducing crime in the city, with some success, focusing on areas including Westside, South Gessner, Southeast Houston, North Belt, South Central, and Midwest. Residents are encouraged to take precautions to lower their risk of being targeted, with tips in this personal safety guide.
Considering other Texas cities? Check out more options here:
• Guide to Best Austin Neighborhoods
• Guide to Best Dallas Neighborhoods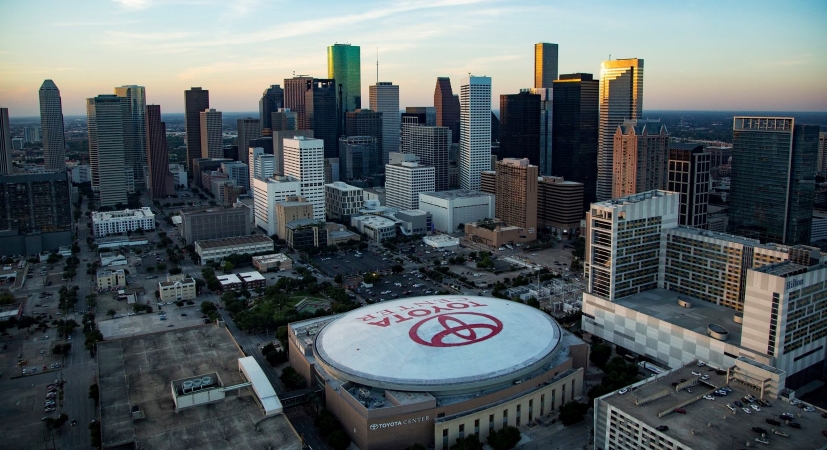 (Source: Visit Houston via Facebook)
12. The job market will have winners and losers.
Houston's economy is huge — with an estimated 3.35 million people employed in non-farm jobs across the Houston metro area in August 2023. In fact, Houston's city limits contain the third-highest number of Fortune 500 headquarters of any U.S. municipality, after New York City and Chicago. Houston's top industries include energy (oil and gas extraction), life sciences, aerospace and aviation, manufacturing, digital technology, and transportation.
According to the Greater Houston Partnership, Metro Houston expects to add 63,000 jobs in 2023. The fact that Texas is one of nine U.S. states without personal state income tax helps residents' budgets and creates growth-driven venture opportunities, but in turn cuts into government-led funding and initiatives.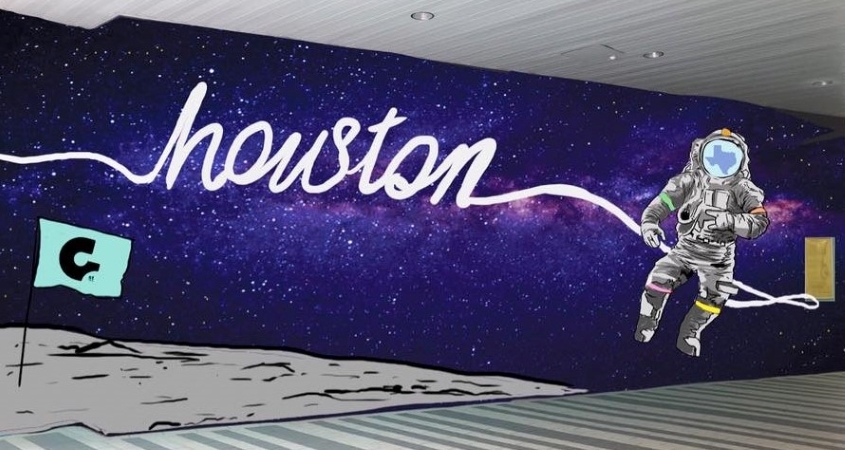 (Source: Visit Houston via Facebook)
13. "Houston" was the first word spoken from the moon.
Ok, ok, the first words were actually "contact light," but any proud Houstonian will tell you astronaut Neil Armstrong clearly said "Houston, Tranquility Base here, the Eagle has landed."
As you likely know from your favorite astronaut flicks, Houston has a long history with NASA and space exploration. Since breaking ground in 1962, the Johnson Space Center (originally named the Manned Spacecraft Center) has been mission control for an astronomical (pun intended!) range of space research and development programs — from the Gemini, Apollo, and Skylab projects of the 20th century to the International Space Station and other programs operating today.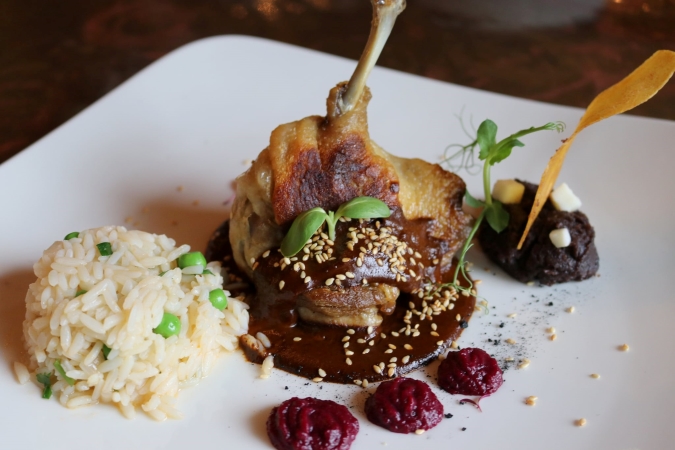 (Source: Hugo's via Facebook)
14. The Houston dining scene is a foodie's paradise.
With more than 10,000 restaurants representing over 70 countries and American regions to choose from, it's no wonder Houston's dining scene has been compared to the likes of NYC. In 2023, the James Beard Foundation honored Houston's Benchawan Jabthong Painter with the coveted Best Texas Chef award for her artistry at Street to Kitchen – the first time a Houstonian has claimed the title.
Other Beard finalists in the city included Nancy's Hustle and Tatemó.
Buffalo Bayou Park
(Source: Buffalo Bayou Park via Facebook)
15. These are the top 10 things to do in Houston.
If you're new to the Bayou City and want to start living like a local, check off these tried-and-true Houstonian hits:
Attend rotating exhibits and performances in the Museum and Theater Districts.
Take a dozen or so distillery tours; you won't run out anytime soon.
Wander Houston's rave-worthy Chinatown.
Buy season tickets for the Houston Astros.
Check out the year-round exhibitions at the NASA Space Center.
Escape to Hermann Park and Buffalo Bayou for greenspace.
Explore nearby parks and nature sites, including Houston Arboretum and Nature Center (10 miles west of downtown Houston), Big Thicket National Reserve (1.5-hour drive), and Padre Island National Seashore (4-hour drive).
Stroll around the Gerald D. Hines Waterwall Park on hot summer days.
Shop Houston's world-class farmer's markets for fresh produce on weekends.
Test out hundreds of authentic BBQ and seafood spots around the city.
Ready to plan your move to Houston? The PODS Blog has you covered with resources on the best neighborhoods in town, the best options for movers, and the top destinations in Texas, if Houston doesn't quite have you sold.
• Best Houston Neighborhoods
• Best Houston Moving Companies
• Best Places to Live in Texas
16. Texans love Texas.
Something you're sure to notice upon moving to Houston is the Texas pride coursing through the veins of all the locals. This isn't just a Houston thing either; you'll find it throughout the Lone Star State. The Texas flag flies high beside Ol' Glory everywhere you look. And, while it may seem odd at first, we're confident that after tasting enough BBQ, seeing enough Astros games, and dancing enough honky-tonk, you'll start to experience it for yourself.
Whatever brings you to southeast Texas, living in Houston is sure to be an adventure. The city is filled with some of the friendliest people in the country, so getting to know its diverse cultural landscape may be one of the most fun and rewarding experiences in your lifetime. We hope you send us your best Tex-Mex and BBQ recommendations while you're at it!

Amelia England is a content writer and regular contributor to the PODS Blog. Between college, grad school, and seasonal adventures, she has downsized and relocated over 25 times.

Editor's note: For ease of reading, monthly rental prices were rounded to the nearest $25 and home values were rounded to the nearest $100.
Get a Quote
Choose the service you need
Comments
Leave a Comment
Your email address will not be published. Required fields are marked *