Do you need to move clear across Houston? Or are you just moving a few blocks over? Wherever you're planning to move in H-town, you'll want to make sure you do your research and decide what your moving options are. But how do you know what's available when it comes to planning a move in Houston?
Let's take a deep dive into all your options, so you can make an informed decision that's right for your situation.
Did you know? PODS offers moving and storage services throughout Houston.
• Have a container delivered to your home
• Take your time loading on your schedule
• Have your container delivered straight to your Houston home, or keep it in a secure storage center until you need it
Get a free quote here!
Jump to:
Types of movers in Houston
List of moving companies in Houston by cost
What to ask your Houston moving company
Types of Movers in Houston
If there's one tip that can't be overstated no matter where you move, it's that it's crucial to have a plan. Moving may appear to be straightforward (take stuff from point A to point B), however, appearances can be deceiving. After all, you're only moving your entire house or apartment to another location, what could possibly go wrong? Well, as an astute reader, we're sure you can figure out that a lot can go wrong, which is why it's important to follow a schedule as you plan your move.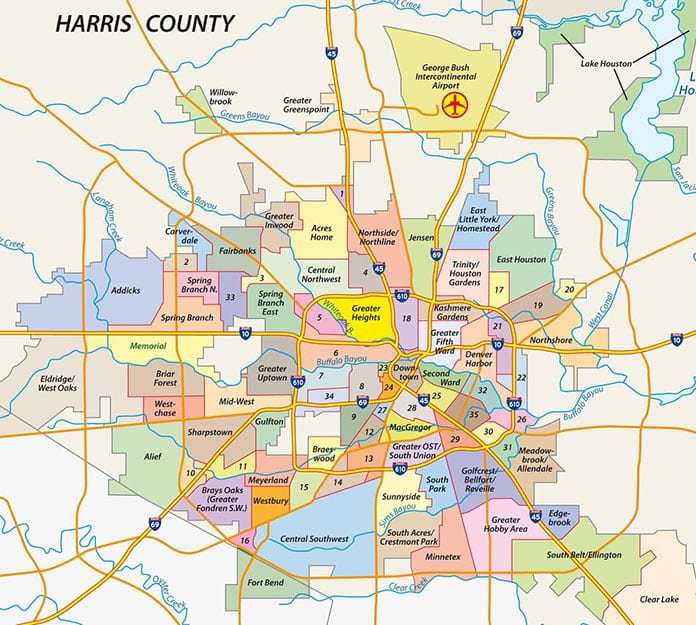 One of the most important parts of that plan is deciding how you'll get your items from point A to point B. You'll need to decide what type of Houston moving option is right for your move. Luckily, we've come up with a few possibilities you might want to check out before your upcoming move.
Full-Service Houston Movers
If you'd like to leave your move to the professionals, you'll probably want to consider looking for a mover in Houston that offers full service. Much like the full-service gas stations of the past, full-service movers do it all — including the heavy lifting (and more) so you don't have to. Full-service movers will come to your house or apartment and take care of all the moving tasks such as:
Packing up your items (including valuables)
Disassemble any furniture that requires it
Wrap everything up
Load it onto the truck
Unpack and reassemble your inventory in your new space
This is a great option if you don't have the time to pack up things, or you want to ensure that your heavy items and valuables are wrapped safely and put back together in your home. If you're moving in Houston or to Houston from another area, getting professionals to move your essentials with many benefits.
They're efficient. Movers have wrapped items from every room before, and they know exactly how to do it. This means they can have your decor and furniture boxed or loaded onto their truck in a shorter amount of time than you would be able to. They also will come with the correct wraps and supplies to make sure everything is safe during transport.

They're trained. Full-service movers are experienced and are trained to move you from one space into another. They know the bets practices of the moving industry and can ensure that your move will be done in a timely and safe manner.

Full-service movers are insured. In case anything should happen during the move, full-service movers will insure your property. Many full-service movers offer a basic liability package, so make sure to check with the ones you choose to determine if you need to purchase extra.

Help relieve you of the stress of moving. It's no secret moving can be hard sometimes. If you'd rather leave it to the professionals, this is the way to go.
It's worth mentioning that full-service moving can cost more than alternative moving options, and may not be the best choice on a budget.
Combining a Rental Truck and Houston Movers
If you'd like a little more involvement in your move, you might want to scale down from full-service movers and instead look for companies that use a truck and movers to transport your belongings. Hiring a moving company to move your big items is an economical way to move in Houston.
While you'll still need to pay either by the hour or for the weight of the truck, you don't need to include the time it takes for employees to wrap and box your household items. When the movers arrive at your destination, you will take care of the unboxing of these belongings as well. Hiring movers and a truck for big items such as beds, tables, and couches makes sense for a few seasons.
Prevents injuries: No one wants to deal with an injury when they're trying to move. Professional movers know how to best move large, heavy items that could potentially cause injury. They come with the tools necessary to prevent injury to themselves, ensuring your items are lifted and loaded in a safe way.

Protects big items: Not only can movers safely pick up your heavy items because they're trained to do so, they also know how to store them in the truck so they're protected. They have the appropriate wraps to ensure scuffs or scratches don't occur, and they know how to pack the truck so all the items are in optimal arrangement.

Saves time: When you don't have to work out the logistics of how to ensure each piece of your furniture is going to be packed and loaded onto a truck, you can focus on other parts of your move.

Economical: Using movers to transport large items means you don't have to pay for them to box your belongings or transport boxes that you can easily take over to your new space in your vehicle. Less weight in the truck can save you money, and give you the peace of mind knowing your items will be safely transported.
Renting Containers to Move in Houston
Aside from hiring a moving company to help you move in Houston, did you know that you can also use storage units to move? This is a helpful and budget-friendly option because you get to be in charge of loading it up. If you'd like to avoid the hassle of interviewing potential moving companies and getting quotes, using a container could be for you.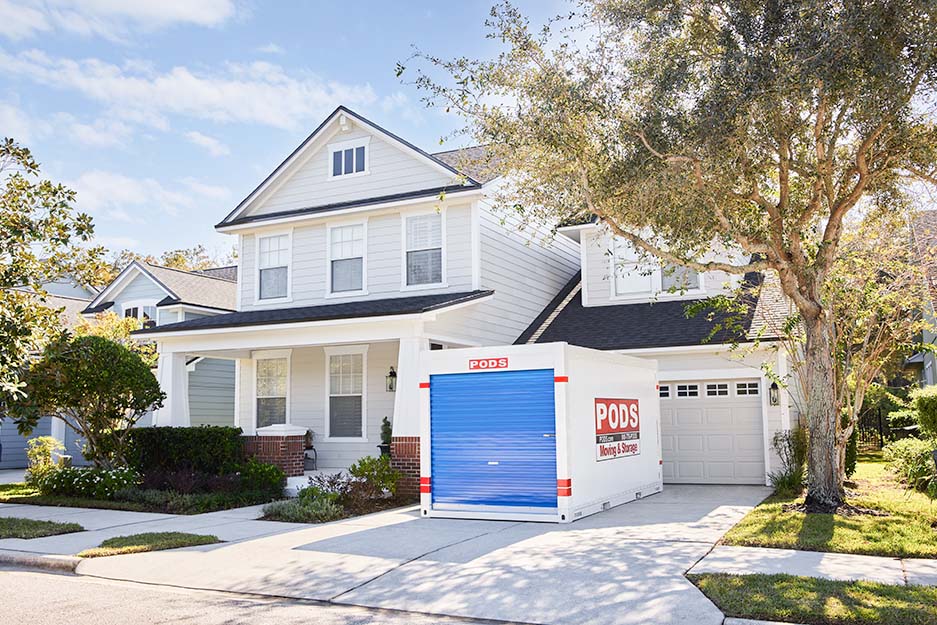 All you need to do is determine the size of your household, and order the appropriate-sized container. Then, at your leisure, you can load up your container with all your belongings safely and securely. Moving containers like PODS portable storage units can make it easy to transport your household in Houston.
When researching what container is best for you move, consider:
What they're made of: You want the container that holds your items to be okay in all kinds of weather, which is why it's important to look for one that is durable. Steel-frame units will ensure that your items will be protected from the elements.

Security: This storage unit is going to house your personal items, so you want to make sure it's secure. You should have the only key and be the only one who has access while you're paying to rent the container.

Has ways to secure your belongings: You don't want to end up with a container that doesn't have any way to tie down or safely secure your items. When the container is en route, there's bound to be some movement, which why you don't want to just pack items in without securing them. Make sure your moving container includes tie-down rings so you can safely strap them down with a rope when you're moving.

How you'll load the container: A storage container with ground-level access and no ramp makes it easy to walk items in and arrange them for your move.
Once your storage container is full and you're ready to move, you can call the company and ask them to pick up the container and move it to your new home. If you need multiple storage units, you may consider putting them in storage until you're ready to begin the unpacking process.
DIY moving in Houston with a Truck
Another way to move in Houston is to do it yourself. DIY moving is a popular way to get to your new space because it is very economical, and it allows you to have control of the whole process.
In order to do this successfully, you'll need to take into account:
Renting the truck: There are plenty of places you can rent a moving truck such as Enterprise or U-Haul to move your household. These companies have different sizes of trucks available, depending on how many rooms you need to move. Renting a truck also means you'll likely be able to fit all your items and move in one trip. Just make sure you measure how much space you need and get the appropriate size.

They typically charge per day, so you'll need to plan out when and how long you expect your move to take. Some companies also offer discounts to members of organizations or the military.

• Getting packing materials: You'll want to ensure you have all the packing materials you need to safely transport your stuff. This includes boxes of various sizes, packing paper, tape, markers, and pads or blankets. It's important to prepare your items for packing, because if you neglect to protect them or secure them properly, you may end up with damage.

In addition to packing your items, you'll need to make sure you have the equipment to move your belongings into the truck. A furniture dolly, four-wheel dolly, straps, and extra blankets are all good ideas.

Recruiting help (to pack and move): Moving is always a little easier when you have help, so make sure to ask family and friends if they'd be able to pitch in. This will make moving heavy or awkward furniture easier, and will help decrease the time it takes you to pack up the truck, move, and unpack your items in your new place.
The only disadvantage of this DIY option and is that it can be time-intensive and very demanding physically.
Movers in Houston: How Much do They Charge?
Unless you've decided to go with renting a truck and doing the move yourself, you're going to need the help of a moving company. Even if you decide to rent a storage unit, you'll still need to make arrangements to have it picked up and moved to the site of your new space.
So what can you expect to pay for local Houston movers? On average, if you're moving locally in Houston, you can expect to pay around $1,000-$2,000. However, if you choose to go with the full-service movers we discussed earlier, chances are the price will be higher than that.
You probably want to get the best price you can find. This is where it pays to do a little research and see what a few different companies are charging. Be sure to keep the following in mind while making your selection:
Movers typically charge by the hour, or based on the weight of your truck, so make sure to discuss this with any companies you're interested in hiring. 
If you're moving from out of state to Houston, the price for your move will depend on how much you're bringing with you and how long the trip will take. 
In order to keep your move as inexpensive as possible, consider moving during the week instead of the weekend when prices tend to be higher for movers.
Here are our recommendations for movers with a fair price in Houston.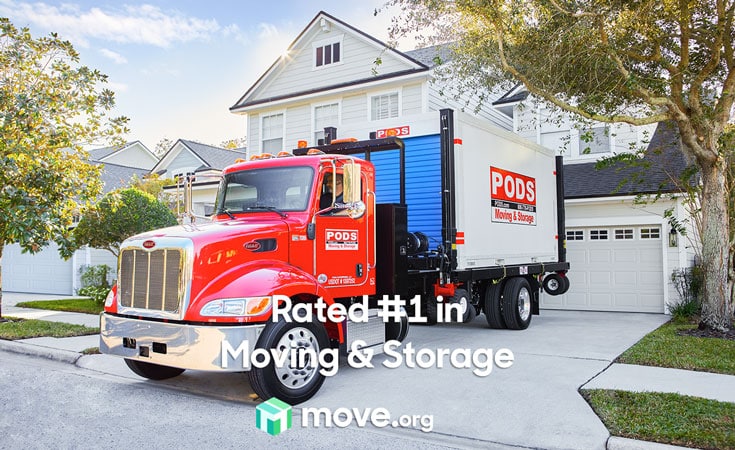 1. PODS Moving Services
Not only can you rent a PODS storage container to fill up and move, did you know that they can also refer you to local moving help? If you'd like to hire professionals to help you load and unload your container, these Houston movers are ready to help. Just let them know when you'd like to move and they'll take care of the rest.
2. Houston Affordable Movers
This local, family-owned moving company in Houston is ready to get packed up and into your new space in Houston at an affordable price. Whether you're moving an apartment or a whole house, these movers can take care of it all.
3. Student Movers
These fully-licensed professional Houston movers are ready to tackle your move, whether the job is big or small. If you're looking for an affordable moving company with no hidden fees, this could be the company for you.
4. H-Town Movers
These Houston movers offer a fair price, free estimates, and excellent customer service. If you're looking for top-notch professional movers who offer safe and reliable moving services in Houston, this company could be a great option.
Flat-Rate Movers in Houston
If you're moving locally in Houston or have a large amount of items you need to transport, it might not be worth it to get a flat-rate mover. Flat-rate movers are a good option if you think it will take a long time to complete your move. Going with a company that charges by the hour could end up being more expensive if your move is far away. Typically this type of moving company is designed for long-distance moves over 100 miles.
However if you have a lot to move, consider giving these companies a call.
South Coast Movers
If you need flat-rate professional movers in Houston, contact South Coast Movers. They'll take the time to pack all your items with care, and ensure they arrive safely to your new home.

Polancos Movers
Need local Houston movers that offer service in Spanish or English? You'll want to contact Polancos Movers. If you have a large moving job, whether commercial or residential, consider speaking with these professionals.
Must-ask FAQs for houston Movers
No matter what company you choose for your Houston movers, there are some essential questions that you should always ask before hiring. You might think that just the price on the estimate is important, but don't forget to ask these often overlooked (but important) questions.
Is the company insured?
This is always a good question to ask any mover you are considering. You want to make sure your items are protected under their liability policy in case there is accidental damage.
Packing and supplies
Disassembly/assembly of furniture
Bulky items
If there's a staircase they didn't know about
Storage
Fuel
Make sure that the estimate you get is the final price, or if it is subject to additional costs.
Is there anything you won't move?
If you have bulky or very heavy items such as a piano, it's a good idea to ensure the moving company will agree to move it. Sometimes items such as this require additional costs or specific tools to safely move them.
How are losses handled?
In the event that something happens to your household belongings, ask up front how the claim will be handled. It's better to be aware of what is and isn't covered ahead of time, then to have the company fall short after the damage has been done.
No matter what type of Houston mover option you decide to go with, it all starts off with a plan! You'll need to determine how big your move is, and how much you want (or don't want) to be involved in the process. Then it's time to get estimates and start preparing for your Houston move.
Get a Quote
Choose the service you need
Comments
Leave a Comment
Your email address will not be published. Required fields are marked *