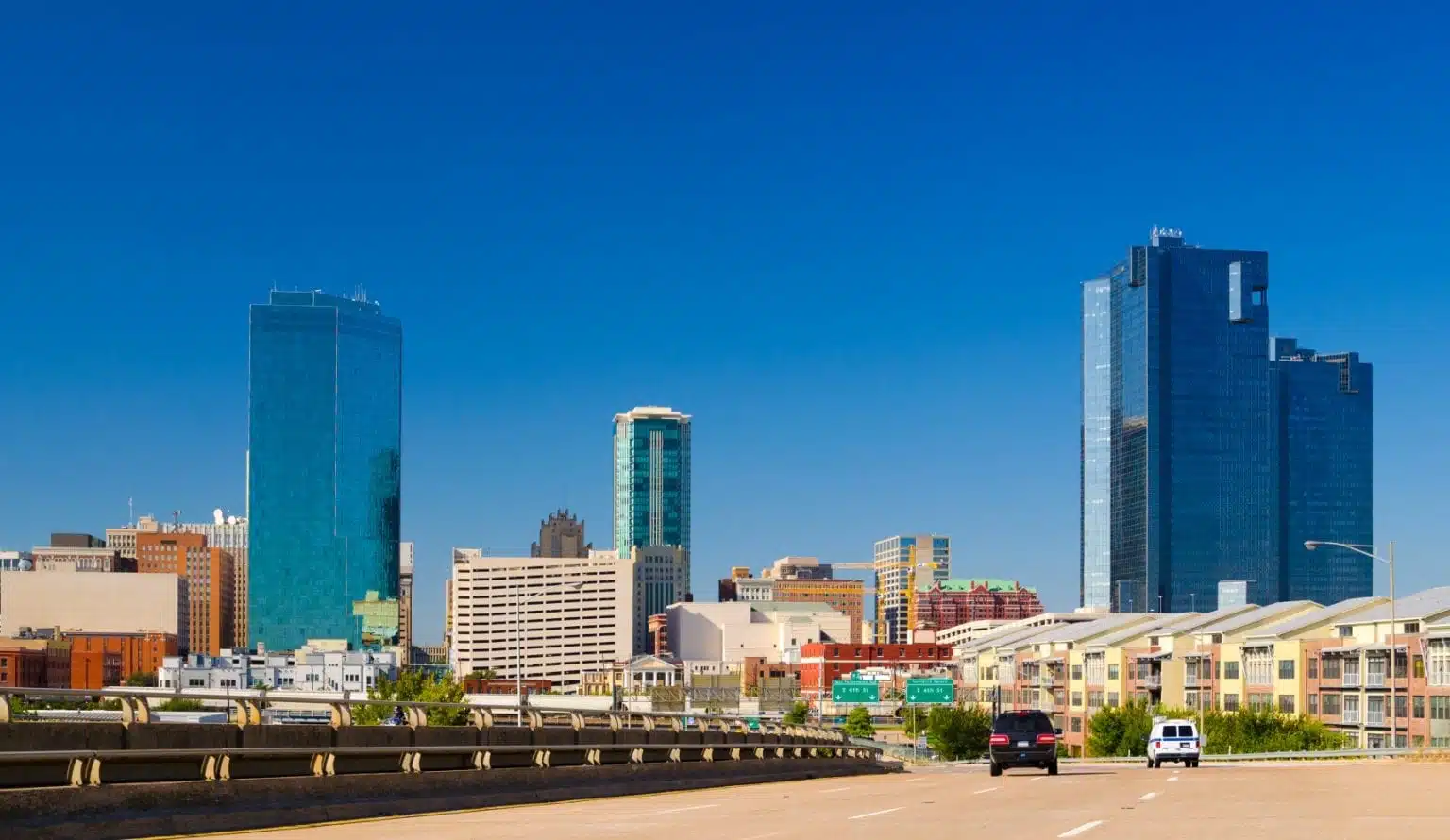 Moving to Ft. Worth, TX: A Local's Guide to the Best Ft. Worth Neighborhoods
If you're thinking about moving to Fort Worth, one to-do item at the top of your list is to start looking for homes for sale or rent. But where are the best Fort Worth neighborhoods to start your search? Lucky for you, there's no shortage of interesting and affordable options.
First, exactly what do we mean by "affordable"? After all, that can be such a relative term depending on where you're looking. With a typical home value of $227,091, Fort Worth homes tend to run about $10,000 less than in Dallas. That's definitely less pricey than other cities, like Los Angeles or in the neighborhoods of Atlanta. But there are plenty of homes that cost more, and the actual cost of your Fort Worth home will really depend on several factors, like size, location, and features.
For insight, we talked to city native and lifelong resident, Realtor Adrianne Huff Holland, about where you can find the best Fort Worth neighborhoods for you and your family. Besides helping others find their dream home in Fort Worth, Holland was in the process of moving her own family between two local neighborhoods -- Westcliff and Walsh.
She also gave us the inside scoop on what it's really like to live in Fort Worth (or Funky Town, as she and many locals affectionately call it). She told us all about the things people moving to Fort Worth need to know -- like schools, transportation, and things to do.
Best Fort Worth Neighborhoods
Fort Worth has dozens of distinct neighborhoods and suburbs, each with its own history and charm. To save you time, we're highlighting a selection of the best. We'll go over some older neighborhoods and some newer ones, some cheaper ones and some pricier ones. This should help you get a good idea of the type of homes for sale in Fort Worth, TX. We'll start with a neighborhood that's close to Holland's heart -- Westcliff, where she lived for several years.
Westcliff
"Westcliff is one of the most overlooked neighborhoods in Fort Worth," Holland told us. She and her family love how centrally located the neighborhood is and how close it is to activities like the Fort Worth Zoo, the #1-ranked zoo in the U.S. Plus, Westcliff is sandwiched between I-20 and I-30, making it easy to get pretty much anywhere.
While home prices in Westcliff run the gamut, ranging from $200,000 to $1,000,000+, its appeal is especially attractive for buyers with a mid-range housing budget. "Westcliff satisfies a sweet spot in our market of $250,000 to $450,000, financially meeting the needs of so many buyers looking today," Holland said.
Most of the homes were built in the 1950s and 1960s with the single-story ranch-style design on ample lots. These affordable homes make it a great place for first-time home buyers and others who want to "add their own equity by improving and bringing new life to one of these older homes," said Holland.
While you're looking at homes in Westcliff, Holland recommends taking time to visit Cafe Bella, voted best Italian restaurant by Fort Worth Magazine. "It's our favorite. The owners make you feel like you are a guest in their home." she said. "The service is just so fantastic, it really is a neighborhood landmark full of regulars every night. It's very nostalgic. People just keep coming back night after night decades on."
Walsh
Unlike Westcliff, Walsh is not a historic neighborhood. In fact, it's a brand spanking new planned development with two finished phases and a third phase coming in the near future. But calling it a development doesn't really do Walsh justice. It's actually a vibrant community full of amazing amenities.
At full buildout, 2,300 acres of open space will allow residents to enjoy the native prairie land and openness that defines the natural landscape. Over 32 miles of hiking and biking trails will connect every home to a park and allow for close-to-home recreation. With community resources like landscaped parks, resort-style pools, a state-of-the-art workout facility, basketball courts, racquetball courts, a lake (with a beach), and plenty of space, Walsh is one of the largest developments in the nation that's located within 12 minutes of a major city center.
Walsh's community center, called The Village, blends old and new ways of life, with a market, makerspace, and workspace so that people can come together, no matter what it is they're working on. Walsh is also a highly connected community, including two-gigabit internet throughout that's included in the HOA fees.
Needless to say, Holland is pretty excited about moving to Walsh. But she won't just be living there. She's also helping other people find their dream homes or custom-build there. "The idea of moving to a community where I'm working was a scary thought," Holland said. "But it's come full circle. My husband and I are very excited. I'm personally invested and believe in the project."
Homes in Walsh start at about $375,000, and lots start at $95,000. Be sure to contact Adrianne Huff Holland if you want to learn more about this community.
Fairmount
The Fairmount–Southside Historic District is one of the most beautiful areas of Fort Worth and one of the largest historic neighborhoods in the southwestern U.S. The homes here are gorgeous and include famous landmarks like the Meredith Benton House.
Despite its high desirability, you can still buy a home in Fairmount for a fair price. You can pick up a 3-bedroom craftsman-style home for $350,000 or a 5-bedroom property for around $450,000. You can probably find an even cheaper home if you're willing to renovate a fixer-upper.
On the north side of Fairmount is Magnolia Avenue, well-known for its fantastic restaurants, coffee shops, and nightclubs. The Magnolia Avenue area is also great if you're looking for apartments in Fort Worth.
Overall, Fairmount is a very walkable neighborhood that's close enough to downtown to be convenient but far enough away to avoid the buzz of the big city.
Benbrook
Benbrook isn't so much a neighborhood within Fort Worth, TX as it's a suburb of the city. There are about 10,000 households in Benbrook, which has its own unique style and charm.
Benbrook boasts a ton of green space and outdoor activities, not to mention the waterfront views and activities offered by the enormous Benbrook Lake on the southern edge of town.
To drive from Benbrook to downtown Fort Worth takes about 20 minutes. That's not a bad commute, especially when you consider that you can buy a home in the suburb for less than $200,000 -- a considerable savings compared to other homes for sale in Fort Worth, TX.
If you're moving to Fort Worth but want to be away from the hustle and bustle of downtown, Benbrook is one of your best options.
Tanglewood
Tanglewood is an elegant neighborhood that's tucked in the southwest corner of the city but still within the 820 loop, the main freeway that circles Fort Worth. It's a safe and family-friendly area with plenty of 3-4 bedroom homes for sale at around $500,000.
There's a ton to do in Tanglewood, especially if you enjoy the outdoors. The gorgeous Hartwood Park runs through the community and connects to the Trinity River trail system. The proximity to the river feeds a blanket of large mature oak and pecan trees. It's also very close to Big 12 Sports at Texas Christian University and Colonial Country Club, which hosts an annual PGA tournament..
If you like to eat out you can grab a bite at one of Tanglewood's own beloved restaurants, like Local Foods Kitchen, a sustainable and ethical local food joint. Or you can take a quick drive downtown to be in the middle of everything.
Finding apartments in Fort Worth, TX
Fort Worth isn't just a great place for home buyers. It also boasts some fantastic rentals, whether you're looking to rent a house, an apartment, a townhome, or a duplex. Renters will be happy to see that the prices are relatively affordable as well.
Average Fort Worth, TX rent: $1,163
Most of the city's luxury highrise apartments are located in the downtown area. These buildings offer beautiful views, awesome amenities, and the convenience of being right next to everything. They also tend to be a lot pricier than the average rent we listed above.
But there are cheaper rentals scattered across the whole city. It's easy to find a ranch style home to rent in a quiet neighborhood, or a studio apartment near one of Fort Worth's colleges.
Planning your move to Dallas-Fort Worth
We hope this guide has helped give you a feel for the best Fort Worth neighborhoods. If you're not sure about where in the Dallas-Fort Worth area you want to live, take a look at our guide to the Best Dallas Neighborhoods and Suburbs. And when you start planning your move, you can learn about moving costs and options with our guide to Moving in Dallas.
Sources: All Median Home Value numbers are from Zillow. Average rent numbers are from RENTCafé. 
---
Easton Smith works as a freelance writer and researcher, reviewing technology trends and the moving industry.
Get a Quote
Choose the service you need
Comments
Leave a Comment
Your email address will not be published. Required fields are marked *