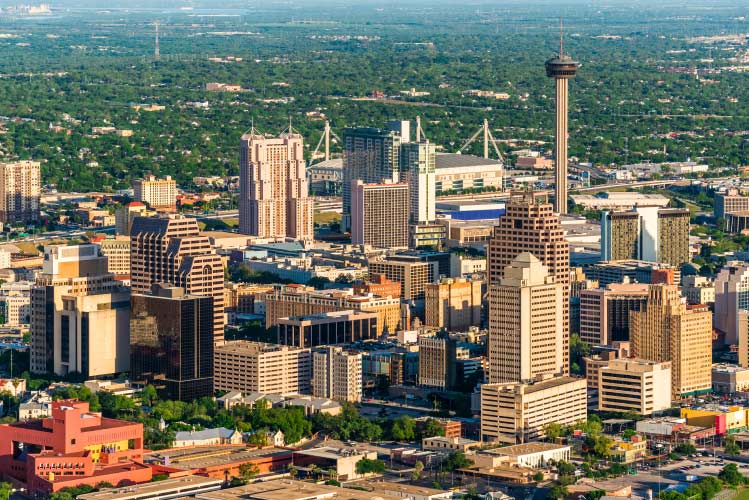 Best Neighborhoods & Suburbs to Live in San Antonio, TX
Seeking a charming, historic, delicious, and downright fun place to call home? While cities like Austin and Houston have recently become all the rage, San Antonio has long been a solidified Texas darling. You may know San Antonio as the home of the Alamo, the Tower of the Americas, and the River Walk — the 15-mile pedestrian shopping center. Or maybe you consider San Antonio the birthplace of Tex-Mex cuisine. The locals, however? They know there's much more hiding in plain sight throughout the diverse neighborhoods and history of Alamo City, and what makes this Texan stronghold one of the best places to live in Texas.

Come to San Antonio to get your fill of historic Spanish Colonial missions, top contemporary museums, theme parks, great food, nightlife, and friendly locals — everywhere from the bustling downtown area to the suburbs. Whether you're relocating for a short stay or are planning on moving to San Antonio more permanently, it's hard not to fall in love.

But not sure what neighborhood is right for you? Want the scoop on our picks for the best places to live in San Antonio? No problem; that's why we're here — to give you the official 4-1-1 on the best neighborhoods in San Antonio, Texas (including a few suburbs).
New to PODS? Check out this overview on how PODS works to get you started.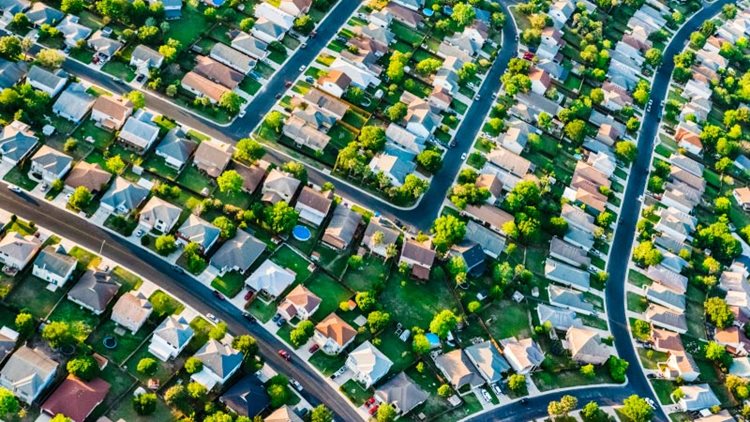 What are housing costs like in San Antonio?
On the whole, housing costs in San Antonio are considerably lower than the national average, making it a pretty affordable place to live. RentCafe lists the average monthly rent in the U.S. at just over $1,700 and the average rent in San Antonio at nearly $1,300 per month. Zillow puts the average value of a home in the U.S. at $348,900 (an increase of 1.2% over the previous year) and the average home value in San Antonio at $265,300 (down 0.4% from the previous year).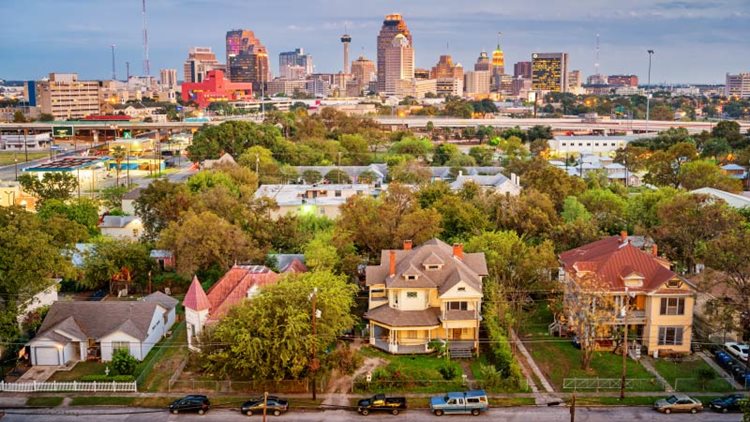 7 of the Best San Antonio Neighborhoods and Suburbs To Put on Your Radar
There are more than 30 main neighborhoods and suburbs in San Antonio, giving new and old residents the opportunity to find the perfect community for them. Here are a few of our favorites to help give you a head start in the search for your new home.

For each spot, we'll cover typical housing types and costs, along with the overall vibe, quality of schools, things to do, and even types of neighbors. And since San Antonio is a car-forward city, we've also included some general commute times to factor in as you weigh your options.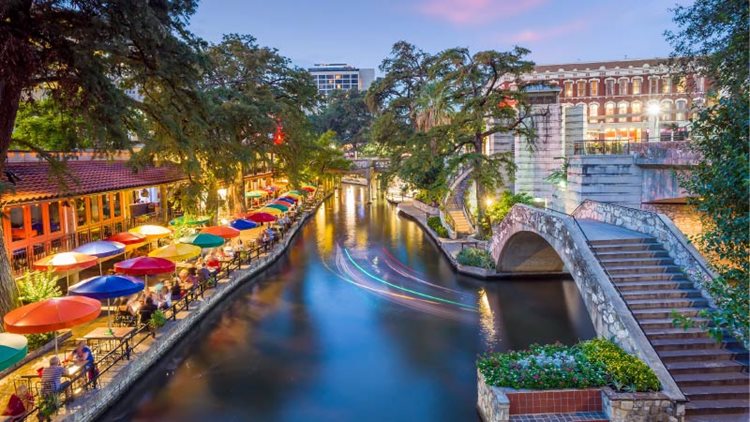 River Walk in Downtown San Antonio
1. Downtown San Antonio
Average rent (one-bedroom):
$1,600
Average home value:
$505,300
Great for: Students, young professionals, active retirees, nightlife, those who value walkability and action on their doorstep


If you're looking for San Antonio's hot spot/melting pot neighborhood, Downtown is where it's at. Thanks to a good collection of museums, theaters, music venues, bars, restaurants, clubs, and public transportation options, you'll be hard-pressed to find a dull moment here — or a reason to own a car, for that matter. Downtown offers one of the best neighborhoods in San Antonio for young professionals, students, and fun-loving retirees who want to be in the heart of the city's action. As for public schools, though? According to Niche, they come in around average, making it a harder sell for academically focused families.

Like many typical downtown areas, you'll find a ton of luxury high-rise condos and apartments. However — rather uniquely — you'll also get a peppering of Victorian mansions and other historic homes here. According to Zillow, the average home value in Downtown San Antonio is $505,300, making it one of the most expensive places to buy in the city area, though not the most expensive (we're looking at you, Terrell Hills, with an average home value of $855,600). Renting in Downtown is also higher, with RentCafe listing average rent at $1,600 per month, nearly a 20% difference from the city average (but only slightly below the national rent average).

Downtown is known for the San Antonio River Walk, a 15-mile pedestrian-only stretch full of food, fun, and things to do. In fact, it's the state's most popular attraction. But folks who live here know the neighborhood has more to offer (and we're not just talking about the Alamo — yes, the Alamo — either). Catch a performance at the Tobin Center for the Performing Arts, bone up on local history and culture at the Institute of Texan Cultures, or pre-party with cocktails served on the longest wooden bartop in Texas at The Esquire Tavern before hitting the club.

Looking for small-town vibes? Check out our rundown of the state's smaller side with a little howdy from 16 of the best small towns in Texas.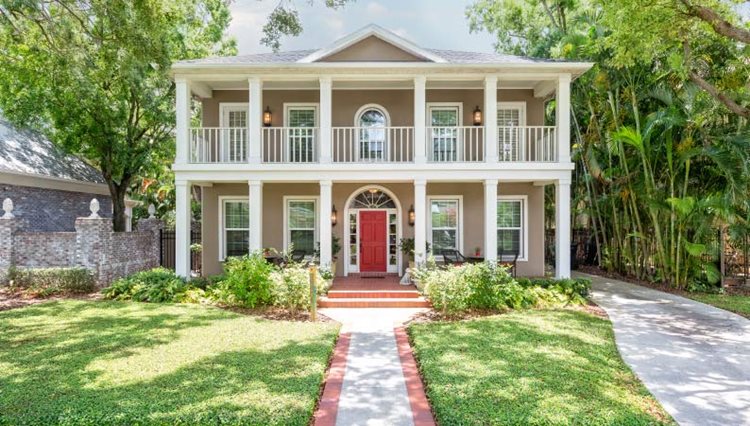 Monte Vista
2. Monte Vista
Average rent (one-bedroom):
$1,000
Average home value:
$623,900
Great for: Professionals, retirees, students, historic homes, being close to the action without being in the action of downtown


Hoping for historic heart with hip attitude? Then X marks the spot in Monte Vista, one of the oldest districts in the country — and one of the most up-and-coming neighborhoods in San Antonio. Great dining, nightlife options, walkability, and a quick 10-minute ride into Downtown are big pluses here. Everyone from university students to retirees loves this centrally located neighborhood and its convenient access to green space, well-balanced urban/suburban feel, larger-sized houses, and good community vibe.

According to Zillow, the average home value in Monte Vista is $623,900. Listings range from anywhere between $476,000 for a historic duplex house to more than $1 million for a 1930s home with gorgeous established gardens. According to listings on Apartments.com, rent seems to have less variation, and you can expect to pay around $1,000 a month for a one-bedroom apartment.

Whether you make Monte Vista your next home or end up elsewhere, you'll probably find yourself in the 'hood at some point — if not to visit the San Antonio Zoo then to grab brunch or dinner at one of Monte Vista's trendy restaurants, like Nola Brunch & Beignets or BARBARO. When night falls, grab drinks and a lively evening at TBA or The Squeezebox.

And while this neighborhood is on the rise, according to Niche, the public schools here leave a bit to be desired with a C score overall (though the Medical Center and North Central Campuses of Basis San Antonio Primary - Medical Center received an A+ grade from the site). Still, Monte Vista is on their list as one of the best neighborhoods in San Antonio.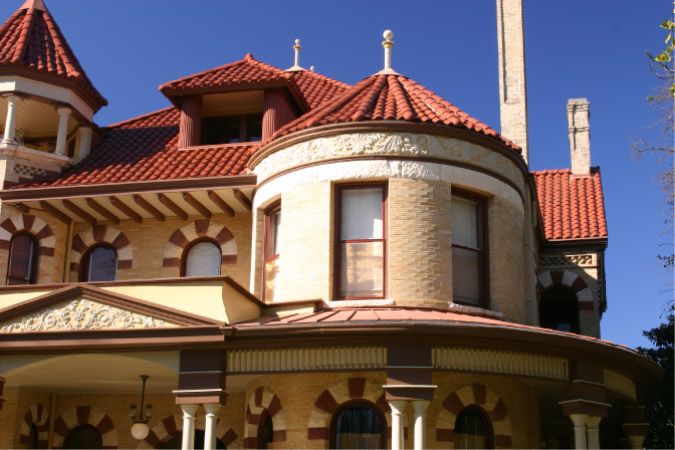 King William Historic District in Southtown
3. Southtown (Arts District)
Average rent (one-bedroom): Varies

Average home value: Varies

Great for: Artists, young professionals, singles, students, nightlife


Directly south of Downtown you'll find heaps of hip and a happening art scene in San Antonio's Arts District, also known as Southtown (Get it? South of Downtown?). It's kind of like the Brooklyn of San Antonio, replete with a fun and creative community, independent boutiques and eateries, public murals, and cool ways to spend your days and nights.

Southtown is flush with a good variety of homes, from vintage bungalows to historic Victorian estates to more modern condos. Southtown comprises five smaller neighborhoods: King William, Lavaca, Collins Garden, Roosevelt Park, and Lone Star. According to Zillow, the average home values vary, depending on the neighborhood, but range from as low as $146,800 in Collins Garden to as high as $464,600 in historic King William. The home values have been increasing and decreasing at different rates, with Lavaca's average home value decreasing by 1.7% in the last year and Collins Garden increasing only 6.6% (compared to the 23% growth it saw between 2020-2021). It's probably safe to say the lower home values are making that particular part of Southtown more desirable.

Rentals in the area include condos, smaller apartment buildings, and houses. Similar to the home values, rent differs depending on the particular Southtown neighborhood. According to Zumper, you can expect to pay about $1,150 a month for a 1-bedroom in Lavaca, while a similar apartment in King William will run you closer to $1,450 a month. Fun fact: Both of these Southtown areas are two of the safest places to live in San Antonio, according to Neighborhood Scout.

Tourists haven't quite "discovered" Southtown just yet, keeping outings here feeling local and community-oriented — for now. Want to soak up the spirit of the neighborhood? Join the lively First Friday street fest, pop into local galleries and artist studios on the Second Saturday Art Walk, or just take a stroll along King William Street and ogle at the historic mansions after downing a delicious lunch inside the The Guenther House, a beautiful Art-Nouveau-era mansion boasting a restaurant, museum, and more. Meet up with all your new friends at the aptly-named local hangout bar, The Friendly Spot. It doesn't take much to see why folks say Southtown is one of the best places to live in San Antonio, TX.

First time moving to Texas? Find out what you need to know with our Texas Moving Guide.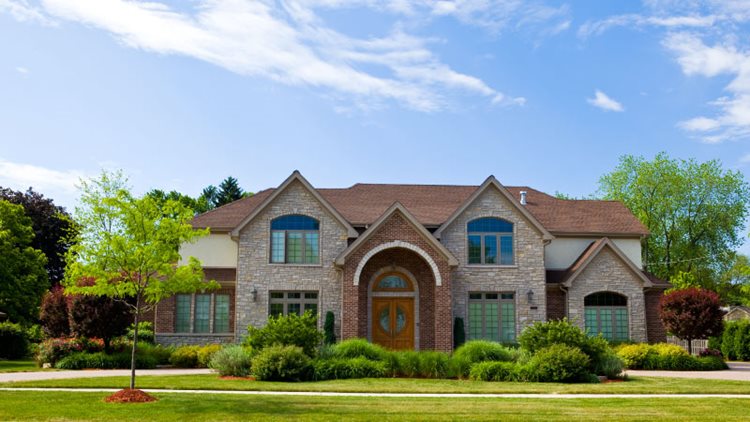 Alamo Ranch
4. Alamo Ranch
Average rent (one-bedroom):
$1,150
Median home sale price:
$360,000
Great for: Wealthy families, retirees, older professionals, tons of community features


Alamo Ranch is a master-planned community neighborhood about 20 miles northwest of Downtown, near San Antonio SeaWorld. Residents here have practically everything they need right inside the gates of this community (grocery, shops, dining, entertainment, and more), so they don't even have to leave unless they want to. But when they do, Alamo Ranch's proximity to Loop 1604 makes most of the metro area easily accessible. All this makes Alamo Ranch one of the best San Antonio neighborhoods out there.

Expect large homes, lush landscaping, and tranquil surroundings — all wrapped up neatly with an affluent suburban vibe. Behind the gates, you'll find a wide variety of homes and prices within the Alamo Ranch subdivisions. According to Realtor.com, the entry point is still relatively affordable with prices starting as low as $275,000. With a variety of builders and diverse floor plans and upgrades available, though, options are abundant, and you can find homes at various price points, up to $749,500. Renting here isn't very common, but you can find modern one-bedroom apartments (note: 750 square feet and smaller) loaded with conveniences for about $1,150 per month, according to Apartments.com.

Alamo Ranch is also stocked with community features. In addition to upscale amenities like playgrounds, jogging trails, and sports courts, this neighborhood offers residents niche extras, such as an aquatic center with an Olympic-sized pool and kids' waterpark, plus a huge 9,000-square-foot retail complex full of entertainment, shopping, and dining options (also named Alamo Ranch)! Like Helotes, this area is served by the Northside Independent School District, and schools here are top-notch.

Q: What's the safest city in the San Antonio, Texas, area?
A: Timberwood Park is one of the safest areas in San Antonio. This suburb is 25 miles north of the city center and has fewer incidents of crime, according to Neighborhood Scout, than the majority of the San Antonio area. Southtown, Monte Vista, and Fort Sam Houston are some of the safest neighborhoods in San Antonio. Keep in mind that San Antonio itself has a higher-than-average crime rate, though, coming in as being safer than only 3% of cities in the U.S.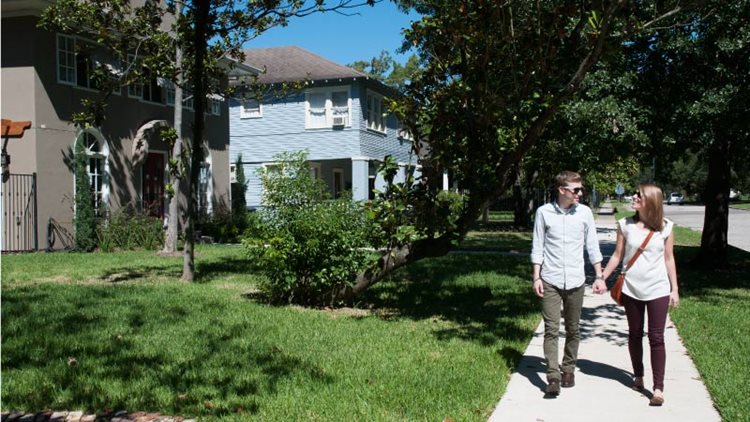 Alamo Heights
5. Alamo Heights, TX
Average rent (one-bedroom):
$1,450
Average home value:
$713,900
Great for: Wealthy families, older professionals, retirees, arts and culture buffs


Six miles north of Downtown San Antonio lies the affluent city of Alamo Heights, where decent-sized yards, great schools, and a strong community vibe make this one of the best neighborhoods in San Antonio for families. Residents here live among leafy, tree-lined streets, a variety of housing styles, and an easy yet upscale suburban feel. Of course, the fact that it's also super walkable, sports a hip vibe, and is conveniently located less than 15 minutes from both Downtown and San Antonio International Airport only sweetens the deal.

Homes here truly run the gamut and feature restored, renovated, or newly built houses, ranging in size from cozy cottages to massive mansions. And while it's true Alamo Heights has some of the city's wealthiest residents, the home prices have a good range. According to Zillow, the average home value is $713,900. Rather rent? RentCafe lists the average rent in Alamo Heights at $1,450 per month (up 11.5% over two years).

Love museums? Living here will put some of the city's best at your doorstep. Locals here have easy access to the Witte Museum's art, natural history, and science exhibits; more than 5,000 years of art and culture via the collections at the San Antonio Museum of Art; and interactive discoveries at The DoSeum, a family-friendly favorite. Public schools here are top notch, as well, and receive an impressive overall A+ from Niche.
Q: What are the wealthiest parts of San Antonio?
A: Alamo Heights is the second-richest neighborhood in San Antonio, beaten only by Olmos Park.
Boerne, TX
6. Boerne, TX
Average rent (one-bedroom):
$1,360
Average home value:
$555,000
Great for: Professionals, families, commuters, community events
Boerne goes big on community and manages to maintain a trendier (yet still charming) take on the typical American small town. In fact, this suburb is so beloved, many brave the 30-minute-minimum, traffic-filled commute to work in San Antonio. Great schools, several parks (plus access to Hill Country hiking trails), and a host of family-friendly events in town make Boerne a top pick for folks with families. And to top it off, Niche gives public schools here an overall A+.

For the most part, homes in Boerne are big, beautiful, and on large lots with green yards. According to Zillow, prices can range anywhere from around $345,000 to upwards of $10 million, though the average home value is about $555,000 (up around $100,000 from two years ago). Average monthly rent in Boerne will cost around $1,360, according to RentCafe.

Think moving to the suburbs is going to be a snoozefest? You've definitely never been to Boerne, Texas! This small town has a big heart and an even bigger event calendar. Movies in the Park is a popular monthly family outing, for example, as is the annual Outdoor Family Fair. Other cool things to do here include the Boerne Chocolate Walk (yum!), underground cave tours at Cave Without a Name, and community skateboard competitions — or simply grabbing a beer and bout of live music with friends at the The Dodging Duck Brewhaus (and restaurant).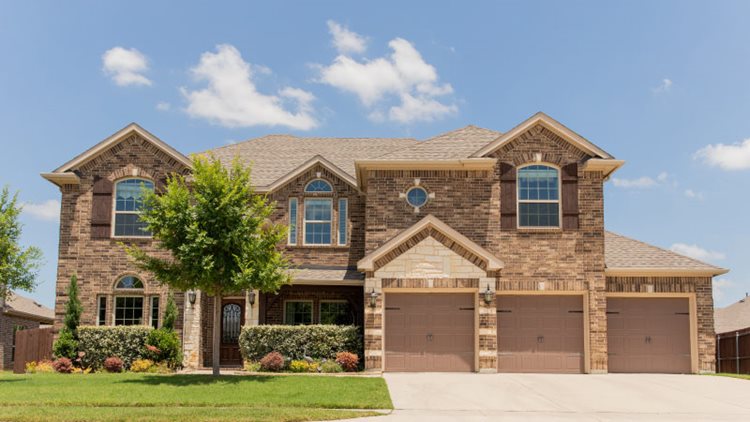 Helotes, TX
7. Helotes, TX
Average rent (one-bedroom):
$1,350
Average home value:
$478,500
Positioned 22 miles northwest of Downtown, Helotes is a top San Antonio suburb. Good schools, small-town feel, and close-knit community vibes make it another one of the best neighborhoods in San Antonio for families, while the range of housing, from starter homes to sprawling mansions in gated communities, attracts residents in several different life stages and price points. This is a good spot for anyone who wants to be far enough removed from the city to get that rural/suburban feel (complete with small wildlife and lots of fresh air) without being too far from the amenities of the big city.
With an average home value of $478,500, according to Zillow, housing in Helotes runs notably higher than in San Antonio — but, as we mentioned, there's a good range available. And as far as renting goes, RentCafe lists the average monthly rent at $1,350.
Folks who live in Helotes, Texas, spend their time participating in community events, like movie nights in the park and local festivals. One of the biggest events is the annual
Cornyval
— think of it as a carnival-meets-harvest festival, celebrating the town's corn crop heritage. For year-round excitement, strap in and zip over Hill Country on the
Helotes Hill Country Ziplines
, go wine tasting at Helotes Creek Winery, and take in the views with a hike or bike through the
Government Canyon State Natural Area
.
Helotes is served by the Northside Independent School District, and
Niche
gives public schools here an overall above-average grade of B+, with 40 schools receiving an A-level rating. This is one of the best places to live in San Antonio for families.
Curious how San Antonio stacks up against other areas in Texas? Don't worry, we've got the goods: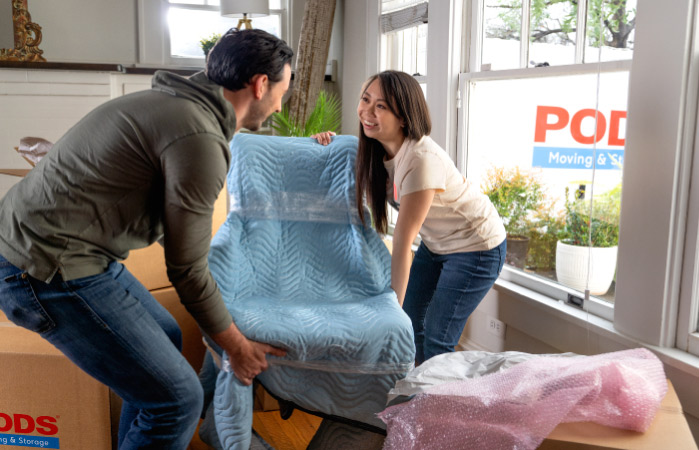 Planning Your Move to San Antonio
Looking forward to going big (get it?) and getting settled in your new San Antonio home? The PODS Blog can help you with that! We cover all sorts of tips and tricks to help you with your next move — everything from how to pack for a long-distance move to tips for moving with portable containers. We've even got the goods on things to know about living in San Antonio before you get there. When it comes to making moves, big or small, we know it's never too early to start planning and there's always something fun to do in your new home. From tips and tricks to flexible and friendly service, PODS has your back every step of the way.


Alex Keight is a frequent contributor to the PODS Blog who has moved 20+ times because she loves to experience new places.

Editor's note: For ease of reading, monthly rental prices were rounded to the nearest $25 and home values were rounded to the nearest $100.
Get a Quote
Choose the service you need
Comments
Leave a Comment
Your email address will not be published. Required fields are marked *