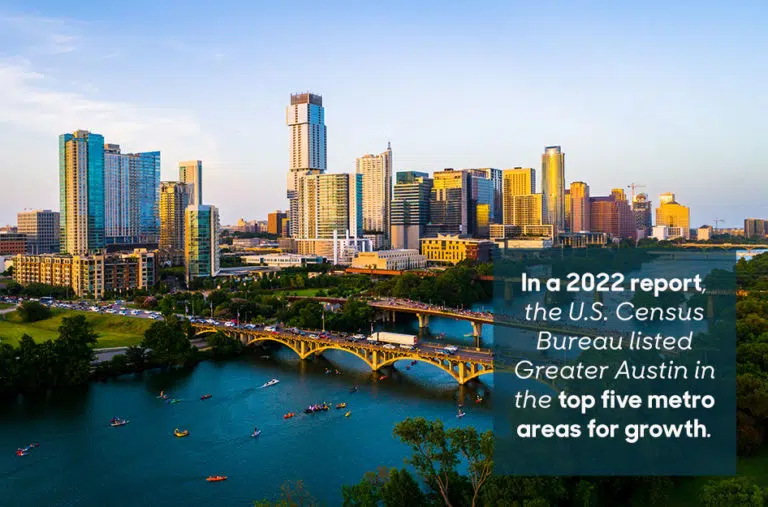 Best Neighborhoods in Austin: Finding Your Own Place In The Center of Texas
This post was updated on October 5, 2022
Welcome to Austin, the capital of Texas and the original home of keeping things weird — in the best possible way, of course. This vibrant city of over 960,000 residents has long been an artistic oasis in the middle of Texas. And it seems word has really gotten around.
In a 2022 report, the U.S. Census Bureau listed the Austin-Red Rock-Georgetown area in the top five metro areas for growth. And it makes perfect sense. Between the mouthwatering BBQ, loads of live music, plethora of outdoor activities, and the overall be-kind-and-be-yourself vibe, there's a lot to love going around this Central Texas city. 
This is the PODS Blog's second article about Austin, Tx. We cover the best neighborhoods in town and who they're best for here. If you're looking for more information about making the move, the cost of living, the housing and job markets, or the best schools, check out the links below:
The price for living in such a booming city, though? It's probably not surprising that rent is soaring and home prices are rising (we're talking a 15+ percent increase from July 2021 to July 2022).
Still, if you're lucky enough to be moving to Austin but aren't quite sure what neighborhoods to scope out, we're here to help you narrow it down. We've lined up a quick tour of some of the best neighborhoods in Austin (including popular suburbs!). And we've taken all kinds of factors into consideration — overall vibe, convenience, things to do, and, yes, housing costs.
Buckle in, we're headed to your next new 'hood.
Q: Is Austin, Texas, a good place to live?
A: Austin, Texas, checks several boxes when it comes to what makes a city a great place to live. People who live here may have their gripes (temperatures do stay in the triple digits for months during the summer), but most residents find it to be a hip, quirky, and welcoming place to live.
3 OF THE BEST NEIGHBORHOODS IN AUSTIN, TEXAS
Looking for the best family neighborhoods in Austin? Best 'hoods for singles? Students? Young professionals? Retirees? We've taken housing costs, overall vibe, convenience, and things to do into consideration, so you can find the best area to live in Austin, TX, that's perfect for you.
Downtown Austin Map
DOWNTOWN AUSTIN
Median home sale price: $770,000
Average monthly rent: $3,378
Good for: Young professionals, singles, college students, food and beverage, venues
For those who think of Texas as the Wild West, consider Downtown Austin the saloon. The raucous sounds of good times and live music pour out of the open windows and doors of the bars, restaurants, and venues lining the streets in Downtown Austin.
Living downtown is convenient and cool, but it's especially fun for night owls — which makes this area one of the most desirable and coolest neighborhoods in Austin, particularly for wealthy college kids, young professionals, and singles looking to party. Downtown is also home to the Warehouse District, Austin's unofficially official spot for loads of LGBTQ+ bars, nightclubs, and lounges.
Don't want a car or just prefer getting around on foot? Downtown Austin residents have a plethora of restaurants within a five-minute walk on foot, which is unsurprising considering the neighborhood Walk Score is 92.
Here are some highlights:
Pick up breakfast tacos from Torchy's Tacos
Kill two birds with one stone by catching a show while chowing down on some BBQ at Stubb's
Watch the bats take flight under the Congress Avenue Bridge
Take a walking tour to people-watch and admire all the architecture and historic buildings
You can also get a healthy dose of nature, thanks to a handful of green spaces and Lady Bird Lake, which borders downtown to the southwest. However, housing here costs nearly twice as much as elsewhere in the city. Most people living downtown rent — and shell out mega money for the privilege. Expect to pay over $3,300 a month on rent for a one-bedroom apartment, according to RentCafe data in July 2022, nearly twice the $1,826 average rent price for the city. The upside (besides all the downtown perks)? The mostly high-rise apartments and condos here are still more spacious than what you'd find in the heart of other metropolitan areas and have some nice bells and whistles.
SOUTH AUSTIN
Median home sale price: $578,000
Average monthly rent: $1,738
Good for: Families, artists, historic homes, good schools
If you really want to get to the heart of what makes Austin weird, set up shop in South Austin. The term is pretty broad, but it includes neighborhoods like Westgate, Garrison Park, and Travis Heights. Located across the river from downtown, this area is a breath of bizarre — in the best way. This area still has roots planted in the city's Bohemian beginnings and is an interesting, never-dull mix of old and new Austin.
South Austin is lined with old, ranch-style houses and modern homes and is full of local favorites, including patio cocktails at Hotel San José. It's also home to the famous "I love you so much" graffiti scrawled outside Jo's Coffee; the ever-popular summer swim favorite at Barton Springs Pool; and The Continental Club, a historic music venue. Things to consider? Highly rated public schools make South Austin neighborhoods some of the best family neighborhoods in Austin, but parking is hard to come by, and rush-hour traffic can be a nightmare.
As of September 2022, average rent in South Austin is just over $1,730 a month, almost $100 less than the city average, according to RentCafe.
Q: What is the hippest neighborhood in Austin?
A: Austin has a handful of hip neighborhoods, starting with Downtown Austin, North Austin, and South Austin neighborhoods. These areas are where you can find some of the city's most eclectic boutiques, lively nightlife, art, and collection of good eats.
EAST CESAR CHAVEZ
Median home sale price: $875,000
Average monthly rent: $2,544
Good for: Students, young professionals, downtown commuters
East Cesar Chavez is a quickly gentrifying neighborhood popular with the student and young professional crowd looking for easy commutes to downtown or the University of Texas campus. Truthfully, this neighborhood is well connected via public transportation and I-35.
It's also a food lover's dream come true. Various restaurants and cafes around 7th Street offer a walkable tasting tour of some of Austin's best up-and-coming restaurants with dishes that hail from all around the globe. Once rough around the edges, Central East Austin has emerged as a trendy spot with cute cocktail bars, great local food joints, and funky shops — not to mention A-rated schools. Another big draw for students and young professionals? The rent prices, as they're not quite as high as what you'll find downtown. In fact, according to RentCafe, average monthly rent for a one-bedroom apartment will run you a little over $2,500, as of July 2022.
Q: What is the best area of Austin, TX, to live in?
A: That depends on your personal preferences, but some of the most popular neighborhoods to live in Austin proper are Downtown Austin, South Austin, East Austin, Central Austin, and West Lake Hills.
6 OF AUSTIN'S MOST POPULAR SUBURBS
WEST LAKE HILLS
Median home sale price: Multi-million
Average rent: $2,037
Good for: Retirees, single-family home owners, families
Hunting for the best place to retire in Austin? Niche rates West Lake Hills as the #1 place to retire in all of Texas, with its gorgeous views from the Hill Country to the southwest of Austin. It's also one of the best Austin neighborhoods for families, thanks to a collection of great schools that often rank on "best schools" lists for the state. This suburb is often tagged as being overly wealthy, and the typical home value sits at more than 2.5 million dollars, according to Zillow. However, according to RentCafe, the average rent for a one-bedroom apartment is just over $2,000 a month — nearly on par with the city's average of just over $1,800.
Here you'll find busy days, quiet nights, and a tranquil vibe that appeals mostly to families and retirees. Large estate homes and leafy streets, boutiques, and a lot of kid-friendly patio dining outfits this four-mile suburb that's under 15 minutes from downtown Austin. And this is the kind of place where the Friday night high school football game is the event of the weekend. An extra bonus to award-winning schools, community vibes, and relaxing atmosphere? The hilltop views of Downtown Austin never get old.
ROUND ROCK, TX
Typical home value: $542,000
Average rent: $1,600
Good for: Young families, professionals, commuters
Although it's only about 18 miles and 20 minutes north of central Austin, residents in Round Rock enjoy a drastically different style of living and, with a population of about 120,000, a lot less people. Most people here own their homes, with the typical home value around $542,000 — up 20% between July 2021-2022, according to Zillow. If you rent, plan for around $1,600 a month on average for a one-bedroom, according to RentCafe.
The vibe here is young but family-oriented, making it a great pick for any young professionals with kids — especially those who want a close commute into Austin proper.
In addition to good public schools, Round Rock has an IKEA, tons of parks, is near a popular water park, and has great diversity. It's quiet, with a strong suburban look and feel with single-family houses that sport front yards, driveways, and trees. Restaurants run the gamut from oyster bars and gastropubs to Round Rock Donuts, the beloved local donut shop, and there's good outlet shopping. Bonus: Austin International Airport is just 30 minutes away.
BEE CAVE, TX
Typical home value: Over one million
Average rent: $2,100
Good for: Suburban feel, country clubs
Looking for that small-town feel without giving up great nightlife options or diversity? Bee Cave might be just the right place for your new home. Located only 17 miles outside of Austin, covering a little more than 8.5 square miles and with just over 9,000 residents, Bee Cave is a much smaller town. It's ranked by Niche as one of the top 10 suburbs in the Austin area, especially if you're into that urban vibe in a suburban setting. Don't let the small size fool you, though, as this city is on the move, with a population that's more than doubled in the last 10 years.
Still, given its size, there aren't a lot of public school options, but thankfully they're highly rated. However, the cost of living here may surprise you. As of September 2022, average monthly rent comes to a little over $2,100 for a one-bedroom apartment, according to RentCafe, and the typical home value is over $1 million, according to Zillow — a 23.3% jump from 2021. While these costs are similar to what you'll find in Austin, to be fair, property here is green and idyllic. Bee Cave residents tend to be on the wealthier side, as evidenced by the area's sprawling mansions and country clubs.
PFLUGERVILLE, TX
Typical home value: $496,000
Average rent: $1,700
Good for: Entrepreneurs, "Austin" feel, good schools, families
Unlike other suburbs of Austin, which tend to have moderate political views, folks who live in Pflugerville lean a little more to the left. The area's been voted by Niche as one of the best places to buy a house in the Austin area, and home values here are also rising in tandem with other Austin areas, averaging a little more than $496,000 as of July 2022, according to Zillow. Looking to rent? You'll get a bit of a break (compared to buying) with average rents around $1,700 a month for a one-bedroom, according to RentCafe, though it's still surprisingly high for such a sparse suburban spot. At least the schools are good!
Pflugerville (which is pronounced "floo-grr-ville," by the way) is full of entrepreneurial spirit and is a great place for young professionals. It's also one of the best Austin neighborhoods for families who want good schools as well as the quirkiness and variety of Austin with a more community vibe. In some ways, Pflugerville feels like another hip, low-key, but eclectic neighborhood inside Austin, even though it's about 18 miles and 30 minutes north.
Even if you don't move here, it's worth a day trip to check out local Pflugerville tales on display at the Heritage House Museum, the top-shelf cocktails over at Spirit of Texas Brewstillery, and local favorites like Brotherton's Black Iron Barbecue or Moi Vietnamese Grill.
GEORGETOWN, TX
Typical home value: $481,500
Average rent: $1,800
Good for: A good mix of people: retirees, professionals, and families
This Austin suburb — a 75,000-resident town 30 miles north of Austin — claims to have the most beautiful town square in Texas. We'll let you decide on that, but it's worth mentioning that Georgetown was voted the #1 best place to live in the South by Southern Living readers in 2018. (Just as an FYI, Austin ranked 11th on that same list.)
It's not a surprise, though, as Georgetown racks up points for its community vibe, leafy suburban look, and city-like amenities that range from bars, restaurants, and solid in-town entertainment options. But it also has things to offer that a big city like Austin just can't compete with — namely that white-picket fence and neighborly feel you think only exists in the movies. Move here and you'll have friendly neighbors made up of retirees, young professionals, and families.
If you choose to rent here, it'll cost you around $1,800 a month for a one-bedroom, according to RentCafe. If you're buying, homes have a typical value of around $543,000, according to Zillow (up nearly 20% from the previous year).
This is a great spot for history buffs, who can stroll the downtown historic district and visit the Old Williamson County Jail and the 1911 Williamson County Courthouse. There are also several unique outdoor activities nearby, including spelunking in the Inner Space Cavern and taking dips in the lagoon at Blue Hole Park.
DRIPPING SPRINGS, TX
Typical home value: $940,000
Average rent: $1,760
Good for: Families and schools
If excellent schools and family-friendly features are at the top of your list, Dripping Springs is your spot. This very small town is about 25 miles and 40 minutes west of Austin and has just under 5,800 residents. The vibe is quiet and rural while still being within an easily accessible distance from the big city amenities of Austin. Dripping Spring's biggest claim to fame? It's where Willie Nelson was inspired to create his inaugural 4th of July Picnic.
According to Zillow, the typical home value in Dripping Springs is now around $940,000 — a 26.5% increase from July 2021), and RentCafe tags average rent here at about $1,760. Most people living here are fine exchanging a higher-than-average cost of living for a strong community, complete with local events, top-notch schools, and wholesome feel-good staples like a farmer's market and the library in the town center.
Even if you don't choose to live here, you'll probably end up visiting, though. Dripping Springs brings in droves of out-of-town crowds, thanks to its popular breweries, wineries, and distilleries. Plus, if you're looking for the best pastrami sandwich in the Austin Metro Area, it's here, at Pieous.
PLANNING YOUR MOVE TO AUSTIN
We hope we've helped narrow down the choices for your new neighborhood. While you're looking, it's a good time to start getting ready for your move. Here are some additional resources from the PODS Blog that are ideal for the early stages of planning a move:
And when you finally roll into Austin, don't forget to keep things weird.
---
Alex Keight is a writer who has lived — and moved — all over the country and the world. She is an expert at packing, whether it's for a long-distance move or a short weekend trip. When she's not writing or on the move, Alex spends her time giving her cat booty pats, cooking up dishes in the kitchen, and buying way more books than she knows she'll ever actually get to reading.
Get a Quote
Choose the service you need
Comments
Leave a Comment
Your email address will not be published. Required fields are marked *