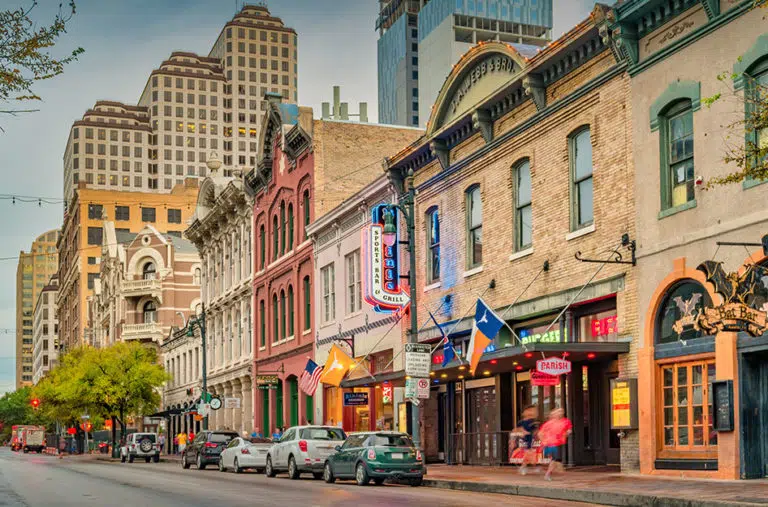 Thinking of Living in Austin, Texas? Here Are 9 Things to Know Before You Pack Up and Go
They say everything is bigger here, and living in Austin, Texas, is no exception. In fact, Austin is one of the
largest metro areas
in the United States, coming in just below Charlotte and St. Louis. Go big or go home, huh? But despite its size, Austin strives to maintain the counterculture college town vibe and trademark quirkiness that continues to attract creatives and corporations alike.
As of 2022, the
U.S. Census Bureau
reported Austin proper was home to a staggering 974,447 residents. What's more, the Austin Metro Area is currently one of the
fastest-growing metros
in the U.S., with a population that has increased by one-third between 2010 and 2020. Wondering "What is it like living in Austin, Texas?" The city's booming popularity and economy are just the icing on the cake for a city that offers everything from top-notch dining, a superb nightlife, good schools, tons of accessible outdoor recreation and nature, and an enviable cultural scene.
This is the PODS Blog's first article about Austin, Texas. We cover the key things to know about Austin here, including the cost of living, the job and housing markets, and schools. If you're looking for more information about making the move or the best neighborhoods, check out the links below:
But is living in this Central Texas hot spot necessarily right for you? Only you can decide. We're just here to help you weigh the pros and cons of living in Austin, Texas (although between us, it's one of our favorite cities).
If you're thinking about living in Austin, Texas, here are nine things you need to consider first.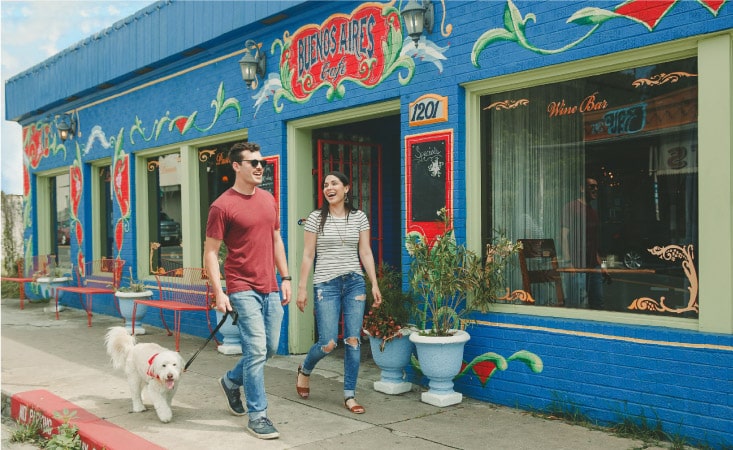 (Source: Visit Austin, Texas via Facebook)
Q: What are the pros and cons of living in Austin, Texas?
A: The benefits of living in Austin, Texas, abound, from the robust transportation system and sought-after live music scene to the strong job market and delicious restaurant scene (hello, Tex-Mex). As for the cons, they include the slightly higher than average cost of living, relatively high housing prices, and hot and humid summers.

Life in Austin, Texas, Compared to Other Texas Cities
Curious how living in Austin stacks up to
other Texas cities
? Here's an at-a-glance overview.
Living in Dallas vs. Austin: Situated in North Texas, Dallas is about a three-hour drive north of Austin. With a population of about 1.3 million, it's larger than Austin, and it's also cheaper — its cost of living is just 0.2 percent above the national average, in fact (while Austin is a whopping 29.1 percent above the national average!).
Living in San Antonio vs. Austin: An hour and a half south of Austin, San Antonio is larger than Austin by population (about 1.5 million people call it home) with a lower cost of living (8.7 percent lower than the U.S. average). Many young people flock to San Antonio from other parts of Texas for the University of Texas at San Antonio — and many stay in the historical city for perks, like its wonderful arts scene and gorgeous River Walk.
Living in Houston vs. Austin: Austin may be Texas' capital, but Houston is its largest city, with a population of 2.3 million (compared to Austin's approximate 974,000). It's also cheaper than Austin, with a cost of living 3.1 percent below the national average and a more affordable housing market.
Q: Is Austin, Texas, a good place to live?
A: Austin is a great place to live if you love being social and spending time outdoors, as well as good food, nightlife, and eclectic shops.

1. The Cost of Living in Austin, Texas, Is Lower Than Other Large Metro Areas — But Rising
Like most places, the cost of living in Austin, Texas, has followed an upward trend along with its growth in popularity. So what salary do you need to live in Austin? Well, Austin's median household income at the last Census count was nearly $79,000 per year, and the per capita income was just over $48,500. According to the MIT Living Wage Calculator, a single adult with no children has a required annual income of $37,754 before taxes, while the annual income required by a family with two adults and three children is $126,593. Given the general chaos of everything over the past few years, you can expect both of those numbers to have gone up. The exact salary you'll need to live comfortably will depend on individual preferences and life situations, though, such as how many dependents you have and how large your home needs to be.
Q: Is Austin, Texas, an expensive place to live?
A: That depends on where you're moving from. For reference, as of November 2023, the average cost of living in Austin, TX, was 29 percent higher than the national average, yet it had a 33.6 percent lower cost of living than New York City.
Taxes here are a bit of a mixed bag. Austin has a higher sales tax, compared to other cities, but it also has the luxury of a 0 percent income tax, as Texas is one of the nine states that doesn't have an income tax.
One of the most expensive cost-of-living items in Austin? That's housing. And it's a big, fat 89 percent higher than the national average.
2. The Rental and Housing Market in Austin Is Soaring
So how much does housing cost in Austin, Texas? According to RentCafe, many of Austin's apartment listings are priced at over $2,000 per month, with the average rent in Austin coming in at around $1,800 per month for a one-bedroom apartment under 900 square feet.
Over the last few years, Austin's housing market, like nearly everywhere in the U.S., has been on fire. Though home values have steadily been on the rise over the last decade, they've seen a 9.8 percent drop in the last year, according to Zillow, with the average Austin home value today sitting around $533,000.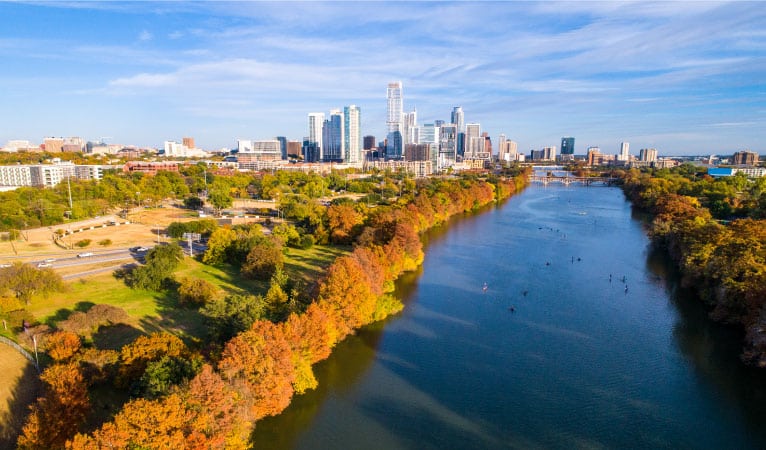 Lady Bird Lake in Austin, Texas
3. The Weather in Austin, Texas, Includes All Four Seasons
Yes, it's true, life in Austin, Texas, means experiencing all four seasons — even fall! (At least from a temperature perspective.) Spring in Austin is mildly humid with warm temperatures in the mid-to-high 70s. It's a great time to get out into the surrounding nature; however, allergy sufferers beware: Austin is one of the worst cities in the country for allergies.
While the annual average temperature in Austin hovers around a yearly 80-degree high/60-degree low, in the summer, the city cranks up the heat and humidity. It is Texas, after all.
It's common for two to three months of the summer to be spent in triple digits. And for anyone picturing the Texan heat as being dry and dusty like in cowboy movies, know that Austin actually has a sub-tropical climate. To cool off, locals grab a raft and a cold one and head over to Barton Springs or Lake Travis for a communal convene.
Winter here is swift, cold, and windy — but don't worry about breaking out your parka, as it never snows and rarely dips below 30 degrees (although the weather is becoming more unpredictable). Most of the time, the weather here is sunny with some clouds hovering at a temp that just begs for backyard get-togethers and outdoor adventure.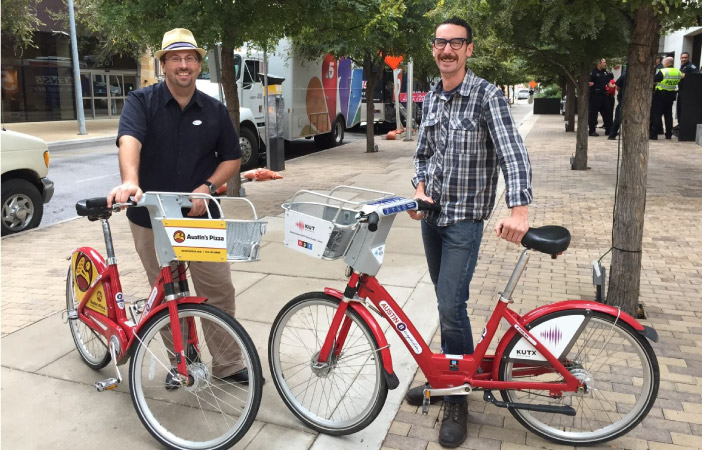 (Source: MetroBike Austin via Facebook)
4. Living in Austin, Texas, Means Access to One of the Best Public Transportation Systems in the Country
With more than 1,500 bus stops dotted throughout the city, rideshare companies, a rail system, and a thriving bike culture, living in Austin, Texas, doesn't require you to be chained to your car. It has one of the best public transit systems in the country. In fact, depending on where you live, you might not even need four wheels.
CapMetro leads Austin's excellent transportation services, which include affordable rides on their regular bus lines, rapid bus service for the 801 and 803 routes, overground rail, and public BCycle bike rentals. Currently, the MetroRail service is a single line that services nine stops to/from Downtown Austin up/down to Leander. Austin's regular bus service makes it easy to access most of the city, but it's especially concentrated in the downtown area. Dozens of routes can get you in and around the city as well as to some of the more popular suburbs, like Georgetown and Round Rock, though it'll take a few transfers and can nearly quadruple your travel time. (Hint: You'll probably want a car in that case.)
Want to get around on two wheels? No problem! Austin practically prefers it — tons of residents use pedal power to get around, plus several of the city's car lanes have been converted into bike lanes.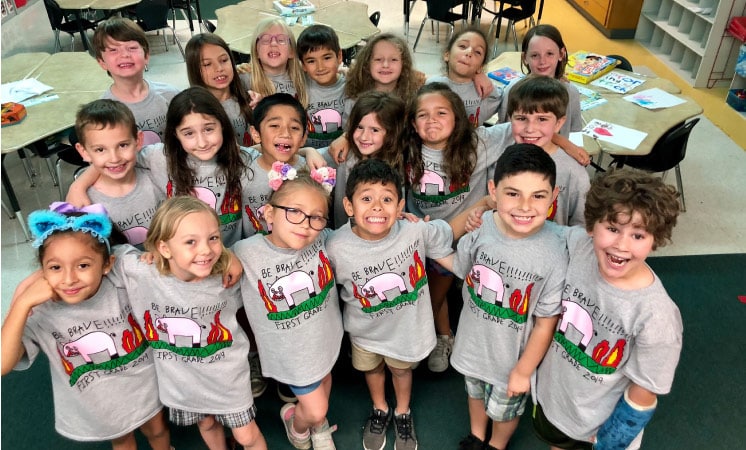 (Source: Austin ISD via Facebook)
5. Schools in Austin Get High Marks
Austin loves learning, and according to U.S. News & World Report, Austin has better schools than you'll find in similar metro areas. There are 94 public schools, of which 58 high schools made the list of best high schools in the country — including the Liberal Arts & Science Academy, which ranked as the fourth-best high school in the state. The city is also home to six colleges and universities, including the University of Texas at Austin, which placed 32nd out of 100 for best national universities in the 2024 rankings.
6. Austin's Neighborhoods Offer Up a Variety of Nooks Fit for Everyone — From Students to Retirees
What we love most about living in Austin, Texas, is that you can be as social or as solitary as you like, when you like. Remember, picking your perfect neighborhood will also dictate how close to the action you'll be, noise levels, school ratings, crime levels, and who your neighbors are likely to be.
Downtown Austin
Living in Downtown Austin is perfect for nightlife lovers and folks who want to be able to walk rather than drive. The downtown area is overflowing with bars, cafes, restaurants, food trucks, live music venues, shops, and high-rise apartment complexes. It's also home to the city's largest collection of LGBTQ+ bars and clubs in the Warehouse District. Whether you're catching a live show and satisfying your barbecue craving at Stubb's or sipping cocktails at The Driskill Bar, there's no short supply of things to do here — and the swap for the convenience of being in the heart of it all is double-or-more monthly rent prices and the noisy background of a lively city.
South Austin
If you're into eats, South Lamar will keep your belly full with its wide variety of stellar restaurants, plus its fair share of decent bars. Shops and cafes along South Congress will keep you busy during the day, while cool boutiques and vintage stores are clustered around South First. This part of Austin is popular with tourists, thanks to some of the must-visit sites, like the "I love you so much" wall and "Greetings from Austin" mural, and it's a great blend of old-school Austin staples and hip, trendy newbies. Rent is just higher than the city average, and it's popular with young families, thanks to the great schools.
Central Austin
Just north of the University of Texas at Austin campus, Central Austin is often buzzing with swarms of students, particularly along "The Drag." You can also expect a good assortment of cheaper eats and eclectic but casual bars, coffee shops, cool shops, and, unfortunately, higher crime rates. There's also a good collection of art and culture spots, such as the Blanton Museum of Art and Linden Baines Johnson Library and Museum.
West Lake Hills
This wealthy 'hood is full of mansions and (surprisingly) affordable rental properties. The slightly removed westside location is also safer than central city areas, and it's a popular spot for retirees, young families (schools here are great), and anyone looking for a quieter neighborhood option with suburban vibes that is still within a 10-minute drive to the hubbub. Plus, the views from atop the West Lake Hills neighborhood are swoon-worthy.
East Austin
Austin is a diverse city, and East Austin is the culinary melting pot, where you can find restaurants serving everything from South American to South Asian dishes. And the vibe is less frenetic than downtown or areas of South Austin, so it's a good spot for folks who want a lot of variety without all the foot traffic (and car traffic) in other Austin areas. Rent is lower than you'll find in South Austin or downtown, too. This, plus a casual atmosphere and diverse mix of cultures make East Austin appealing for students and young professionals who are willing to put up with a few rough edges to save some coin.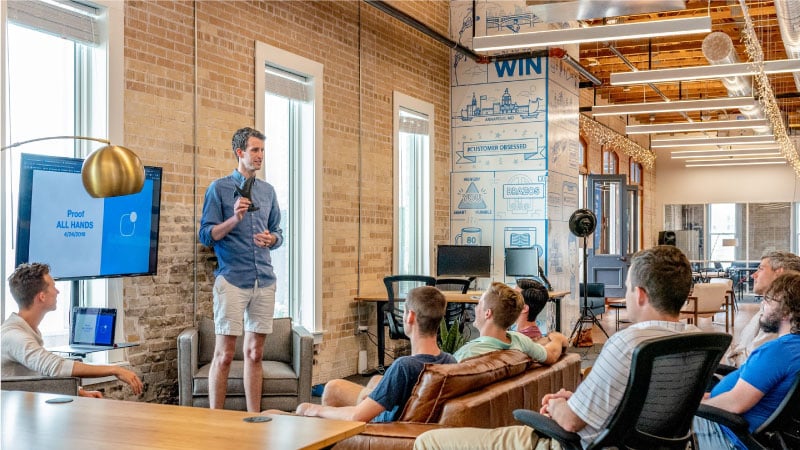 (Source: Austin Distel via Unsplash)
7. Austin's Economy and Job Market Are Strong
The city's hip and creative attitude (without the heavy pretense) is what drew artists and creatives to living in Austin, Texas, early on — and it didn't take long for corporations looking to cash in on the city's cool factor to follow suit. Now, Austin has one of the best performing economies in Texas and one of the strongest job markets in the United States.
Although the strong economy didn't just start with startups; one of Austin's leading industries is mining and oil. Other big earners are manufacturing, public administration, and scientific and technical services. Austin's tech scene, in particular, has seen a lot of growth over the past few years, partly due to the large influx of relocations it's been getting. In 2018, the city welcomed over 1,800 business relocations from California alone.
Q: What is the downside of living in Austin, Texas?
A: The benefits of living in Austin, Texas, are abundant, but the drawbacks are also important to note when considering a move. It's good to know that the cost of living in Austin, Texas, is significantly above the national average; the summer heat is, well, hot; and though the job market is strong, the rental and housing costs are high, too.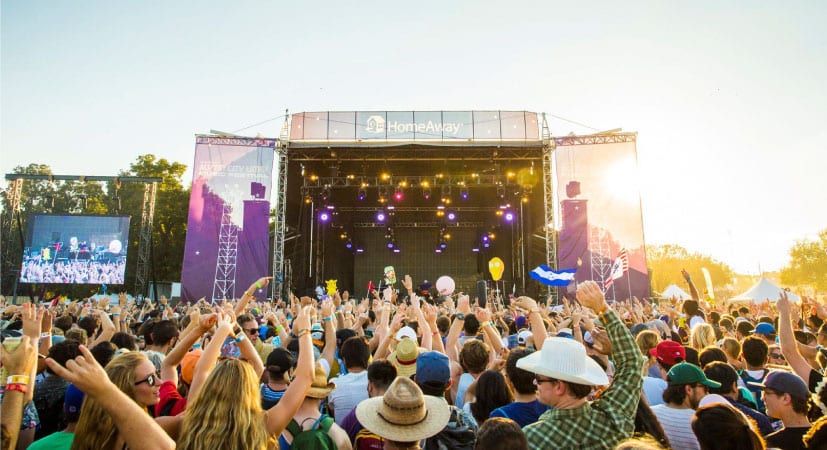 Austin City Limits Music Festival
(Source: Visit Austin, Texas via Facebook)
8. Live Music Reigns Supreme in Austin
One area Austin excels in is music — it didn't earn the nickname of the Live Music Capital of the World for nothing. Many folks know Austin for putting on some of the country's most anticipated music festivals, like SXSW and Austin City Limits, but the city throws festivals covering all types of genres. In all, there are about 40 different music festivals in Austin each year — that's almost an average of one music festival a week! Plus, live music pours out of bars and clubs every night of the week throughout the city (but especially downtown on 6th Street). It's a great place for music lovers who want to invest in the local scene or catch their favorite touring act on the road; Austin is almost always a stop.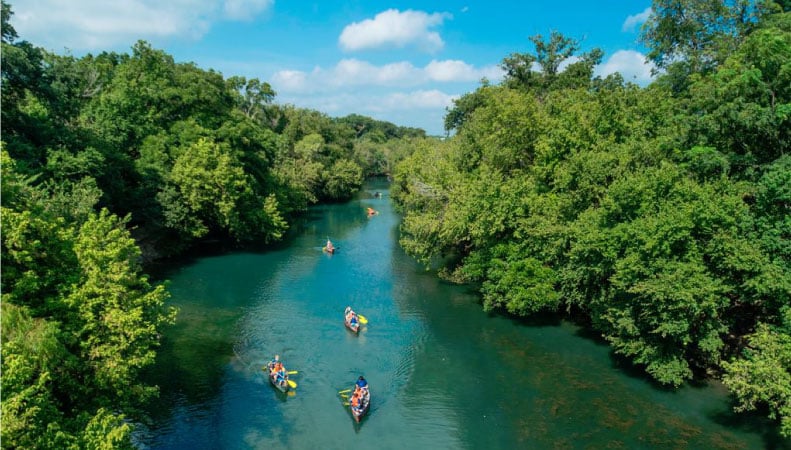 Barton Creek in Austin
(Source: Visit Austin, Texas via Facebook)
9. There's No Shortage of Fun Things To Do in Austin
Wondering what to do in Austin, Texas? The real question is what isn't there to do in Austin! This city has it all — outstanding food, a hearty drinking culture, nightly live music, the great outdoors, undeniable style, and quirky boutiques teeming with unique finds. And, true to Texan form, the Tex-Mex tacos and barbecue are some of the country's best, though it's only a sampling of what you'll find on the menu.
Austin is alive with outdoor activities, which may not be something you think of right away when you consider a central Texan city. However, Austin differs from typical Texas stereotypes. It's one of the fittest cities in the country, remarkably diverse, and it's not all meat and potatoes — there are a ton of vegan, vegetarian, and gluten-free items readily available.
Itching for the outdoors? There are almost 500 parks to help soothe the soul. Start covering your outdoor Austin bingo card with a 10-mile trek along the Ann and Roy Butler Hike-and-Bike Trail or take a slow stroll through the Zilker Botanical Garden. Seeking adventure? Strap in and race over Lake Travis on a zipline that's sure to widen your eyes and quicken your pulse.
For folks who prefer a different kind of outdoor experience, on Friday and Saturday nights, Austin's famous 6th Street strip (a.k.a. Dirty Sixth, as the college kids call it) becomes pedestrian-only, making it easy to do a walk-and-pop-in to all the downtown hot spots.
Still, the city doesn't have to be wild and raucous. More isolated outdoor adventures, low-key neighborhoods, and even some laid-back winery visits are all within easy access from the city proper.
Basically, whatever you're looking for, Austin probably has it. You've gotta go big in Texas, after all!
Planning your move to Austin? Learn about average moving costs from in-state and out-of-state with our Guide to Moving in Texas, and get plenty of other moving tips and tricks from pros at the PODS Blog.
Alex Keight is a writer who has lived — and moved — all over the country and the world. She is an expert at packing, whether it's for a long-distance move or a short weekend trip. When she's not writing or on the move, Alex spends her time giving her cat booty pats, cooking up dishes in the kitchen, and buying way more books than she knows she'll ever actually get to reading.
Get a Quote
Choose the service you need
Comments
Leave a Comment
Your email address will not be published. Required fields are marked *