Take advantage of our limited time offer. Enter promo code HOLIDAY25 to save up to 25%.
See offer details
.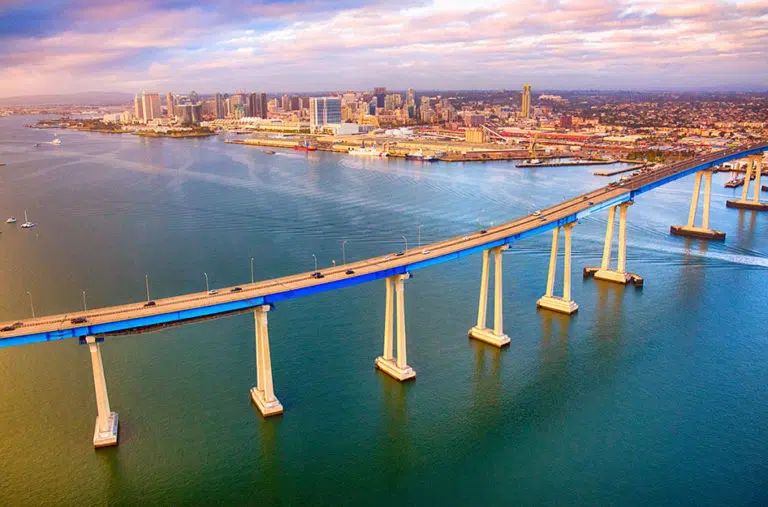 Long-Distance Moving to San Diego: Everything You Need to Know Before Your Move
So you've decided to make the big move to San Diego — "America's Finest City." Well, with amazing weather year round, rich culture, and 70 miles of gorgeous coastline, it's really no surprise you've chosen this coastal city as your next home.
Falling in love with San Diego is easy (as you can imagine), but if you're planning to make a long-distance move, you need to get yourself prepared and not just for your move — but for your exciting new life in this dreamy California city! So grab some street tacos, sit back, relax, and get ready to learn all about what to expect when you're long-distance moving to San Diego.
Top Tips: Long-Distance Moving to San Diego
Any move takes effort and causes some amount of stress, even if you're just relocating across the street. But a long-distance move is a whole other kind of stressful. Cut yourself some slack and try out our top tips and tricks for a simple and (almost) stress-free cross-country move.
1. Choose Your Moving Partner
Unfortunately, attempting to load all your worldly possessions into the back of your car isn't gonna cut it for this one. You'll either need to rent a truck, hire full-service movers, or get your hands on a portable moving container. Each option comes with its own perks: Full-service movers basically do it all (for a price), a rental truck is typically the cheapest (but think about that drive!), and portable moving containers allow for a flexible moving schedule (and built-in storage!). Before committing to one or the other, do your due diligence by comparing PODS moving containers to full-service movers and moving truck rentals.

To learn more about your moving service options, jump ahead to the next section.
Make It Fun! If this'll be your first cross-country jaunt to the west coast, why not make an adventure of it? Simply pack up your moving container and let PODS take care of driving everything to your new San Diego home. Meanwhile, you can take a leisurely east-to-west tour of the country. Grand Canyon? Yes, please!
2. Declutter and Downsize Before You Pack
Moving costs are heavily influenced by the volume (and sometimes the weight) of the stuff that you're transporting, so packing up box after box of things that you don't really use, need, or want is really just a waste. To avoid this faux pas, simply give yourself a few weeks to declutter before you start packing. Wondering how to declutter before a move? It's simple. Just go room by room, category by category. Pick something up and ask yourself (you've heard it before), "Does this spark joy?" If the answer is yes — keep it. If the answer is no — sayonara!
Wondering what to do with the clutter?

• Try to sell valuables at a garage sale or online (Marketplace, OfferUp, Craigslist)
• Pass down sentimental items to relatives or friends who might appreciate them
• Donate things in decent shape to a charity (Goodwill, Salvation Army, local shelter)
• Repurpose or recycle what you can out of the remaining items
• Trash anything that you couldn't sell, donate, or recycle
3. Pack It All Up
One of the big differences between a local and long-distance move is the way you pack everything up. If you're moving across town, it's totally acceptable to just throw things in open boxes and bags and toss them in your trunk, but when you're transporting everything you own thousands of miles across bumpy roads, hilly highways, and twisty turns — well, things are gonna shift. If your boxes aren't securely packed and loaded, there could be damage in transit. Luckily, this costly issue can be avoided by simply using the proper packing materials and implementing these tips for packing and loading for a long-distance move.
Pro Tip: Packing and unpacking are the most time-consuming stages of any move. Give yourself plenty of time by using a PODS portable container for your long-distance move. You can have it delivered straight to your driveway weeks before your big day. Pack and load at your leisure and, when you're ready, PODS will pick it up and deliver it to your new address. Keep your container on-site as long as you need to get things unloaded and unpacked at your own pace, without having to overload your hallways with boxes in a single mad rush.
4. Gas and Electricity and Wi-Fi — Oh My!
The last thing you want is to arrive at your new home and find there's no electricity, running water, or (gasp!) Wi-Fi. And you definitely don't want to continue to pay for these services at your old home after you've left. Be sure to contact your service providers at least a month before your move date to let them know you'll be moving and when to discontinue service. This goes for gas, cable, electricity, water, newspaper delivery, Wi-Fi, recycling, and garbage. You'll also want to contact your new San Diego providers to set up service for when you arrive in America's Finest City. Finally, be sure to fill out a change-of-address form with the USPSⓇ and update your billing address where necessary.
How to Get to San Diego
So we briefly mentioned the importance of choosing the right moving partner, but now let's get into the nitty-gritty of it. Traditionally, full-service movers or rental trucks have been the norm, but since PODS introduced portable moving and storage containers, the game has totally changed. Still, the option that's right for you depends on what you want from your moving team, your budget, and how much time you have on your hands. Let's check 'em out.
Full-Service Movers
When you use a full-service moving company, you can practically just put your feet up and let them take care of the rest. They'll pack, load, transport, unload, and unpack everything for you. In some cases, they may even disassemble and reassemble your furniture too. As wonderful as this all may sound, there are a few downsides. First is the cost: Full-service moving is a big job that comes with an equally big price tag. And if your household doesn't fill the whole truck, it may be transported with other households, which can increase the chances of some of your things getting mixed up with another family's.
Moving Truck Rental
If you're feeling thrifty and have the time (and energy) to do the work yourself, then renting a moving truck may be the way to go. This is definitely the most labor-intensive route, as it includes packing, loading, driving, unpacking, and unloading everything yourself, but it can save you a lot of money. One thing to consider is that, in addition to the cost of the rental, you'll have to pay for the gas, and a fully loaded truck uses a lot of gas.
PODS Portable Moving Containers
A great hybrid moving option is PODS Moving and Storage. PODS containers come in different sizes, so you can choose just the right size for your household. PODS will deliver it to your driveway where you can pack and load on your own schedule. And if you don't want to do that all by yourself, PODS can refer you to local packing and loading help to "lighten your load." When you're ready, PODS will pick up your container and transport it to your new home in San Diego, where you can (once again) take your time unloading and unpacking at your own pace.
Get to Know Your Neighbor(hood)s
Whether you've already chosen your new San Diego neighborhood or not, it's a good idea to familiarize yourself with what each has to offer (brunch spot *wink wink*). The truth is San Diego is brimming with incredible neighborhoods for any lifestyle. Here are some of our top picks and what they have to offer residents and visitors alike.
Barrio Logan — foodie's paradise, art, music
Just south of downtown, you'll find Barrio Logan, a San Diego neighborhood that is overflowing with creativity and culture. As a matter of fact, it was designated one of only fourteen California Cultural Districts due to its rich art and culture scenes. From warehouses that have been transformed into art galleries and music venues, to the gorgeous murals in Chicano Park, the truly authentic Mexican restaurants, and buzzworthy coffee houses, this is a must-visit part of town.
Hillcrest — LGBTQ+ community, boutique shopping, night life
Picture this. A pedestrian-friendly neighborhood with boutique shopping, sidewalk dining, and a vibrant nightlife. You've just pictured Hillcrest, San Diego's LGBTQ+ central hub. Known for its quirky shops, bars, brunch spots, and so much more, Fabulous Hillcrest is a must for any vintage-loving extrovert. And did we mention the Farmers Market? More than 175 vendors set up shop each week, offering everything from organic produce to flowers, art, and apparel. You might want to show up early though. With over 10,000 weekly visitors, it's the largest farmers market in the city!
La Jolla — beach lover's haven . . . and so much more
California may be home to some of the best beaches in the country, but La Jolla is where you'll find some of the best beaches in California. Here you can surf, sunbathe, seal-watch, or even snorkel with leopard sharks (don't worry, they're totally chill). And did we mention you might see whales migrating along the coast? La Jolla definitely has the beach scene covered, but "the jewel" of San Diego also boasts fine dining, luxurious retreats, museums, hiking, golf, and more.
Ocean Beach & Point Loma — surfing, skating, biking, and hiking
Located about five miles from downtown, this area offers plenty to do for tourists and locals alike. We'll start with Ocean Beach — a small coastal neighborhood known for its vintage SoCal vibe, namesake beach, and the half-mile pier at the end of Newport Avenue. In addition to being one of the longest piers in Southern California, the Ocean Beach Pier is one of the only places in San Diego where you can fish without a California fishing license, making it a hot spot for anglers. But if you don't manage to catch anything for lunch, don't worry. Ocean Beach is also home to Hodad's, a local restaurant that serves up one of the best burgers in San Diego. 
After you're done at the beach, head south to the Point Loma Peninsula for a peek at the Old Point Loma Lighthouse, a hike along Bayside Trail, or the chance to explore an abundance of sea life with some of the best "tide pooling" in San Diego.
North Park & South Park — craft beers & live shows; local coffee & boutique shopping
Bordering Balboa Park you'll find North Park and South Park, the final two neighborhoods on our list. If an urban night out is what you crave, then you'll want to head to North Park — where craft breweries and live entertainment collide. Simply head to the intersection of 30th and University to find yourself in — what some call — "the best beer neighborhood in the nation." If beer isn't your thing, no worries. You can find craft cocktails here, too! And highly rated eateries! And unique shops! And! And! And! (You get the idea.)
For a more laid-back urban excursion, head down to South Park. This culturally (and gastronomically) progressive neighborhood is the perfect place for a locally roasted pour-over or some rustic and sustainably sourced fare. Enjoy a Neapolitan pizza at Buona Forchetta before perusing the boutiques on Fern Street for local fashion, art, and other unique treasures.
If you're still not sure which San Diego neighborhood to settle down in, check out our guide to the Best San Diego Neighborhoods for some inspiration and insight.
Get Excited for Your Move to San Diego!
If you're not already super stoked to be moving to San Diego, here are some reasons you should be.
Gorgeous Weather All Year Round
When we say gorgeous, we mean gorgeous. On average, San Diego gets 266 sunny days per year while the national average is only 206. The average high temperature rarely breaks 80 °F and the average low is still above 45 °F. BestPlaces dubbed San Diego one of the most pleasant places to live in California with a Comfort Index of 9.2 out of 10.
70 Miles of Coastline & 31 Amazing Beaches
Yes, we've already talked a lot about the beaches, but how can we not?! From surfing to sunbathing to off-leash dog areas — the beaches here are incredible and you're going to love them. And did we mention the 70 miles of coastline? In addition to "breathtaking views," we have two words for you: coastal breeze.
The Craft Beer Scene Is "Hopping"
When you think of San Diego, you may not think of "craft beer"— but you probably should. Over 150 local breweries have thrown San Diego County into the spotlight, making it the place to be if you want to really explore the world of award-winning craft beers. But we're not just talking about craft breweries. There are brew pubs, microbreweries, and even nanobreweries making a stir.
More Affordable Vacations (Aloha!)
This may sound like a funny perk since it's all about leaving San Diego, but hear us out. For most people who live in other parts of the country, a trip to Hawaii or another South Pacific island means at least two flights (and a lot of moolah). San Diego, on the other hand, is about as close as you can get to these tropical destinations, making it totally affordable to find a direct flight or even take a cruise!
Incredible Food, No Matter What You're Craving
No matter what kind of food you're into, you'll find it in America's Finest City. Indonesian, Mexican, Chinese, French, classic, eclectic, vegan, or paleo — you can taste-test it all in San Diego's impressive restaurant scene!
All right! Now that you're feeling pumped about your move to San Diego, it's time to get ready! Use this moving checklist to stay organized and visit the PODS Blog for some tried-and-true packing tips.
Get a Quote
Choose the service you need
Comments
Leave a Comment
Your email address will not be published. Required fields are marked *