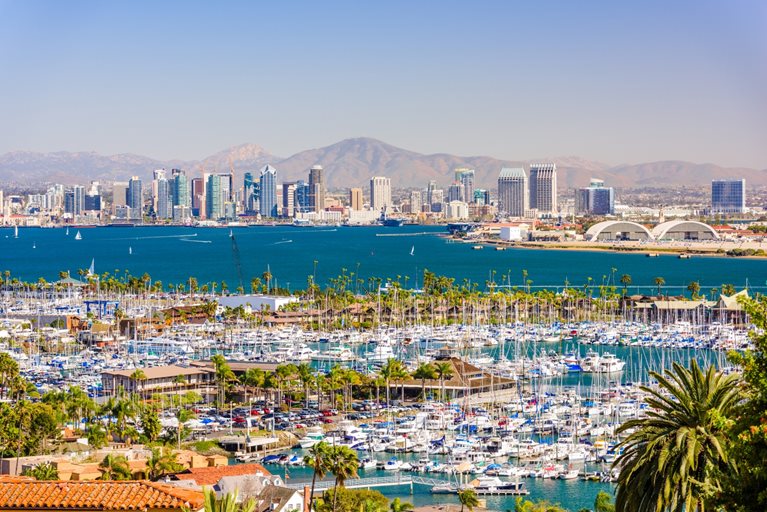 8 San Diego Neighborhoods That Capture The Best Of SoCal Living
Endless coastline, charming historical districts, abundant greenspace, unique nightlife, and top-rated school districts: There's a lot to love about living in San Diego. Throw in picture-perfect year-round weather and it's easy to understand why you might want to relocate to any one of the many great San Diego neighborhoods we love (yes, even if you're moving to San Diego from across the country). If that's your dream, this San Diego neighborhood guide will give you a head start on researching your move to San Diego.
First, a quick glance at San Diego:
San Diego is located on the southwestern tip of California, strategically positioned on the U.S.-Mexico border and the Pacific Rim, making it a major gateway for international trade and tourism.
With an estimated nearly 1.4 million residents in 2022, San Diego is the second largest city by population in California after Los Angeles.
Reaching beyond the city's borders, San Diego County overall is home to about 3.3 million residents, making it the fifth most populous county in the U.S.
The city has a unique geography, with hills and mesas separated by valleys and canyons — all along the deepwater San Diego Bay and the Pacific Ocean, which provide 70 miles of coastline.
Now that we've covered the basic facts, let's dive into exploring the best places to live in San Diego. First things first, what are the neighborhoods in San Diego like? With more than 100 colorful and distinctive neighborhoods (yes, over 100!), San Diego offers more than enough choices to fit diverse needs and personalities. Prices, on the other hand, may be a challenge, with a typical San Diego home valued at $912,700, a 4% decrease over the year prior as of June 2023, according to Zillow — and, according to RentCafe, rent checks in at an average of $2,900 per month for about 875 square feet. But you can still find more affordable options if you're patient and willing to settle for a smaller home or condominium that's inland, away from the pricier coastal neighborhoods.
For the purposes of this guide, we're going to focus on three main areas of San Diego:
Downtown and urban neighborhoods
Coastal neighborhoods
North County neighborhoods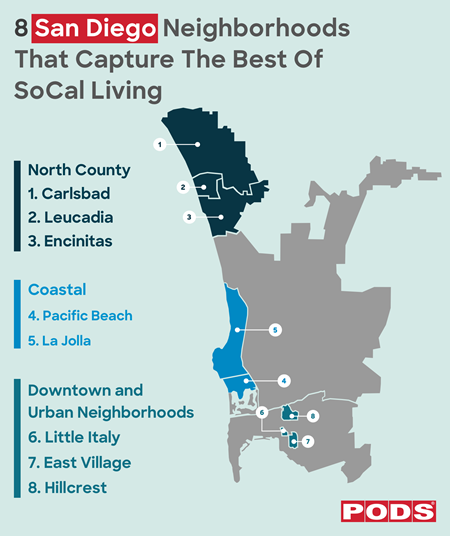 Now let's get going!
Q: What are the safest areas to stay in San Diego?
A: Torrey Hills, La Jolla, Del Mar Mesa, and Via de la Valle are widely considered to be the safest neighborhoods in San Diego. As of June 2023, Niche.com gives each neighborhood a A crime and safety rating. If you're looking for a neighborhood with more hubbub, the East Village and Gaslamp Quarter are two of the safest areas in downtown San Diego.
Downtown San Diego Neighborhoods
The urban neighborhoods in and around downtown San Diego are the heart of the city's business, arts, and entertainment communities. The area has undergone 20 years of redevelopment that's transformed downtown into a vibrant place to live, work, and play, making a home for some cool neighborhoods in San Diego. San Diego's downtown is much less densely populated than comparable cities like Seattle, Portland, Denver, and Las Vegas. For now, that means its hilly streets and greenspaces are more walkable and less crowded. However, ambitious plans for commercial and residential projects are expected to more than double the urban center's population to about 90,000 by the year 2030. Ready to get in ahead of the big wave? Let's take a look at three favorite downtown San Diego neighborhoods:
Little Italy: A Lively Slice of History in San Diego
Average rent (one-bedroom): $2,925
Average home value: $691,100
Great for: Professionals, folks without cars, social people
If you want to get as much downtown action as you can, look to historic Little Italy: a close-knit, 48-block community teeming with unique restaurants, cultural events, and year-round street festivals. Here you'll find a waterfront view, live music, a gourmet farmer's market, and even an Italian-style piazza — complete with a three-tiered fountain to light up the evening crowds. It's a quaint and purposefully explorable area, and easy to access by trolley from virtually anywhere else downtown. Fun fact: It's the largest "Little Italy" in the U.S. (take that, Manhattan!).
Little Italy offers diverse living options across historic and new construction. And despite being one of San Diego's buzziest downtown neighborhoods, Little Italy is surprisingly affordable, boasting an average home value of $691k (around $220k less than the city's average, making it one of the more affordable neighborhoods in San Diego for buying) and many rental options in the $2,500-$3,500 range. That being said, start your apartment search early to find the best selection; Little Italy doesn't have as many rental options as other areas of downtown.
East Village: San Diego's Biggest Downtown Neighborhood
Average rent (one-bedroom): $2,925
Average home value: $656,300
Great for: Young professionals, walkers, cyclists, retirees
Spanning 130 blocks from 7th Avenue just outside the downtown core to 17th Street and the five freeway (I-5), East Village has transformed from a gritty warehouse district to a thriving mixed-use urban community. The 2004 opening of Petco Park, home of baseball's San Diego Padres, ignited the area's revitalization, bringing an abundance of restaurants, cafes, rooftop bars, boutiques, and live music venues to make it the beating and bustling heart of downtown San Diego. Ask where to find some of the best neighborhoods in San Diego and you'll likely get East Village as an answer time and again.
Housing in East Village consists mostly of apartments, luxury condos, and converted warehouses, with tons of new residential and greenspace development staged for the coming decade. The average home value as of May 2023 is around $656k, a decrease of 2.6% from the previous year (also the first year-over-year decrease since July 2020). RentCafe lists the average rent in East Village at $2,925 per month, only a hair above San Diego's overall average of $2,900. Along with Little Italy, East Village is one of the more affordable neighborhoods in San Diego.
Looking to live near work and ditch your car? Getting around East Village's grid system is safe and easy with the city's public bus and trolley lines, and plenty of areas are accessible by foot or bike.
Hillcrest: San Diego's LGBTQIA+ Hub
Average rent (one-bedroom): $2,550
Average home value: $779,300
Great for: LGBTQIA+, young professionals, studenets
If you're looking for San Diego's LGBTQIA+ scene, head a few miles north of downtown to Uptown Hillcrest. Start at the Pride flag and walk either direction down University Avenue. You'll soon be pleasantly lost among coffee houses, bars, boutiques, and bookshops (and perhaps the iconic Hillcrest Brewing Co.) in this diverse and welcoming neighborhood.
If you find you're destined to live in Hillcrest, start your house-hunting as soon as possible, because this market is H-O-T. Attached townhomes, luxury condos, and single-family homes are all available with an average home value just shy of $780,000, refreshingly below the city's average. Looking to rent? You're in luck. The typical rent for a 1-bedroom unit in Hillcrest as of February 2023 is just below $2,550 a month — slightly below the city's overall average.
Moving from another state? Get these 14 tips about moving costs and things you need to know about living in California before you arrive in the Golden State.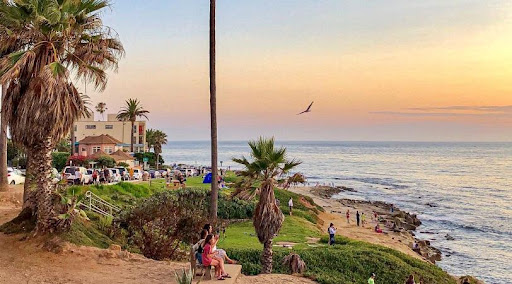 Coastal Neighborhoods of San Diego
If you love the idea of living in San Diego but want to embrace the beach life, take yourself on a tour of the city's many coastal neighborhoods. We recommend starting with Pacific Beach and La Jolla as two distinct sides of the San Diego coin: one a bit more laid back and eclectic; the other more upscale and mature.
Pacific Beach: Bayfront Living Close to Downtown San Diego
Average rent (one-bedroom): $2,925
Average home value: $1,205,400
Great for: Retirees, young professionals, families, vacation homes
Often named one of the liveliest places to live in San Diego, Pacific Beach offers a unique mix of waterfront, urban, and suburban living amenities for all manner of beachgoers, vacationers, young professionals, and happy retirees. Rentals mostly start around $3,000 a month, and the average home price in Pacific Beach is high at around $1.2 million (a 3.6% drop from May 2022, the first major decrease in home values in over eight years). Still, residents who can afford to live here justify the cost as a buy-in to the neighborhood's fun atmosphere and low crime rates to its close-knit community vibe and best-in-city access to San Diego Bay.
Despite its party reputation, Pacific Beach (affectionately dubbed "PB" by locals), attracts plenty of families. Look beyond the buskers and sunbathers and you're sure to discover a mellower side of this funky beach town — from pleasant picnic spots to protected swim areas, local eats to luxe day spas — and miles of bike paths in between.
You may be wondering about the commuting situation in Pacific Beach, especially if you don't plan to spend all your time biking the boardwalk or surfing Crystal Pier. The traffic isn't always ideal, but you can get from PB to downtown like so: Take a fairly direct bus line south and get off at any number of stops downtown, or drive 15 minutes (outside of peak traffic hours) on I-5. (FYI, if you drive every day, you'll definitely need to make a parking plan.)
La Jolla: The Jewel of San Diego
Average rent (one-bedroom): $3,250
Average home value: $2,124,900
Great for: Luxury living, retirees, professionals
A bit up the coast from Pacific Beach, it's easy to see why this Mediterranean-style village is considered San Diego's jewel and is widely considered one of the best neighborhoods in San Diego. With world-renowned beaches and towering, rocky cliffs forming a dramatic backdrop, this A+-rated community features award-winning schools, ritzy streets, and a vibrant dining and cultural scene. Think of it like the Beverly Hills equivalent of cool neighborhoods in San Diego.
Here, the typical home value is a lofty $2.1 million, making it one of the most expensive and sought-after places to live in the U.S. (in February 2023, a home in La Jolla sold for $10 million dollars!). And while the area is mostly made up of single-family homes, the average rent in La Jolla is around $3,250 a month.
Besides its seven miles of coastline and gorgeous scenery, La Jolla packs a powerful economic punch as home to the University of California San Diego, one of the top research universities on the planet. This has attracted biotech giants like Scripps Research and Pfizer, whose La Jolla operations are instrumental in continuing advancement in the healthcare fields.
North County San Diego Neighborhoods
Looking for a SoCal vibe that's away from the hustle and bustle? You might want to consider North County, a mix of family-friendly coastal and inland neighborhoods about 25 miles north of downtown San Diego. Here are three North County coastal favorites:
Encinitas: A Classic California Surf Suburb
Average rent (one-bedroom): $2,750
Average home value: $1,692,400
Great for: Families, retirees, laid-back professionals
An unspoiled reminder of the historic Highway 101 beach culture, Encinitas' Swami Beach inspired the Beach Boys' "Surfin' USA" hit. And while the beach is still one of San Diego's prime surf spots, the city is now home to about 60,000 residents, including families who appreciate its top-rated schools, eclectic cafes and coffeehouses, and focus on outdoor living.
Located 30 minutes north of San Diego, Encinitas is a great coastal location — and it comes with a price tag to prove it. The average home value here is about $1.7 million, with the lower prices coming inland, as one would expect in coastal neighborhoods. The average rent here is about $2,750 per month, but you can shop a variety of cute cottages and modern condos with easy access to the beach.
Leucadia: The Funky Part of Encinitas
Average rent (one-bedroom): $2,750
Median home sale price: $2,587,500
Great for: Retirees, vacationers, artists
On the north end of Encinitas, Leucadia is a rustic beach community marked by its longstanding surf culture, highly walkable neighborhoods, and quaint dining and arts scene. Secluded beaches and gorgeous sunsets draw plenty of vacationers year-round, and the eclectic locals labor to "Keep Leucadia Funky'' through a steady output of folksy art. That 1960s beach-bum culture aside, funky Leucadia has certainly proved to be a hot SoCal commodity.
Looking to rent or buy in Leucadia? Plan to work another posh housing market. As of June 2023, Luxury homes here list in the millions, while condo, house, and townhome rentals are in the $2,500-$6,000 (and up..to $29,000!) per month range, and there aren't more than a handful of options either way.
Carlsbad Village: Where You Can Find Your Happy Place
Average rent (one-bedroom): $3,050
Average home value: $859,400
Great for: Families, professionals, retirees
Proximity to water, access to high-paying jobs, and a lifestyle culture combine to make Carlsbad a sweet spot for health and longevity. Move here, and you'll be privy to an array of high-end amenities and luxury shopping centers, a historic enclave of mineral spas and retreats, tons of golf courses, and easy access to museums, parks, and entertainment. It's also home to several corporate headquarters and high-end industries, thus supporting a unique job market with pipelines to both L.A. and San Diego economies. Another major boon to living in Carlsbad are the area's top-notch schools, dubbed 5th best public schools in the country by Niche.com. Add an abundance of hiking trails, beachfront, and great weather, and it's no wonder families choose to play the long game in Carlsbad.
If you're looking to buy in Carlsbad, you'll find most of your selection in recently developed subdivisions. (Think backyard pools and long driveways.) The market for historic homes is highly competitive, occasionally surfacing with a stunning Mission Revival or sundrenched Victorian — all too quickly snatched up. The average home value in Carlsbad is around $860,000 (less than the average in San Diego), with average rent about $3,050 for about 925 square feet.
Planning Your Move to San Diego
With every relocation, it's never too early to map out your timeline, consider your budget, and vet the moving companies you're going to trust to get all your personal belongings to your new home safe, sound, and on time. Whether you're moving across the country or just leaving Los Angeles for more peaceful surroundings, consider choosing a solution like PODS moving and storage containers that give you maximum flexibility. From making it easy to change dates on a dime to having convenient built-in storage if you end up with time between homes, PODS is all about reducing the hassle and stress of moving so your first view of the Pacific Ocean will be that much sweeter. Cheers to SoCal living!
Editor's note: For ease of reading, monthly rental prices were rounded to the nearest $25 and home values were rounded to the nearest $100.
---
Amelia England is a content writer and regular contributor to the PODS blog. Between college, grad school, and seasonal adventures, she has downsized and relocated over 25 times.
Get a Quote
Choose the service you need
Comments
Leave a Comment
Your email address will not be published. Required fields are marked *